The end of May means one thing to me - raids on the market for flowering seedlings for vertical gardening ... and horizontal too.
I can't sit on the veranda all summer and stare at the flower beds, I need something else to stand or have fun on the veranda itself. And so it happened that the beginning of summer, or rather the end of spring, is a blockage of boxes with beautiful plants.
Конец мая для меня означает одно - набеги на рынок за цветущей рассадой для вертикального озеленения...и горизонтального тоже.
Я не могу все лето сидеть на веранде и глазеть на цветочные клумбы, мне надо чтобы еще что-то стояло или весело на самой веранде. Вот так и повелось, что начало лето, а вернее конец весны - это завал ящиками с красивыми растениями.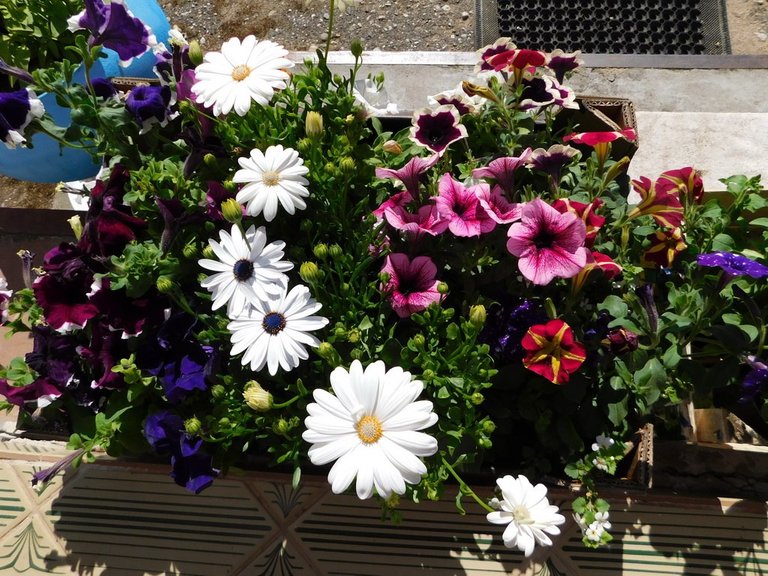 The season of sales of plants such as petunia and surfinia is always a lot of colors and impressions for future landscaping.
Сезон продаж таких растений, как петуния и сурфиния, это всегда масса красок и впечатлений для будущего озеленения.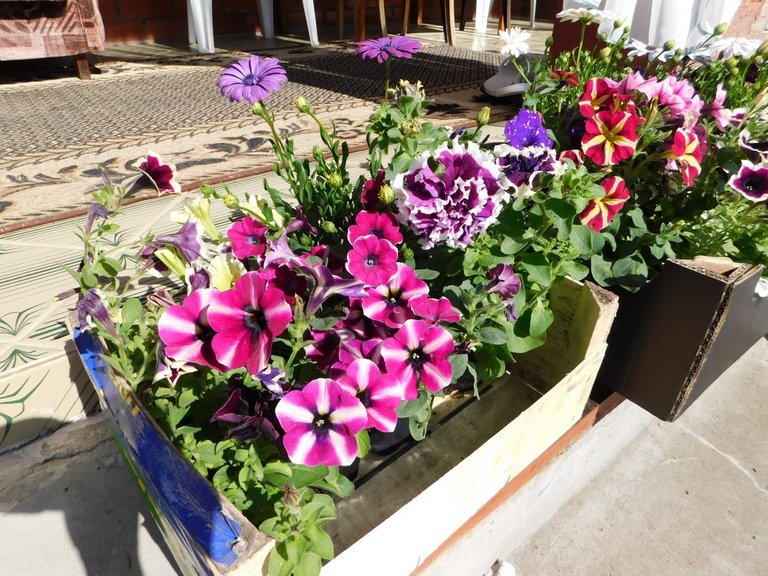 You can buy any already flowering seedlings - petunias, surfinias, osteospermum, gazania, cineraria, various varieties of begonias and miscellaneous-different-different.
Уже цветущую рассаду можно купить любую - петунии, сурфинии, остеоспермум, гацанию, цинерарию, различных сортов бегонии и разное-разное-разное.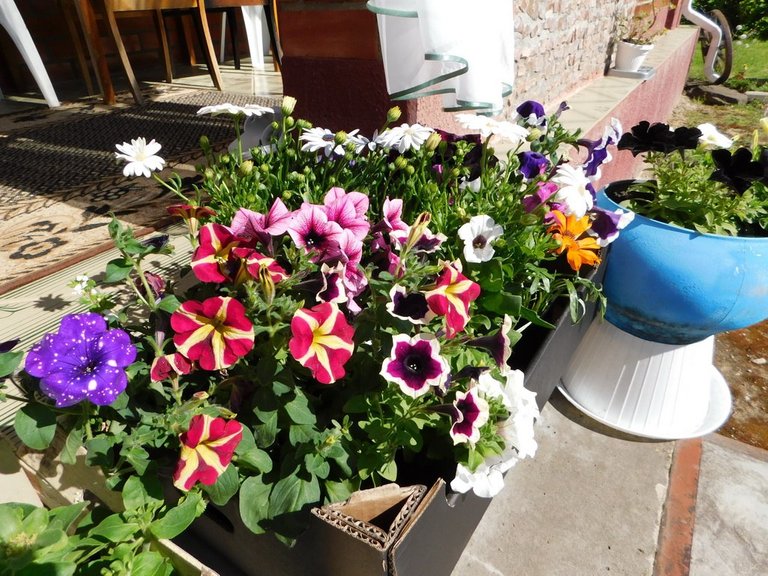 In general, whatever one may say, I always have a couple of boxes, and already in the second round. Since I first plant the first batch for those places where they will look more like potted crops. These are three huge window sills, where the windows of the house open onto an open veranda. And of course, hanging planters on the veranda and on the facade of the house.
My husband hung a lot of hooks on the wall of the house, so I had to buy flower pots and naturally flowers.
It is much more profitable to buy a hanging pot and one plant than to buy a plant in a pot from a seller. Great money savings.
В общем, как не крути, а у меня всегда парочка ящиков, и уже по второму кругу. Так как первую партию я сначала высаживаю для тех мест, где они больше будут смотреться, как горшечные культуры. Это три громных подоконника, где окна дома выходят на открытую веранду. И конечно же подвесные кашпо на веранде и на фасаде дома.
Мне муж навешал на стену дома много крючков, так что пришлось прикупить кашпо и естественно цветов.
Куда выгоднее купить подвесной горшок и одно растение, чем купить растение в горшке у продавца. Приличная экономия денег.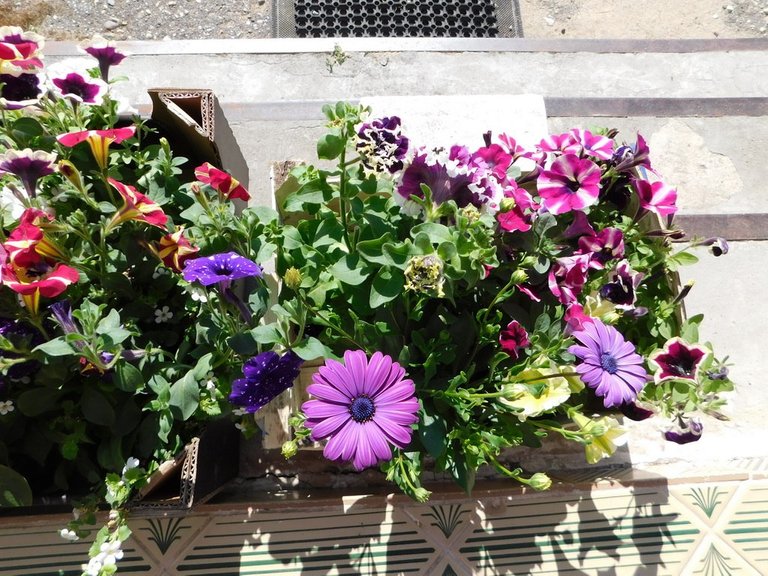 Of course, the second call for buying flower seedlings occurs in a few days. Such purchases will fill the voids near the house - this is an original flowerbed in the form of a bicycle, decorating sewer manholes and simply arranging pots on paving slabs.
Конечно же второй заход за покупками цветочной рассады происходит через несколько дней. Такими покупками будут заполняться пустоты возле дома - это оригинальная клумба в виде велосипеда, декорирование канализационных люков и просто расстановка горшков на тротуарной плитке.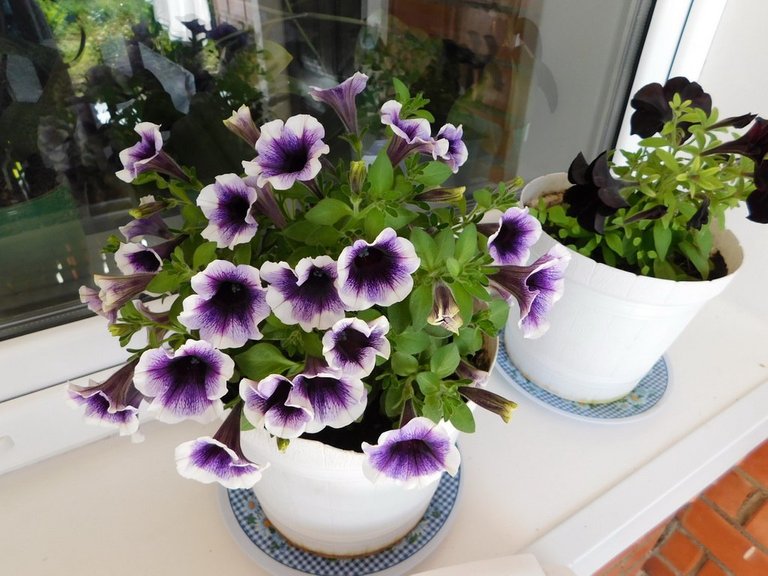 Flowers grow immediately.
Still, whatever one may say, the little black one is still naughty. It will be necessary to feed crystallon for flowers.
Цветы идут в рост моментально.
Все же как не крути, а черненькая еще капризничает. Надо будет кормить кристаллоном для цветов.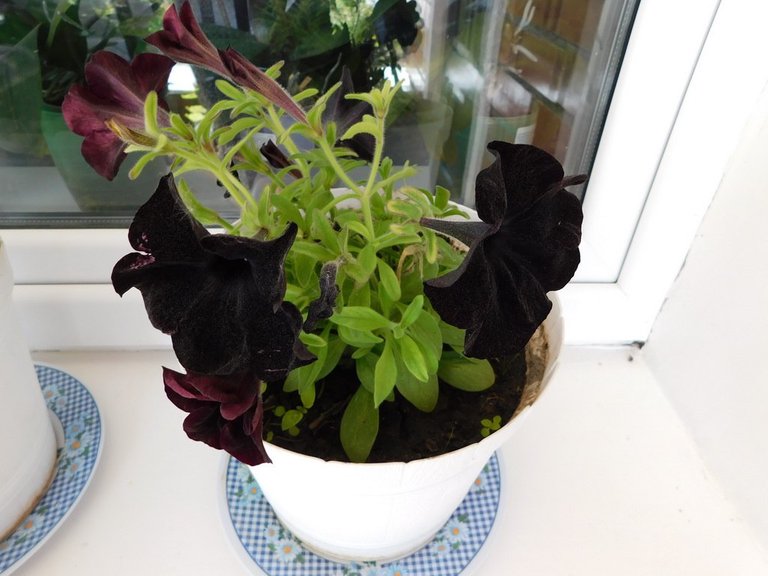 This is how seedlings are planted in flower pots.
Вот так происходит рассаживание рассады по цветочным горшкам.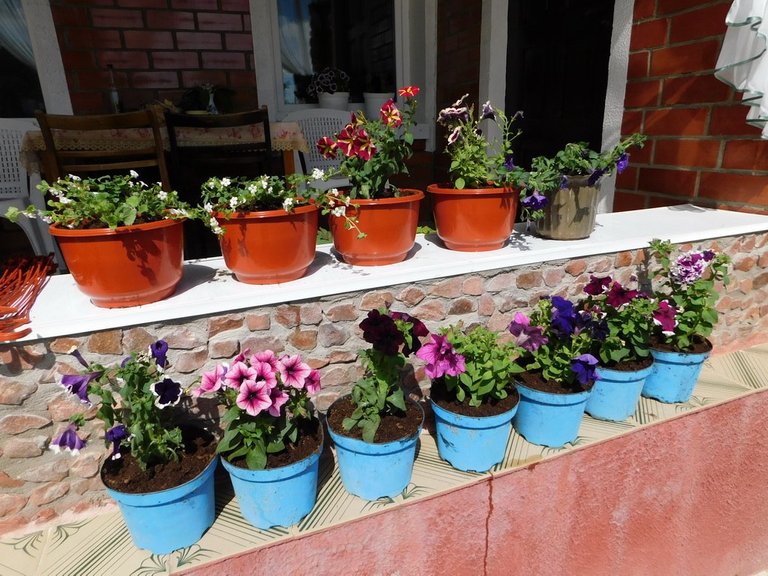 ---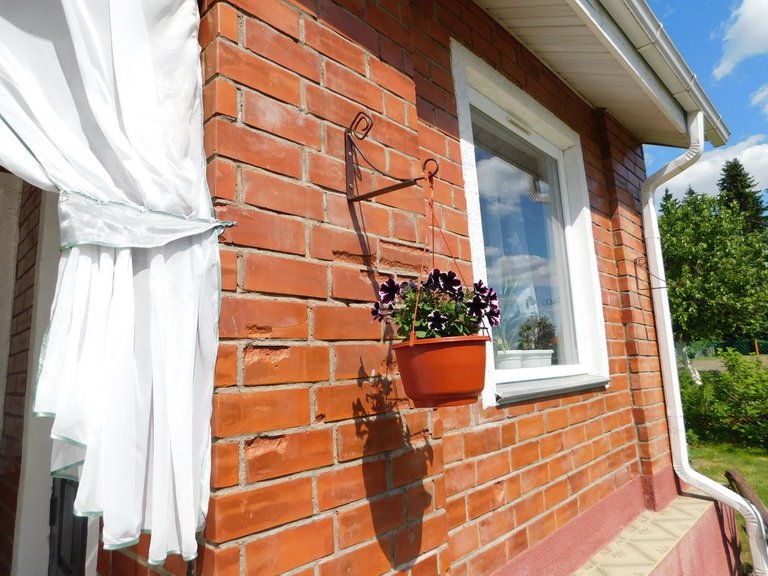 I like striped colors, I just adore them and every year I try to buy as many of these petunias and surfinias as possible.
Мне нравятся полосатые расцветки, я их просто обожаю и каждый год стараюсь купить, как можно больше таких петуний и сурфиний.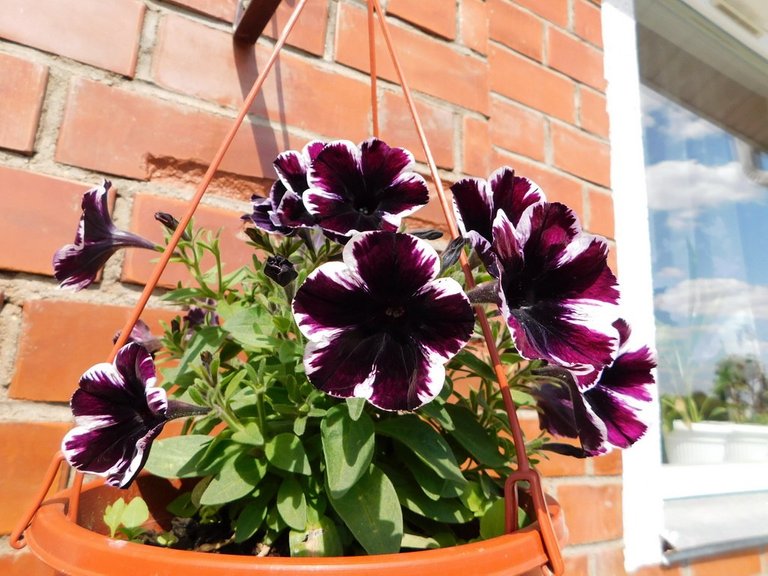 Fantasy is also impressive.Fantasy is also impressive.Fantasy is also impressive.
Фэнтези тоже впечатляют.
My "Yin and Yang" - Every year and in the same place.
Well, a little Japan never hurts.
Мой "Инь и Янь" - Каждый год и на одном и том же месте.
А что, немного Японии никогда не помешает.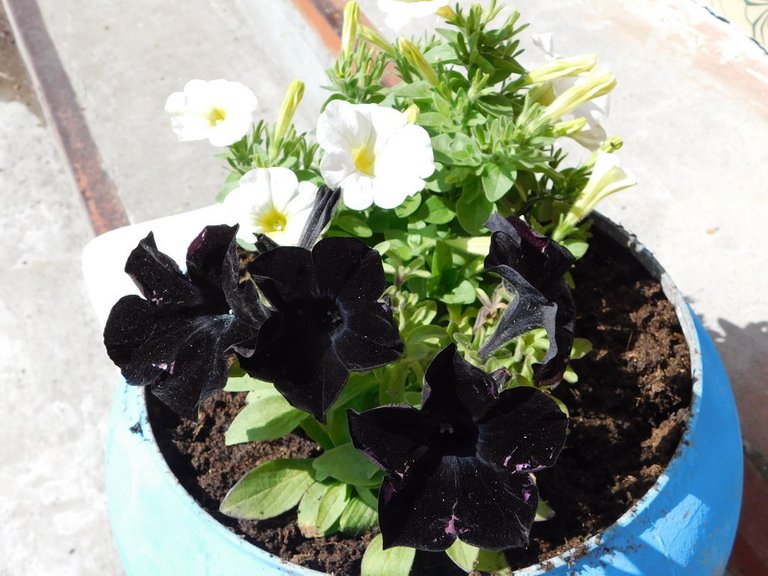 I planted Osteospermum in buckets. So far, there are only flowers on the bushes, but they are all in buds. The beauty will be indescribable.
В ведерки посадила Остеоспермум. Там пока на кустиках только по цветочку, но зато они все в бутонах. Красота будет неописуемая.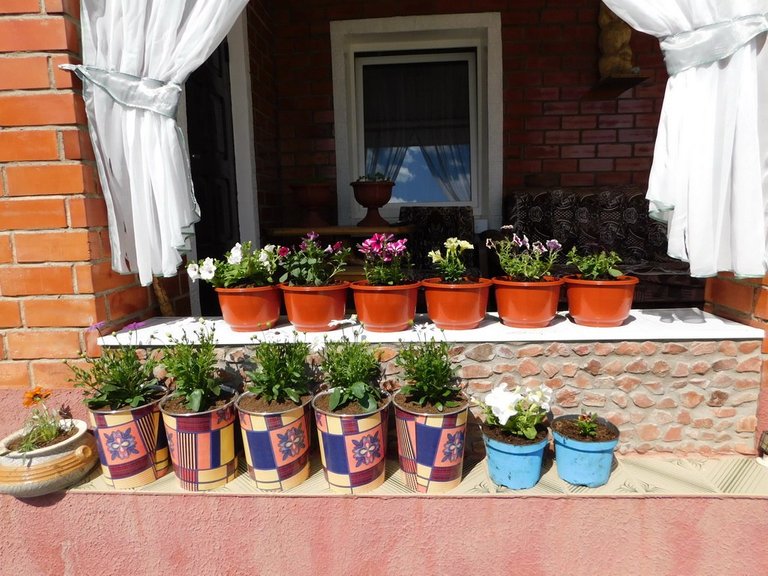 So far, so, like growing. Yes, and it is necessary that the flowers get used to the sun.
And the veranda has already changed. The area nearby is paved with paving slabs and soon I will show you how everything will look. Spring is coming and soon there will be new colors.
Пока что так, типа на доращивании. Да и надо чтобы цветы привыкли к солнцу.
А веранда уже приобразилась. Территория рядом замощена тротуарной плиткой и скоро я вам покажу, как все будет выглядеть. Скоро весна и скоро будут новые краски.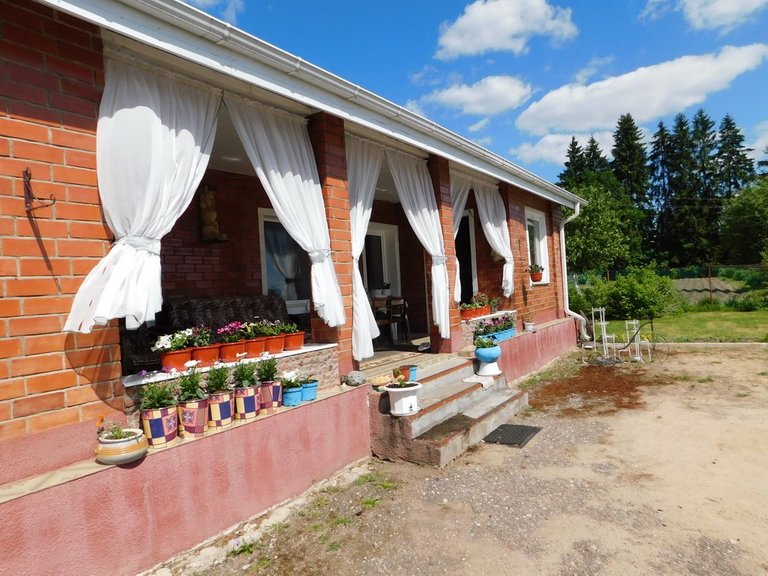 And now just a photo of what will bloom beautifully.
А теперь просто фото того, что красиво зацветет.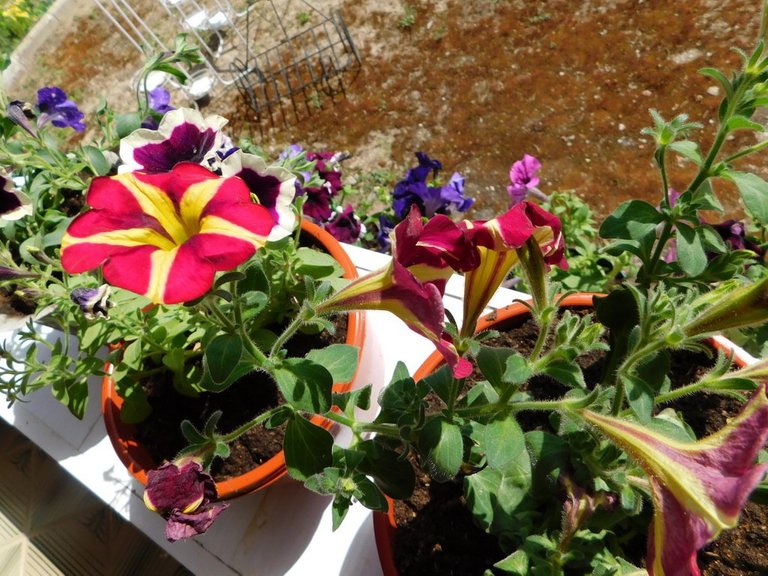 ---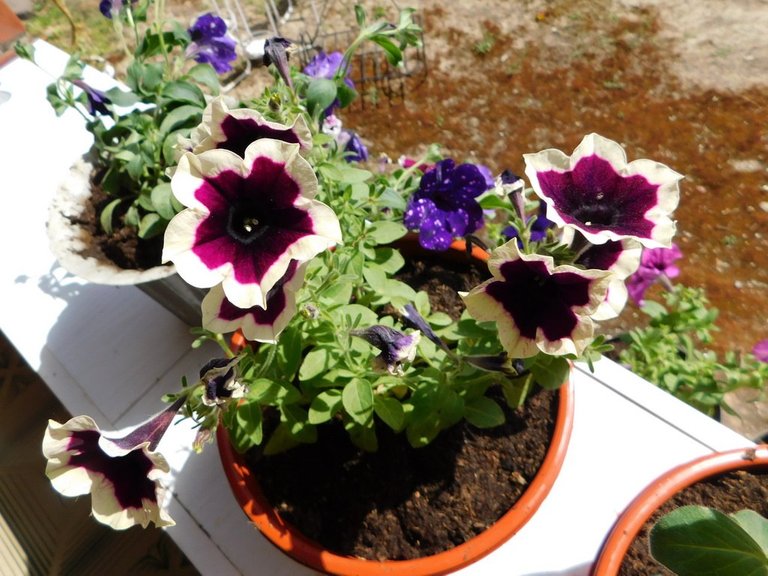 ---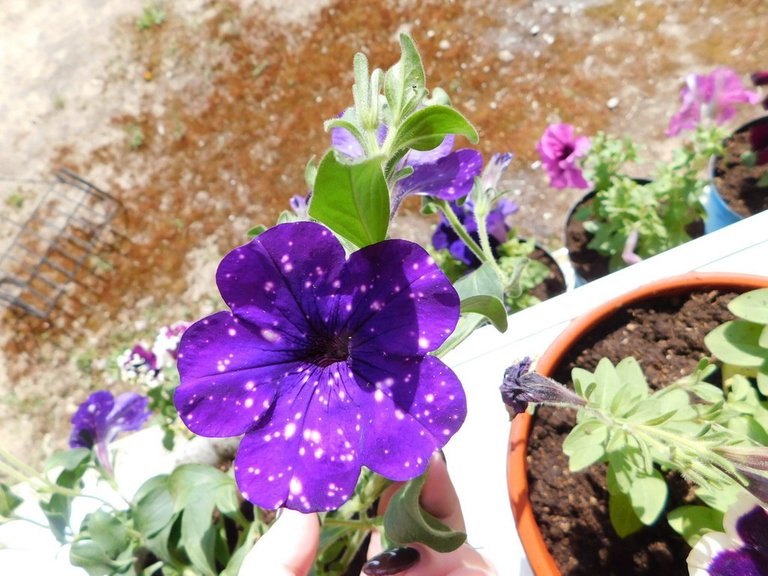 ---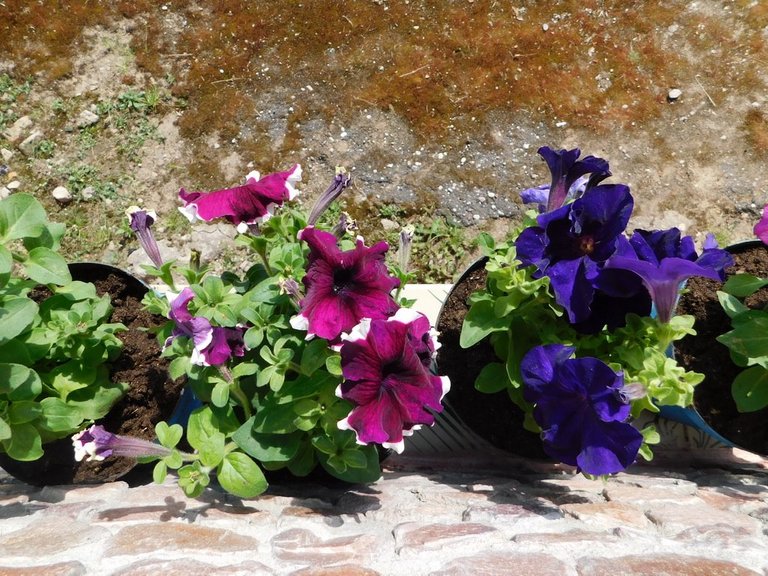 ---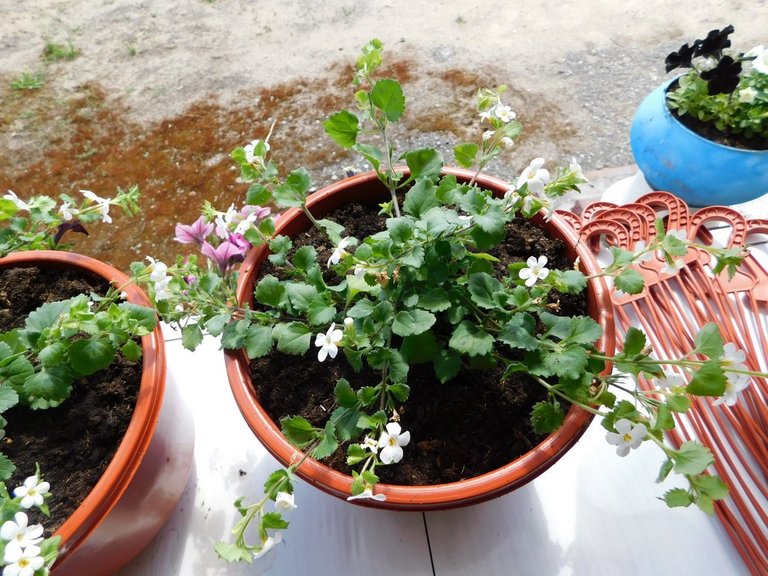 ---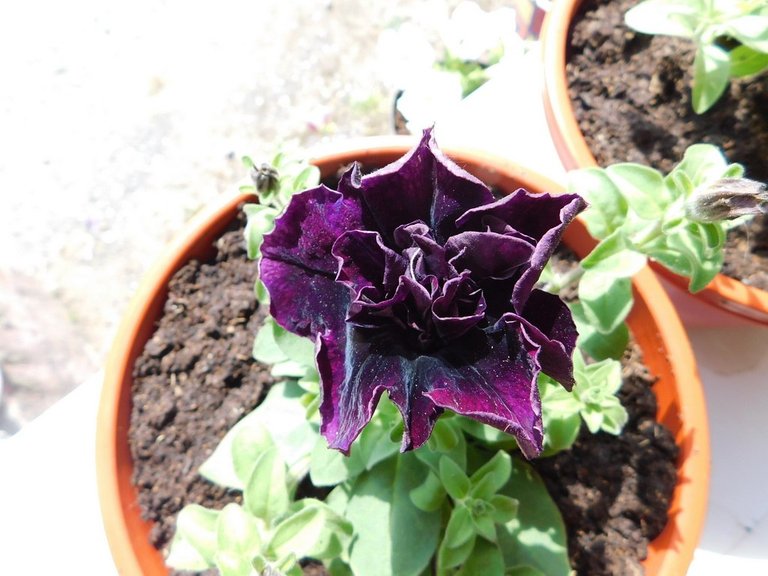 ---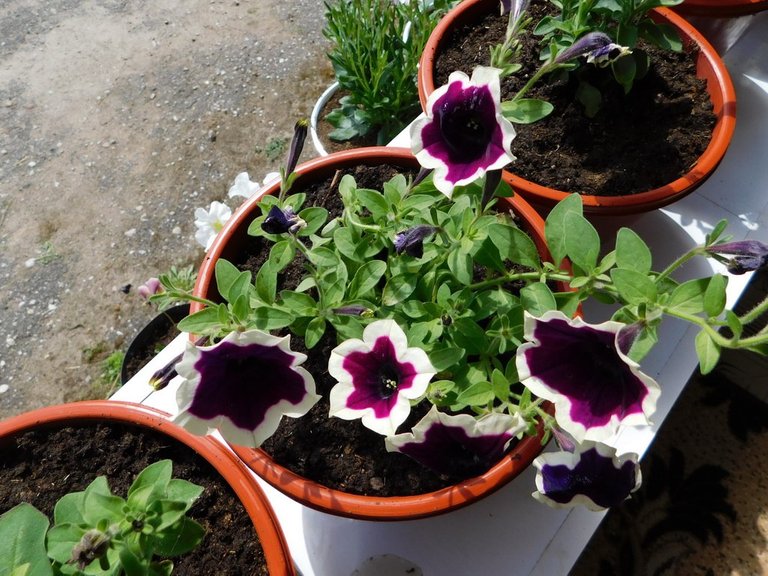 ---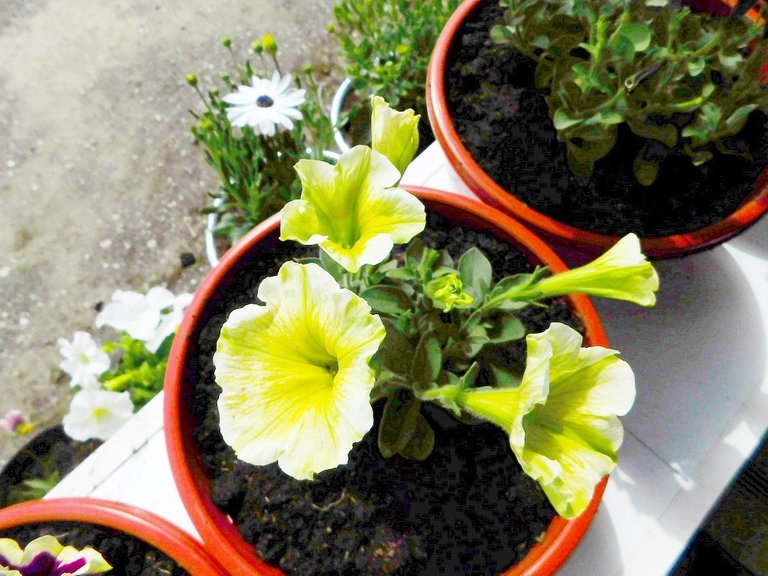 ---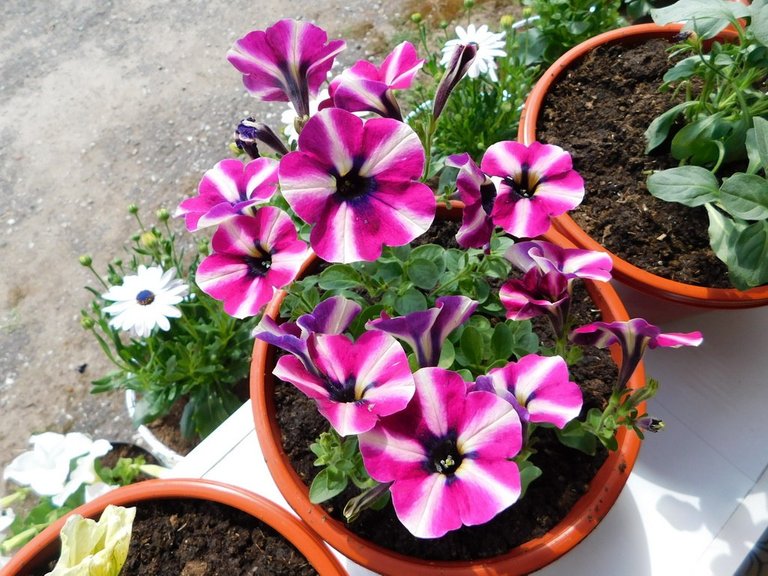 ---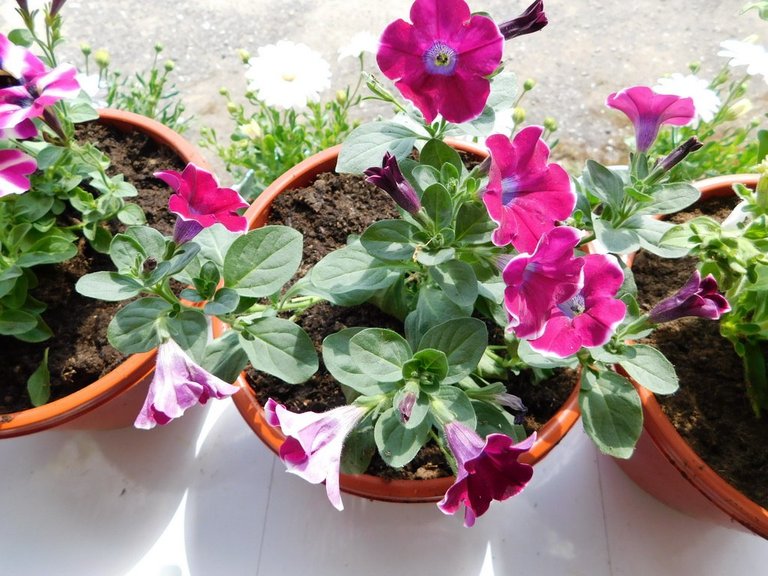 ---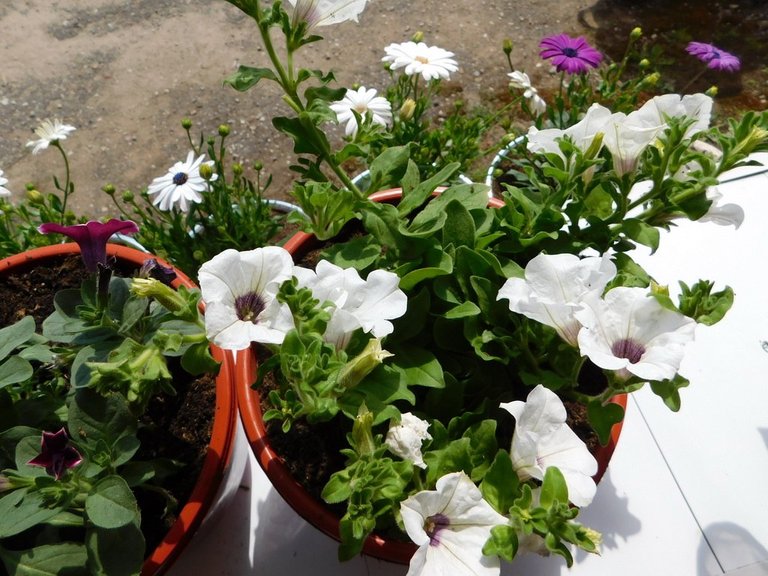 ---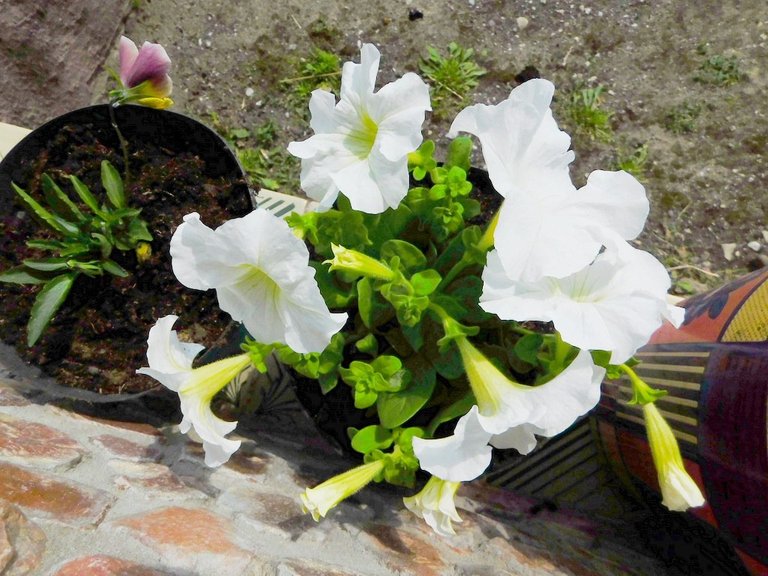 ---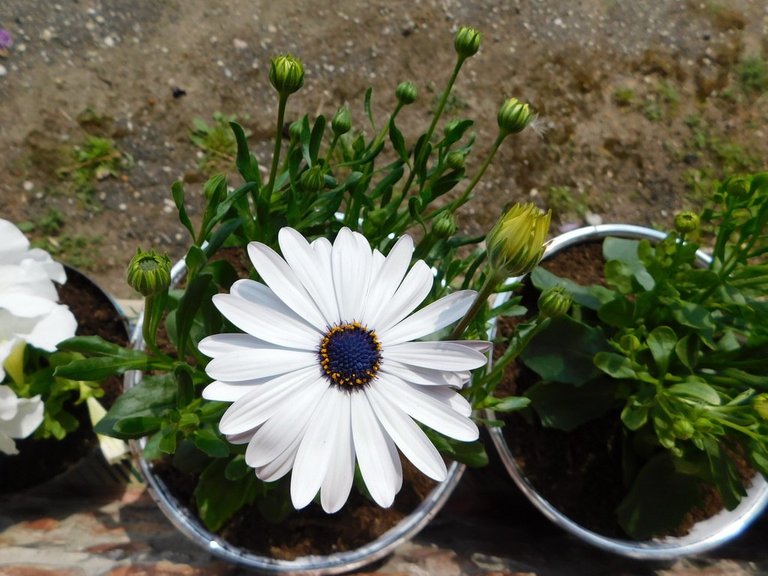 ---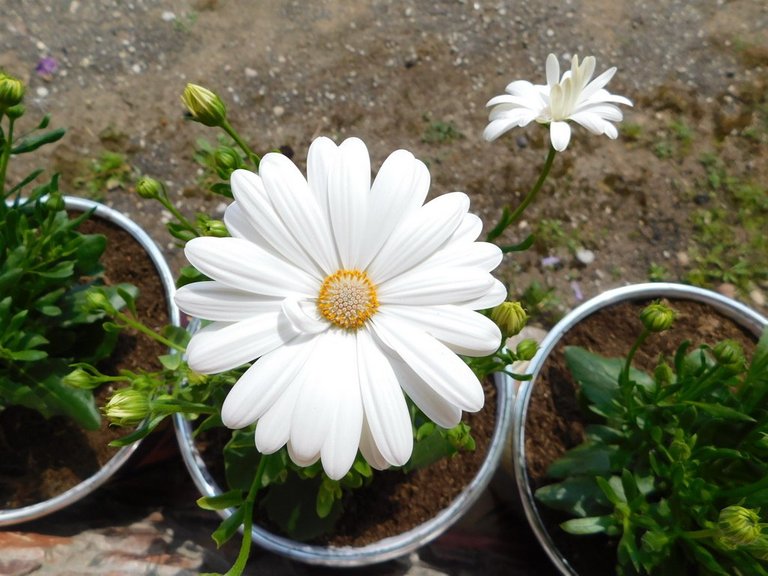 ---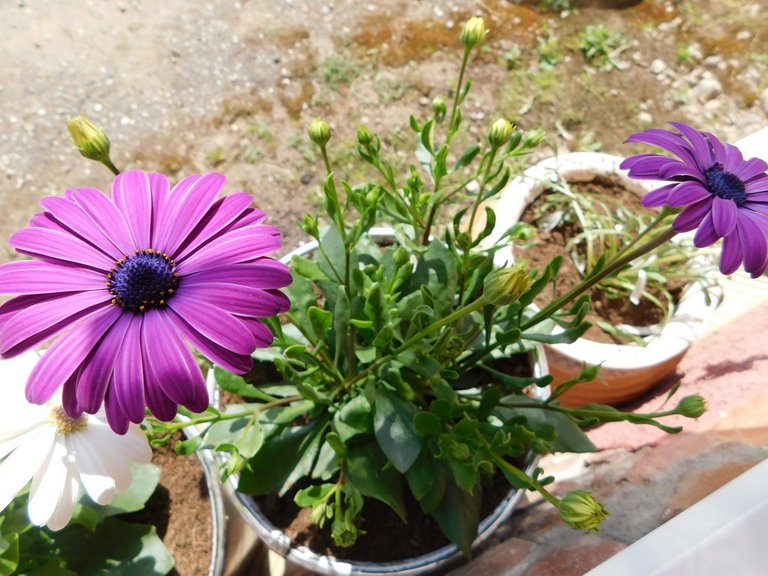 This year I have a new idea. I bought a lot of petunia seeds and will try to grow seedlings myself. Wish me success.
Well, that's all, see you soon!
В этом году у меня новая идея появилась. Я прикупила очень много семян петуньи и постараюсь сама вырастить рассаду. Пожелайте мне успехов.
Ну вот и все, до новых встреч!

---