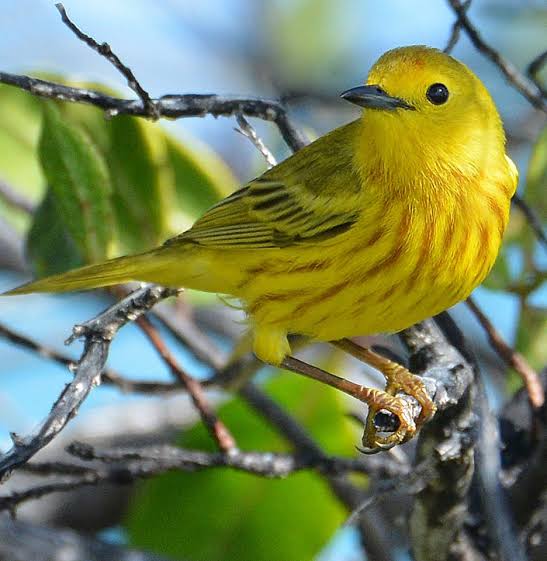 source
Hi everyone, hope we all enjoy a wonderful weekend?
Every nation has its own stories, most of which are very old and have emerged from the old days when people believed in the existence of things like a story. There are many different species of birds in the world, but the yellow warbler from the Parulidae family is special. Yoruba called it "eiye ega."
The bird is one of the animals that live freely on earth, their blessings always come from the Lord. No work, no stress, but they feed every day, mostly birds are dependent on humans because they eat everything you grow and make themselves comfortable.
Most of the time Yoruba used stories for moral education, telling false stories about something to teach moral lessons.
I usually know stories about yellow warblers, but they look really confused, maybe the stories are true or they just warn me.
This particular bird was supported by Yoruba stories.
It is moral for me not to kill a bird, or it is purely true. There's a strange story from my grandmother about the Yellow Singers.
The Yellow Warblers are one of the creators that God used to save the people of the ancient land of Yoruba. we all know yoruba with the ethnic wars of that time.
The Yellow Warbler is a bird that, wherever you see them, is always full of sweet songs. The bird is yellow.
The yellow warbler bird always builds a nest on large trees, where many of them you will see screaming and singing sweet sounds.
War once came to one of the Yoruba ethnic groups. This bird sat by a tree almost in the village, singing birds always arouse the knowledge that nature lives mainly on trees. Something about this bird is that when they sing in the trees and there are more echoes than their voice, they usually fly away in fear, there are always human threats. This is exactly what happened when the war approached, when the war approached the village, the crowds and the noise of the war drove them away and people realized that strange things were coming.
I can say that Yoruba uses this bird as safety for himself, normally birds make sounds, but yellow warblers never get tired and do not stop singing as soon as they sit next to their nest.

Moral
Appreciate all living nature,they also have there contribution to earth. They are created for a purpose.
I am adedayoolumide a Vblogger, programmer. I write out my heart with pen. I always admire the presence of Learn man to make a contribution to our ecosystem. Follow me for more or my blog post @adedayoolumide