On Valentines Day it was announced,
Ned Scott (Steemit Owner) sold STEEMIT to Justin Sun.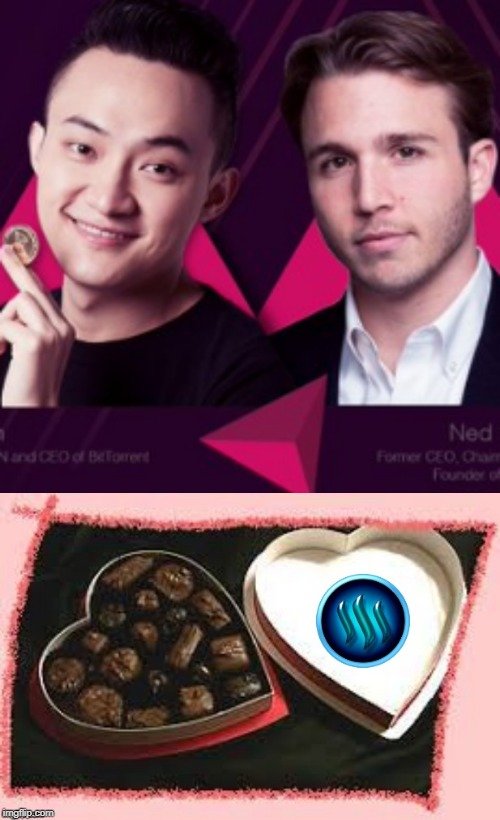 My Thoughts And Opinion On That Sale
Before I get to my Opinion On The Current News That Justin Sun Bought Steemit first lets take a look at the events that transpired before the official change of power. As noted above the transition of the Steemit ownership was announced on Feb.14th (valentines day thus prompting me to poke fun at the timing of the announcement with my box of Steem Chocolats in the opening screenshot).
Lets go even further back ..... In December of 2019 I reported the rumor on my Steemit blog in the topic, Steemit Has Been Sold?? (Articles & Source Provided). I was by no means the first to report but it was at this time the Rumor of a TRON takeover/merger was a very hot topic among those of us who frequent the Steem blockchain. This news mainly came from one source but was being reported by many different news outlits. A couple of those reports and sources can be found below.
NewsLogical
Founder Justin Sun is set to add to the collections of projects he has at hand, as a report claims the CEO is set to purchase content distribution platform Steemit.
Source: https://newslogical.com/tron-sets-to-acquire-blockchain-content-platform-steemit-report-claims/
Huoxing24
Mars Finance APP (WeChat: hxcj24h) reported on the front line that on December 9, according to people familiar with the matter, it was revealed to Mars Finance that Tron is about to acquire the blockchain project Steemit. Five days ago, Sun Yuchen, the founder of TRON, revealed on Weibo that two recent mergers and acquisitions have been completed.

Source: https://news.huoxing24.com/20191209235130489696.html
....Early Indication Of The Merger (Take0ver)
In January of 2019 it was reported by NewsLogical that at the niTROn Summit in San Francisco, Tron Foundation listed ORACLE among its partners. It also listed Aurora, Steemit, Pantera and some other firms as its partners.
Source: https://newslogical.com/oracle-steemit-already-partnered-with-tron-trx-but-no-one-is-talking-about-it/
After the announcement of the sale, Justin Sun and former Steemit owner Ned Scott had AMA (Ask Me Anything) broadcast on Dlive and also streamed and answered questions from other social media outlits such as Twitter. Below is a replay of that AMA originaly created and posted by Steem witness @aggroed.
Now For My Opinion ....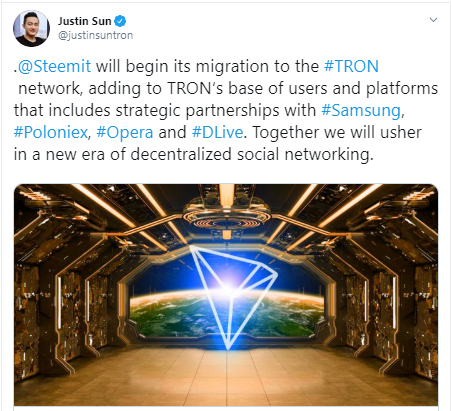 I think its obvious that STEEMIT is going to be headed to TRON. To think otherwise is wishful thinking, Justin Sun is all about building up his brand which is the TRON brand. What-ever his initial reason for purchasing STEEMIT was, its very likely thats the plan that is still in place. In his video when answering questions about STEEM(it) and its future he more often than not ended his answer with,"For Now". That to me means, yous can continue on with what yous are doing but the orginal plan of migrating to TRON will still take place.
With his purchase of STEEMIT he manage to aquire a large stake in the STEEM ecosystem. Not only did he get the most notable interface on the STEEM blockchain he also attained a large amount of STEEM tokens. There's been rumblings about how much in total he has attained but regardless of that total number, it's allot. In fact its enough that he can dictate who our top witnesses are thus regardless of if you like it or not puts him in a very powerful position.
The powerful position in which he fairly and honestly attained scares many. There's been many conversations and post created threatening/ discussing a fork in which removes this power from Justin Sun.
My thoughts on that ....
Justin Sun attained his STEEM and the Dapp Steemit fairly and honestly. If the witnesses and community here are willing to simply fork him out that sets a very bad precedent. Who is going to want to invest a pile of money in a blockchain in which the community is willing to fork out someone who has fairly attained his stake. From a logical standpoint, I certainly wouldn't.
What's Our Course Of Action
First we have to remember that STEEMIT is not STEEM. Justin Sun can migrate STEEMIT to Tron but he can't just up and take the whole blockchain. The blockchain can and likely will still exist after the migration of STEEMIT to Tron. When this migration takes place, its reported that a token swap will be offered. You give Justin Sun your current STEEM token and then get a STEEMTRON token in its place (which will further add to his holdings of the orginal STEEM token).
Some will take that offer and others will not. This will split the current STEEM group in two and then we have a battle of Original Steem Token vs. TRON Steem Token and its very likely Justin Tron wins that war. The reason for that is a token is only as valuable as the exchanges that accept it as a currency for trading/selling. Justin Tron has more resources in this manner then the broken up STEEM community will have and the majority of the Exchanges will likely side with him and list his new Steem token and remove the current. If the exhcanges decide to keep the current STEEM token listed than that will be a huge win for the STEEM community that decides to stay with the blockchain we have all come to love and enjoy.
Forking Justin Out Shouldn't be done but ....
We can "fork" ourselves out. A clone of the current Steem blockchain as we know it can be created and we all start fresh and push forward to the goals that are already in place. I see this as a morally acceptable thing to do while not jeopardizing the integrity of the STEEM token / blockchain.
Current Best Course Of Action ...
In short, Power Down but don't panic. Having liquid STEEM allows you more options than having Steem Power in which takes weeks to fully turn liquid. You should also keep in mind that Justin Sun spent millions to aquire these new assests (Steemit and his STEEM tokens) and it isn't likely he wishes to see either burn to the ground. Lets take a look at one of the screen shots I already posted in this topic and that is being shared by many other Steemians in their topics on this subject. Full disclosure, I haven't started a power down yet and don't plan on doing so anytime soon.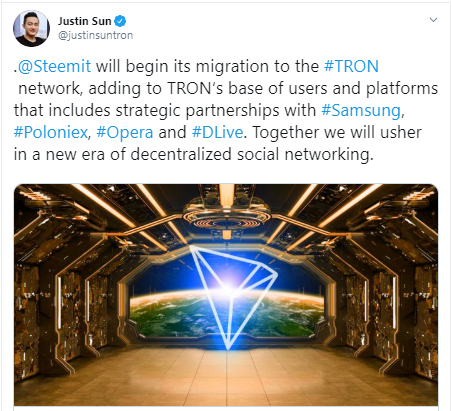 It's not all bad, things may very well work out for the better. Justin Sun is a smart man and is very successful with many resources at hand. He quotes some partnerships such as Samsung, Opera in is tweet and he also mentioned them in the AMA video. I have no clue what this man has planned but he certainly peaked my interest so lets not come to the conclusion of the worse case scenario but lets look at this from a positive but skeptic standpoint and open our eyes to all the new doors that have just been opened.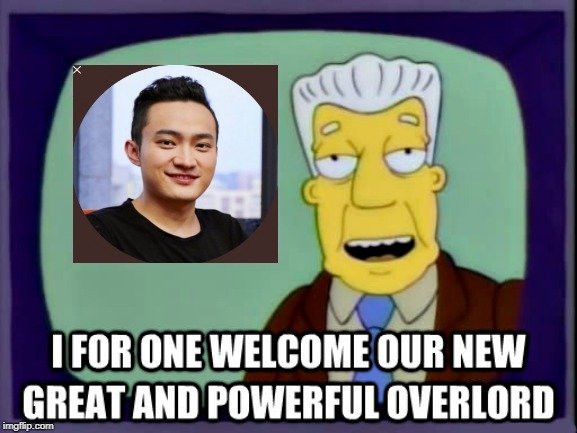 Share Your Thoughts On The Situation Below ....
Updated on 02/17/2020 To add below video!