We humans are redeemed to be fruitful in our daily lives in whatever thing we are doing. We are all into one goal we are chasing in one way or the other but some due backslide because of lack of faith that they can't prosper in accomplishing their goal.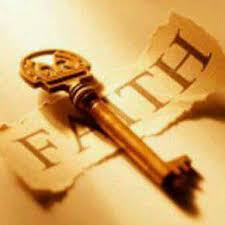 source
Having a stronger faith matters in moving forward in life regardless of the challenges that comes which hinders ones belief to conquer because during that moment life would be tough and won't seem as if there is any improvement or progress.
Faith is definitely what we need as value in life which serves as self determination, courage and believe to overcome challenges that you can be able to stand out and be on top of your game no matter the consequences and challenges that would want to act as setbacks but with "faith" it can conquer all things if you throughly believe.
The truth about the whole scenario is that good results are always available for us to accomplish but can be achieved if only our faith is really obtained. Many find it difficult to proceed in life due to rough start or difficult situations they encounter in cases like financial issues, battling with health issues and so many cases or situations that requires faith.
But self believe conquers all which act as faith, don't let your present situation or what your going through way you down and always eradicate the mindset that you can't overcome such obstacles. The aim is to believe for a better tomorrow that you can make it and let the past become story.
But without faith it is impossible to accomplish that mission. Faith is a habit or idea which means you never quit on your dreams or your aim to accomplish a certain goal for purpose in life. People who throughly have this faith in their desired dreams which is their main purpose in life do not allow anything to get in their way or let anything distract them from achieving success.
Faith is the most important tool or ingredient to achieve success in other words with faith all things are possible in achieving success.