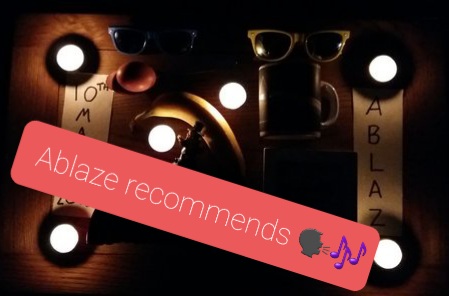 What is the craic?? Any idea what day it is people of the planet?
Yep, It's Tuesday, which of course means one thing and one thing only, yep, that's right it's Three Tune Tuesday. It's a time of the week when lovers of music, tunes and craic bring their blockchain community three of their finest and brightest tunes to share and celebrate.
This will be my 56th week waxing lyrical for Three Tune Tuesday. It started off with me just sharing tunes into the void, but little by little others joined and now I'm thrilled that we have a little corner of Hive where we come and share our tunes every Tuesday, long may it continue. I almost stopped posting the songs and thoughts a few times, but I stuck with it and now interestingly it is my favorite thing about Hive. I love music and now I have a network of folks around the world who love music too and we share our tunes and catch up with each others tunes and discuss them each week. We get Pop, Metal, Rock, Gospel, Folk, Jazz, Rap, Hip-Hop, Trip-Hop, Reggae, Bippy bappidy Flange Hop. Ok I made that one up, but you get the idea, we are all learning about new artists, bands, back stories and sure isn't it just mighty folks.
We are adding New posters and retaining our core of regulars here on #TTT which is fantastic. Let's keep it growing and that playlist that @blackdaisyft is updating (when she gets time) will hit the 400 mark in no time. Thank you for doing that by the way daisy, when you do find time, as I like throwing on the playlist from time to time reminding myself of all of the sweet tunes that have been shared down through the months - Good on you.
Weekly, I try to find an hour or two to listen to all of the fantastic music shared from like-minded folk from around the globe. This has lead me to genres I don't know well and to some amazing new bands and artists and has even introduced me to some musical instruments I did not know existed.
I hope you enjoy the tunes - be sure to tell me all about it in the comments below and above all else, please enjoy the rest of your Tuesday - smile at a stranger, rub a dog, be a nice human to someone who was not expecting it - peace out.
For those unfamiliar with TTT or Three Tune Tuesday....
The jist is as follows
Every Tuesday I'm going to share 3 songs which I like to listen to and I invite your feedback in the comments below. Better still, why not have a blast of your own Three Tune Tuesday and mention me in the post and I'll come and find the post and upvote it. If you could also use #ttt or #threetunetuesday tags that would be great. It'll be a sweet way for us all to discover new music. You'll also be in with a chance of winning the prize - more on that later.
Here are my week fifty six recommendations for Three Tune Tuesday
** Drum roll please.....**
Rage Against The Machine - Bombtrack
So, truth be told I was listening to these guys before I probably should have been, as my older brothers and older sisters were listening to them and I even remember having a Rage Against the Machine baseball hat which I thought was shit cool, but not really something for an 11 year old to be wearing, but I don't think it did me any harm, well I hope not anyway!
My first choice is Bombtrack, the opening song from their debut album which was self titled as "Rage Against The Machine".
Rage Against The Machine - Killing In the Name
This one is also from the self titled album from 1992 and what a time that was for music with blood sugar sex magik and Ten being released a few months earlier by Red Hot Chilli Peppers and Pearl Jam respectively.
Man, what an album and I am lucky enough to hear some of these performed live by Audioslave who have former Rage Against The Machine band members in their band. Those being Tom Morello, Brad Wilk and Tim Commerford. It was a sunny day at a huge music festival and they blasted out the three songs I've shared here. Epic. Sometimes one word is enough.
Epic.
Rage Against The Machine - Know Your Enemy
And last but not least, we have Know Your Enemy. These guys were on during the early evening at the festival I mentioned above and around 20% of the crowd who knew the tunes went absolutely cracked, head banging and dancing to beat the band, it was so class.
ThreeTune Spotify Playlist
Our good friend and regular Three Tune Tuesday poster @blackdaisyft adds the ThreeTuneTuesday songs to an ever increasing Spotify playlist occasionally when time allows. You can check them out here:
Three Tune Tuesday Spotify Playlist
SBI contest
Share your Three Tune Tuesday songs below or create a post with #ttt or #threetunetuesday and mention me so I can find the post.
I'll pick the three songs I enjoyed the most each week as the winner and transfer 1 share of SBI to the winner when this post pays out 7 days from now.
Three Tune Tuesday Sponsor
My old pal and brother from another mother @blanchy has also committed a share of SBI each week and so have the two Three Tune legends @blackdaisyft and @por500bolos.
So if you win, then you will get not one, not two, not three but four shares of SBI! Not too shabby at all!
Best of luck!
Sin é, That's all folks, thanks for stopping by.
That's it for another week. Those are your three songs for week fifty six. Let me know what you think - good, bad or indifferent? Did you like them all or just one or two?
Also, as I said before, I love getting good steers for new tunes, so please tell me about the latest and greatest from your playlist below and I'll be sure to check em out.
The YouTube videos shared are not owned by me and I am simply sharing great music with the community here on Hive
Thanks as always for stopping by everyone.
Peace Out