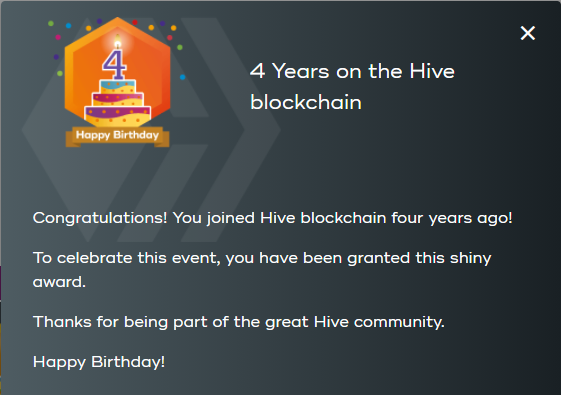 ---
Hello,

4 years ago today, I opened the account on this blockchain. I can remember exactly when I did it and why. It was a cold November day and I was looking for a way to make money.

The day before I was fired, along with many others, because the company where I was went on savings mode. And I thought I was getting a raise for the results, me and my naivete.

After going to the employment office, I sat down in front of the laptop and started looking for jobs. After 2-3 hours I was full and switched looking for other ways to earn money. That's how I found Steem and signed up for it. Until the activation came, I read the posts on Trending and wondered how much money can be made with such an article.

Long story short, now, after 4 years I can say that my life has changed a lot. Those 4 years have passed so quickly. Fortunately, I got to know many of you. I learned a lot and I was able to take something with me from almost everyone I met.

Even now, when I'm on the road, I get in touch with the people I have met here. Unfortunately, because of Covid-19, these meetings have become less frequent.

What can I say? I'm glad to be here and I'm excited about the future, which will hopefully be good for us all!

Until next time!


Hallo,

heute vor 4 Jahren habe ich auf dieser Blockchain ein Konto eröffnet. Ich kann mich genau ins Detail erinnern wann ich es gemacht habe und wieso. Es war ein kaltes November Tag und ich suchte nach einer Möglichkeit Geld zu verdienen.

Ein Tag vor wurde ich gekündigt, mit vielen anderen, weil das Unternehmen wo ich war auf Sparkurs gegangen ist. Und ich dachte ich bekomme ein Gehaltserhöhung für die Ergebnisse, ich und meine Naivität.

Nach dem ich bei Arbeitsamt gewesen bin, habe ich mich vor dem Laptop gesetzt und habe angefangen Stellen zu suchen. Nach 2-3 Stunden war ich satt und dann habe nach andere Möglichkeiten gesucht Geld zu verdienen. So habe ich Steem gefunden und mich angemeldet. Bis die Freischaltung gekommen ist, habe ich die Posts auf Trending gelesen und mich gewundert wie viel Geld mit so einem Artikel machen können.

Nach 4 Jahren kann ich sagen, dass mein Leben sich stark geändert hat. Diese 4 Jahre sind so schnell vergangen. Zum Glück konnte ich viele von euch kennenlernen. Ich habe vieles gelernt und fast von jedem den ich getroffen habe, konnte ich etwas mitnehmen.

Auch jetzt, wenn ich unterwegs bin, melde ich mich bei den Leuten die ich hier getroffen habe. Leider, wegen Covid-19 sind diese Treffen seltener geworden.

Was kann ich sagen? Bin froh hier zu sein und bin gespannt auf die Zukunft, die hoffentlich gut für uns alle sein wird!

Bis demnächst!


---