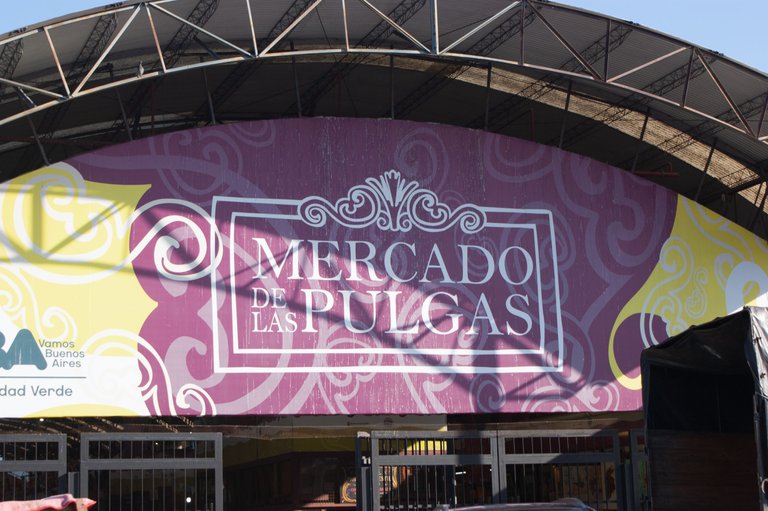 Greetings friends! I hope you are very well, I am very excited to post today about a market I visited in the Palermo neighborhood of the city of Buenos Aires. It is the flea market very popular and well known in the neighborhood and also in the federal capital, so complying with the
#MarketFriday
by
@dswigle
let's start to develop what this place.
It is literally a place where you can find everything from a pencil to a motorcycle. It is very crowded by the people who live in the place and by others who live in the surrounding area and offer excellent quality products ranging from used items or new items that are even manufactured in the establishment.
Saludos amigos! Espero estén muy bien, estoy muy emocionado de publicar hoy sobre un mercado que visité en el barrio de Palermo de la ciudad de Buenos Aires. Se trata del mercado de las pulgas muy popular y conocido en el barrio y también en la capital federal, así que cumpliendo con el

#MarketFriday

por

@dswigle

comencemos a desarrollar lo que este lugar.
Es literalmente un lugar donde puedes encontrar de todo, desde un lápiz hasta una motocicleta. Es muy concurrido por las personas que residen en el lugar y por otros que viven en los alrededores y ofrecen productos de excelente calidad que van desde artículos usados o artículos nuevos que incluso fabrican en el establecimiento.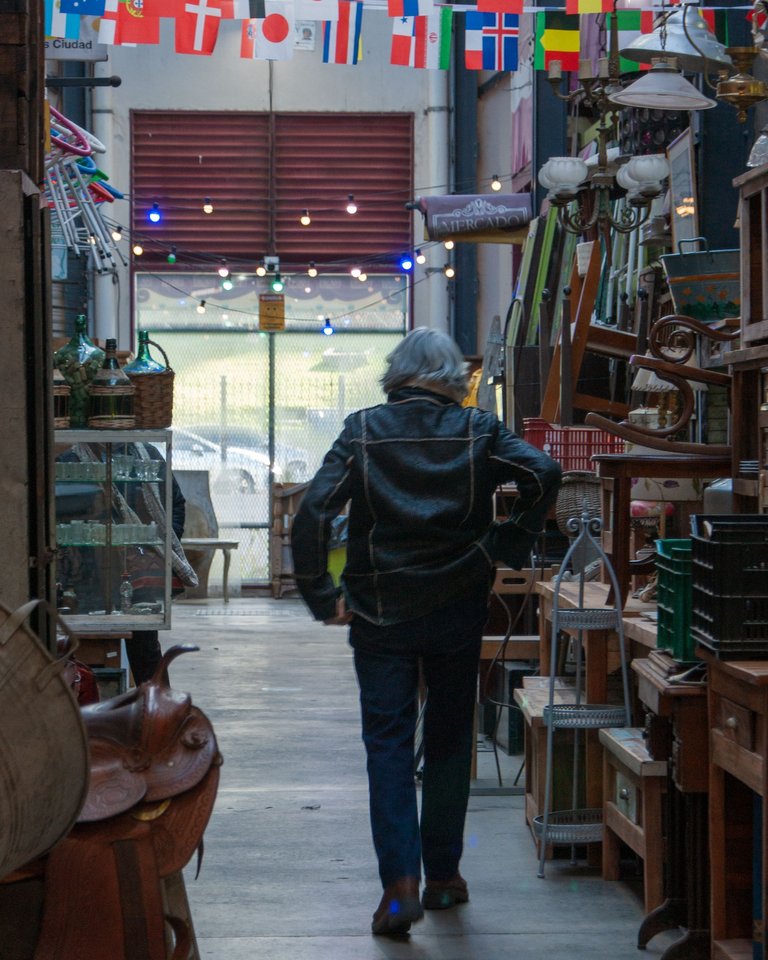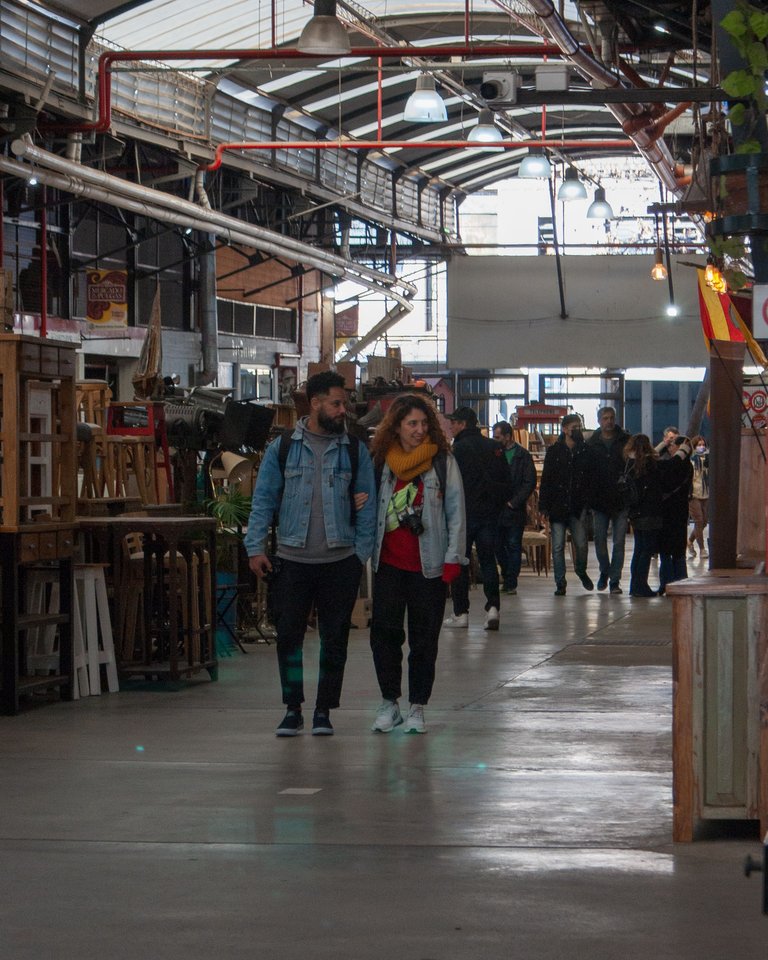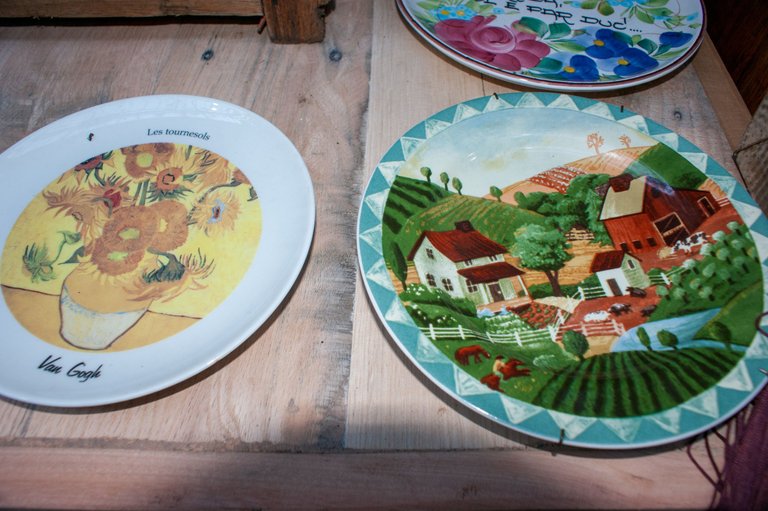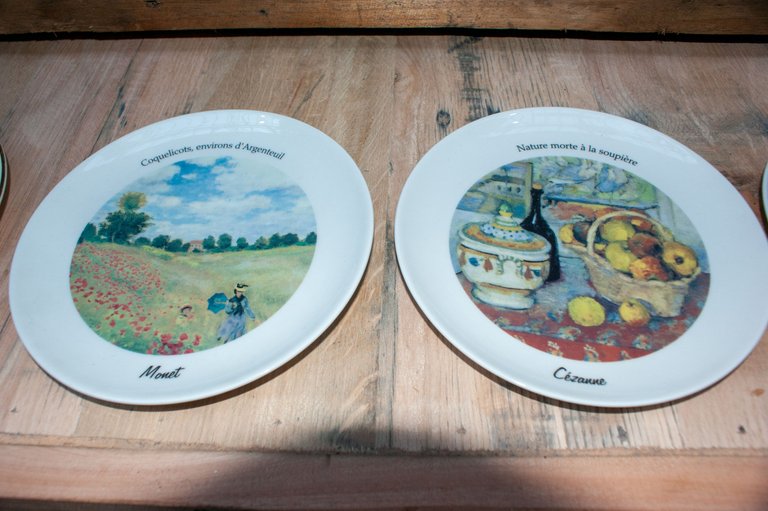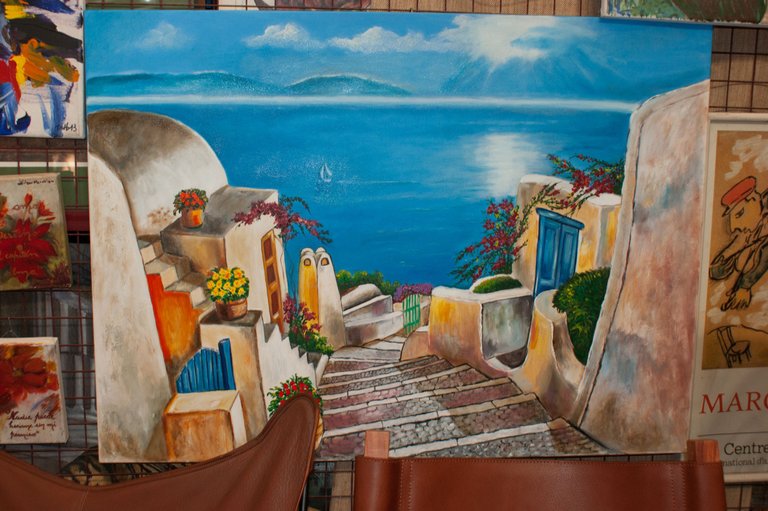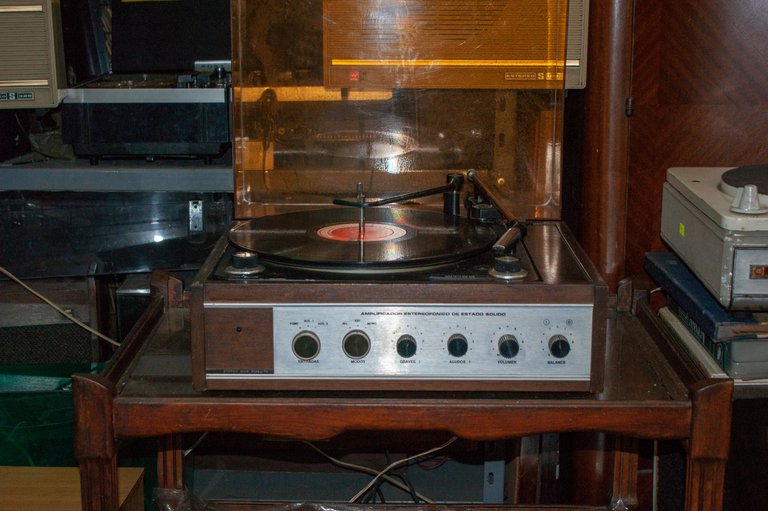 In the photos I show you in this section you can see part of the place and part of some of the stalls offering products such as paintings, which there is a lot of this, plates with decorations and even a real record player in good working order, in addition there are also vinyls of different musical styles. There is something that caught my attention and that is that it is very organized within what we could see as disorder, all over the aisles are exhibitions of products accumulated as would people who tend to be compulsive shoppers and accumulators, but still within a certain order.
You find books, televisions, chairs, mannequins, carts and even in a secluded section a decorative items store that is responsible for making lamps such as palace style, as you see in one of these photos, with prices ranging from $ 150 u$d to $ 500 u$d.
En las fotos que les muestro en esta sección pueden ver parte del lugar y parte de algunos de los puestos de ventas ofreciendo productos como cuadros, lo cual hay mucho de esto, platos con decoraciones y hasta un tocadisco real en buen funcionamiento, adicional se encuentran también vinilos de distintos estilos musicales. Hay algo que me llamo la atención y es que es muy organizado dentro de lo que podríamos ver cómo desorden, por todos los pasillos se encuentran exposiciones de productos acumulados tal cual lo haría personas que tienden a ser compradores y acumuladores compulsivos, pero aún así dentro de un cierto orden.
Encuentras libros, televisores, sillas, maniquíes, carretillas e incluso en una sección apartada una tienda de artículos decorativos que se encargan de fabricar lámparas tal cual estilo palacios, como lo ven en una de estas fotos, con precios que van desde los 150 u$d hasta 500 u$d.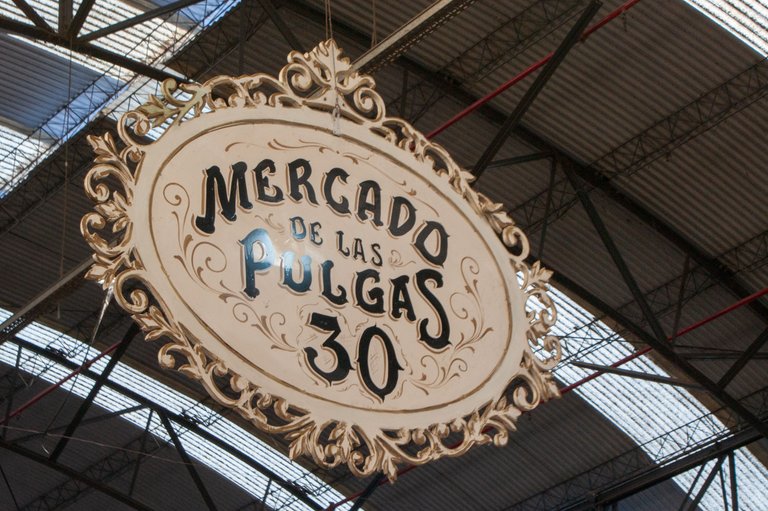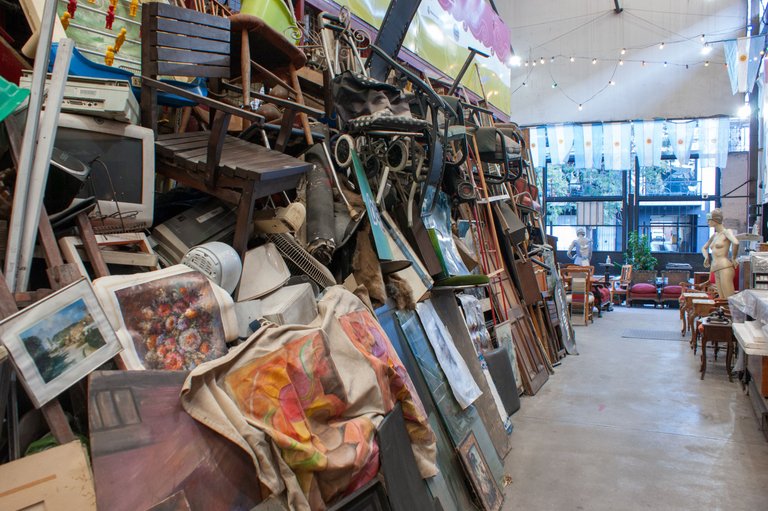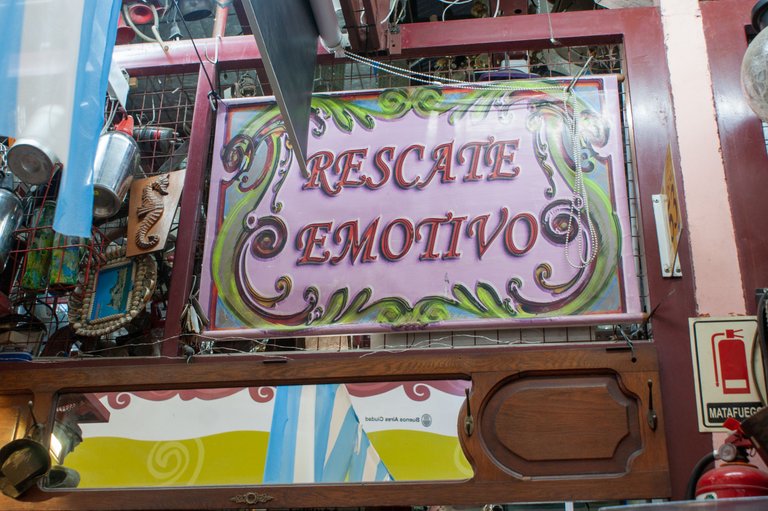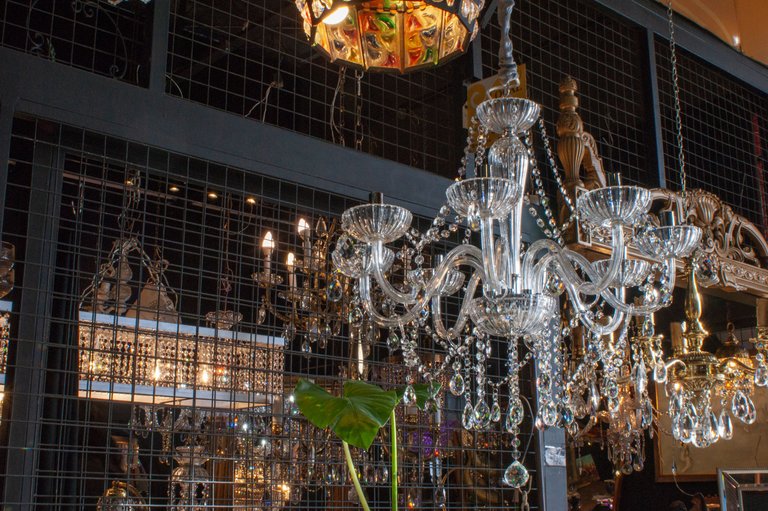 The flea market opened its doors in 1988 and today has 34 years of operation offering products of different categories. In this part we have a place that would drive crazy the photography lover because they expose items such as cameras of different times of rolls and different brands, in the same place you can find things to decorate a bar or a special place in your home.
Pictures, old signs that worked in the city with names of streets or avenues, antique clocks, posters of some brands of different past decades among many other things. To go through the whole place I think it is necessary at least 3 hours or more, if you want to look carefully at each of the shops and products.
El mercado de las pulgas abrió sus puertas en el año 1988 y al día de de hoy tiene 34 años funcionando ofreciendo productos de distintas categorías. En ésta parte tenemos un local que volvería loco al amante de la fotografía ya que exponen artículos como cámaras fotográficas de distintas épocas de rollos y de distintas marcas, en el mismo local puedes encontrar cosas para decorar tipo bar o algún lugar especial de tu casa.
Cuadros, letreros antiguos que funcionaron en la ciudad con nombres de calles o avenidas, relojes antiguos, pósters de algunas marcas de los diferentes décadas pasadas entre un sin fin de cosas más. Para recorrer todo el lugar creo que es necesario al menos unas 3 horas o más, si deseas mirar con detenimiento cada uno de los locales y de los productos.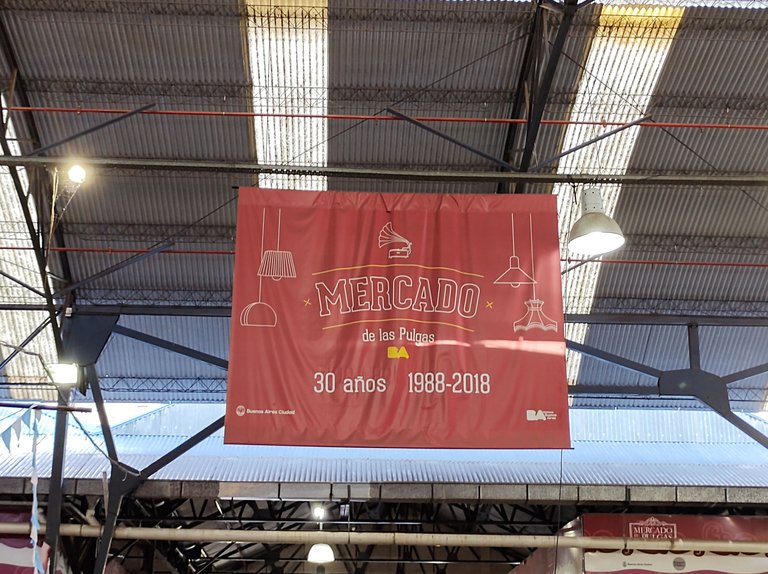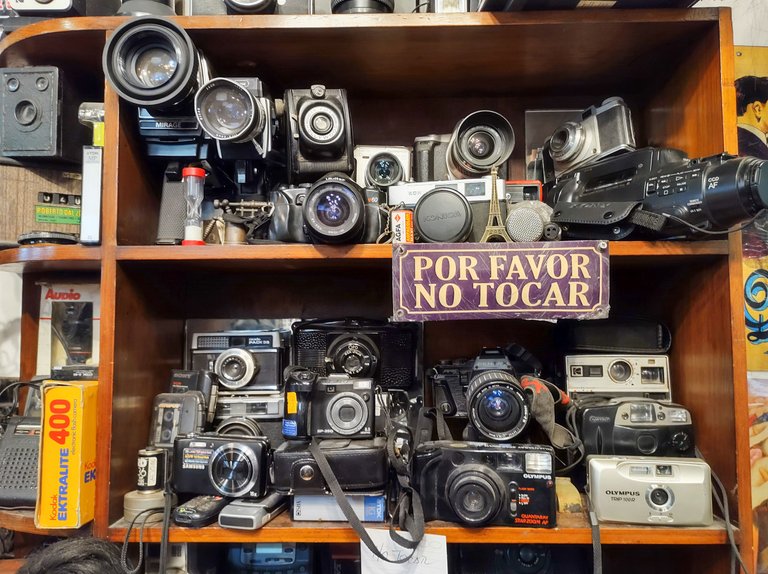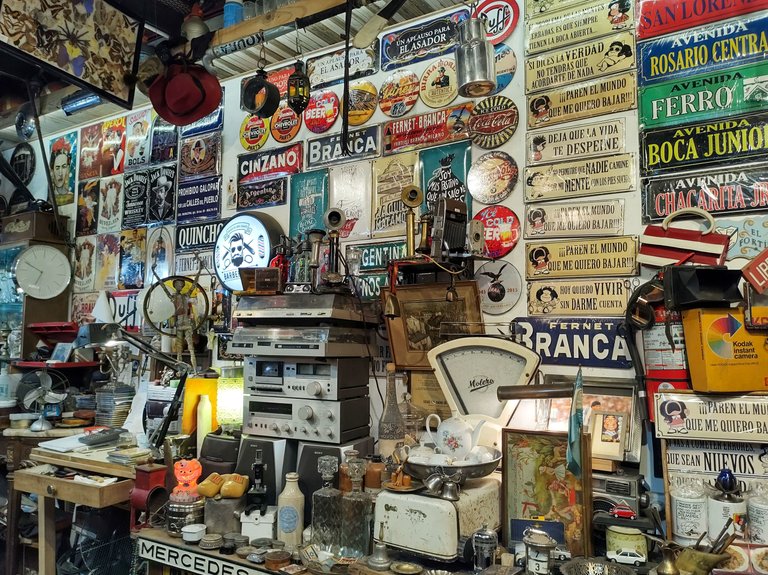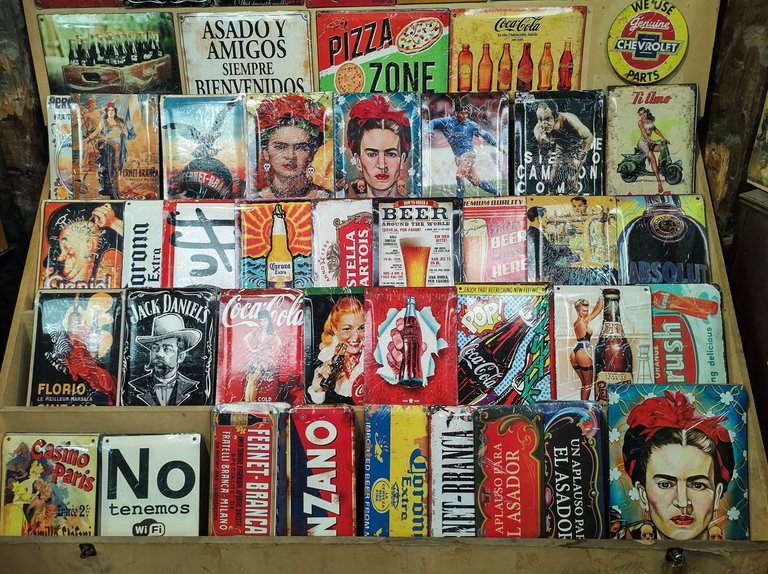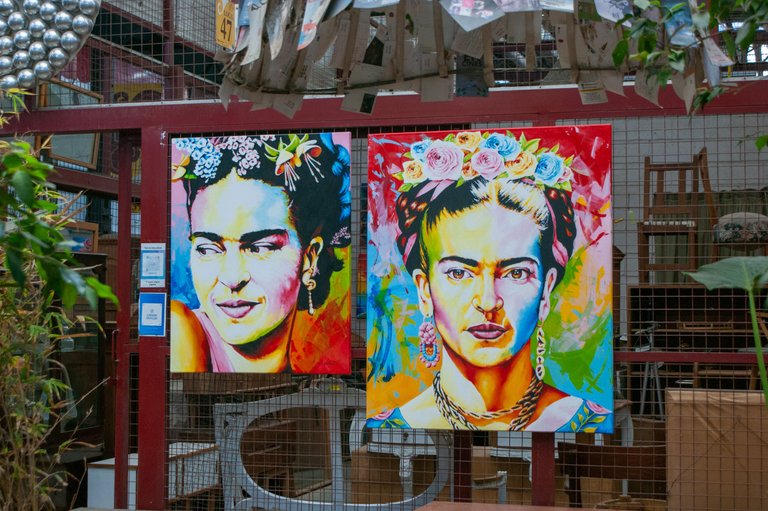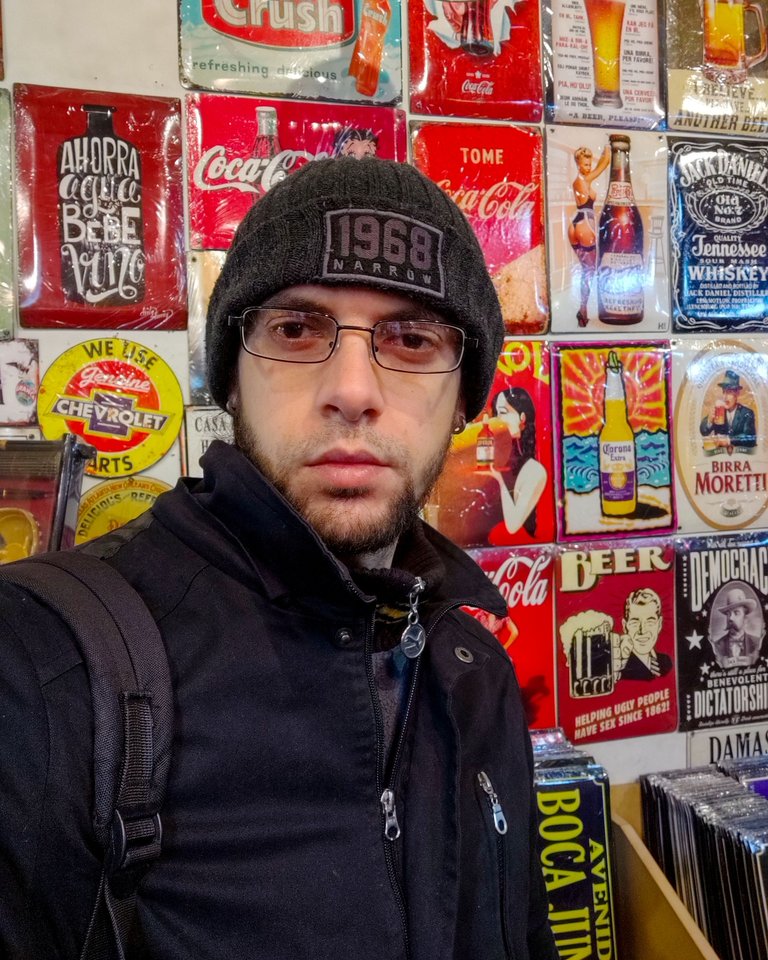 Finally I show you another section of the place where you can see for sale products that represent cultures of other countries in this case China, they have for sale items such as sculptures, lamps, home decorations and even historical giant coins. In addition to this in a separate local antique masks and children's items among an infinite number of things that surely miss the attention of any visitor.
Without further ado, the question is what do you think of the flea market located in the Palermo neighborhood of Buenos Aires? Leave me your comment and tell me about it 😃 I send a hug to all of you and a warm greeting to
@dswigle
🤗
Para finalizar les muestro otra de las secciones del lugar donde pueden ver a la venta productos que representan culturas de otros países en este caso china, tienen a la venta artículos como esculturas, lámparas, decoraciones para el hogar y hasta monedas gigantes históricas. Además de esto en un local separado máscaras antiguas y artículos para niños entre un infinito número de cosas que de seguro faltan la atención de cualquier visitante.
Sin más que agregar, la incógnita sería que les ha parecido el marcado de las pulgas ubicado en el barrio de Palermo en la ciudad de Buenos Aires? Déjame tu comentario y cuéntame al respecto 😃 les mando a abrazo a todo y un cordial saludo a

@dswigle

🤗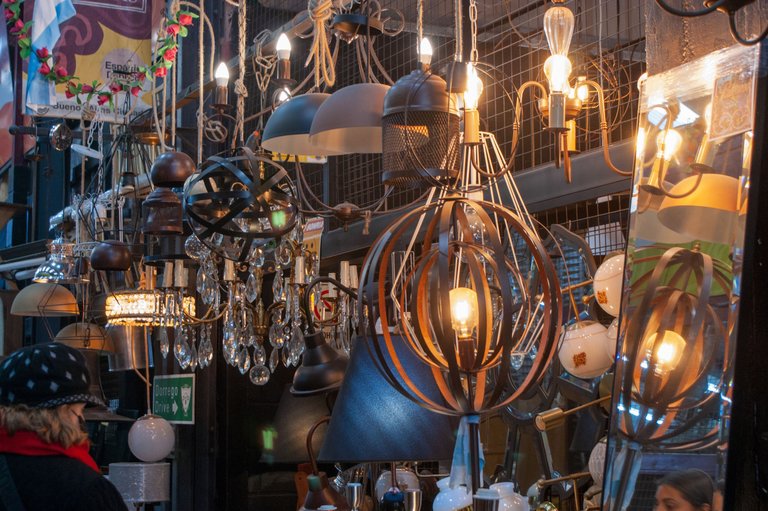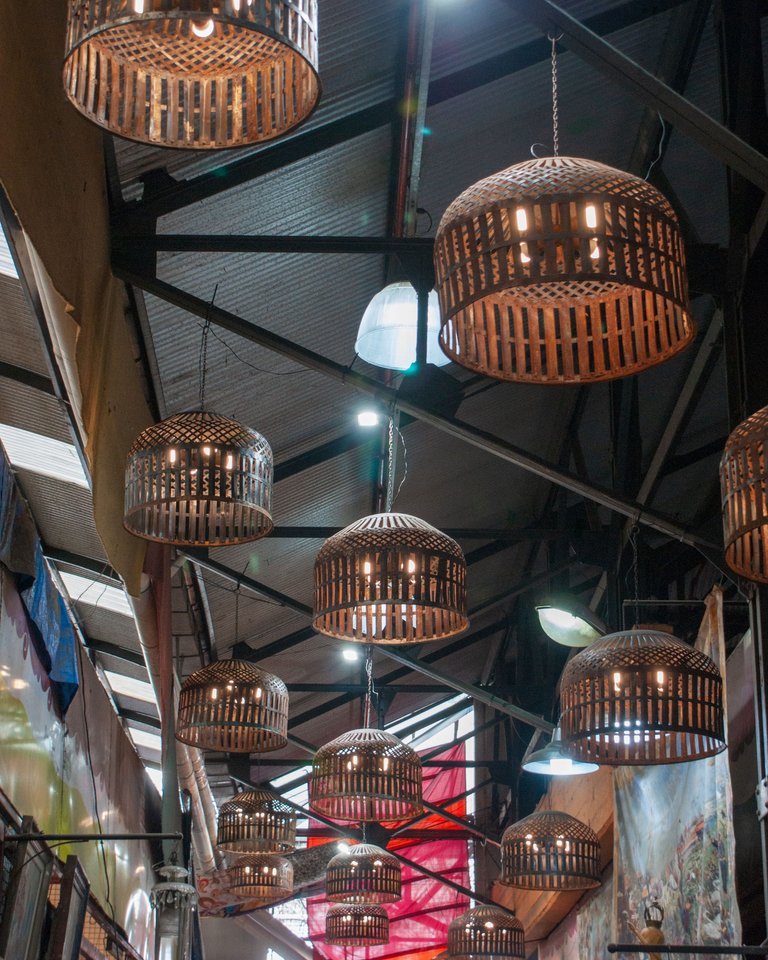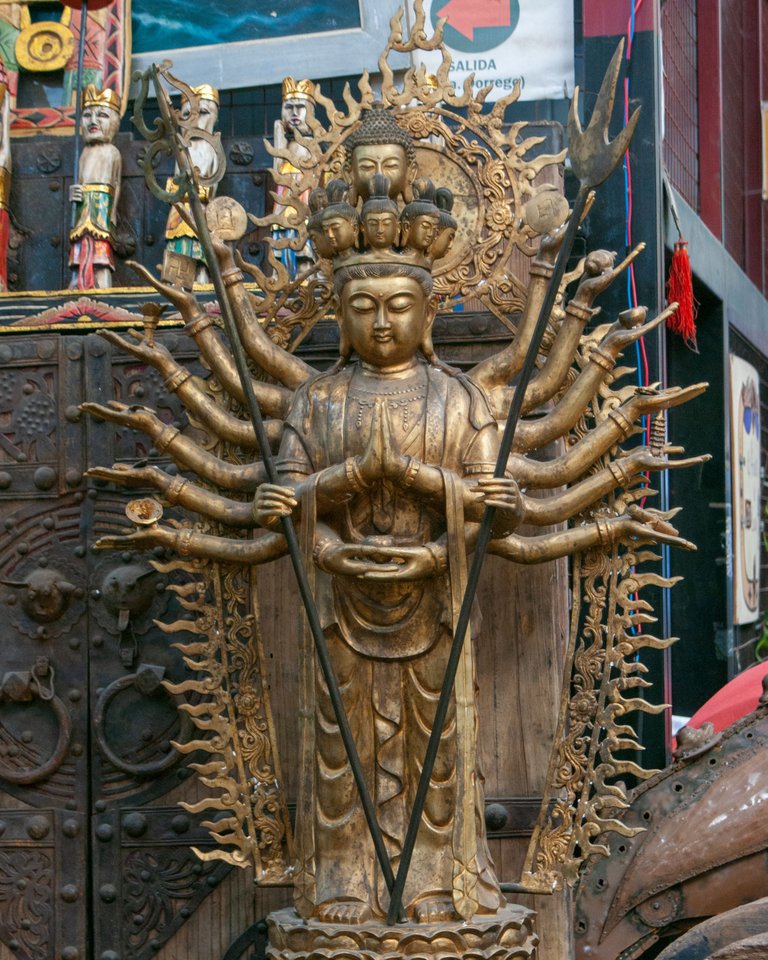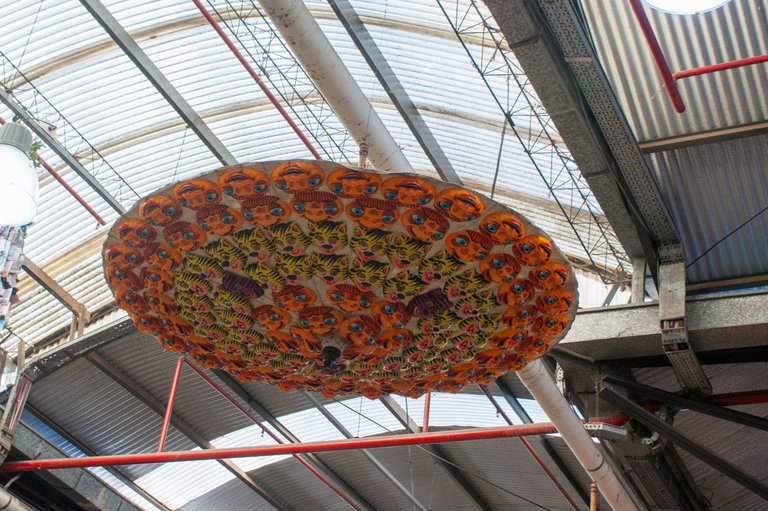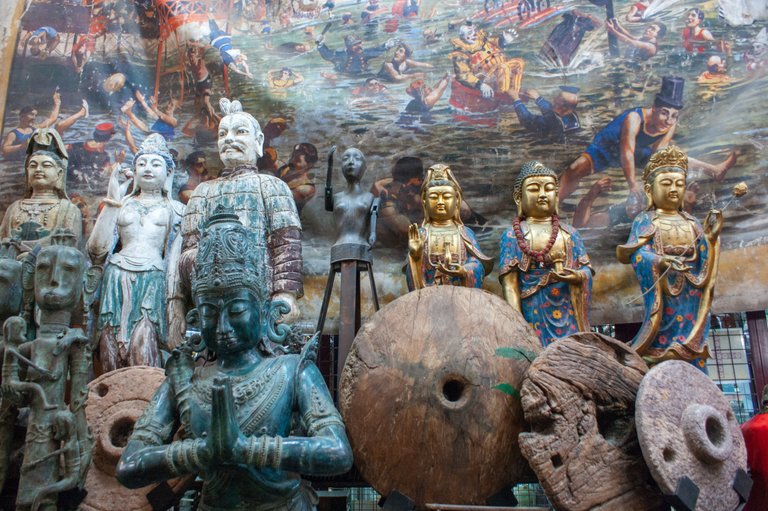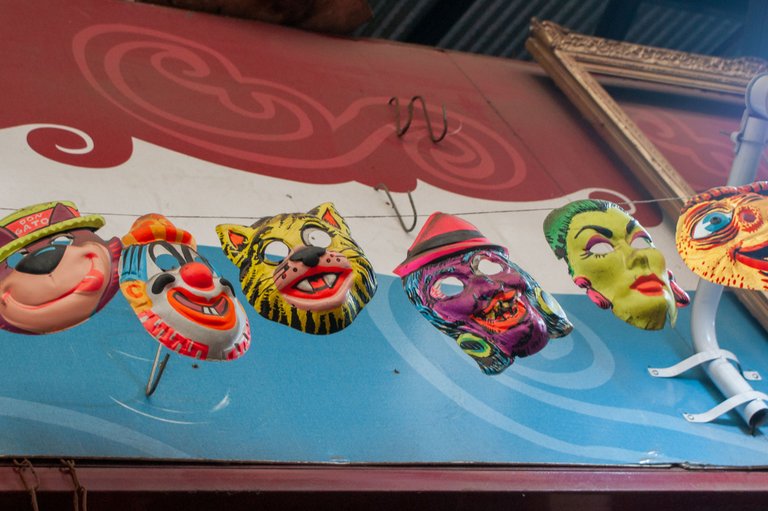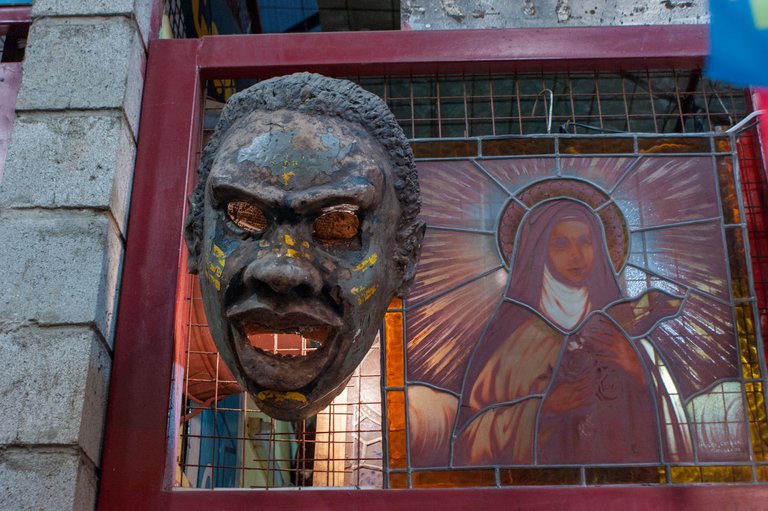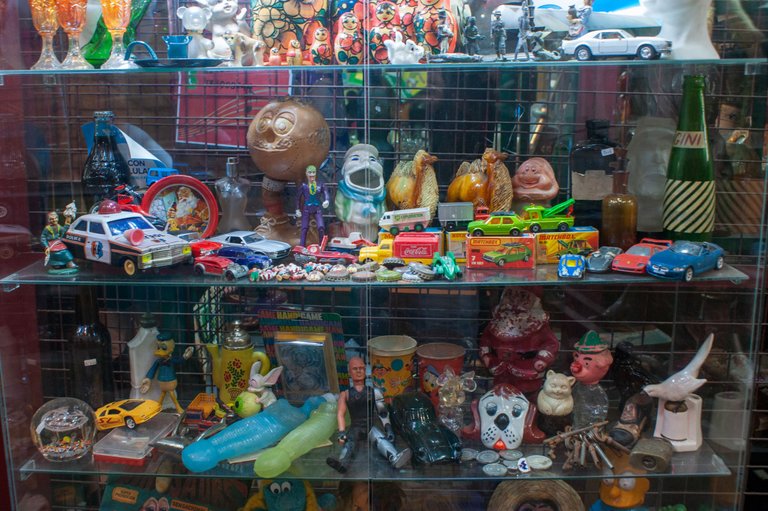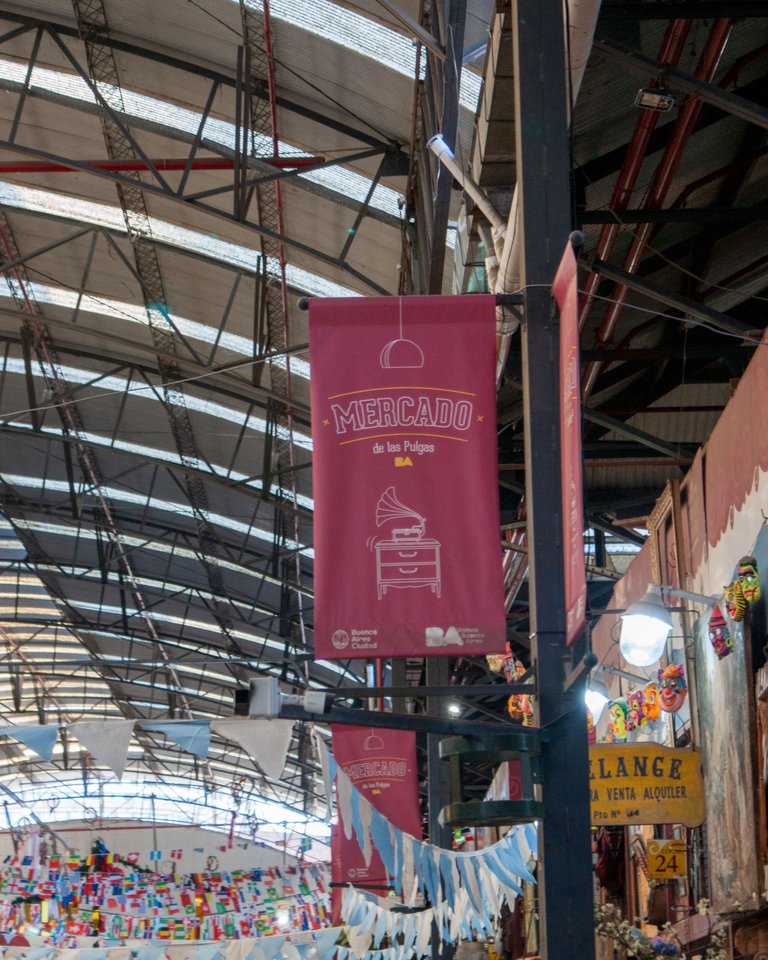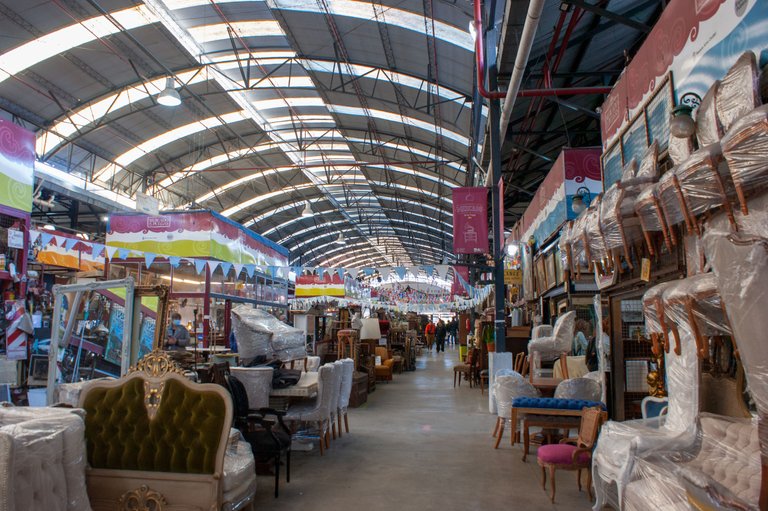 All the photos and texts in this post are my authorship.
(Todas las fotos y textos presentes en éste post son de mi autoría.)