---
Hello everyone,
Welcome to another week on #Afrituneweek54.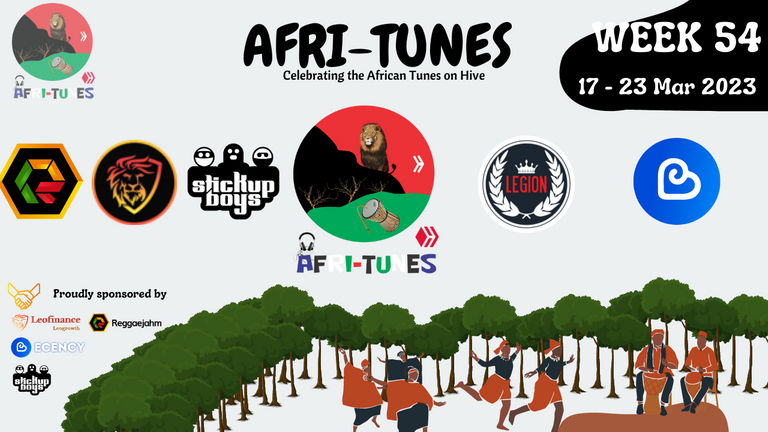 This week I will be singing a song titled "EYE ADABA"(A Dove) by Asa whose full meme is Bukola Elemide popular known as (Asa) a Nigerian French singer and songwriter.
The song (Eye Adaba), is a song I love singing in the morning because of what it symbolizes. Eye means (bird) and Adaba means (Dove) and it symbolizes peace, gentleness, fortune, and good things.
Singing this song in the morning means I have woken up this morning and see another brighter morning which is a good thing. The mercy I've obtained from God.
Many slept last night and wish to wake up this morning but it is impossible for them. l am saying thank you, Jesus, for making me see another wonderful, brighter morning, "Won't you say thank you, Jesus, for seeing another day too?"
This song also means one is inviting good things to come one's way for the day which is the perfect beauty to add to one's day.
Lyrics
"Eyé Àdabá"
Oju mo ti mo(it is a new day)
Oju mo ti mo mi(i have seen a new day)
Ni le yi o (in this land)
Oju mo ti mo (it is a new day)
mo ri re o(i have seen goodness)
Eye adaba(Dove)
Eye adaba(Dove)
Eye adaba ti n fo lo ke lo ke(Dove that flies up in the sky)
Wa ba le mi o o(come and descend on me)
Oju mo ti mo ri re o(it is a new day, I have seen goodness)
SPANISH
Hola a todos,
Bienvenidos a otra semana de #Afrituneweek54.
Esta semana voy a cantar una canción titulada "EYE ADABA"(A Dove) por Asa cuyo meme completo es Bukola Elemide popularmente conocido como (Asa) un cantante y compositor nigeriano francés.
La canción (Eye Adaba), es una canción que me encanta cantar por la mañana por lo que simboliza. Eye significa (pájaro) y Adaba significa (paloma) y simboliza la paz, la dulzura, la fortuna y las cosas buenas.
Cantar esta canción por la mañana significa que esta mañana me he despertado y veo otra mañana más brillante, lo cual es algo bueno. La misericordia que he obtenido de Dios.
Muchos durmieron anoche y desean despertarse esta mañana, pero les es imposible. Yo digo gracias, Jesús, por hacerme ver otra mañana maravillosa y más brillante, "¿No dirás tú también gracias, Jesús, por ver otro día? ".
Esta canción también significa que uno está invitando a que le vengan cosas buenas para el día, que es la belleza perfecta para añadir a nuestro día.
Letra
"Eyé Àdabá"
Oju mo ti mo(es un nuevo día)
Oju mo ti mo mi(he visto un nuevo día)
Ni le yi o (en esta tierra)
Oju mo ti mo (es un nuevo día)
mo ri re o(he visto la bondad)
Ojo adaba(Paloma)
Ojo adaba(Paloma)
Eye adaba ti n fo lo ke lo ke(Paloma que vuela en el cielo)
Wa ba le mi o o(ven y desciende sobre mí)
Oju mo ti mo ri re o(es un nuevo día, he visto la bondad)
Gracias por escuchar
Iyrics
Thanks for listening
---
▶️ 3Speak