Welcome to a new week. We should have exciting price action this week, hopefully. The CME market is open and we have gaps to be filled. The places with oval shapes represent gaps in the chart.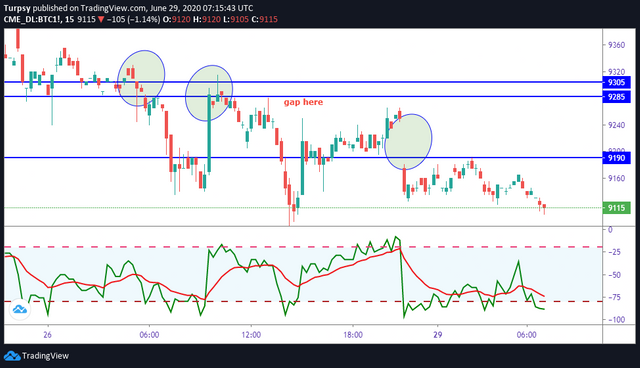 https://www.tradingview.com/x/Vxlig6rk/
This is my entry for the 100DAYSOFTA challenge, Monday 29th June 2020.
__
I am joining a challenge by a group of traders. The challenge is #100DAYSOFTA. Some of the people in this group have posted on $Youtube, $Twitter but I will be posting mine on Hive.
The convener of this challenge is https://twitter.com/CryptoluXP
However, the frequency might not be daily but it will be sequential.
Having said that, here is what I have:
__
4 hr
The interpretation of the chart is as follows. ST is short. Meaning on the higher TF we are in a downtrend. And we know that the trend is our friend to the end. If BTC price gets to 9717 USD, we are still in a downtrend, unless it closes above the 9717 USD, that is when we can have a change to uptrend from this TF. Also, we have Willy giving a reversal sign. This is something we should watch. It can roll over and fall or it can pump. I am thinking if we get another leg down to around 8900 USD, we will form a W, which might spur the price to go back to 9700 USD.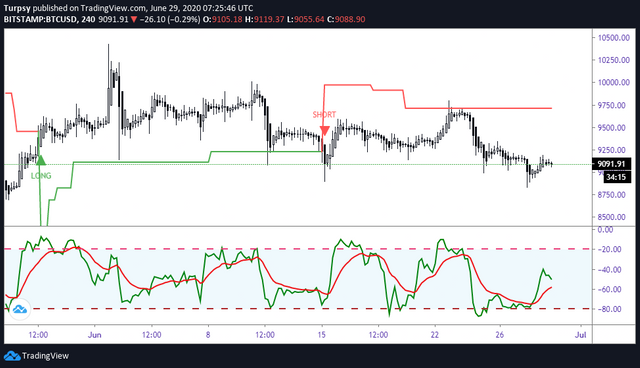 https://www.tradingview.com/x/HHSOV1WA/
1h
The outlook for this chart shows that we have a price action that is trying to be resisted at 9200 USD. This is the resisitance of the 1hr ST. This shows that we can have the price action strongly rejected or the price can break the resistance to the upside. Whichever one is seen, will be shown by the chart. Willy is getting to the oversold region and it means prices can go alittle lower or it can reverse anytime soon. If the price crosses 9200 USD we are going to have a change in the trend for this TF.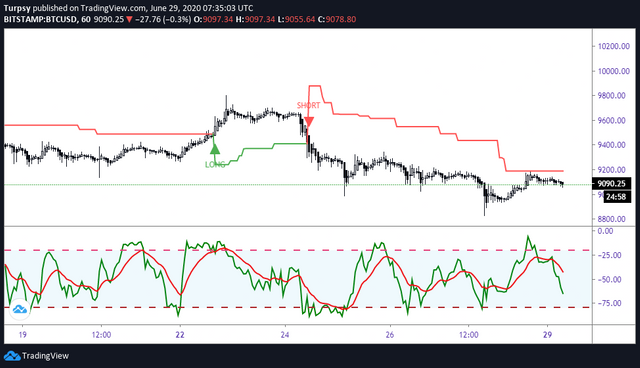 https://www.tradingview.com/x/buJ4Lkjf/
30 mins
Remember, the last week monday we have the ST long on the 30 min TF. And this week we have thesame Long. However, we cannot tell if we will have a price action uptick like we did when we turned long on the ST. We will have to see.
The ST is long on this TF with an invalidation at a close of a candle at 8980 USD. This TF is telling us we should be hunting for a long. This is because the short term trend has changed to long. And it will be good if we play along. If we get a drop to as low as 8980USD, it is still a good buy with stop loss at around the last wick of the weekend price. Also, remember a price drop to around 8980 USD and then an upward reversal, will create a perfect W on the 4hr TF. Willy is at oversold and its already turning upward. However, it can also go either way.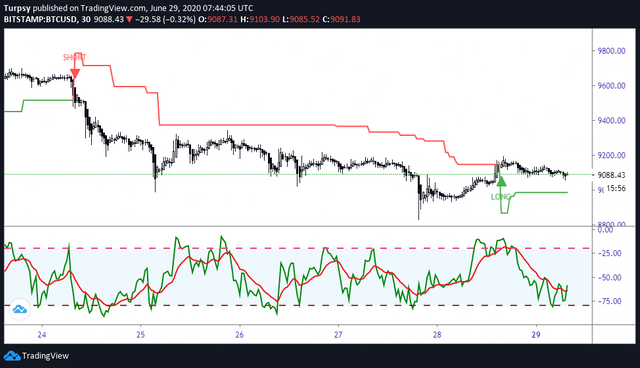 https://www.tradingview.com/x/rHxY5Bmy/
Extras
15mins and 5 mins chart respectively.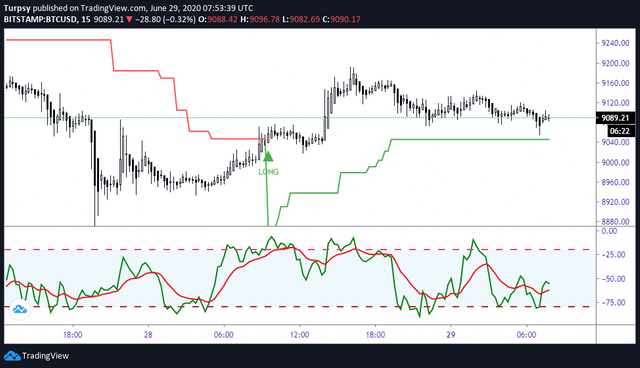 https://www.tradingview.com/x/mHY2nbX2/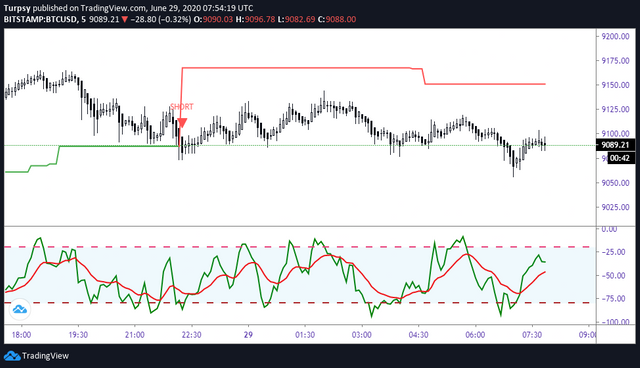 https://www.tradingview.com/x/i2m6PETm/
Summary:
4hrs ST is short
1hr ST is short
30 mins ST is long
My Position
I will be watching the 30 minutes chart closely to see if we get an upward price reversal.
No trade advice from ST. I will have to wait until price action is able to give a signal.
Recent position, take profit was hit.

This is what I wrote:
I have thesame unchanged position.
My shorts were filled and now I have to some orders above the 4hr ST resistance, incase we wick up. I am thinking of adjusting the take profit upwards, due to the price action in the past days. I will be looking at the Fibonnaci retracement 0.618 value to use at TP.

This is the R:R.

https://www.tradingview.com/x/ULadKljK/
Have a fun-filled weekend.
Posted Using LeoFinance