It's been a crazy year for all of us all over the world. But for me, especially, it's been one helluva ride. And in contrast to a lot of people, I guess, a lot of this year has been pretty damn good. I mean, All in all.
Today I am pleased to announce the formation, along with Joe Wong, my trusted friend and co-advisor on many successful blockchain projects, of Fomocraft, a marketing advisory firm that specializes in launching brand awareness for startup crypto projects.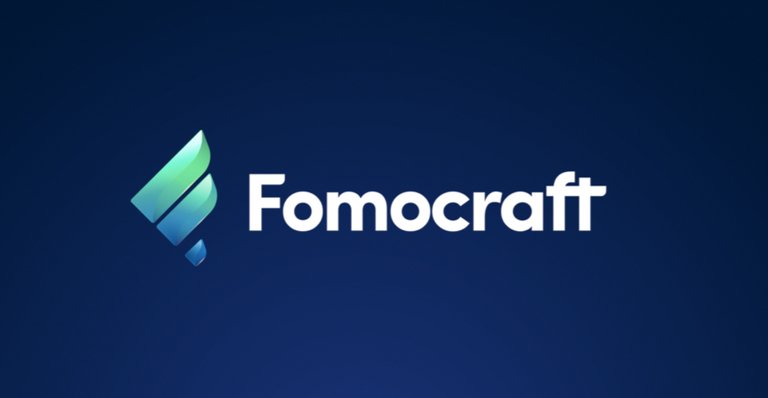 About 4 and a half months ago, I announced my appointment as Wanchain Director of Growth & Strategy here in these very pixels. At the time, I was very excited to help a project I had long admired get to an important goal they had long aimed at. And we did it!
In the past month, the Wanchain team launched a rapid-fire series of new cross-chain products. The goal of the project since its inception was to create wanBridges to connect any blockchain to any other blockchain. Though they are still in their infancy, the team is well on their way to making sure wanBridges are a well-trafficked highway of the interoperable blockchain future.
But that's not all! Today we launch WanSwap and in a few more days we'll launch a project that is for now codenamed WanLend, which is a Compound fork on the Wanchain blockchain. That's a lot of work to get a bunch of old men from the last crypto bull run aligned and motivated to put all those products out, right in a row. But we did it!
Since the first Wanchain project I worked on, which was the announcement of our strategy shift to building stuff on Ethereum called the Mid-Year Update to today, the WAN coin has seen an increase of 62% in the four-and-a-half months since I started working on the project. In fact, it even peaked at the tail end of DeFi Summer at 150% up since my directorial appointment. I'll take it!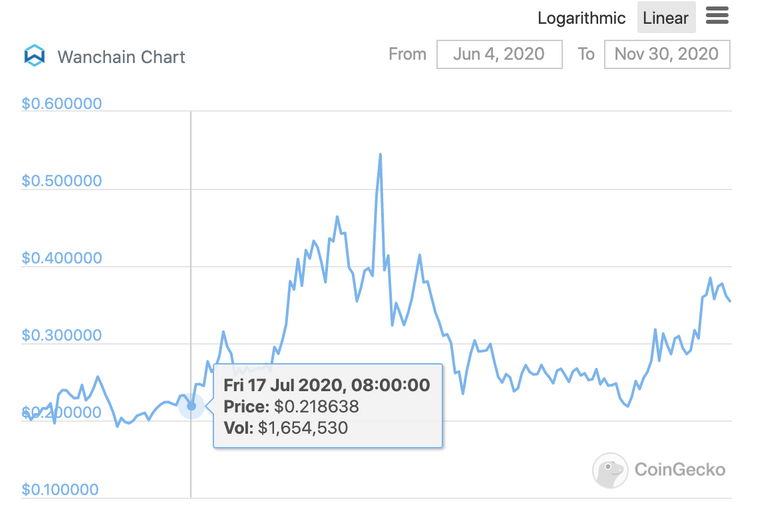 While I take pride in these results and I am proud that I could help my friends at Wanchain through a tough time in their development - one of their Directors suddenly left for Chainlink - my intention was never to work for Wanchain very long. And now that these four new products - wanTokens, wanBridge, wanSwap, & wanLend - are all but shipped, my work here is done.
As I recently tweeted, what excites me the most of all the things I do is working with entrepreneurs to help them to craft their vision. Now that I've done my best to get Jack Lu where he always wanted to get to since 2018, it's time to move on to other entrepreneurs. I'll remain in the Wanchain ecosystem as the lead advisor for FinNexus, as I feel they are still in the midst of "getting there" and could still use my help, but my day-to-day duties at Wanchain end as of today.
On the FOMOation of Fomocraft
When my longest tenured friend in the cryptoverse, John Patrick Mullin, asked me to be lead advisor for his community PolkaDeFi project MANTRA DAO, I couldn't say no. I just signed the advisory agreement and got to work. Under one condition: He had to bring in my friend Joe, an experience marketing expert at George P. Johnson, that I just knew would bring a ton of value to the project. 33X later, it turns out I was right!
No one had expected MANTRA DAO to do as well as it did. But we certainly didn't complain! Soon thereafter, Joe and I were trying to figure out what exactly we all had done to create such a buzz in the cryptoverse. It was, obviously, an immensely satisfying experience that we could have that much of a positive impact on the brand awareness of a project that literally had not existed a few months prior.
We had an idea of what it was, so when we were asked to help launch another project, Polkastarter, we decided to see if we could replicate our success in some kind of way. Now we were by no means the entire team behind the project, but we did entirely manage what we call "A Blitz Launch." Sure enough, seed round investors in POLS tokens enjoyed a 34.4X peak.
At that point, we figured we had something. It was time to formalize the thing into a business.
So here we are. The professor of entrepreneurship and strategy must at some point become an entrepreneur and strategy deployer himself, I guess. I am leaving one established blockchain project to hopefully help launch 50 others (or more) that will be bigger, better and more game-changing one after another after another.
Check out the first project we've incubated from entrepreneur's idea to public launch. It's starting to gain traction right now, just in time for the holidays. It's called Royale Finance. We are immensely proud of our work with their team and are in the midst of our Blitz Launch with the founders. Join their Telegram and follow them on Twitter. Royale is a DeFi project that is laser-focused on helping to launch iGaming projects. Liquidity providers can literally "Be the House!"
It's quite a compelling concept and we can't wait to craft the FOMO for this one. And the next one, and the next one, and the next one...
Posted Using LeoFinance Beta