Some cards just fit into your deck.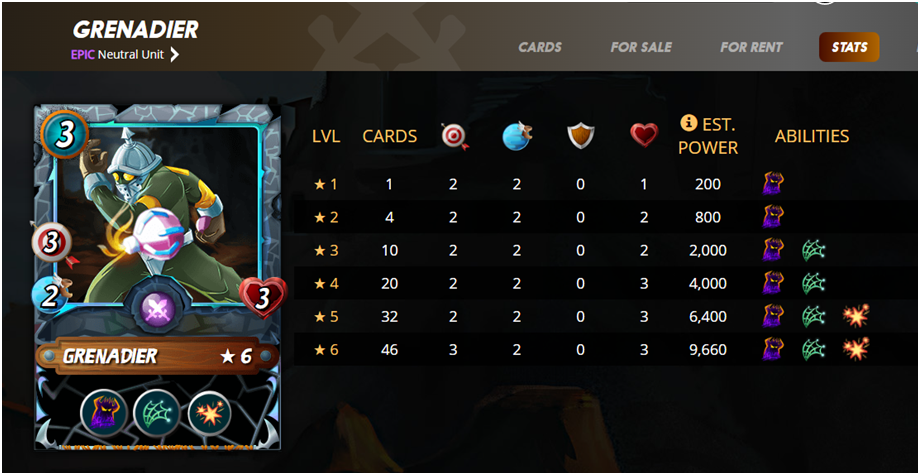 I have a lot of splinterlands cards across a few accounts but there are a few that I just love playing and fit into so many different strategies.
Lord Arianthus, Silvershield assassin, Pelacor conjurer, Manticore.
There are a few cards that you just use time and time again. It's actually easy enough to play with a limited deck if you have the right cards in it.
The rest can go for rental.
This is a card that I have been looking at for ages as it tore my tanks apart time and time again. I wanted to buy one but a maxed out version would cost about $300 which is a lot to pay and I have alot of cards on my wish list.
It takes time to buy them all up at the same time as trying to max out my chaos legion deck. There just isn't enough money for all of them right now.
Luckily i actually had a good few of these for rent in an alt account that i didn't realize and only had to buy 20 or so from the market. When i realized this it was an easy call to buy the rest and add the grenadier to my deck.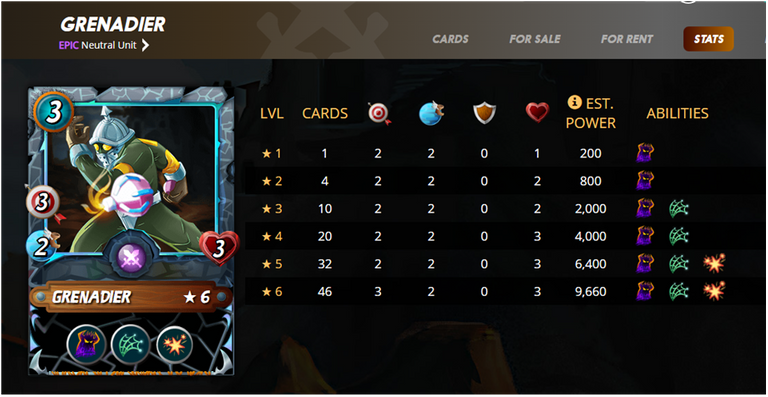 Just look at the stats.
Oppress: Does double damage when attacking a monster with zero attack.
Snare: Removes flying ability from flying monsters when hit.
Blast: We all know the effects of blast.
This from a three mana card with a three strength ranged attack.
It does a lot of damage for a little card. Especially to all of the zero mana tanks that can withstand so many powerful attacks but get taken apart by this one.
It has two very interesting abilities with oppress and snare but these get amplified when blast gets involved and if you can get rulesets to suit it becomes a must have for the deck.
Rulesets like maxed health and ranged attacks anywhere make it particularly deadly to use.
Try for yourself.
If you haven't played the game before then now is the best time to join. Today is much better than tomorrow and a lot better than later.
Cards worth a few cents now will have a much higher value in the future as the print runs out. We have a strong community and seen this happen every time as it grows with the game.
Link to the game here,
Posted Using LeoFinance Beta