What is the real value of HBD?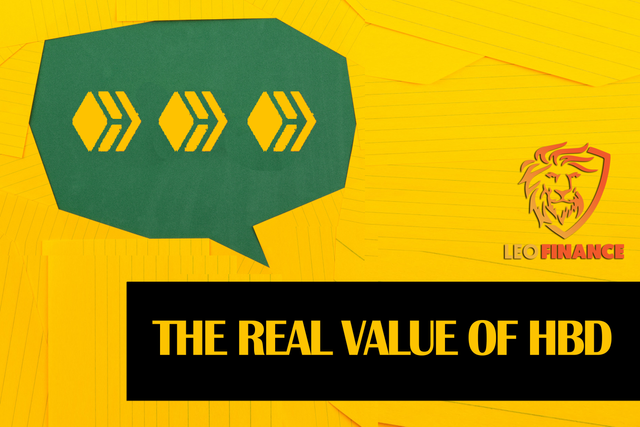 That depends on your perspective on life. You could simplify it and say that $10 of HBD is the same as $10 USD. If you want to buy a product with it then they both spend the same don't they?
That's true but not accurate.
USD is a currency controlled by the government. That is strictly controlled and your use restricted. There was a time that banks would even stop you buying crypto with your own money. The sad par tis that money that you work hard to earn, that is losing value every year, that is designed to keep your life moving forward is held to ransom.
It doesn't matter that you own it, you need to spend it in a way which is deemed acceptable to the powers that be. My bank would not even let me withdraw 10,000 USD today if i went in to retrieve my own hard earned cash. It would be held, limited and questions asked about my intentions for it. That is not a true form of money in my mind. It's a form of control.
HBD spend the same way but it has freedom of choice attached. If i own enough Hive Backed Dollars then I can do with them as i see fit. Spend, transfer, burn them if it feels right. There are no gatekeepers and no strings attached. It is very simple. You own it so you can use it. As it should be.
If i want to put them in to savings then i just deposit the dollars and if i want them back i just take them out. Freedom of choice. That is where the value lies.
That and the 20% APR on the savings account but if you want to look at that in more detail just check out this post by @dbooster, HBD at 20% and behold the power of 20% APR compounding over time.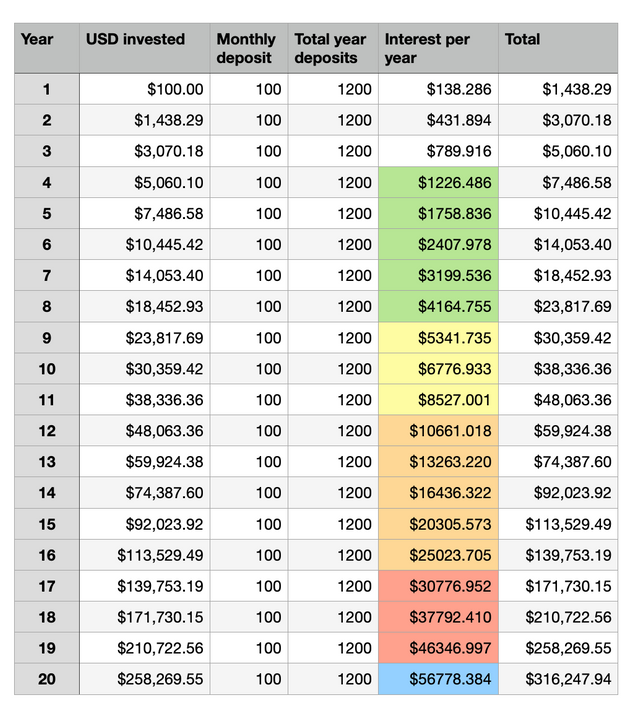 Let's pretend you start with $0 and deposit 100 HBD into your savings on a monthly basis. In just 20 years that will turn into 311,000, but if you just put 100 HBD into your account without interest over 20 years, you would only have 24,000 at the end of 20 years. Compound interest is one of the most effective financial strategies to become financially independent.
That beats out any bank that I know of.
So that's the why of HBD's value.
Lets look at the what.
what would it buy in real life. Just for a bit of fun.
$10 HBD
Unfortunately I live in a very expensive country so this wouldn't get me too far in real life. This is only equal to about half an hours work in my main job so the options are very limited.
I could leave work half an hour early on Friday and use this to cover my time or else buy myself a few snack for lunch and stay until the end of the day but feel a little bit happier about it with a full stomach.
Not great options so I'll have to think about the next level up.
$100 HBD
Now this is more like it. A full days wages or close enough. This i can have some fun with.
I bought a new car last week and coincidentally it takes about $100 to fill the tank. This gives me 1000 kms of range to use if i fill it up to the top.
We have one of the longest coastal roads in the world spanning the west coast of Ireland called the wild Atlantic way.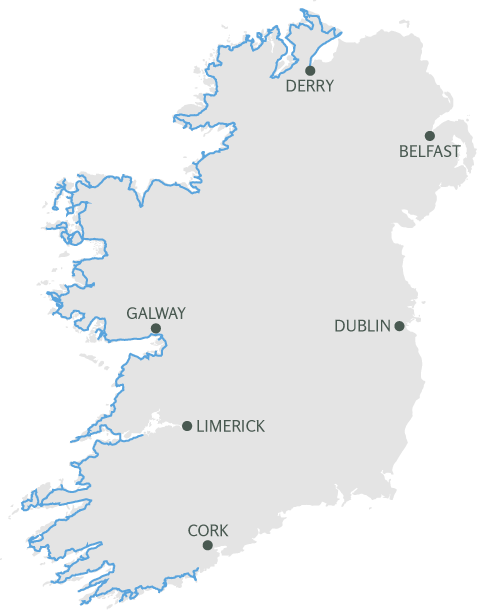 Wild Atlantic way landing page.
The Wild Atlantic Way, is one of the longest defined coastal routes in the world. It winds its way all along the Irish west coast from the Inishowen Peninsula in the north down to the picturesque town of Kinsale, County Cork, in the south. This route from start to finish unfolds the wonders of nature, the power of the ocean and its imprint on the west coast of Ireland, and the stunning countryside in all its diversity. Enchanting villages are nestled along the coast as well as ancient monuments.
I might not make it all of they way from top to bottom but driving my way along this route and seeing all of the natural wonders of my countryside does sound like a good way to spend 100HBD. If the price of diesel ever comes back down i might just make it to the end as well.
$1000 HBD
This would be the fun one. 10HBD buys a lunch. 100 HBD buys a day out but 1000 HBD buys a holiday. Not just any holiday.
This is a week long hotel stay in a nice resort. Family of four.
Dinners.
Drinks.
Activities.
Transport.
Entertainment.
Days out.
Hopefully a kids club.
And everything else that goes with a break like this. Since covid and starting our family we haven't had that much time or even money to do things like this and it would be a great wat to spend a week before the summer was out. 1000 HBD would just about get us there if we were careful and as long as the whole market doesn't crash like the last time we will try to do one of these in September.
HBD is money but it is so much more than just that.
It's all well and good talking about how to spend it but the most important part of this should be how you earn HBD.
I showed you the interest higher up in the post but all of mine has come from being active and engaged on the Hive blockchain.
$10 HBD adds up very fast when you can earn it for just being part of the community and having fun.
There is definitely no other fiat version where they hand out dollars for that.
Put it to work earning 20% and build a real savings account that has no gatekeeper telling you how it can be used.
That is the path to financial freedom.
Posted Using LeoFinance Beta