Wax es una red que al igual que hive fue creada para alojar tokens no fungibles (nft) dentro de su cadena de bloques, esto hace que muchos proyectos la hayan elegido para poder colocar sus plataformas en ella.
Wax funciona con diferentes carteras, pero la más famosa es wax cloud wallet, la cual te deja visualizar no solo los activos de wax sino la mayoría de los tokens que funcionan en esta cadena de bloques, además tiene un convenio con metamask para visualizar también algunos tokens que están dentro de la cadena de ethereum erc20.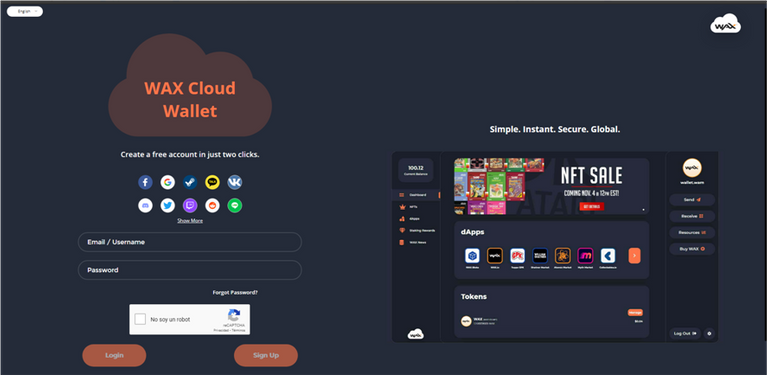 fuente
Dentro de la wallet podremos visualizar las diferentes daps registradas con la red wax, aunque hay innumerables proyectos que aun están en su etapa alpha o en una beta cerrada al publico por lo que no aparecen en este apartado, entre los más destacados encontraremos el mercado atomic.hub el cual nos permitirá no solo comercial nfts sino también crear nuestros propios nfts para colocar a la venta como artistas criptográficos, el tan afamado alien words quienes poseen la moneda tlm que fue aceptada en binance, kolobox y claro el visor de la cadena de bloques wax.bloc en donde podremos visualizar los movimientos de cualquier cuenta de wax y no solo eso sino poder stakear, desestakear, comprar recurso, y muchas otras cosas.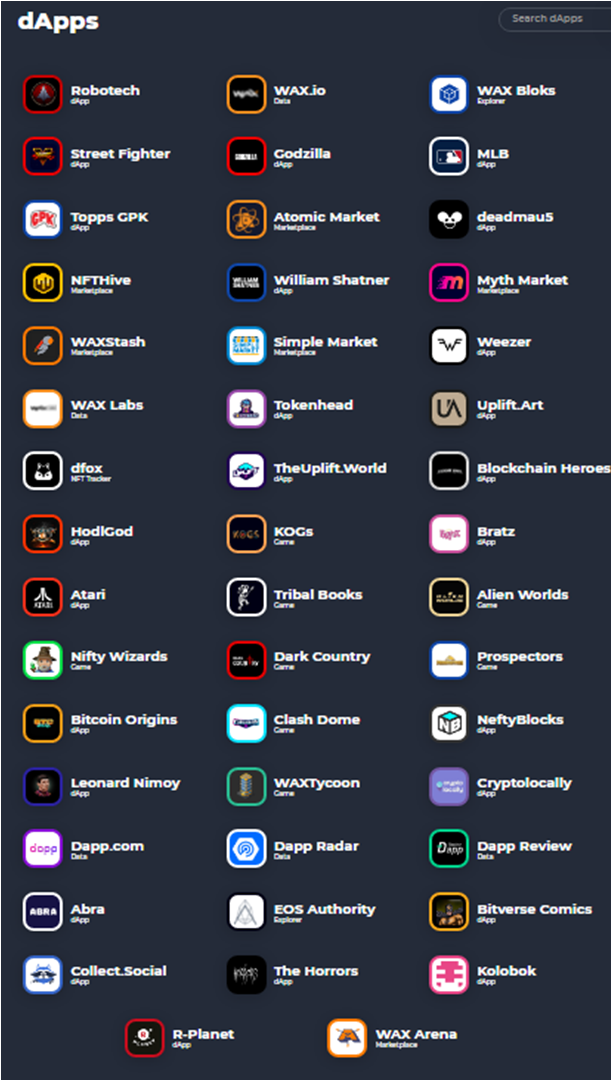 fuente
Al igual que hive, wax trabaja con un sistema de recursos, aunque en vez de solo tener hp aquí encontraremos cpu, net y ram los cuales paso a explicar un poquito más detenidamente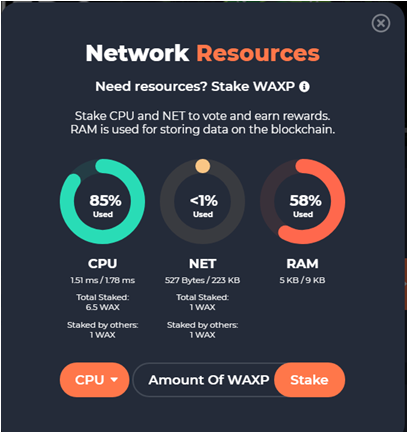 fuente
El cpu es la potencia que necesitaremos para realizar operaciones, por ejemplo, la operación de minería y de recolección de la moneda tlm en alien words nos pide tener cpu disponible para realizar estas operaciones.
El recurso net funcionará cada vez que construyas una conexión dentro de wax, esto lo usan solo los creadores de plataformas por el momento por lo que no le daremos mucha importancia.
La ram para finalizar es donde se guardan todos nuestros nft y datos dentro de la plataforma, si quieres subir una imagen de perfil esta se almacenará en la ram, si quieres guardar herramientas de aliens word estas estarán en la ram, si quieres guardar nfts de kolobox, adivinen, también ocuparán ram.
Es importante saber entonces, que si quieres iniciar en el mundo de wax lo primero que debes hacer es conseguir unos cuantos wax que guardar en cpu y con los que comprar ram para almacenar los nfts que ganemos en los proyectos.
Si te gustó este blog no olvides votar positivamente y rebloguearme eso me ayuda muchísimo a que mi contenido se haga conocido y así también obtengo recursos que usaré para votar y crear nuevo contenido en esta plataforma. desde ya muchas gracias
Espero pronto poder subir mi próximo blog sobre aliens words uno de los proyectos gratuitos en wax

Wax is a network that, like hive, was created to host non-fungible tokens (nft) within its blockchain, this means that many projects have chosen it to be able to place their platforms on it.
Wax works with different wallets, but the most famous is the wax cloud wallet, which allows you to view not only the wax assets but most of the tokens that work on this blockchain, it also has an agreement with metamask to also view some tokens that are within the ethereum erc20 chain.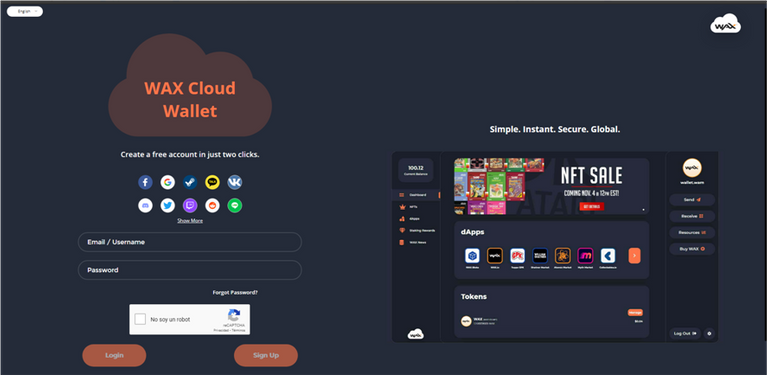 source
Within the wallet we can view the different daps registered with the wax network, although there are countless projects that are still in their alpha stage or in a beta closed to the public, so they do not appear in this section, among the most prominent we will find the atomic market .hub which will allow us not only commercial nfts but also create our own nfts to place for sale as cryptographic artists, the so famous alien words who own the tlm currency that was accepted in binance, kolobox and of course the viewer of the chain of wax.bloc blocks where we can visualize the movements of any wax account and not only that but also be able to stake, unstake, buy resource, and many other things.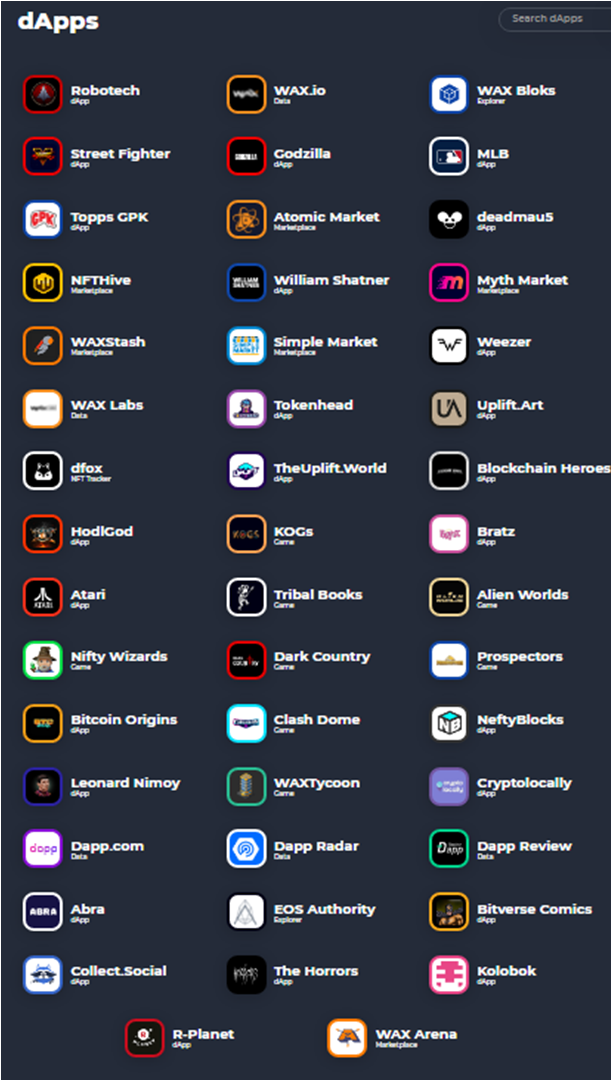 source
Like hive, wax works with a resource system, although instead of just having hp here we will find cpu, net and ram which I will explain a little more in detail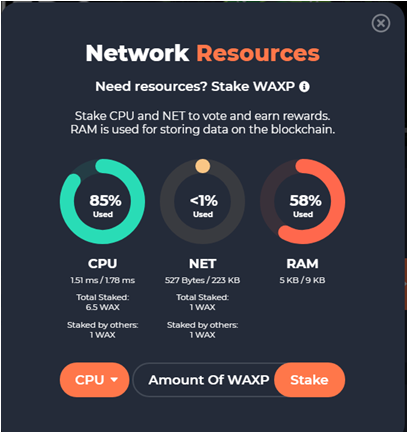 source
The cpu is the power that we will need to carry out operations, for example, the mining and collection operation of the tlm coin in alien words asks us to have cpu available to carry out these operations.
The net resource will work every time you build a connection within wax, this is only used by platform builders at the moment so we will not give it much importance.
Finally, the ram is where all our nft and data are stored within the platform, if you want to upload a profile image it will be stored in the ram, if you want to save aliens word tools these will be in the ram, if you want to save nfts from Kolobox, guess what, they will occupy ram too.
It is important to know then, that if you want to start in the world of wax, the first thing you should do is get a few waxes to store on the cpu and with which to buy ram to store the nfts that we earn in the projects.
If you liked this blog, do not forget to vote positively and reblog me that helps me a lot to make my content known and thus I also get resources that I will use to vote and create new content on this platform. From already thank you very much
I hope soon to be able to upload my next blog about aliens words one of the free projects in wax