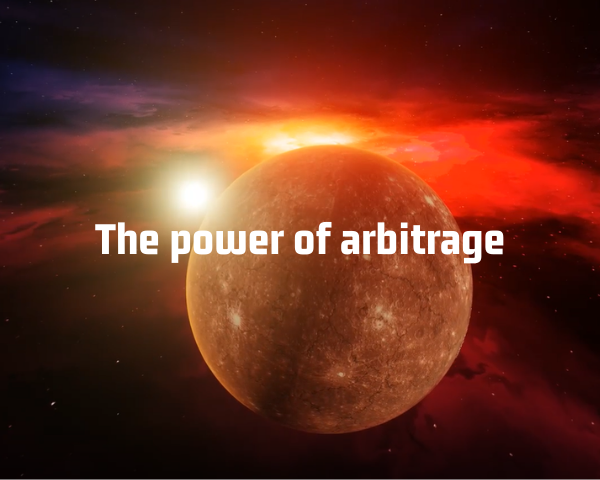 Arbitrage is a business model that takes advantage of price differences of a specific product on different markets. It's something as old as commerce. In the middle ages on the silk road Europeans where taking silver to Asia where it had much more value. They sold the silver there and bought spices. These spices were were much cheaper in Asia than in Europe. The huge price differences allowed them to cover the risks linked to travelling impressive distances.
Today arbitrage has become much easier
You don't need to travel to Asia to make a profit with arbitrage today. Arbitrage can be done with a couple of clicks of your mouse button. The crypto world is a perfect example. There are a lot of people who make profits from small price differences of crypto prices between unconnected markets. However there are many actors playing this game and they tend to have a lead in infrastructure, resources and knowledge over newebies.
NFT's are perfect for arbitrage
The crypto world and especially blockchains are getting more and more interconnected and this opens new potential for arbitrage.
Let's take the example of Splinterlands Untamed packs. These packs are now sold out on the Splinterlands website. You can still get these packs on secondary markets. What is interesting is that there are several of these markets.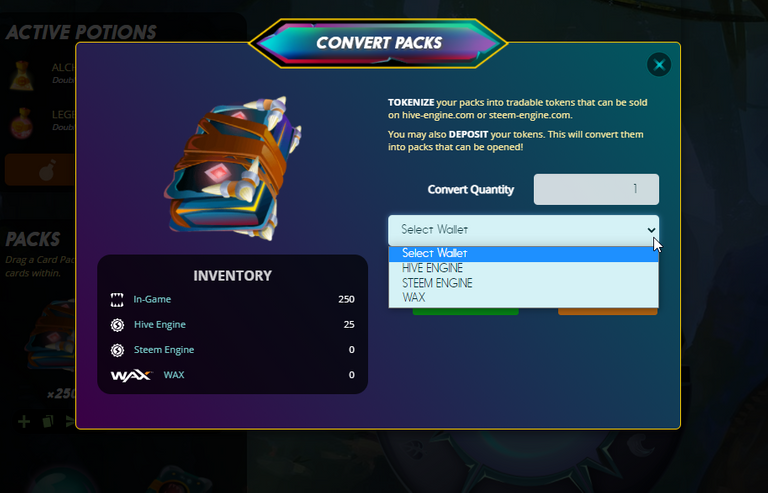 You can send your Untamed packs from the Splinterlands Website to 3 different blockchains and their according markets
From the Splinterlands game you can sent your untamed packs in a tokenized form to Hive, Steem or WAX. On all these platforms there is a market to sell and buy these packs. The market on Steem is very dry but on Hive-Engine and WAX, there are quite a lot of Untamed packs traded.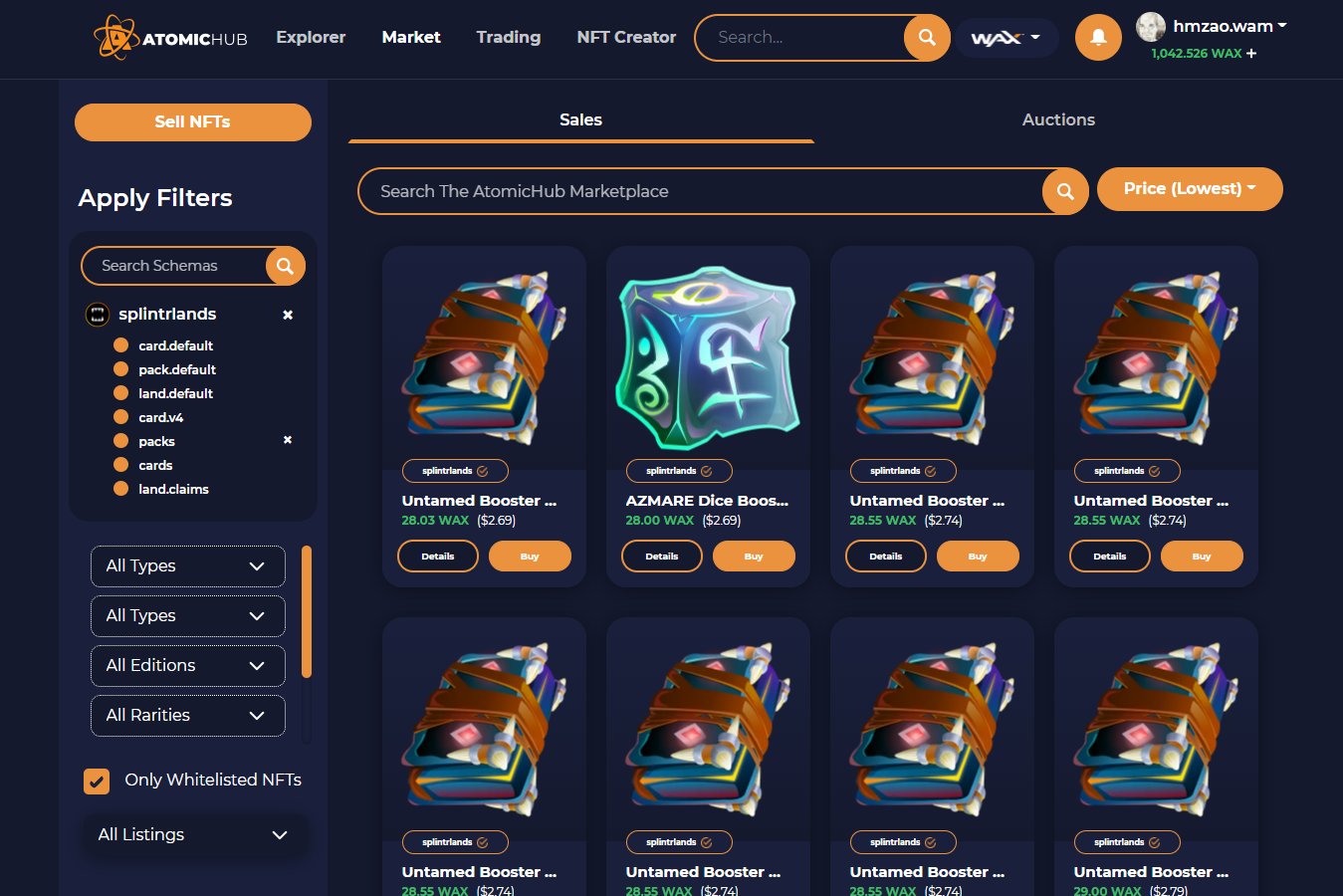 On the WAX atomic market, Untamed packs can be bought for 2.69$ worth of WAX
What is interesting to look at is the price differences. On Wax Untamed packs are for sale at the moment for 2.7 $ worth of WAX. However there is a fee linked to sales on WAX. The seller will get only about 91% of that value. So if you sell a pack for 2.7$, you will get 2.45$ worth of Wax. The buyer will pay 2.7$ worth of WAX.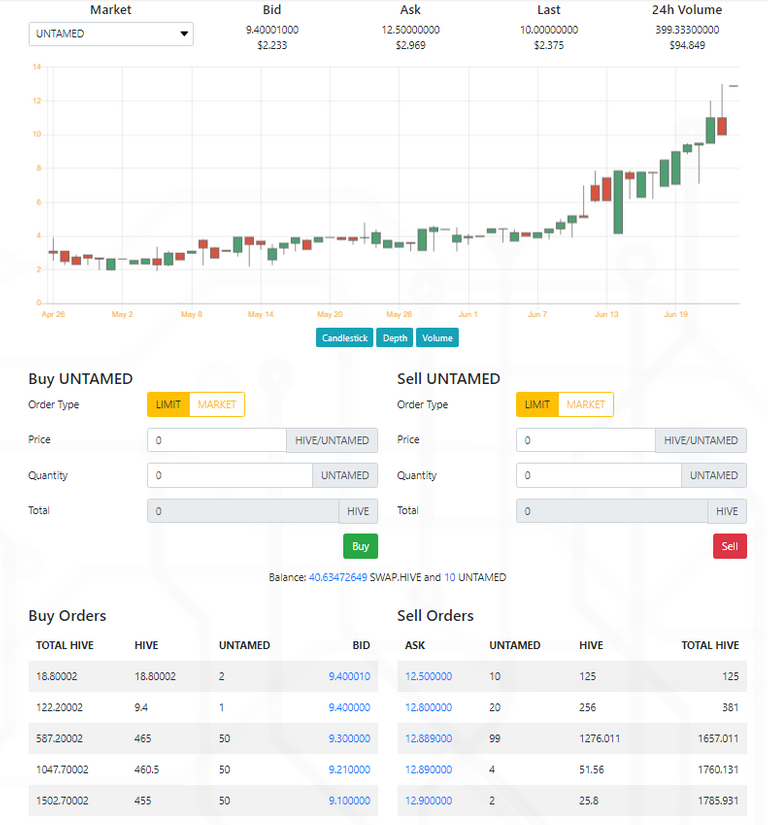 The price on Hive engine is at current hive prices 2.21$ to buy and 2.94$ to sell
If you look at the prices on Hive-Engine, a pack costs 2.94$ worth of Hive. The buy price is 2.21$ worth of Hive. On Hive-Engine there are no transaction costs. You just pay a 1% fee when you deposit or withdraw hive.
You could now play the market by using these price differences.
Tertiary markets
The great thing about NFT's is that everybody can create a market for them with a shop script. We did that in our Liotes Shop where we sell Untamed packs for 2.19$ at the moment. To pay the packs, you need LEN tokens that you can purchase on Hive-Engine.


10% of all the sales that are made in the Liotes Shop are used to burn LEN tokens. Be aware that the number of packs are limited
If you buy a pack for 2.19$ you can sell it guaranteed for 2.21$ on hive-engine (buy price). Or you can take a bit more risk and put it for sale on WAX for 2.7$ and make 0.26$ profit with each pack (after deduction of market costs). You can even try to sell it for 2.94$ on Hive-Engine and make 0.75$ profit per pack!
Of course markets fluctuate and it may take some time till you can sell the packs. However you can make a profit of up to 34% with a couple of clicks. Worst case you keep the packs and you wait until the price goes up even more...
Arbitrage can be very powerful, especially when you have an edge over others, like knowing a tertiary market that not everybody is aware of !

Liotes
A project run by @ph1102 and @achim03
Resources
Posted Using LeoFinance Beta