IT'S OFFICIAL
Starting from now, I am an official TORUM Ambassador and I couldn't be more hyped about it.
TORUM launched it's newly designed landing page yesterday, https://www.torum.com/, and if you scoll to the bottom you are gonna see me flexing with some other cool boys and girls from all over the world.
Check it out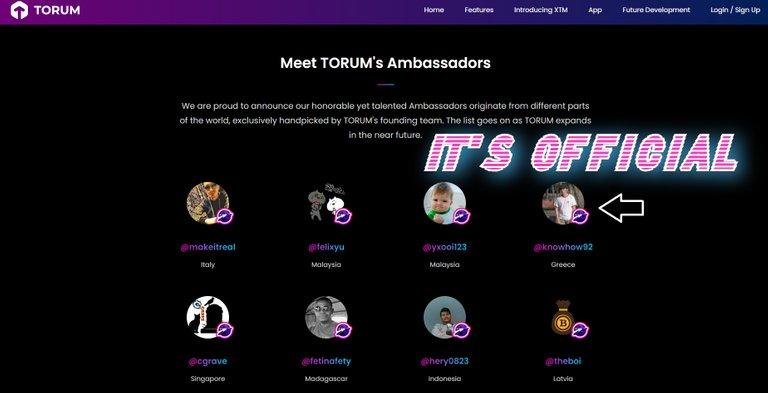 The TORUM Team carefully selected a hand-full of individuals from all over the world so we can all work together and land the TORUM spaceship on the moon.
Each single Ambassador has his/her own style and talent and after chatting a little bit with everyone I realised that we are a pretty dope team of skillful content creators, experienced traders, social media experts, community builders and so on...
You might actually find a couple of friendly faces if you take a look at the ambassadors. Hivers like me, @cgrave and @bagofincome (theboi) will work together and try our best to show everyone why joining TORUM is a must if you are a crypto enthusiast.
My Goals
My goals are simple. I am in the "Content Creation" team of TORUM so I will be sharing posts related to TORUM on my social media channels.
I will share my posts exlusively on crypto-related social media platforms like LeoFinance, Hive, Publish0x etc. and not in traditional social media. The reason behind this is that TORUM's goal is to become the No1 crypto-related social media platform out there and not just a socal media platform open to every type of content.
You post about crypto? You earn XTM! It's that simple.
---
Blockchain Racism
Blockchain Racism is in my opinion one of the main problems that keeps the worldwide crypto community kinda seperated.
All of us crypto enthusiasts have a favourite project we want to see it succeed but this can't happen if there is no mass adoption. Crypto Mass adoption can only happen when communities are united and promote crypto in a healthy way.
---
Crypto Enthusiasts Unite
The more crypto-related platforms we use the better in my humble opinion and that's the reason I decided to team up with the TORUM Team.
I want to promote TORUM on Hive and Hive on TORUM.
These 2 platforms have great synergy and this will benefit both Hivers and Landers (TORUM users are referred as Landers).
You can share your content in both platforms, earn 2 different cryptos (Hive and XTM), reach a whole new audience and raise the numbers of traffic and engagement in both platforms.
That's a Win-Win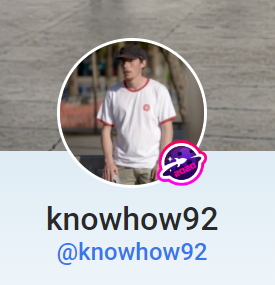 Do you like my new Ambassador logo right next to my profile pic?
---
100 XTM Giveaway
To kick things off, I am organizing a giveaway of 100 #XTM (TORUM's token) open to everyone who hasn't yet signed up on TORUM.
Every single one of you who signs up on TORUM through my invitation link and verify their account will receive 75 #XTM + I'll send 100 XTM to one lucky new #Lander
Learn more about the giveaway and how you can participate at the link bellow :
---
Learn more about TORUM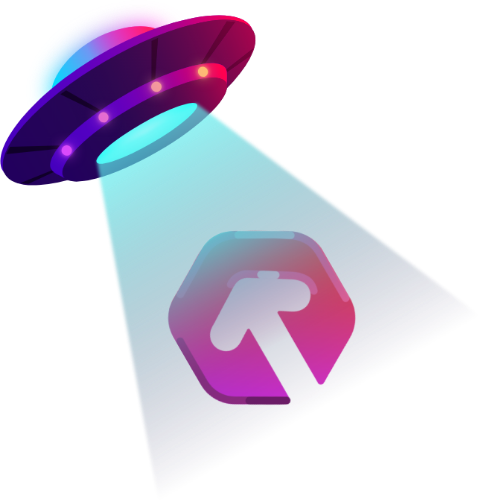 If this is the first time hearing about TORUM then you can take a look at my previous blog in which I highlighted the most important parts of the TORUM whitepaper.
OR
you can take a look at the newly designed landing page of TORUM
Feel free to contact me if you have any TORUM-related questions :
---
Thank you all for your support.
As a full-time online hustler, supporting my content allows me to keep doing what I love.
Much love to everyone and always have fun.
@Knowhow92
---
Earn crypto for your creativity
---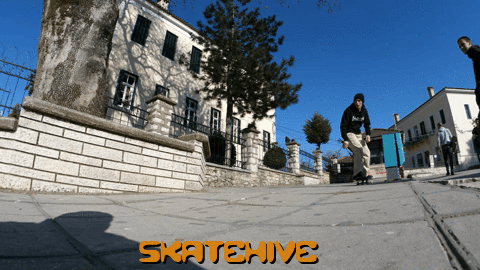 ---
Find me Here
🏡 Hive: https://www.peakd.com/@knowhow92
📹 Youtube : https://www.youtube.com/channel/UCJTNnvAHca8jcxaBpWn-bzA
📱 Twitter : https://twitter.com/theocharis_ch
☀️ Lbry : https://lbry.tv/@knowhow92:d
📷 Instagram : https://www.instagram.com/haris_housos/
☕️ Ko-fi : https://ko-fi.com/knowhow92
Posted Using LeoFinance Beta