DEU
Hallo @risingstar Spieler.
Hallo @farmfarmer Spieler.
Hallo alle anderen Blockchainer.
In dem super Spiel @risingstar, das ich nur jedem sehr empfehlen kann, werden jetzt Farm Token aktzepiert.
Den zusammenschluß der beiden Token und Spielen finde ich super.
Somit bekommt der Farm Token auch einen guten Wert und es lohnt sich wohl wieder @farmfarmer Karten zu kaufen.
Für 0,55 Farm bekommt man 1 Booster Pack.
Für 5,00 Hive bekommt man 1 Booster Pack.
Somit haben 0,55 Farm einen Wert von 5 Hive.
Ich habe jetzt schon 3 Farm Token für das staking erhalten.
Und bald gibt es wieder neue Booster Packs für mein @risingstar Spiel.
Ich wünsche euch allen viel Spaß beim sammeln der Karten von @risingstar und von @farmfarmer und auch beim spielen.
Einen schönen sonnigen Tag wünsche ich euch.
Gruß vom @bitandi
---
---
---
ENG
Hello @risingstar player.
Hello @farmfarm player.
Hello all other Blockchainers.
In the super game @risingstar, which I can only recommend to everyone, farm tokens are now activated.
I think the combination of the two tokens and games is great.
So the Farm Token gets a good value and it is worth to buy @farmfarmer cards again.
For 0,55 Farm you get 1 Booster Pack.
For 5,00 Hive you get 1 Booster Pack.
So 0,55 Farm have a value of 5 Hive.
I already got 3 Farm Token for staking.
And soon there will be new Booster Packs for my @risingstar game.
I wish you all a lot of fun collecting the cards of @risingstar and @farmfarmer and also playing.
I wish you a nice sunny day.
Greeting from @bitandi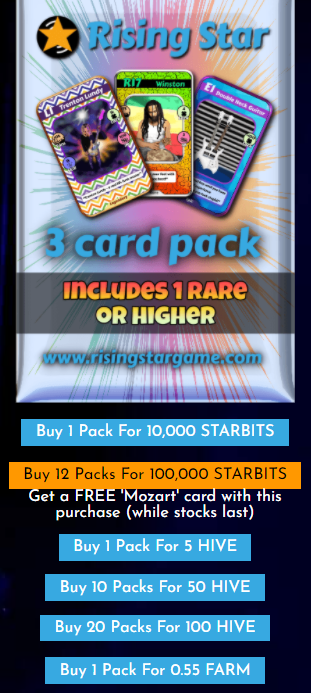 Posted Using LeoFinance Beta