The Tranquil village of Benahavís
Untouched. Natural. Unbounded. Free. Vast.
Just some of the words that come to mind when I think od mountains or mountainous areas. The getaway in the sun that we use once or twice most years is a little village called Benahavís. Although very close to the coast, it is nestled up in the nearby mountainz giving it a beautiful charm and is not swarming with tourists, making it an ideal place in my opinion.
Spain is like a second home to me in some weird way. I always feel very at home there. I suppose given that I have sallow skin and the fact that Galway is famous for it's trading connection with Spain from hundreds of years ago, it's quite possible that I have Spanish blood somewhere in my genealogical history and so it makes sense that I feel at home here.
Every time I visit, I always think to myself that I must learn more of the language, as that truly opens your eyes to a country, it's heritage, it's culture and it's customs. I do of course know around two hundred words to allow for some pigeon Spanish smalltalk, but nothing deep and meaningful is possible, so it's an aspiration for me to learn the language.
Beautiful Steps
One of the first things that struck me in Benahavís was these beautiful steps, which I happened to park near on my first trip up to the picturesque village a few years ago. The name of the village is expertly crafted into the tiles as you can see below.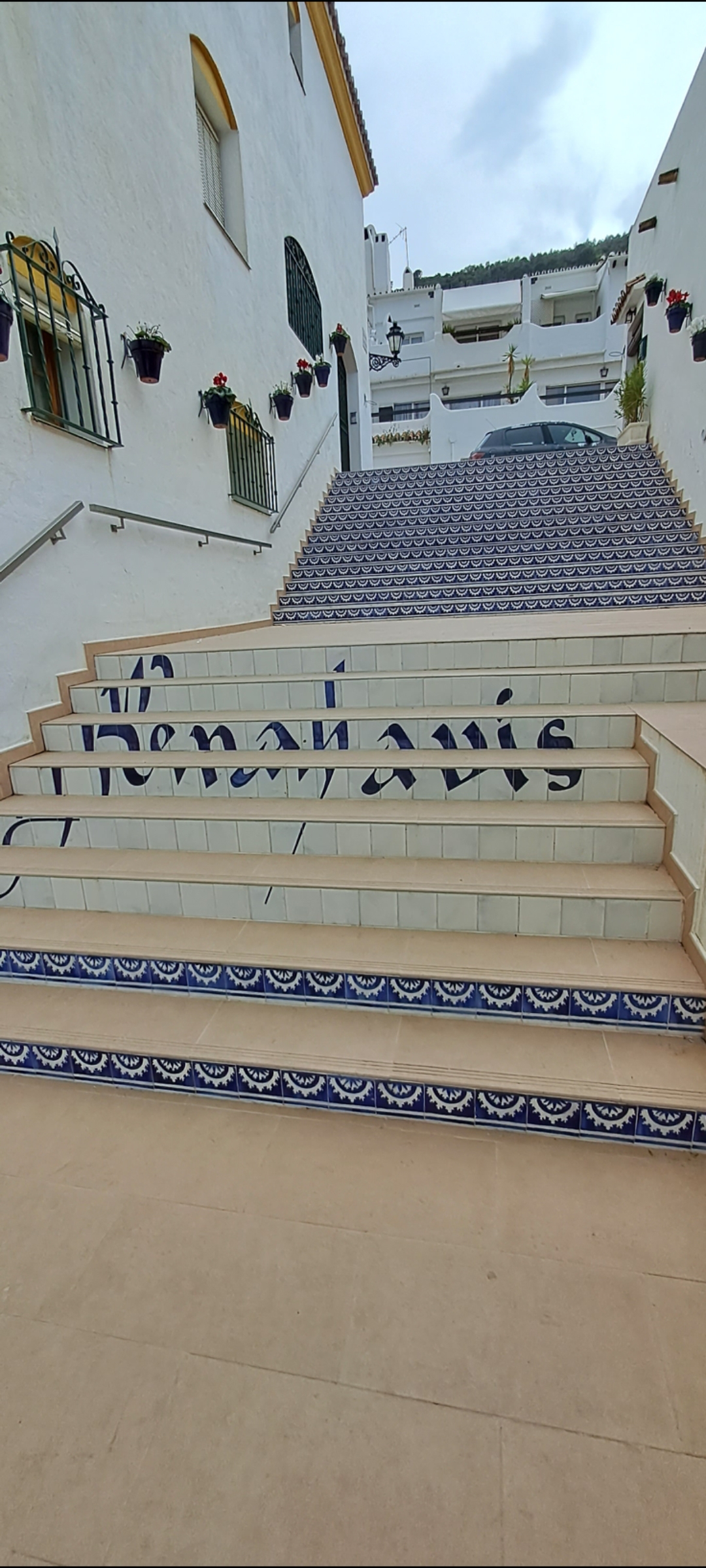 They also have an image of the town itself etched into the steps. I'm sure overall this project cost €15 - €20K and for me it was money well spent as it gives the village a beautiful focal point.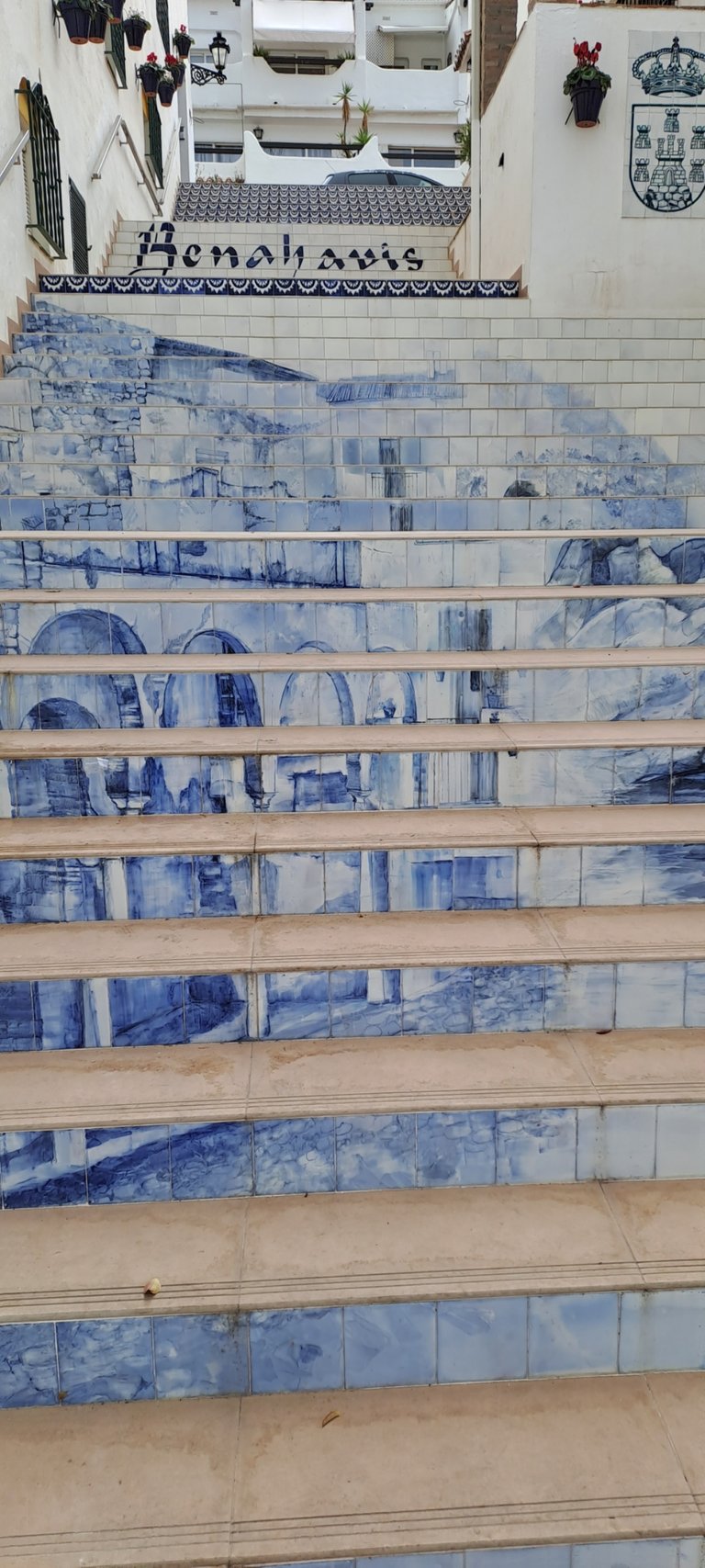 Let's take a closer look at that fantastic tile work in the steps, shall we. It's a really cool design and from down the street, it looks contiguous, as you can see in the next photo.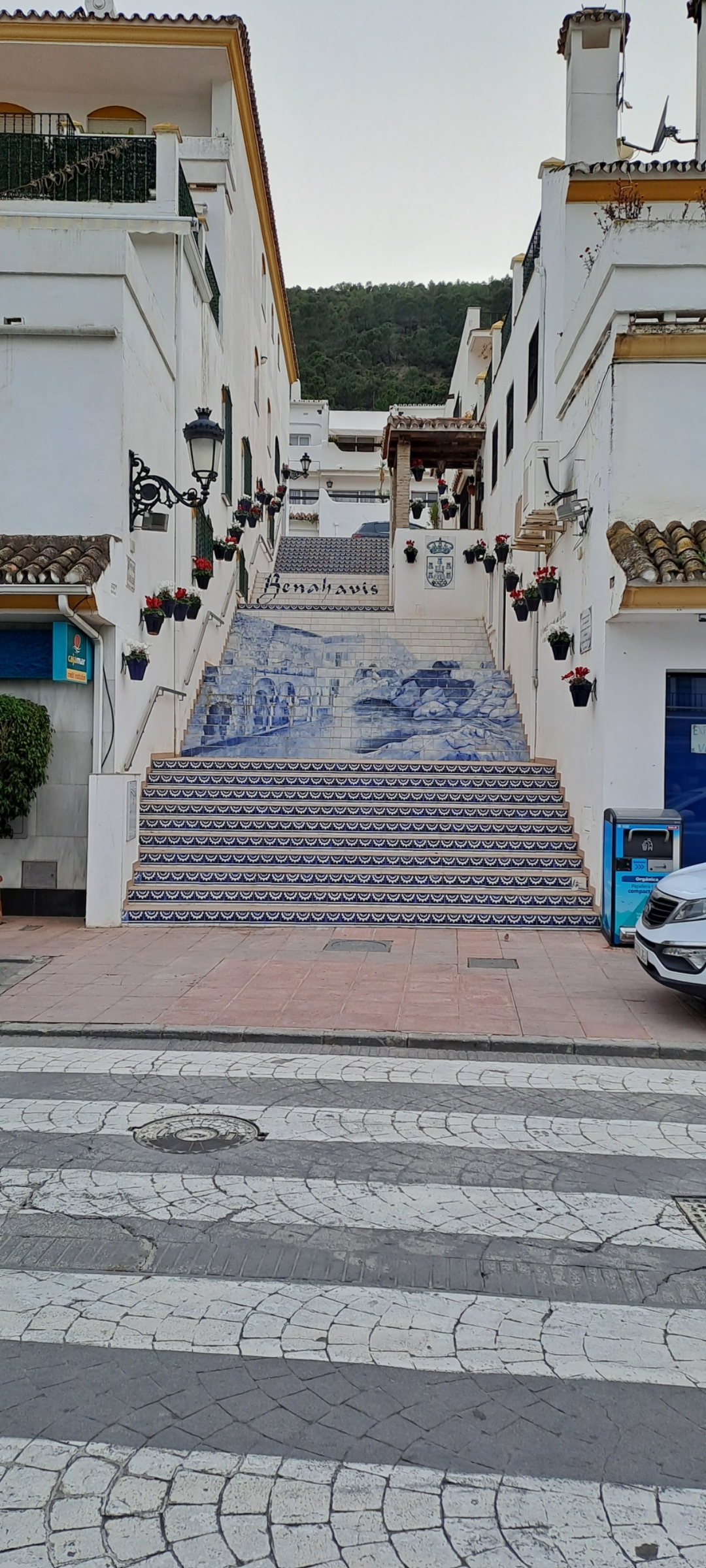 The Spanish village planners then finish it off beautifully with some tasteful planting in hanging flower pots, which are always popular in Spanish villages.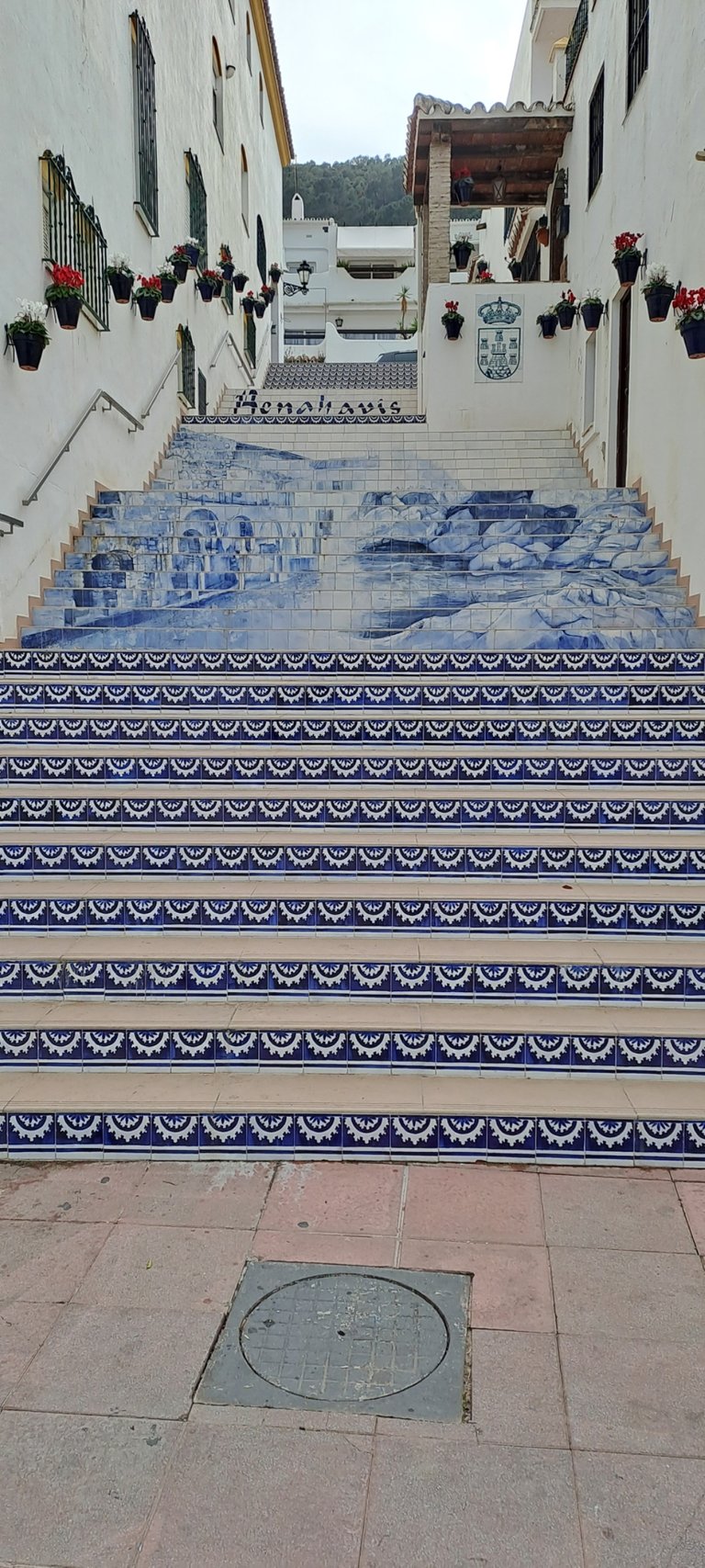 And just in case any of you curious folks wanted to see the view from the top of the steps down, here you go.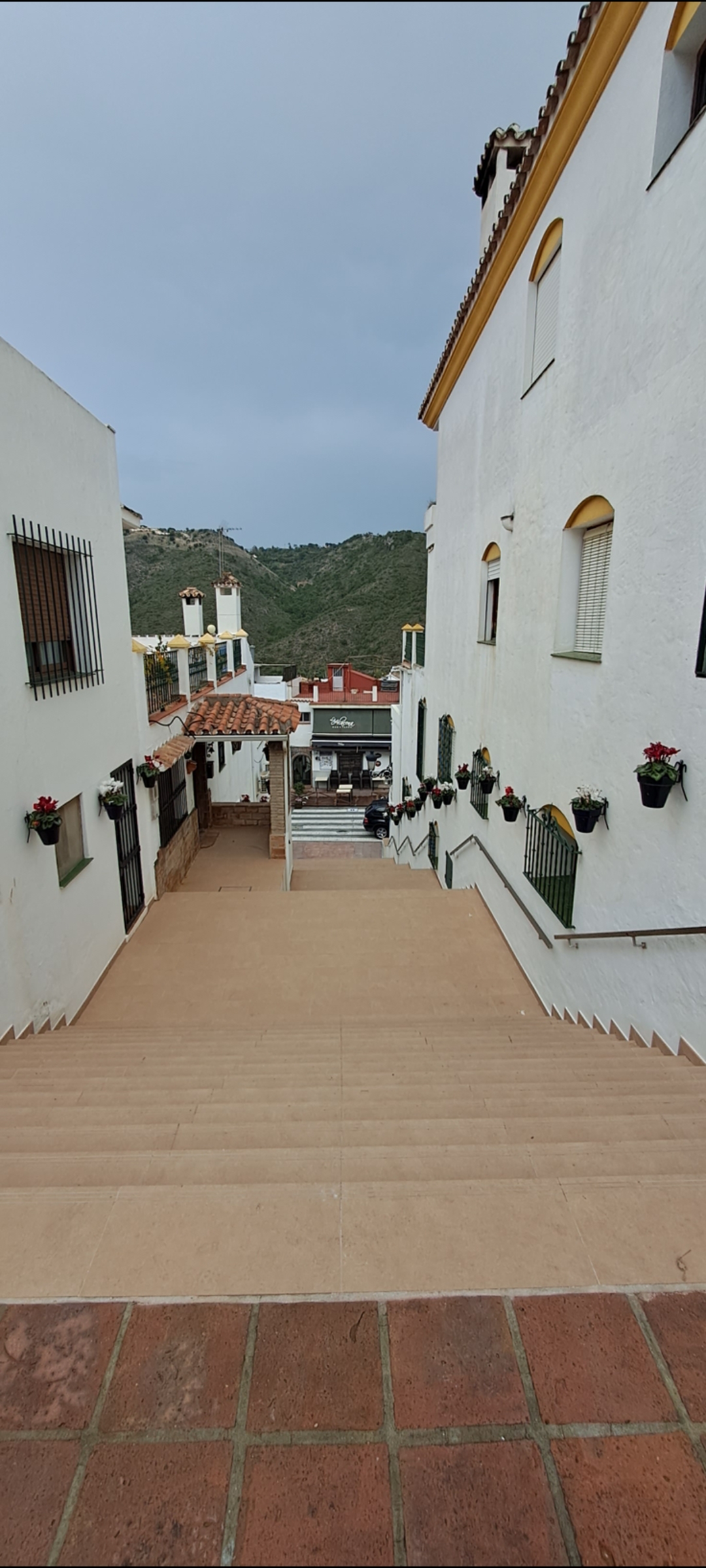 Narrow streets
I always find that places that I enjoy to spend time at while on holidays are the old town areas with quaint narrow little streets like they have in Benahavís.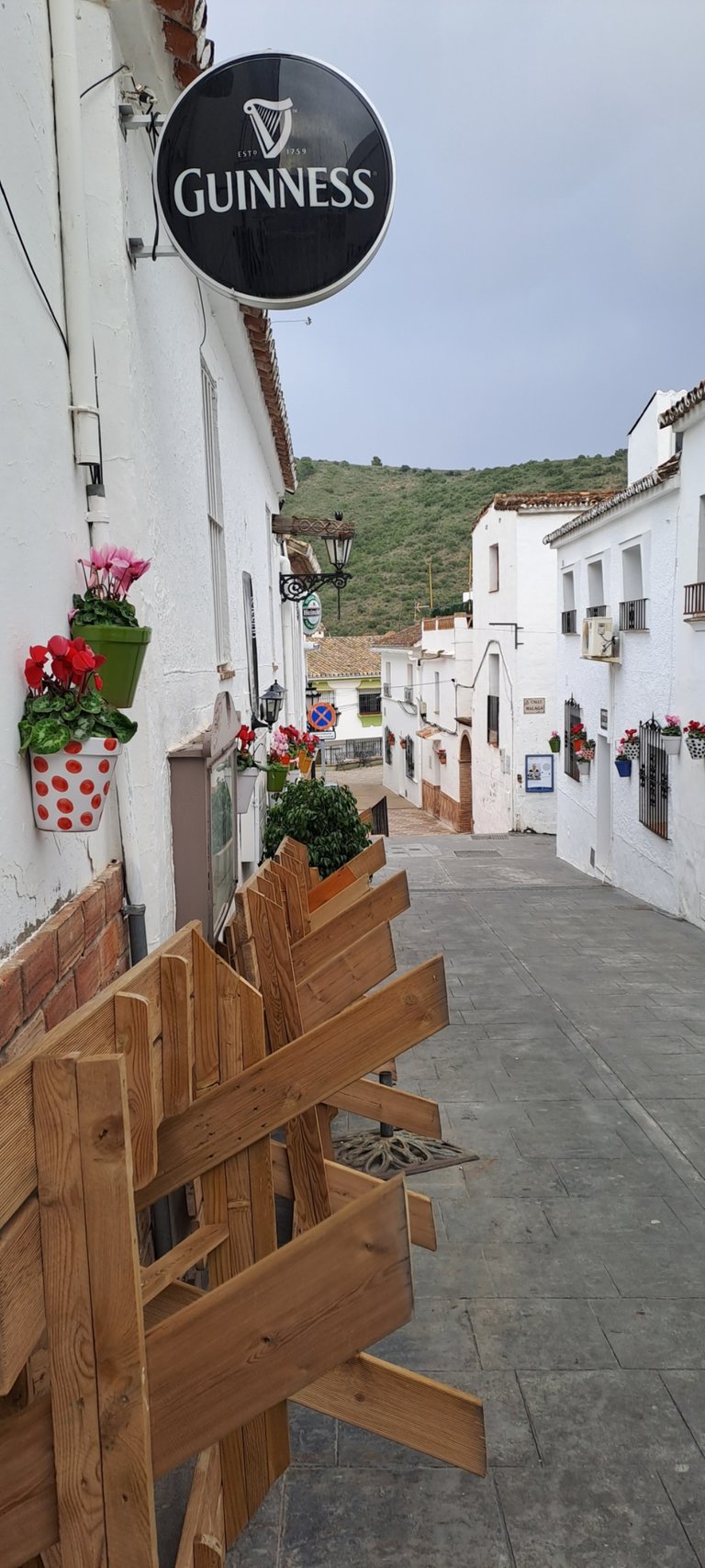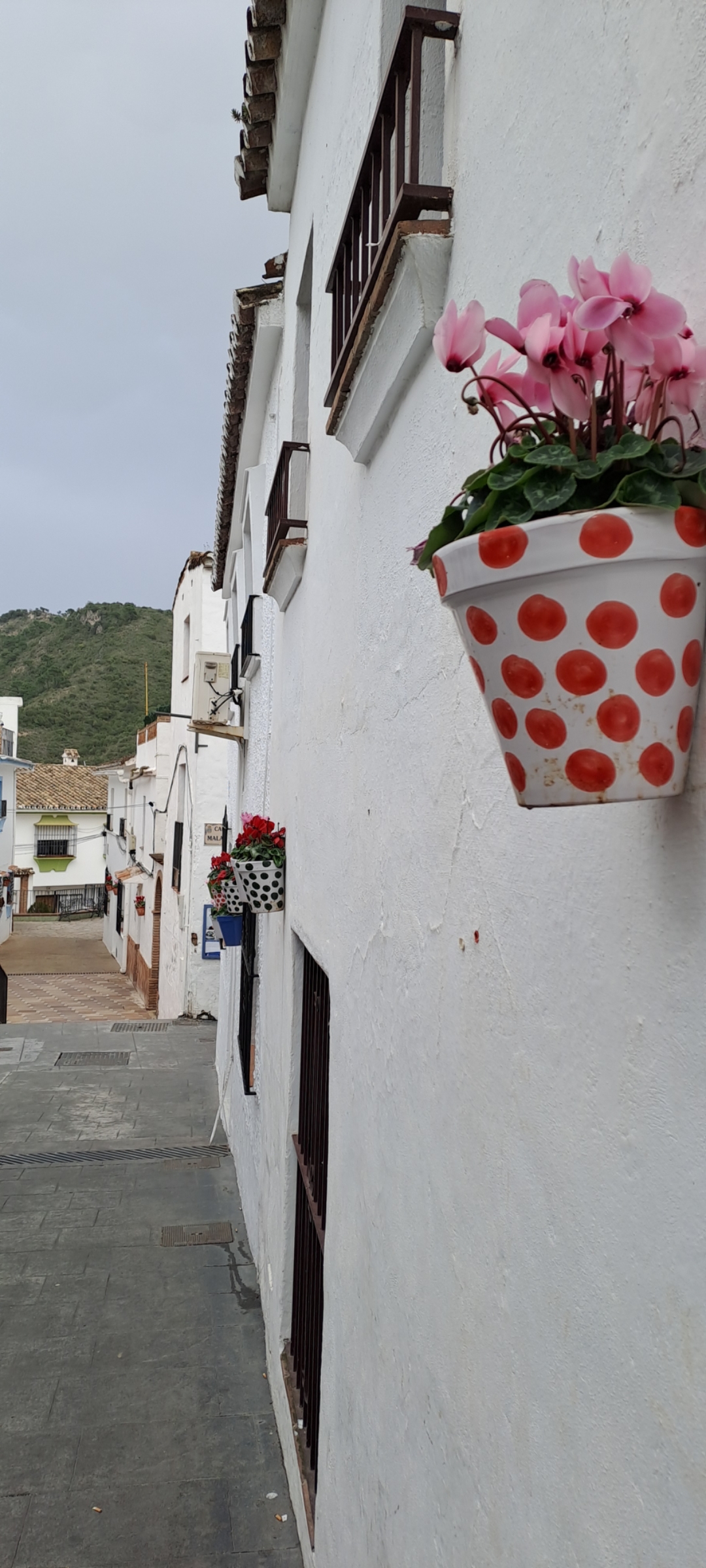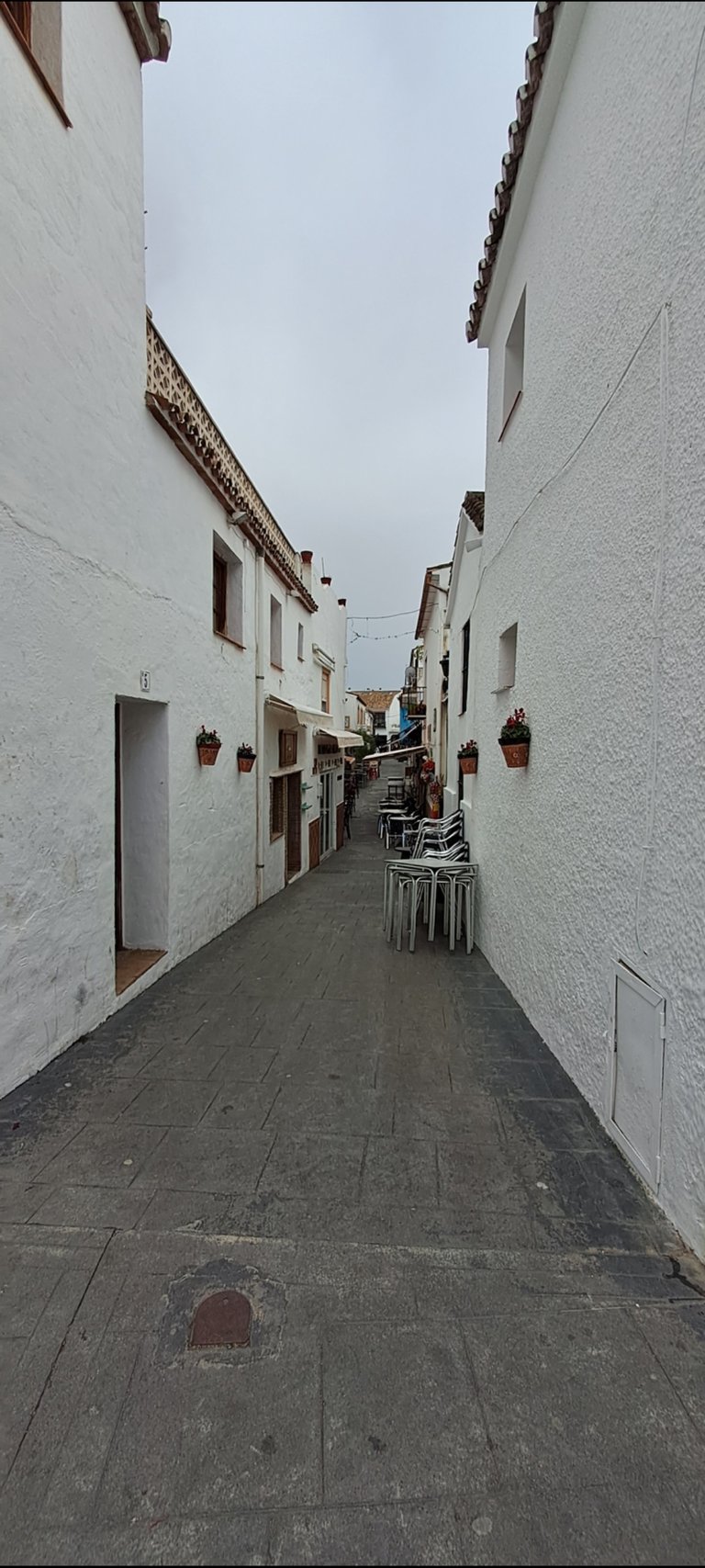 The village also boasts a wealth of tasteful bars and restaurants specialising in local organic cuisine. These photos are taken on a quite afternoon, but usually in the evening there is great hustleb and bustle and activity on these narrow streets.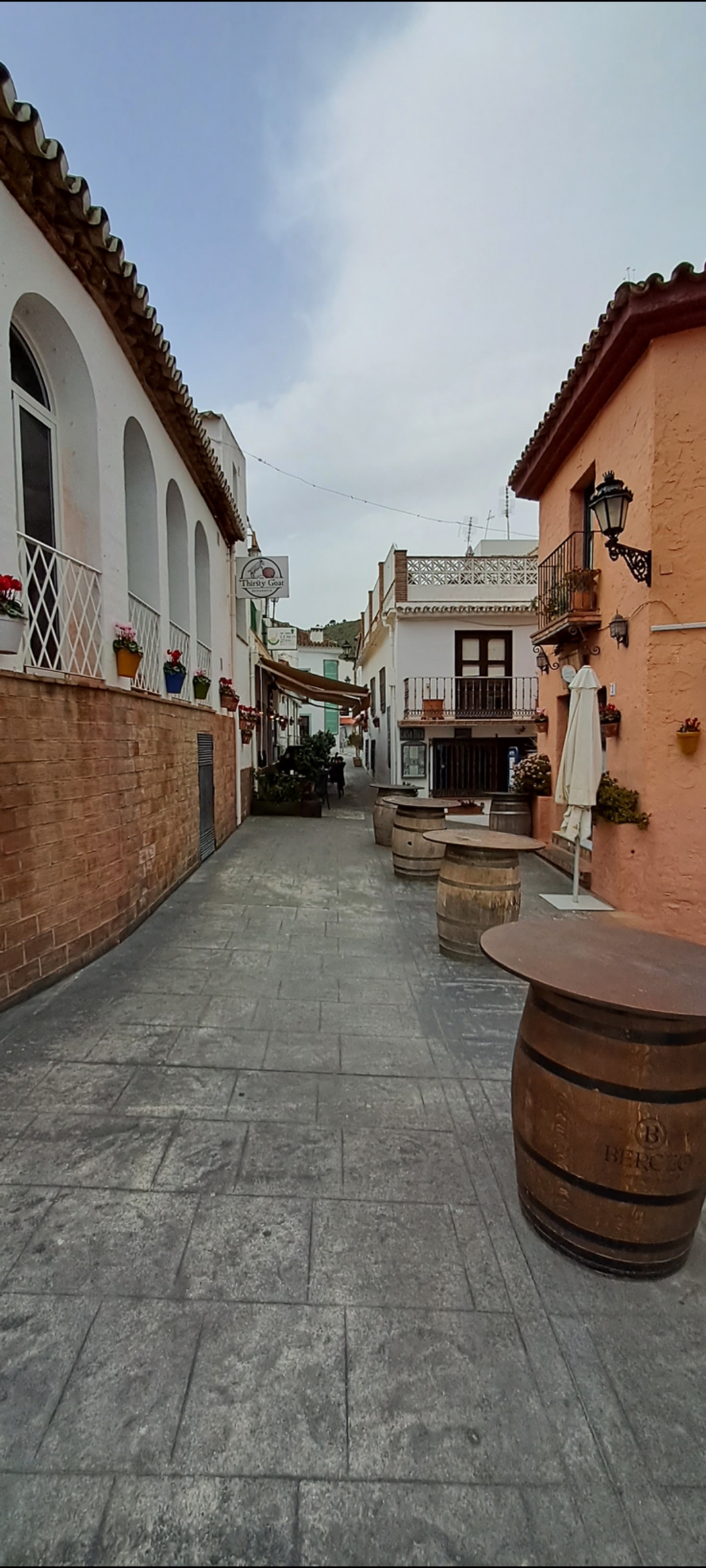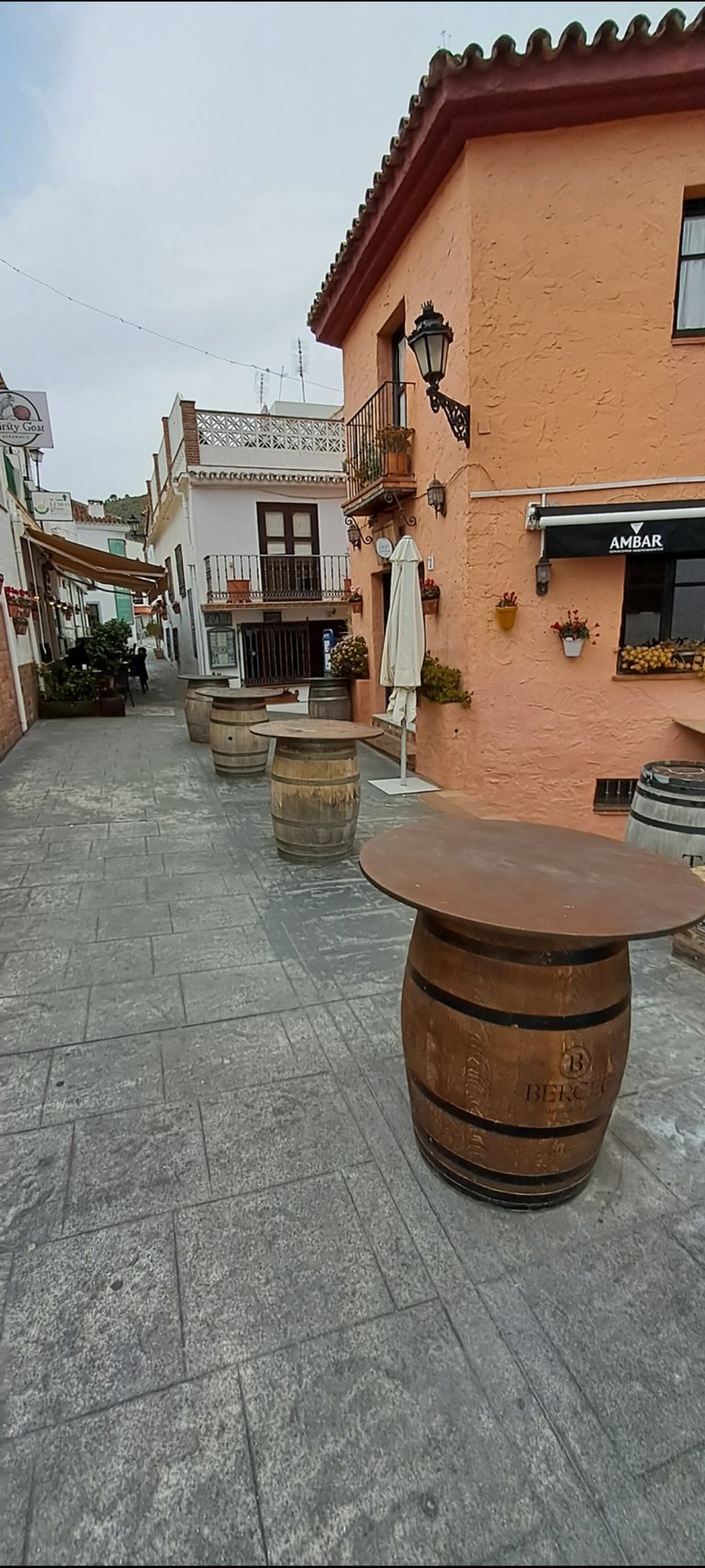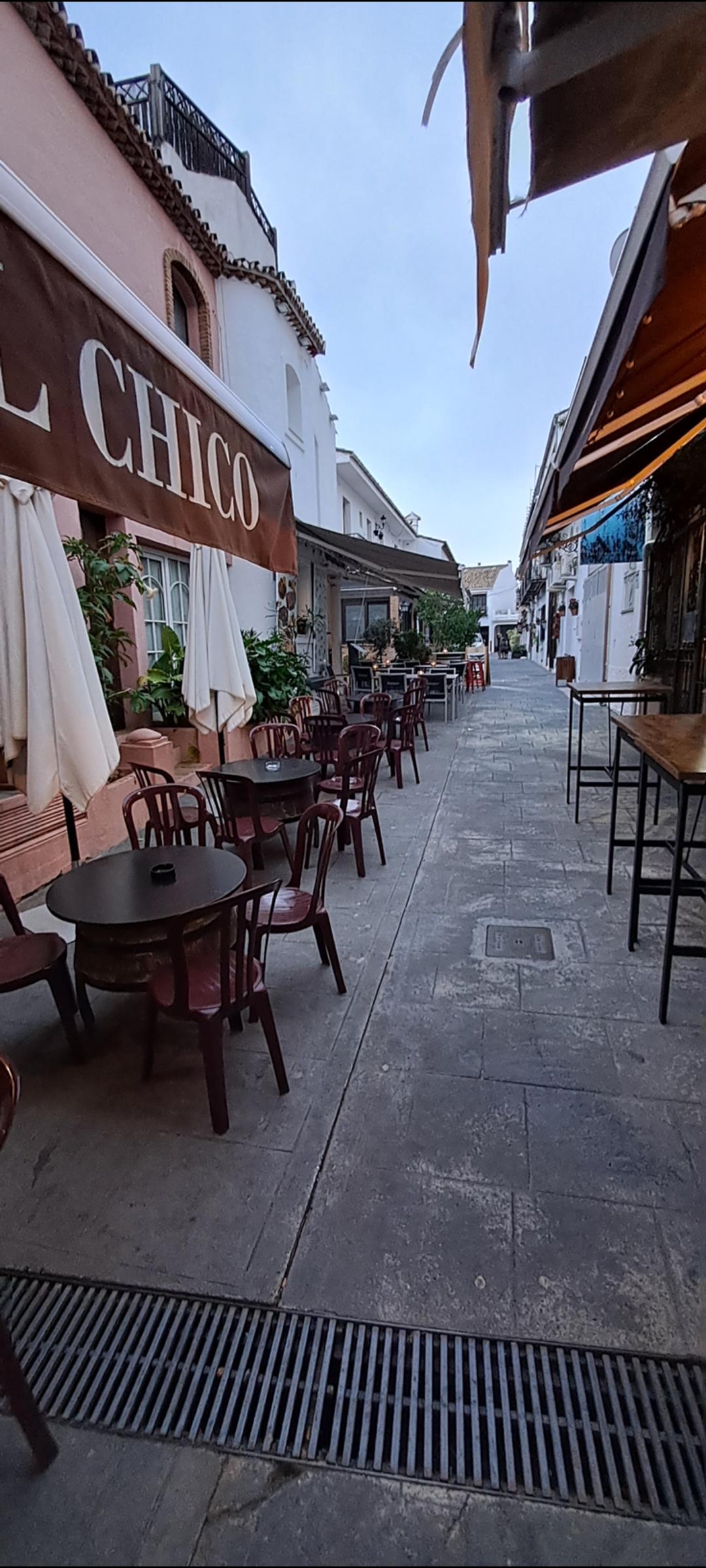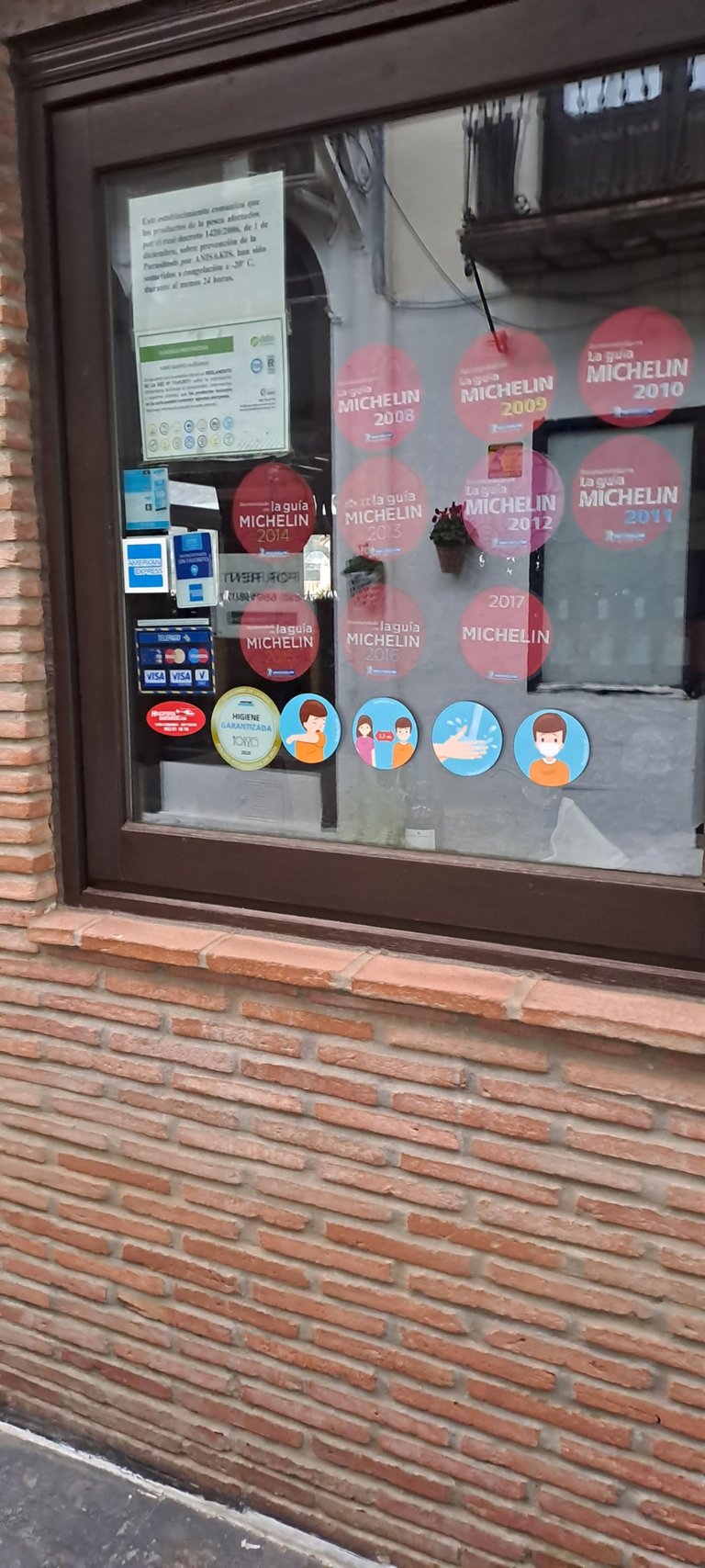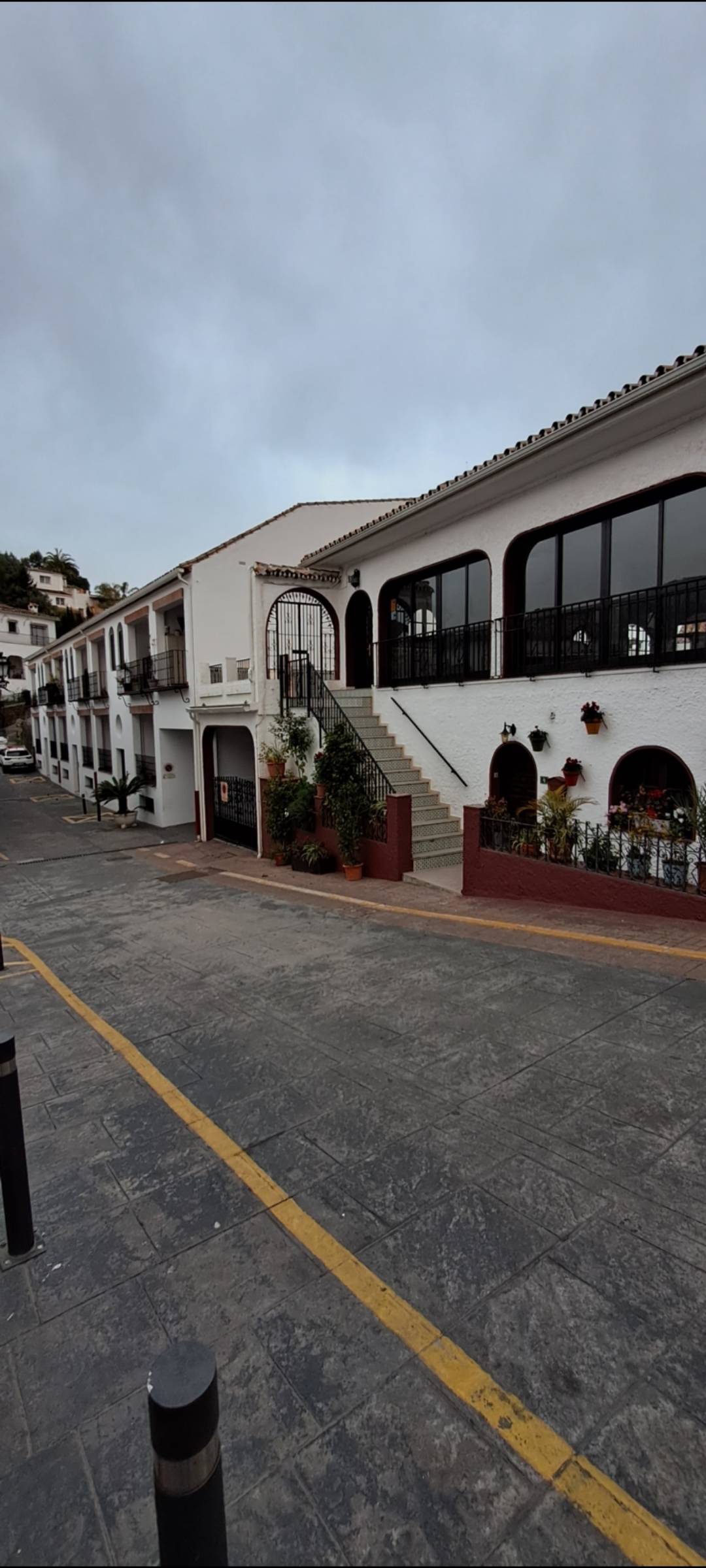 Vino Tinto
I do like my red wine with a meal I must admit, and Rioja is amongst my favourite wines, so no better spot than Spain for an auld glass. While walking around Benahavís on the day I took these photos I had one.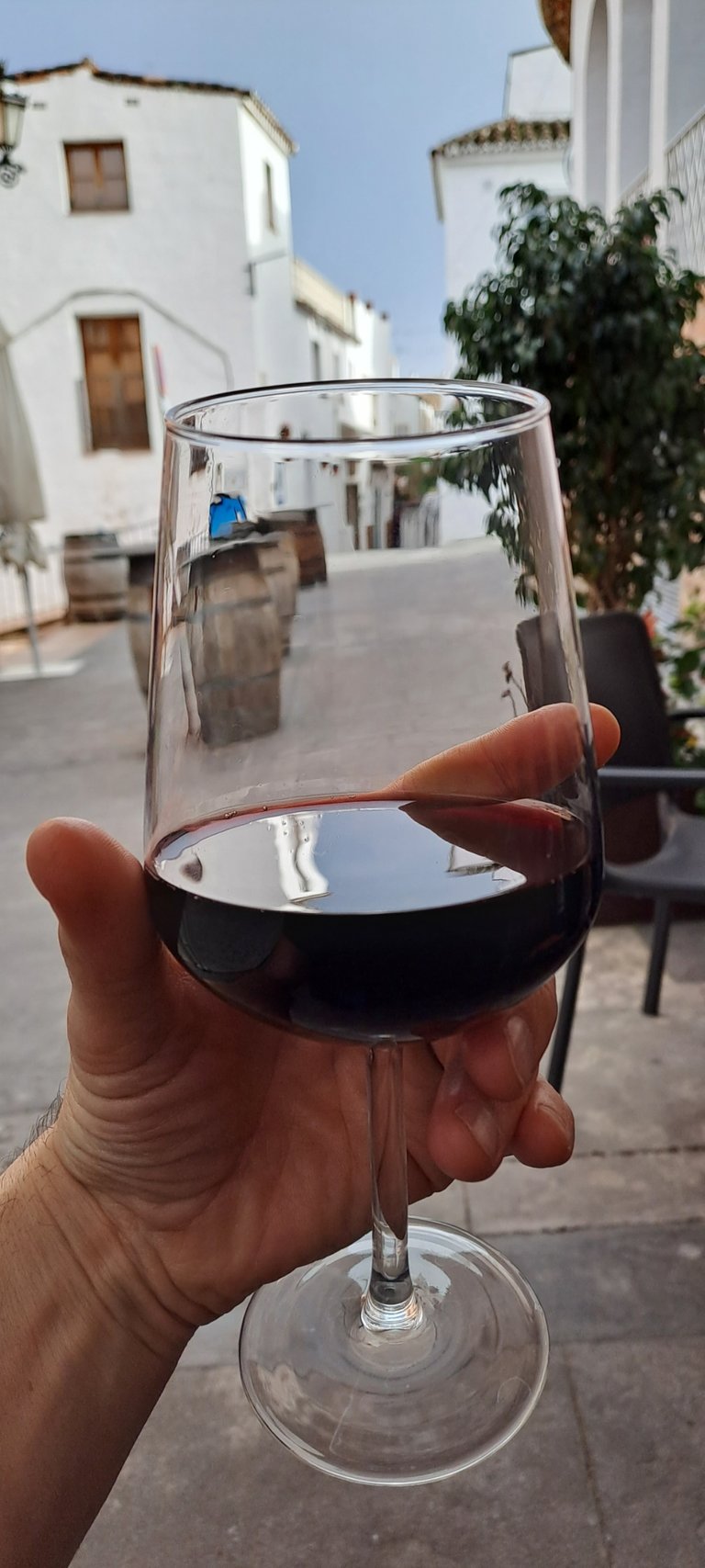 Some More Photos 📸
Here are some more photos that I took around the village, starting of with more beautiful flower pots.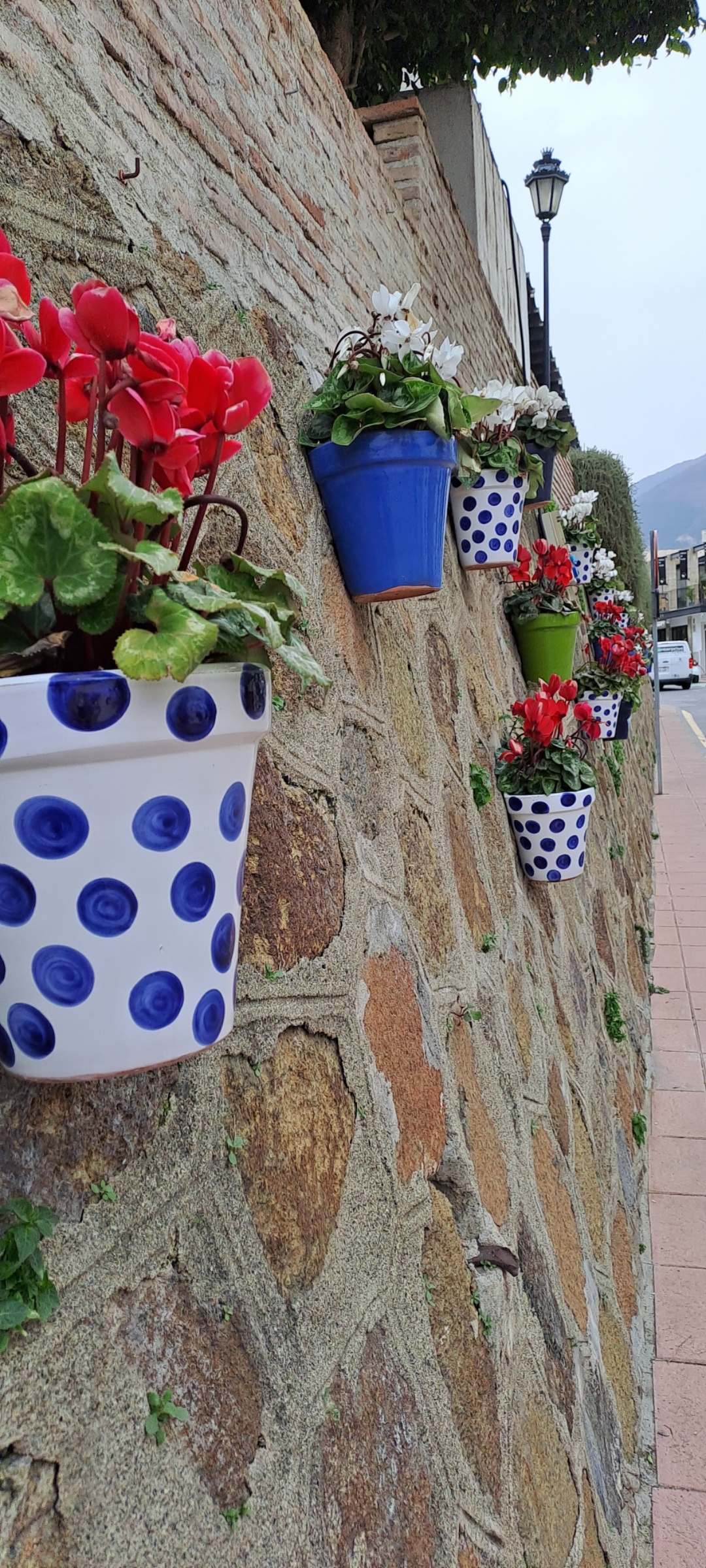 The Spanish really take pride in the appearance of their villages and towns, and even the street lights and street signs are appealing to the eye.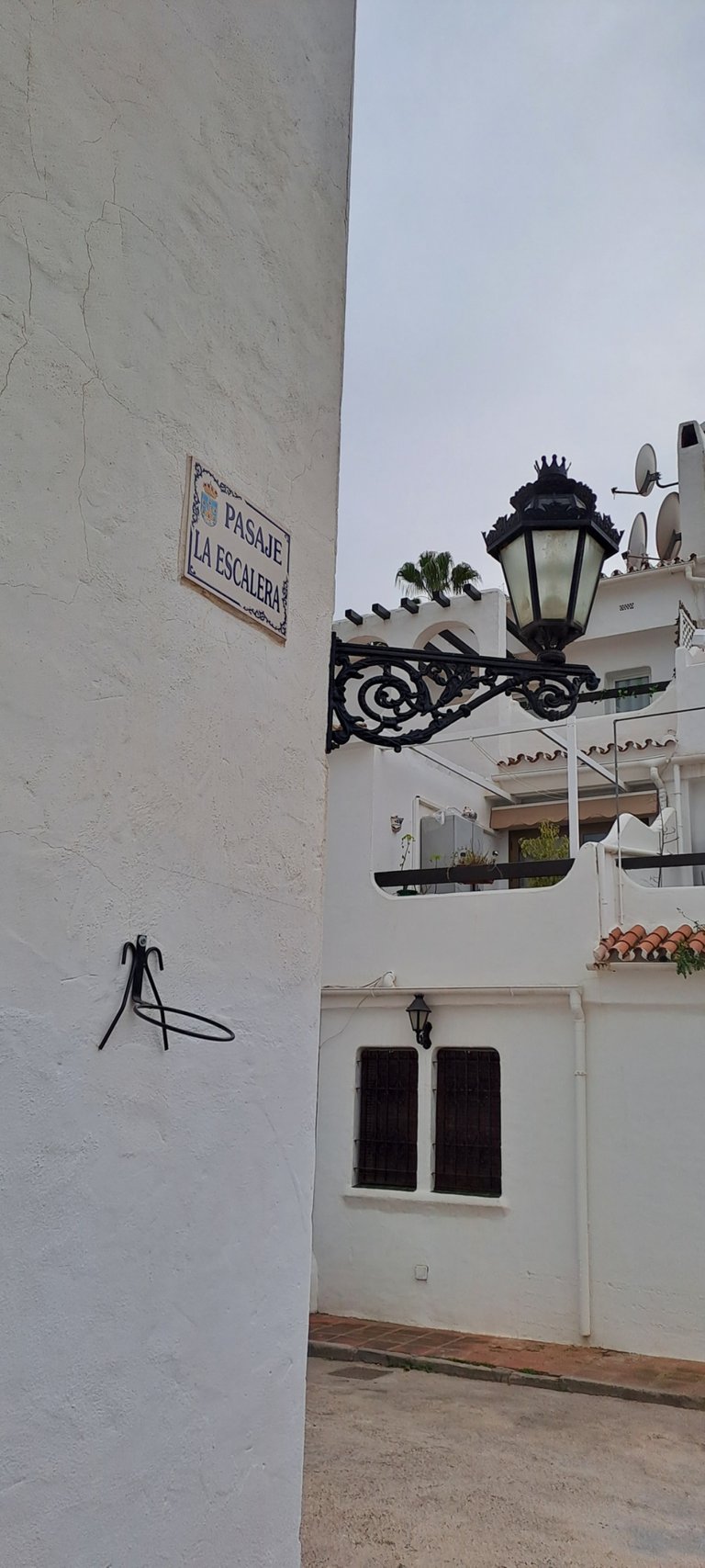 Next we have a nice medsage written on the wall, but I'll admit I don't know what it says, maybe you can translate in the comments below?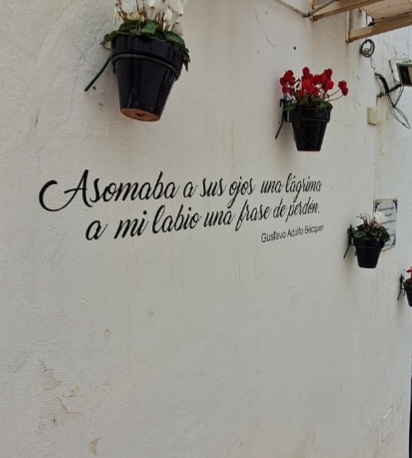 I even found a pub serving Guinness, but I never drink Guinness outside Ireland, as it never measures up.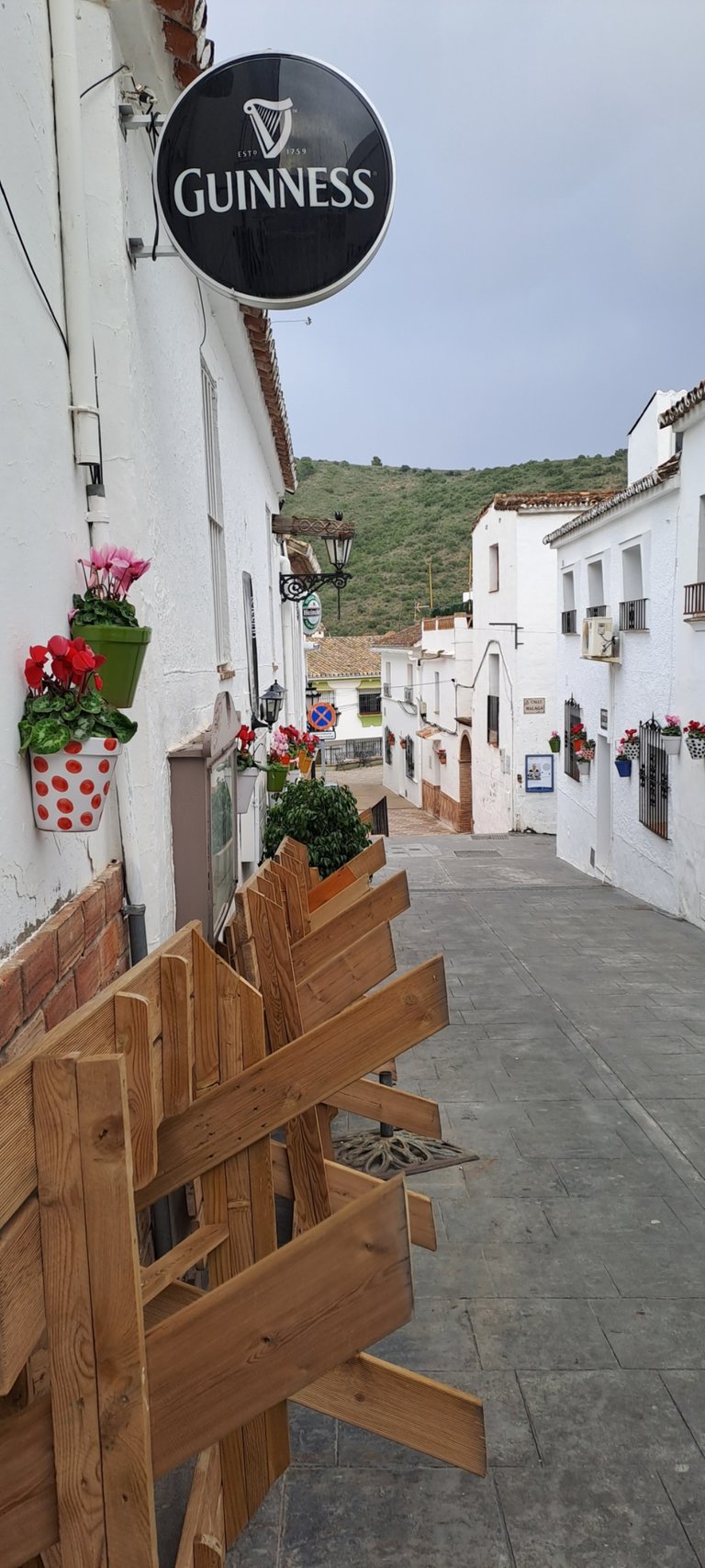 Here are a few shots of the main street which is busy in the mornings for breakfast, but then closes up for Siesta.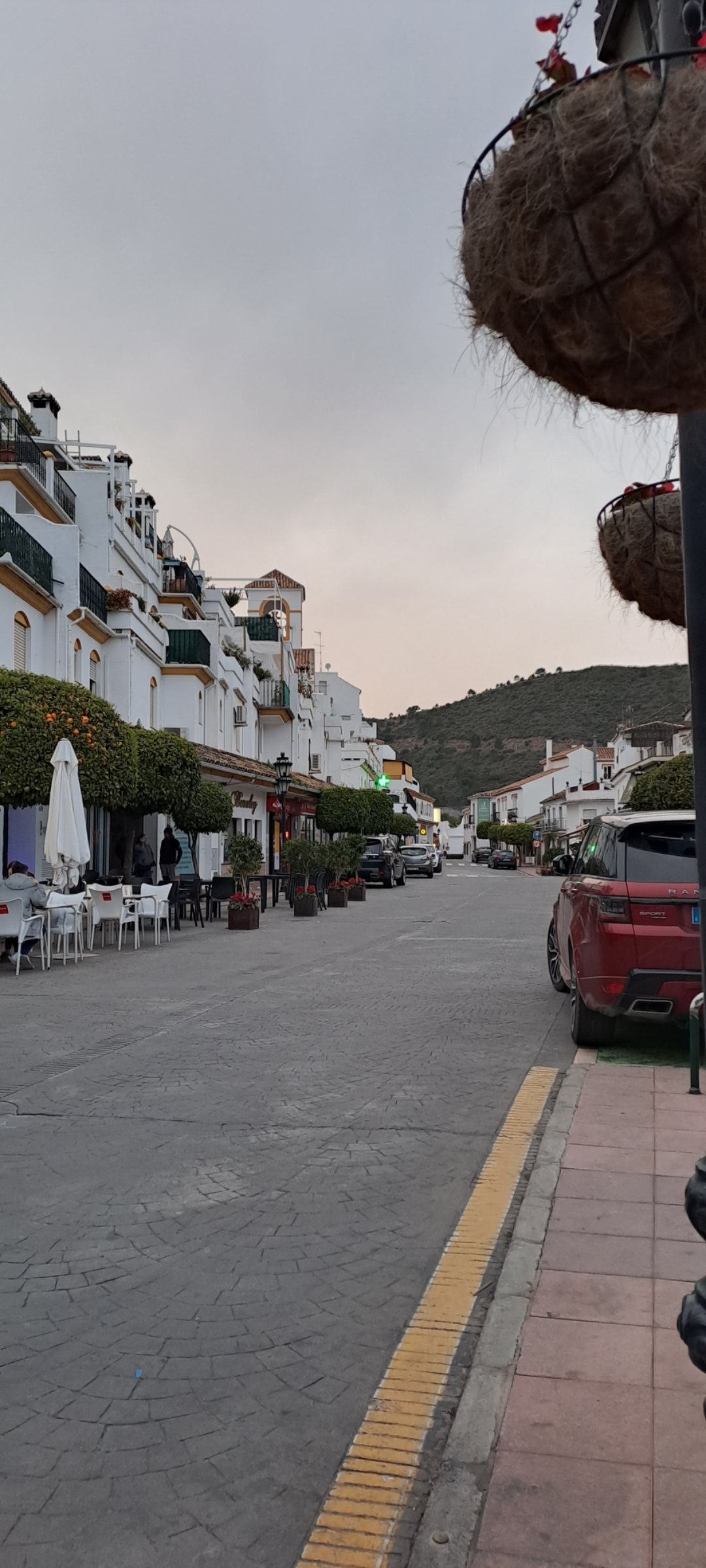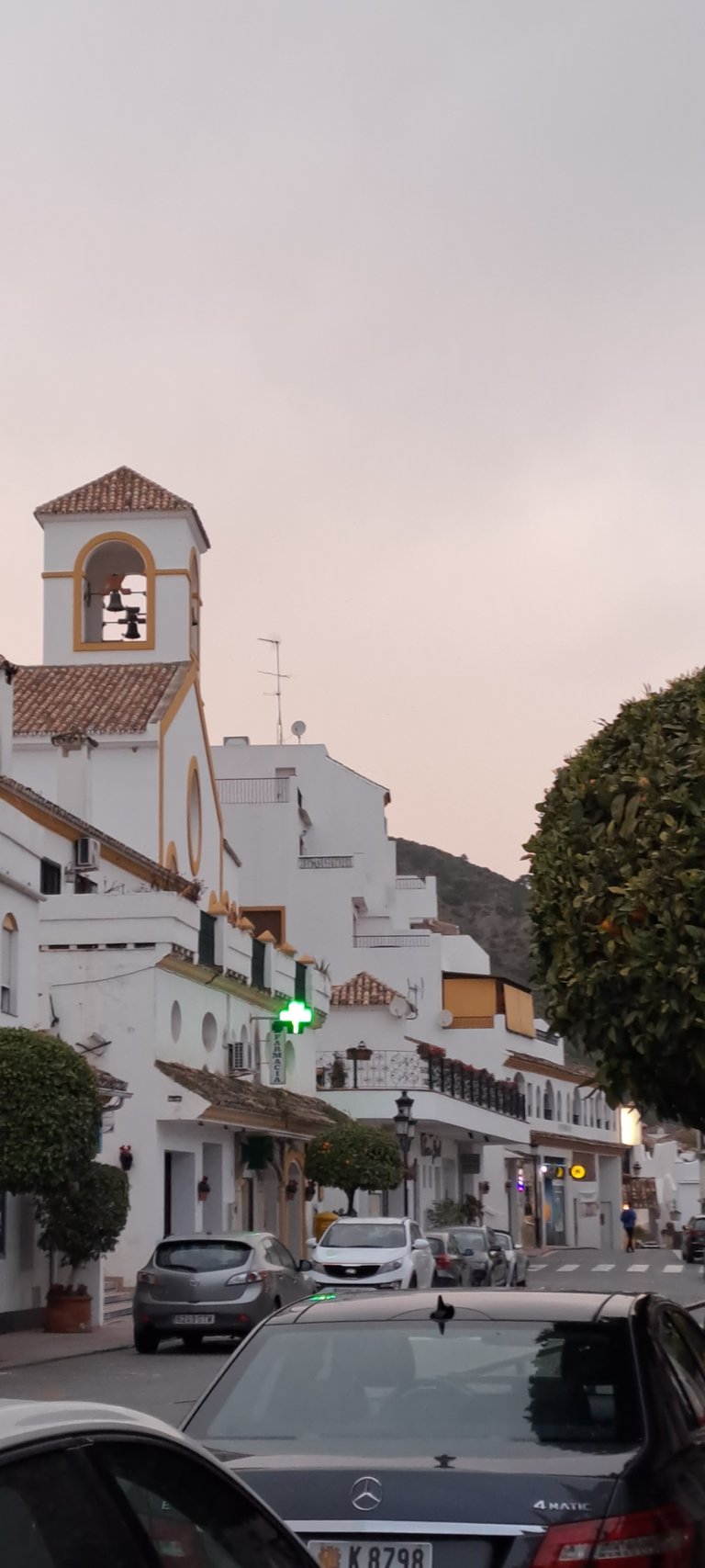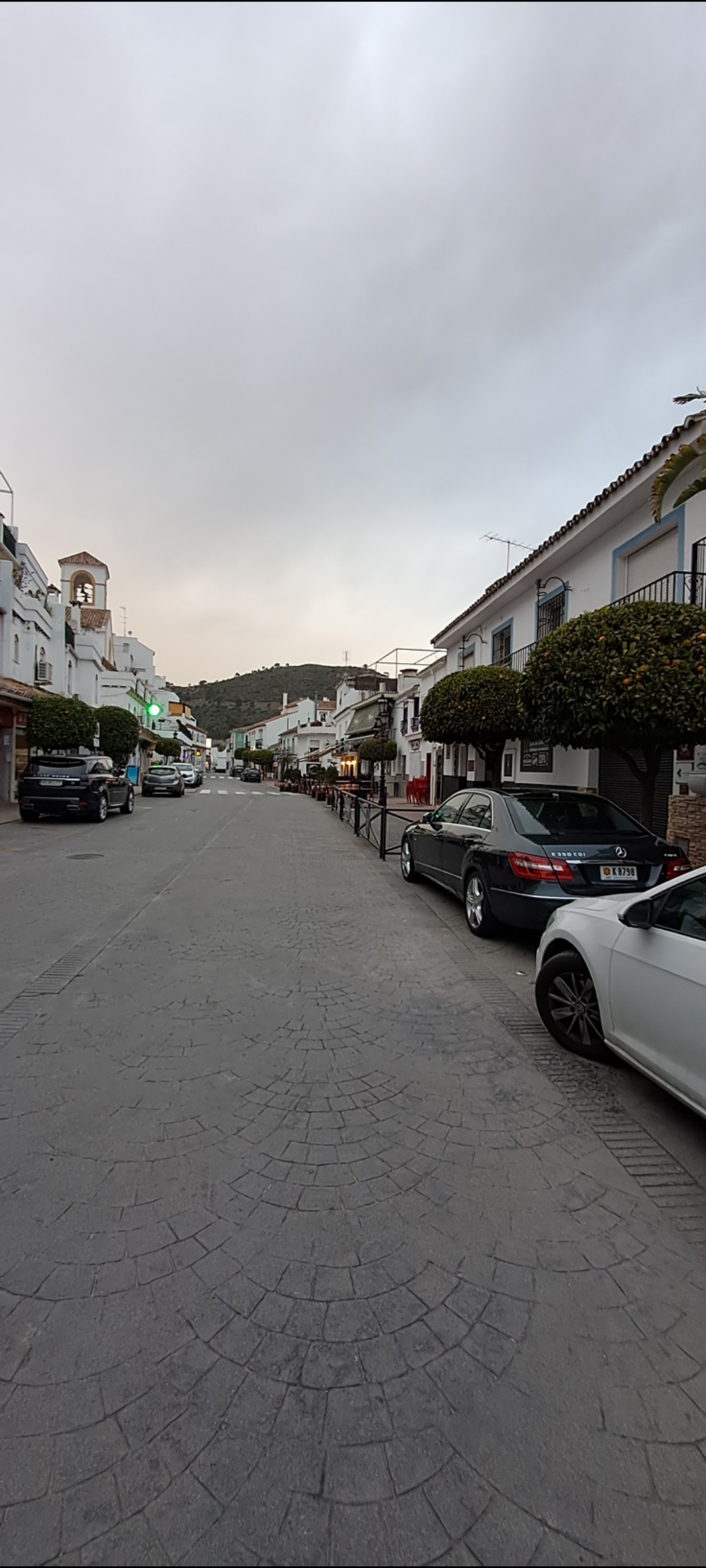 Well I hope you enjoyed that little tour of Benahavís and for anyone wondering where abouts it is, these maps should help.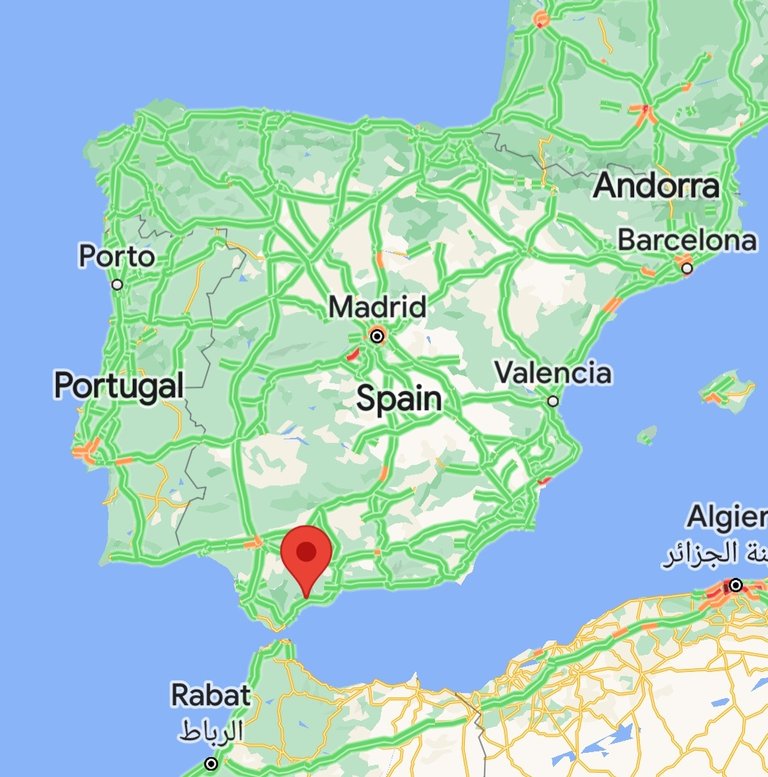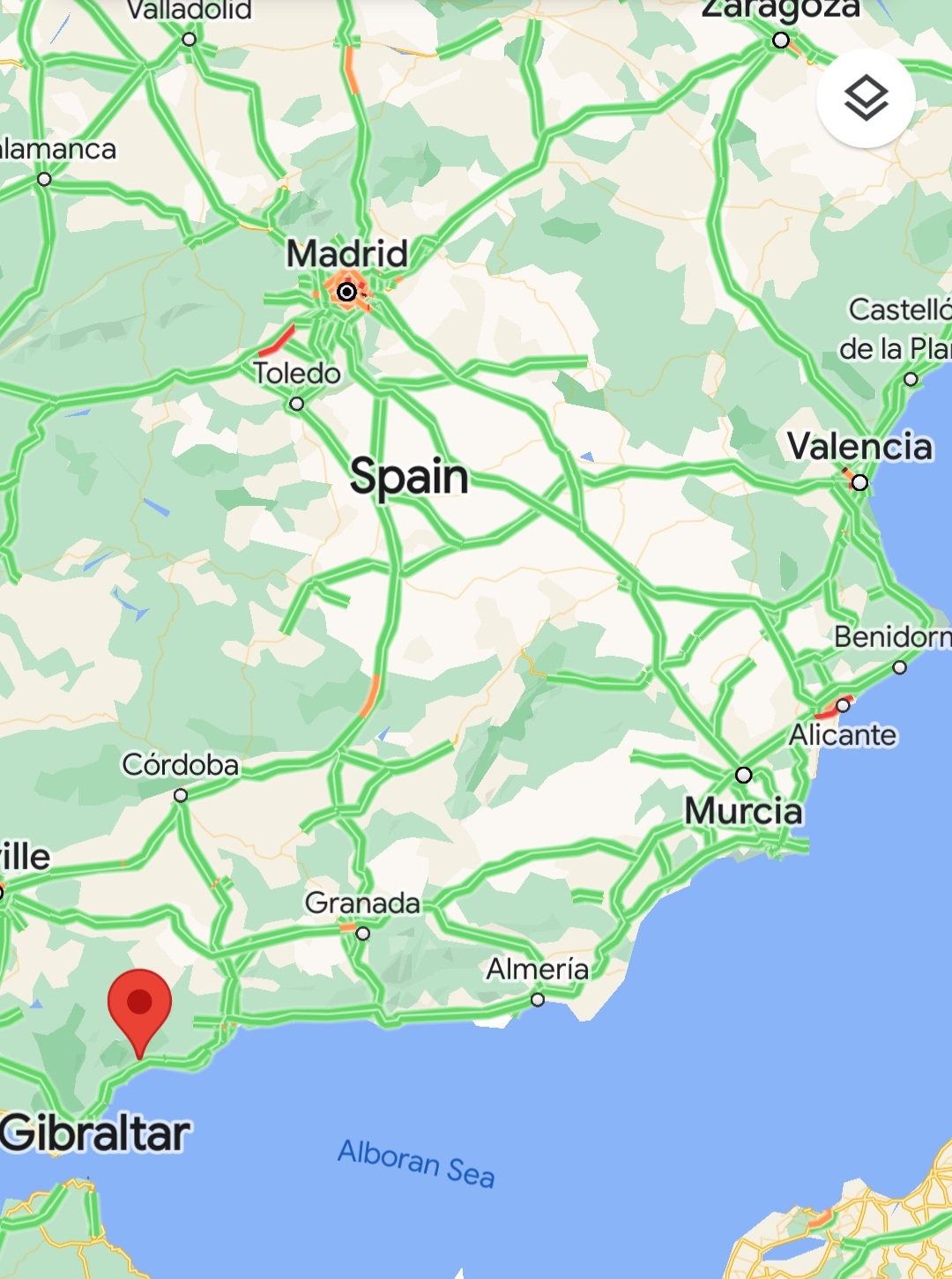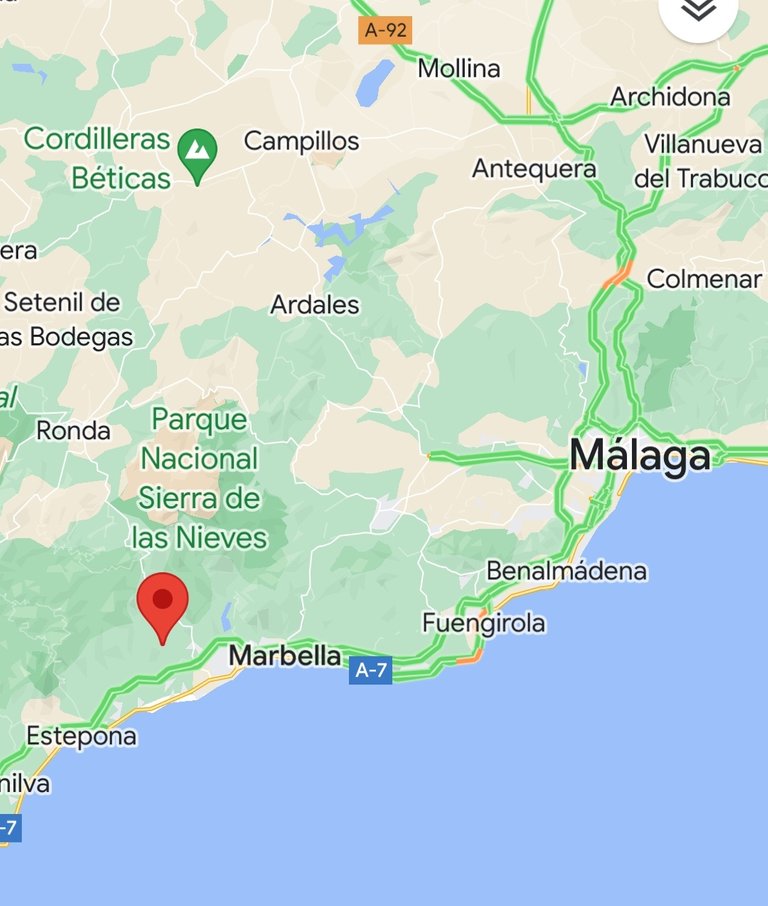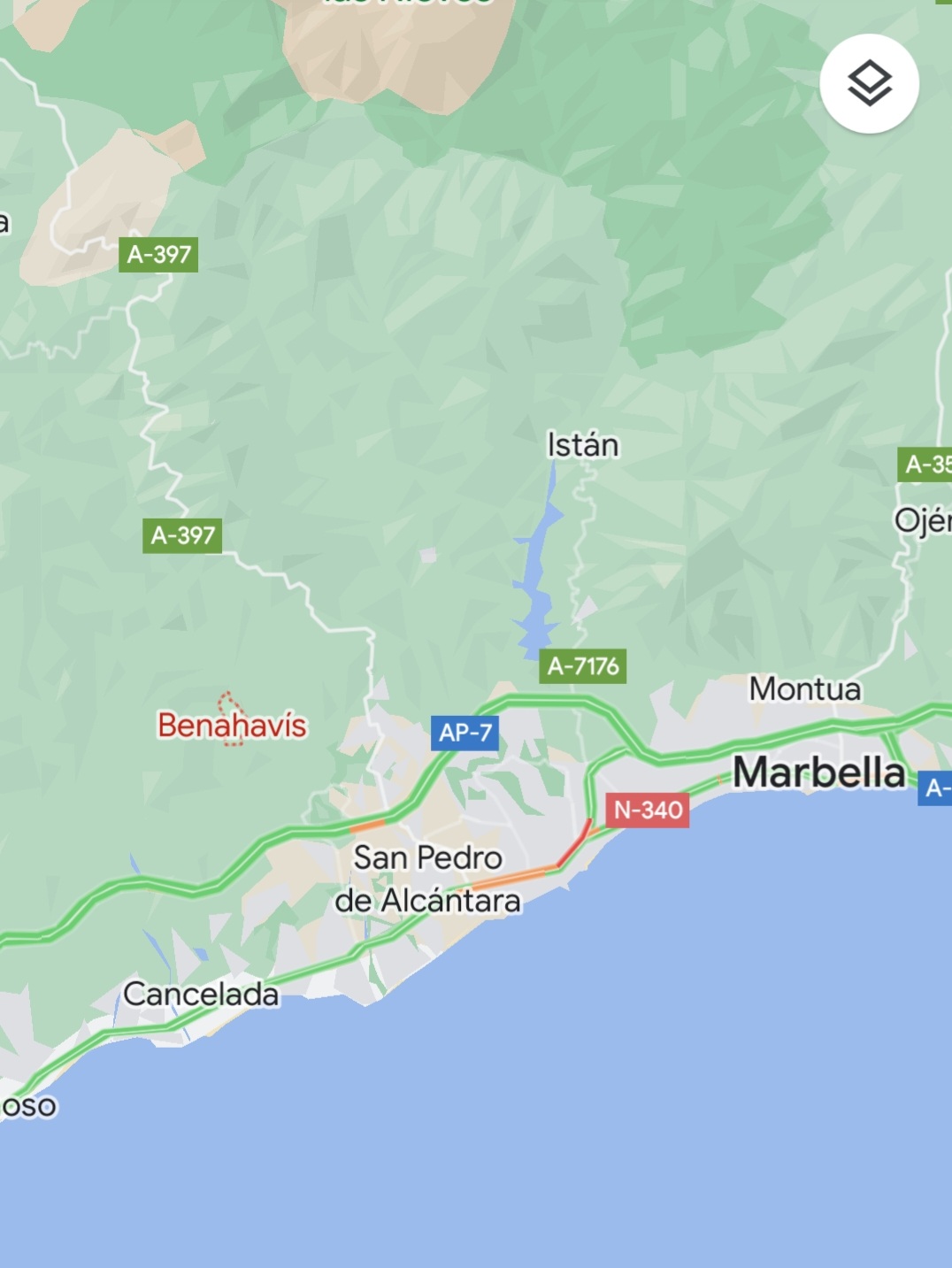 Until next time.... Oh ya and all of the photos throughout are my own.
Peace out.
​