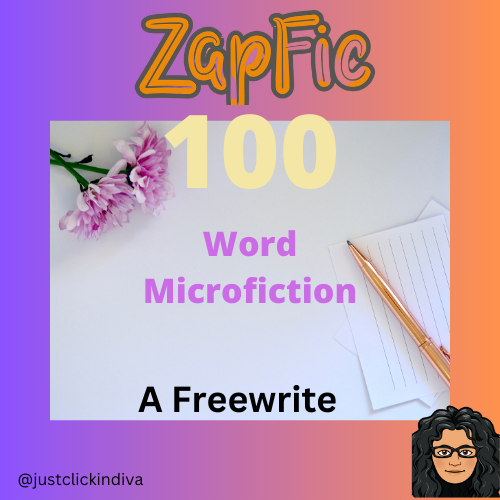 Drabble: A 100 word story written using the word prompt "carpet cleaner".
...Preciseness is my goal this year as I attempt to write shorter stories. The new micro-fiction story format created by @felt.buzz provides me the opportunity to enhance this skill. I share with you my thoughts for today's prompt I converted to a ZAPFIC100 story told in exactly 100 words. I hope you enjoy the carpet cleaner, a hilarious tale of a professional not on duty when an urgent call for his services is received.
For my theme, I was inspired by and utilized @mariannewest's Freewrite prompt: Day 1986: 5 Minute Freewrite: Friday - Prompt: carpet cleaner.
Below is my story:

Savannah's day began as usual.
6 a.m. Shower 7 a.m. Breakfast.
Glanced at the calendar: Wednesday, May 18. Hurriedly gulped down the last sip of black coffee, waiting for Wallace's call.
8:00 a.m. Retrieved private notebook from kitchen safe, flipped to Assignment section, then pen bookmarked a page.
9:45 a.m. Mobile phone rang. "Two visiting today. Meeting in ten. Unavailable three hours. Handle it, sweetie."
10:a.m Savannah placed the required calls:
Hit man. Check.
Body remover. Check.
Carpet cleaner. On hold.
Unlocking the security gate, the black van entered undetected.
Cursing, Savannah called a backup carpet cleaner.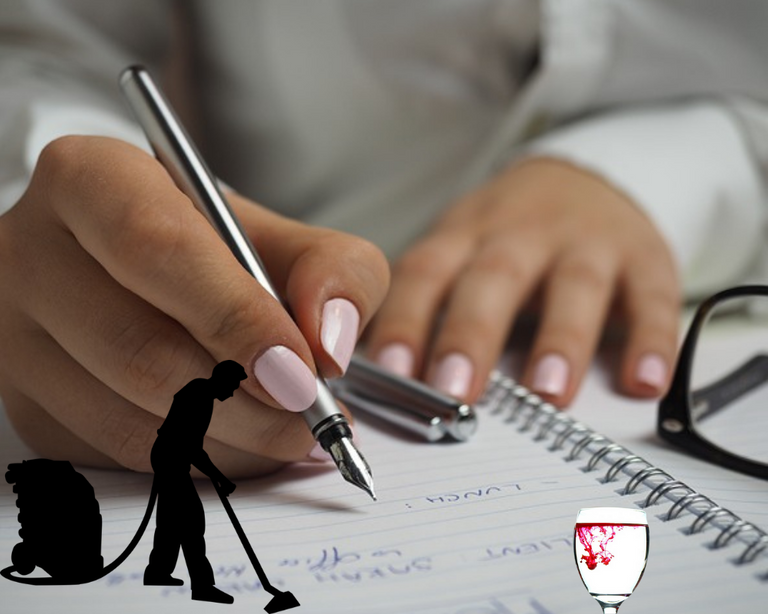 [created in Canva*]

Drabble: Una historia de 100 palabras escrita usando la palabra "limpiador de alfombras".
La precisión es mi objetivo este año, en el que intento escribir relatos más cortos. El nuevo formato de microrrelato creado por @felt.buzz me brinda la oportunidad de mejorar esta habilidad. Comparto con vosotros mis pensamientos para el tema de hoy, que he convertido en un ZAPFIC100 una historia contada exactamente en 100 palabras. Espero que disfrutéis con El limpiador de alfombras, una hilarante historia sobre un profesional que no está de servicio cuando se recibe una llamada urgente para solicitar sus servicios.
Para mi tema, me inspiré y utilicé la sugerencia de @mariannewest: Day 1986: 5 Minute Freewrite: Friday - Prompt: carpet cleaner.
A continuación mi historia.

Todo en un día de trabajo
El día de Savannah empezó como siempre.
6 a.m. Ducha 7 a.m. Desayuno.
Miró el calendario: Miércoles, 18 de mayo. Apuró el último sorbo de café solo, esperando la llamada de Wallace.
8:00 a.m. Tomo un cuaderno privado de la caja fuerte de la cocina, voy a la sección de tareas y marco una página.
9.45 Sonó el teléfono móvil. "Dos visitas hoy. Reunión a las diez. No disponible tres horas. Encárgate, cariño".
10:00 a.m. Savannah hizo las llamadas necesarias:
Sicario. Comprobado.
Quitador de cadáveres. Comprobado.
Limpiador de alfombras. En espera.
Desbloqueando la puerta de seguridad, la furgoneta negra entró sin ser detectada.
Maldiciendo, Savannah llamó a un limpiador de alfombras de reserva.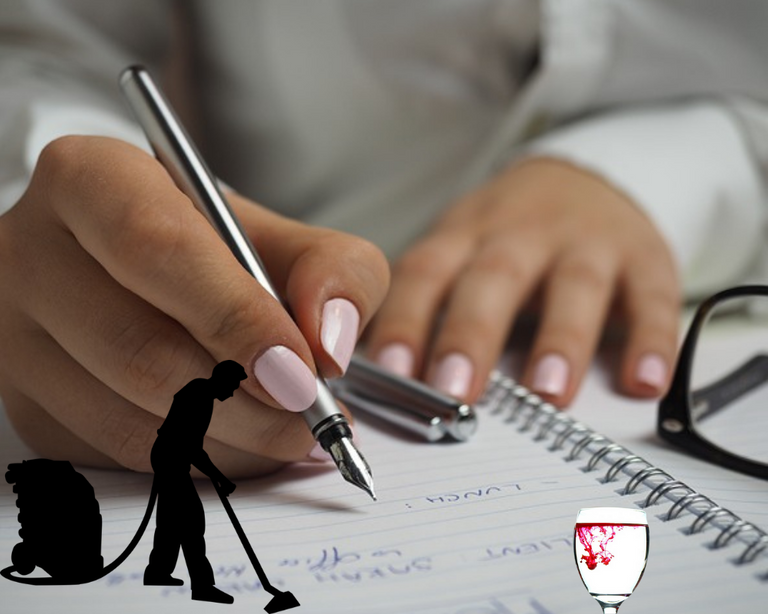 [created in Canva*]

The screenshot at WORDCOUNTER.net evidences my use of exactly 100 words to create my ZapFic100.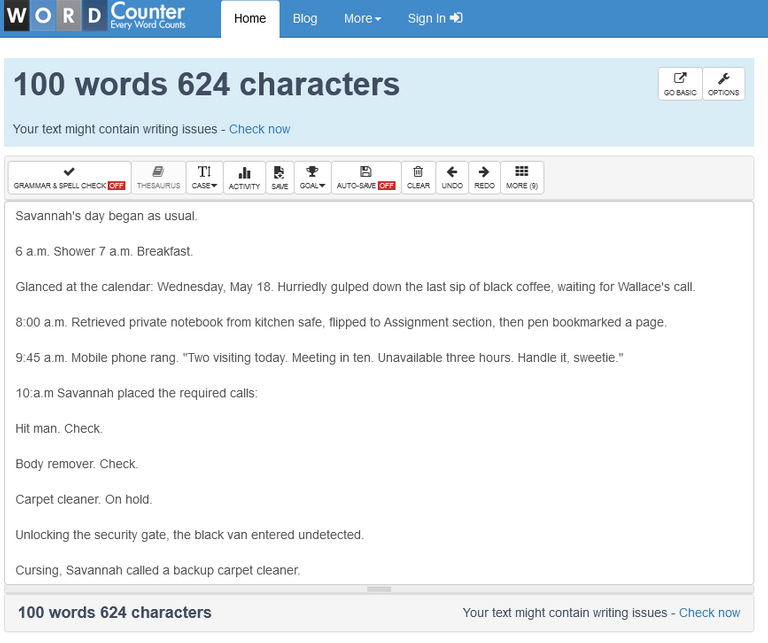 Good luck everyone with whatever your endeavors.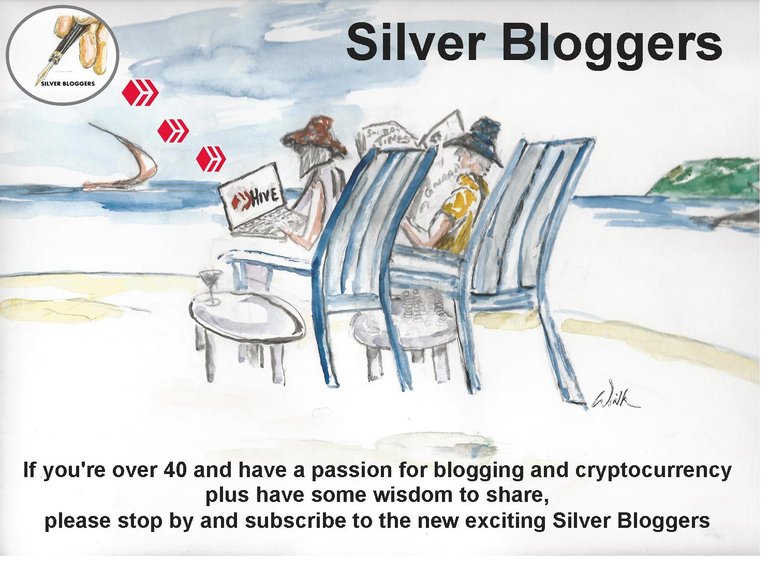 SOURCES:
a) JustClickindiva's Footer created in Canva utilizing its free background and images used with permission from discord admins.
b) Unless otherwise noted, all photos taken by me with my (i) Samsung Galaxy 10" Tablet, (ii) Samsung Phone, & (iii) FUJI FinePix S3380 - 14 Mega Pixels Digital Camera
c) Purple Butterfly part of purchased set of Spiritual Clip Art for my Personal Use
d) All Community logos, banners, page dividers used with permission of Discord Channel admins.
e) Ladies of Hive banner used with permission of and in accordance with the admin's guidelines
f) Thumbnail Image created by me in Canva.
g) "Flames." What is Apophysis 2.09. https://flam3.com/
Canva image created utilizing its free templates, together with the following free Pixabay images:
Composition with fountain pen by Pexels
Carpet cleaning [by mohamed_hassan(https://pixabay.com/vectors/cleaning-service-silhouette-vacuum-4761995/)
Ink droplet by icame

English is my native language.
If translation included, I use DeepL to assist my readers.
Thanks for your patience an understanding.
El inglés es mi lengua materna.
Si se incluye traducción, utilizo DeepL para ayudar a mis lectores.
Gracias por su paciencia y comprensión.