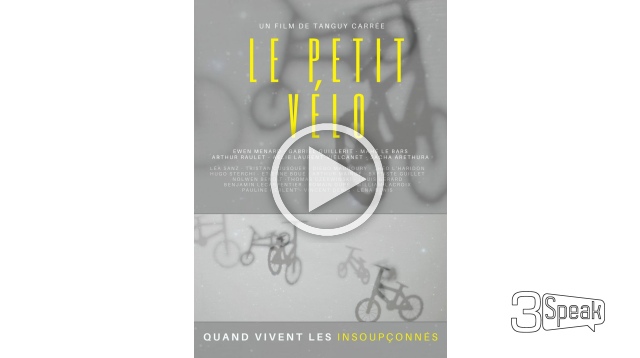 ---
Aujourd'hui je vous montre enfin le court métrage dont je parle depuis plus d'un mois.
Il aura fallu un certain temps à cause de beaucoup de problèmes minimes auxquels il fallait accorder une certaine importance.
Maintenant, mon équipe et moi sommes tous plutôt fier du travail qu'on a accompli, et nous allons faire notre maximum pour le faire participer à des festivals. On sait qu'il ne s'adresse pas à tout le monde à cause de son coté poétique qui peut rebuter certaines personnes mais certains festivals s'adressent plutôt à ce type de films.
Le problème étant que ça coûte toujours de l'argent de participer à ces festivals, souvent pas plus de 5€ mais si on les cummule tous on peut vite arriver à des sommes plus grosses.
J'éspère qu'il vous plaira parce qu'il a nécessité beaucoup de travail pour une équipe d'environ 15 personnes.
De mon coté ça m'est presque impossible maintenant d'avoir un avis dessus parce que j'ai dû le voir au moins 50 fois dans les 30 derniers jours.
Je ne suis que le monteur du film
Profitez bien !
---
Today I'm showing you the short-movie i'm teasing for more than a month now.
It needed some time to show up due to some littles problems we needed to solve with a lot of time.
Now, my team and I are really proud of what we done and we will do our best to make this movie participate in a lot of festivals. We now that the poetic side of the movie can repel a lot of peaople but some festivals are looking for movies like this.
The main probleme now is that it costs money to participate in those festivals, usually no more than $5 but some times it happens, and if you add every festival you participate in, it could make a lot.
I hope you will like it because it needed a lot of work for a group of around 15 persons.
For me it's impossible to have an opinion about it because as the editor i saw it at least 50 times in the last 30 days.
Enjoy !
---
▶️ 3Speak