Beach Bums
I have seen lots of my friends posting in Wednesday walks, so even though it's Monday, this walk took place last Wednesday and hopefully it's Ok to post it today. I wanted to take part in this community as it looks like a lot of fun.
We visited Nerja for a few days and just arrived back to Benahavís recently where we have a few days of our holiday left before jetting back to Ireland and guaranteed rain! We have made the most of our two weeks away though with lots of beach days and pool days which the kids love and they are also good for recharging our batteries too.
For anyone wondering where in the name of jaysus Nerja is, have a look at the pin on the map below.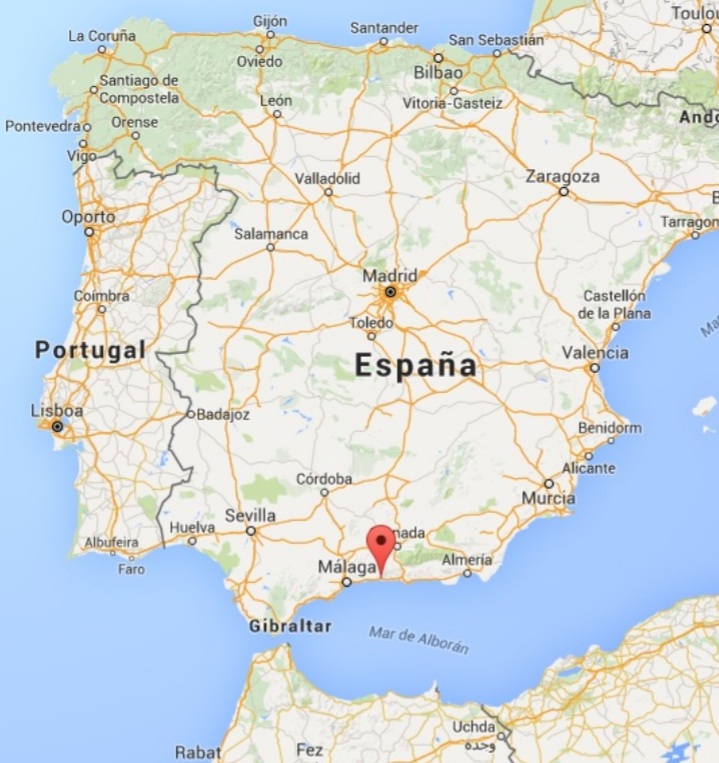 Nerja is buoyed by five or six lovely beaches. They include Playa Burriana, Playa El Chorrillo, Playa El Chocco, but today I am going to show you the splendid Playa Carabeillo
The walk down is 133 steps and can only be accessed this way unless you're a strong swimmer and swim around the cliffs from another of the lovely beaches. How do I know it is 133 steps? The kids counted them, it's a little game they play 🥰
Here are some photos from the walk down.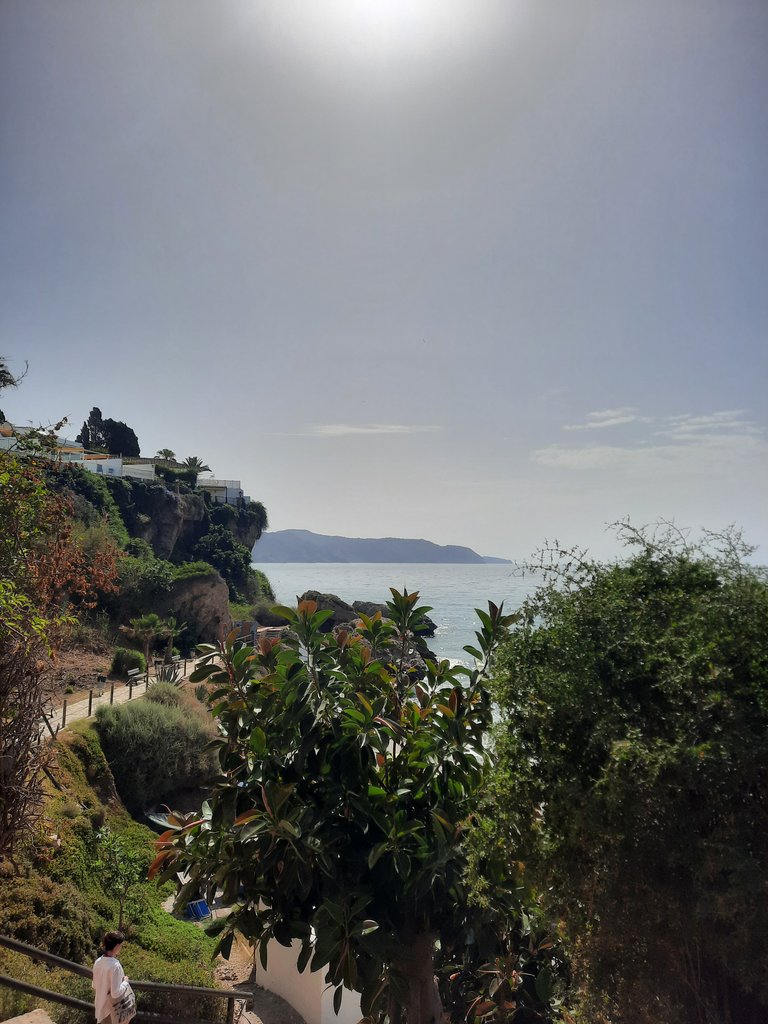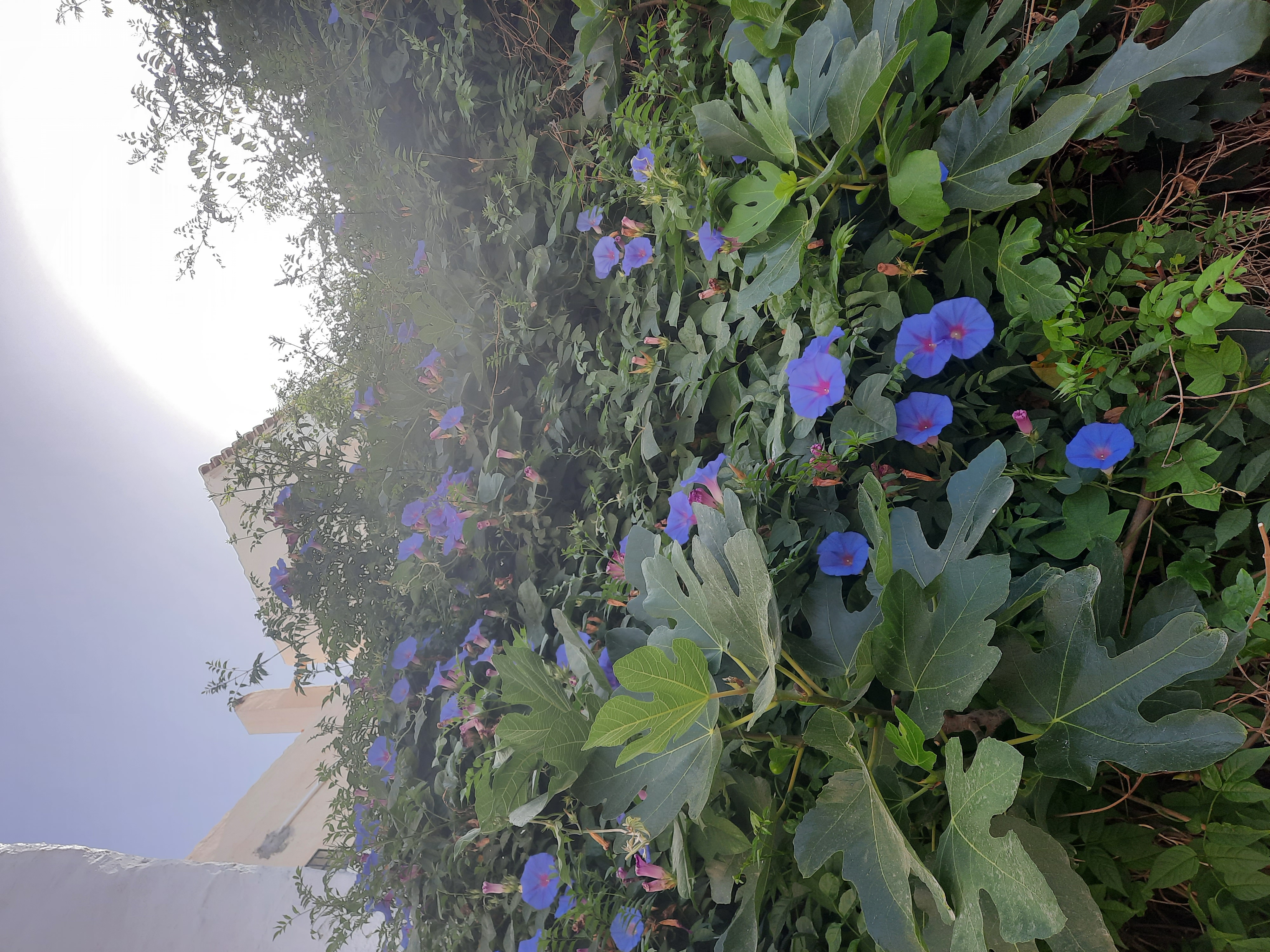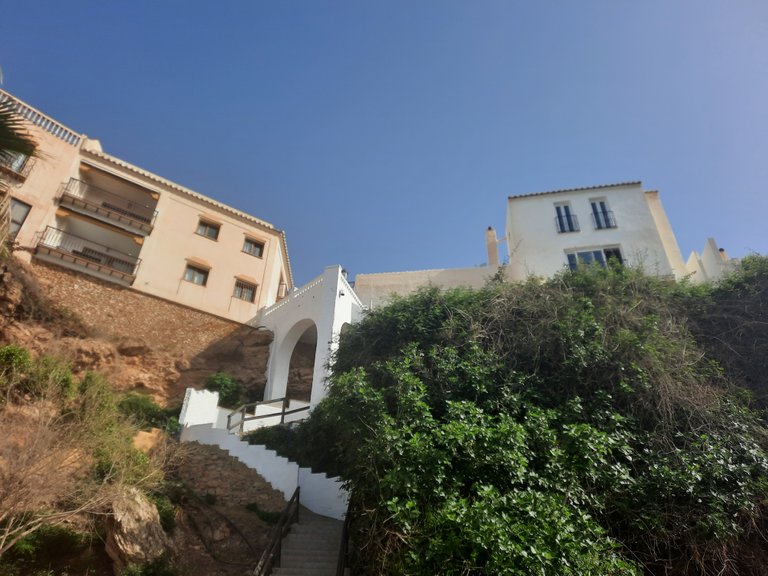 133 Steps
Once we safely navigated the 133 steps down to the beach, mission 2 was to find a spot to set up for a few hours and put our towels down. As an Irishman, you'd think I'd be heading for shade, but an actual fact, even if it was 45 degrees Celsius I'd probably still lay out in it, so long as there was a pool or some sort of water nearby. Mrs. Ablaze? Not so much, she once got sun burnt when it was minus 16 degrees in Iceland she didn't and we've never been to Iceland, but you get the point! Of course there's the kids to think of also with their shiny new skin, so a shady spot would be required, but they were in short supply.
ENGAGE THE SPIDEY SENSES
AHA!
The perfect spot, shade for Mrs. Ablaze and the boys and sweltering sunshine for yours truly. Here are a few pics.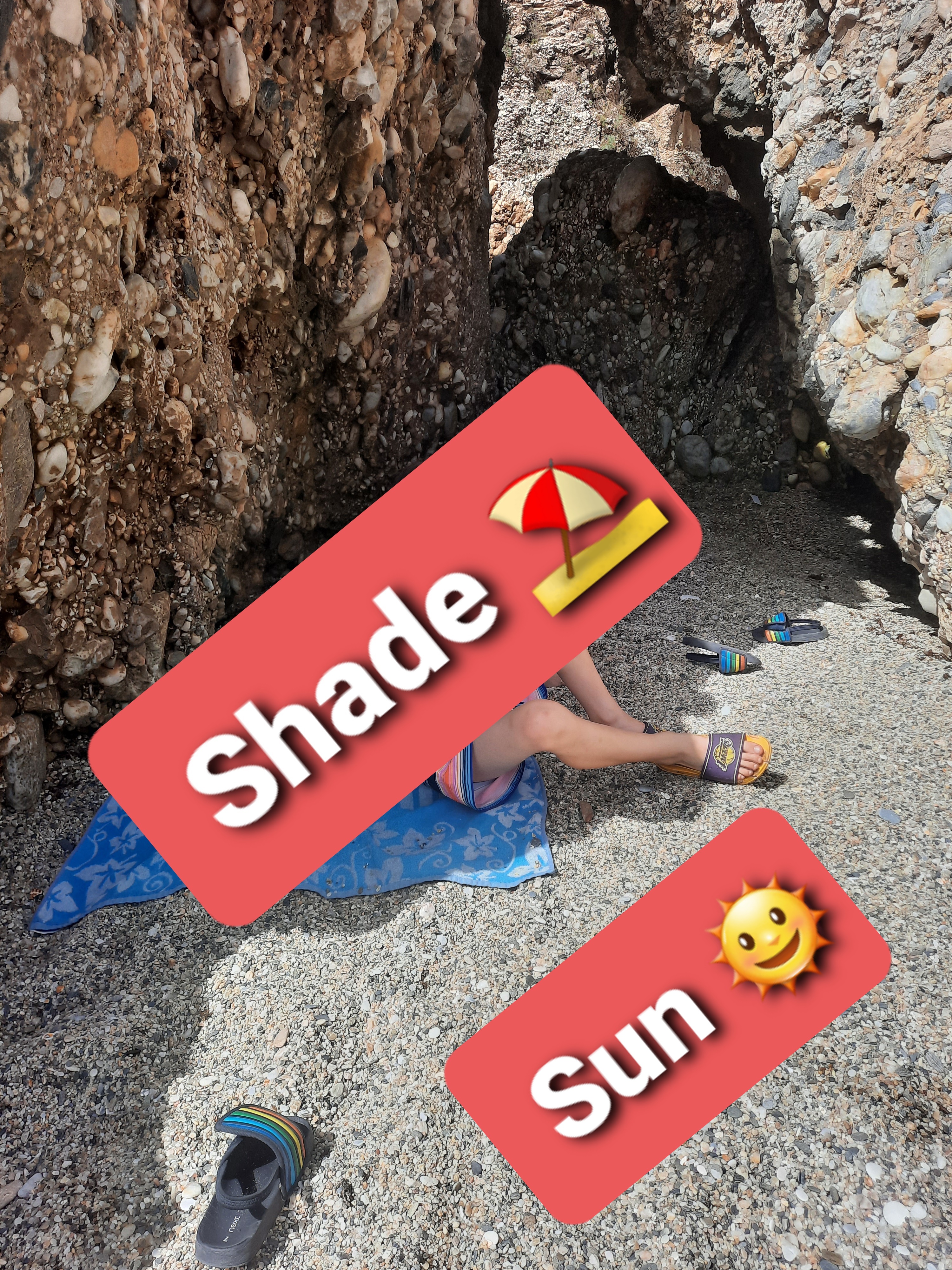 The shade was a god sent and meant we could spend more time at the beach together without the kids getting too overheated. The spot where we got the shade was a geologists dream, with stone of all types moulded together into some glacial deposits that were slowly being eroded by the hungry sea. Have a look for yourself.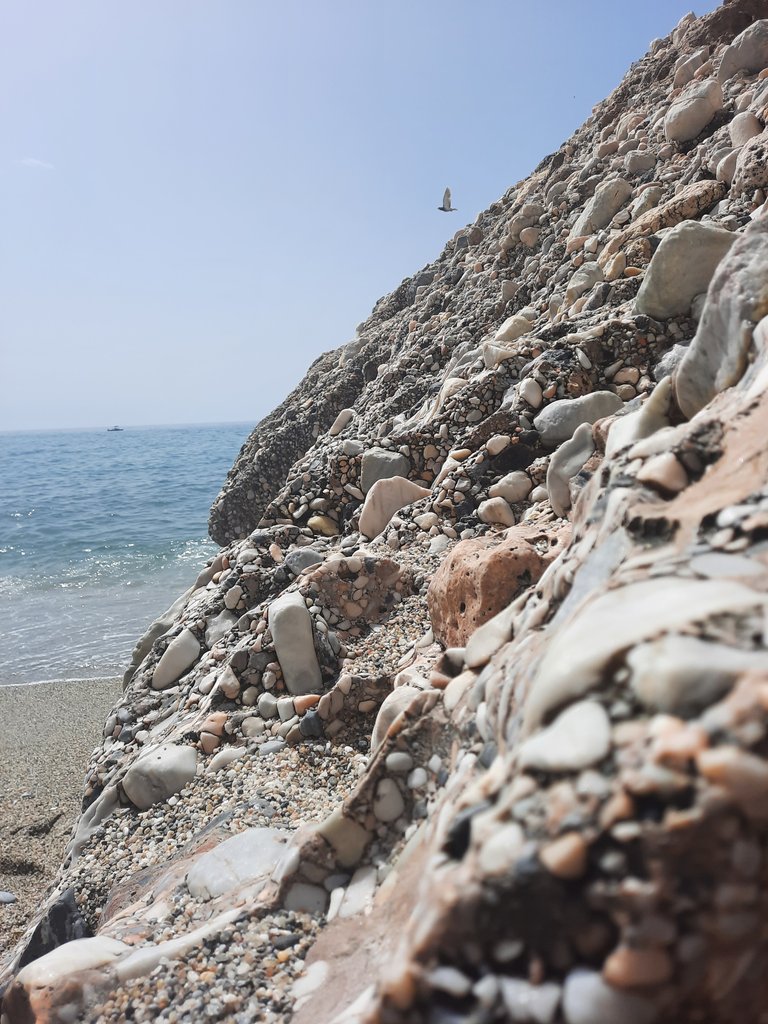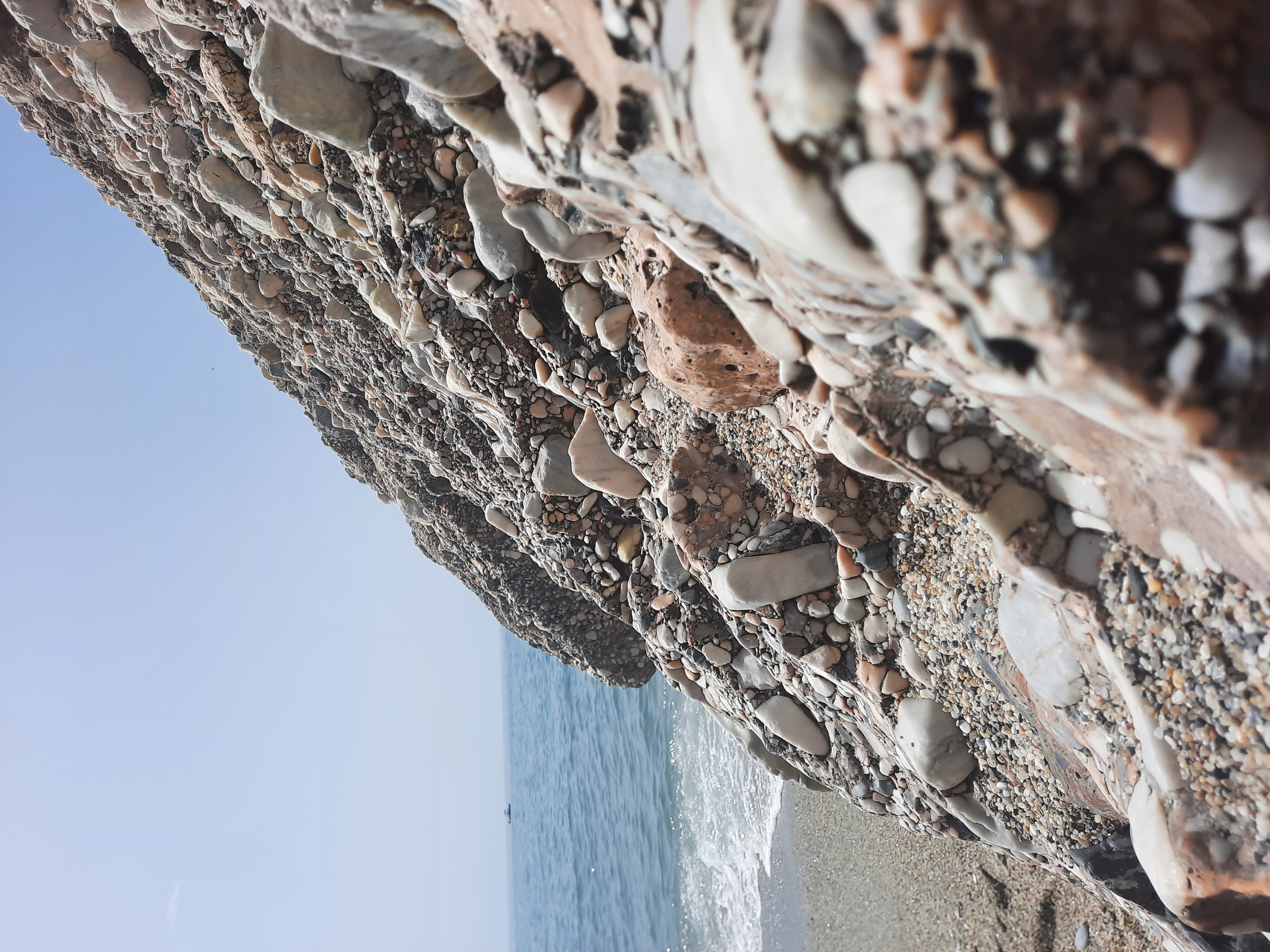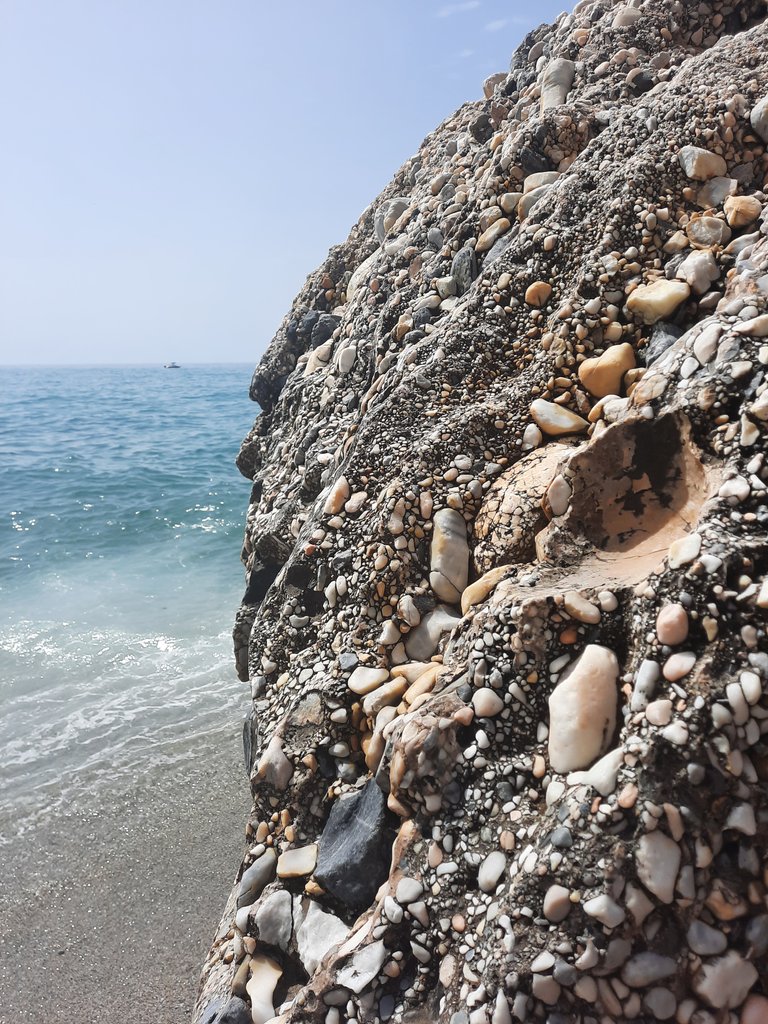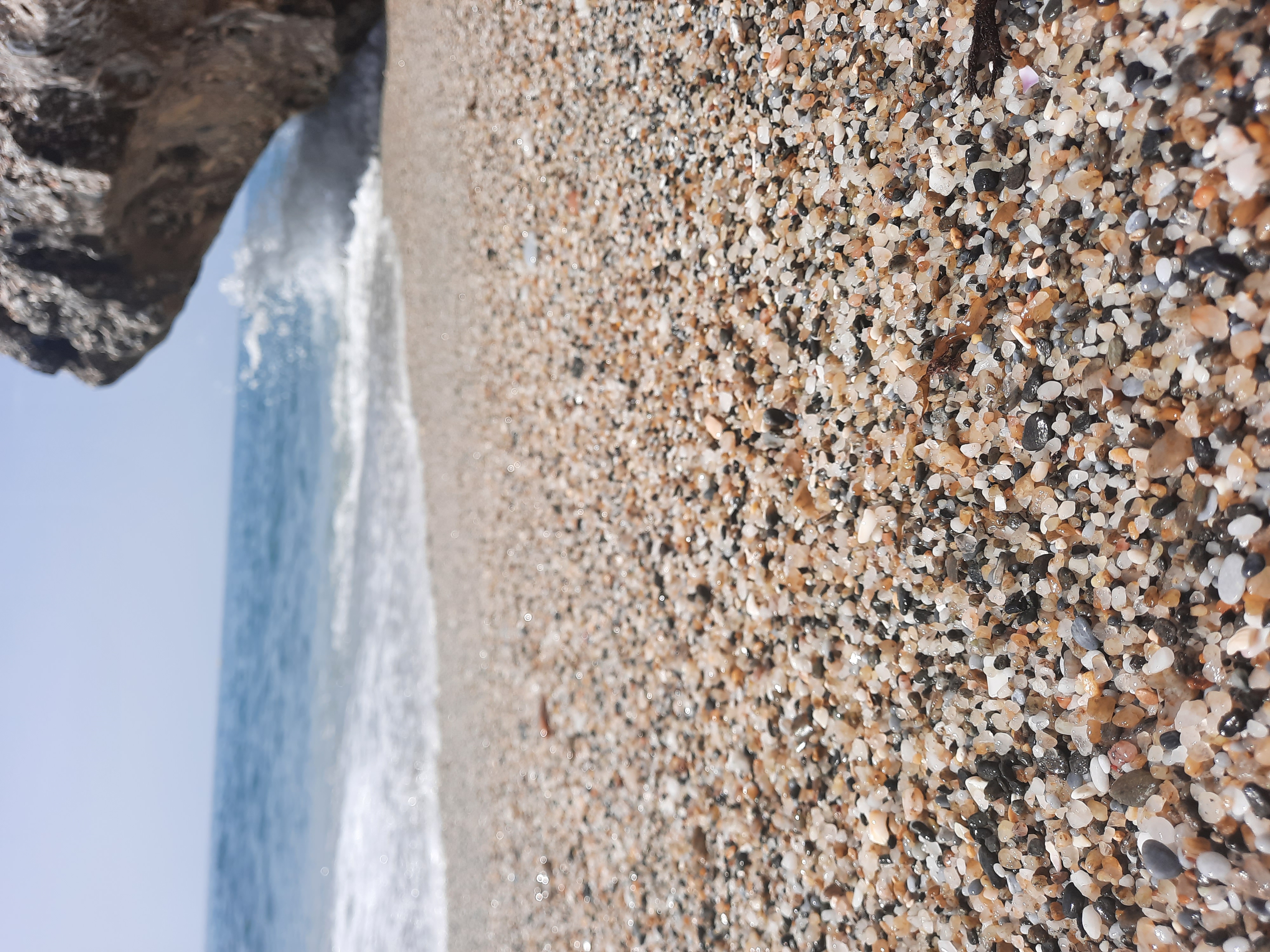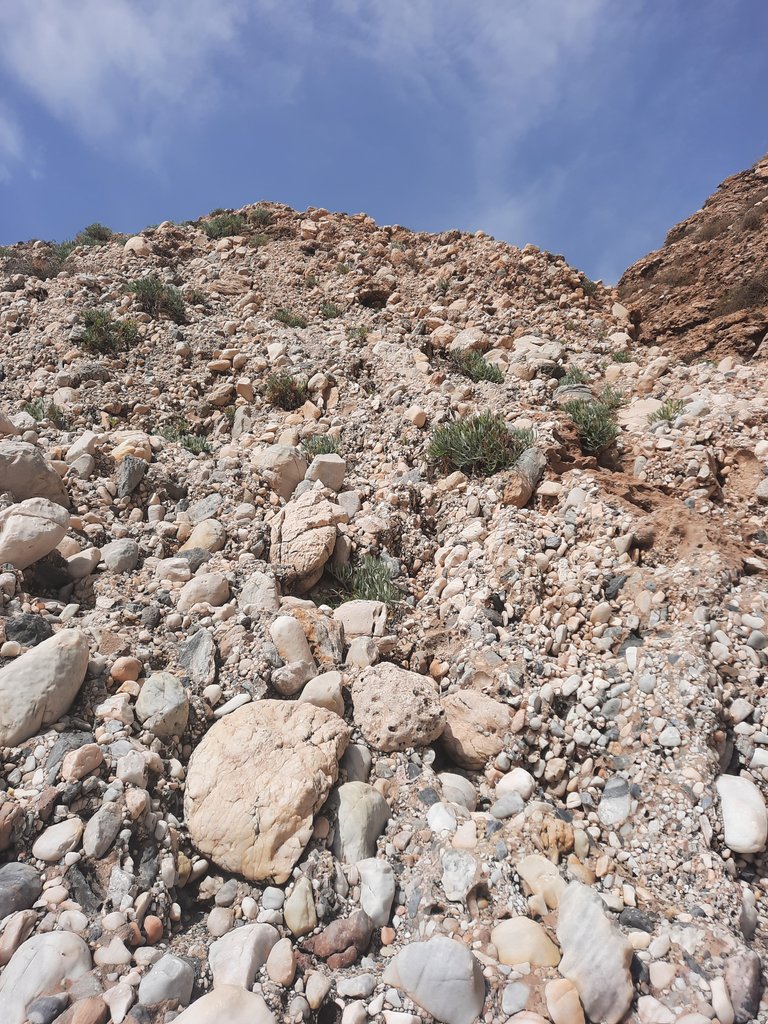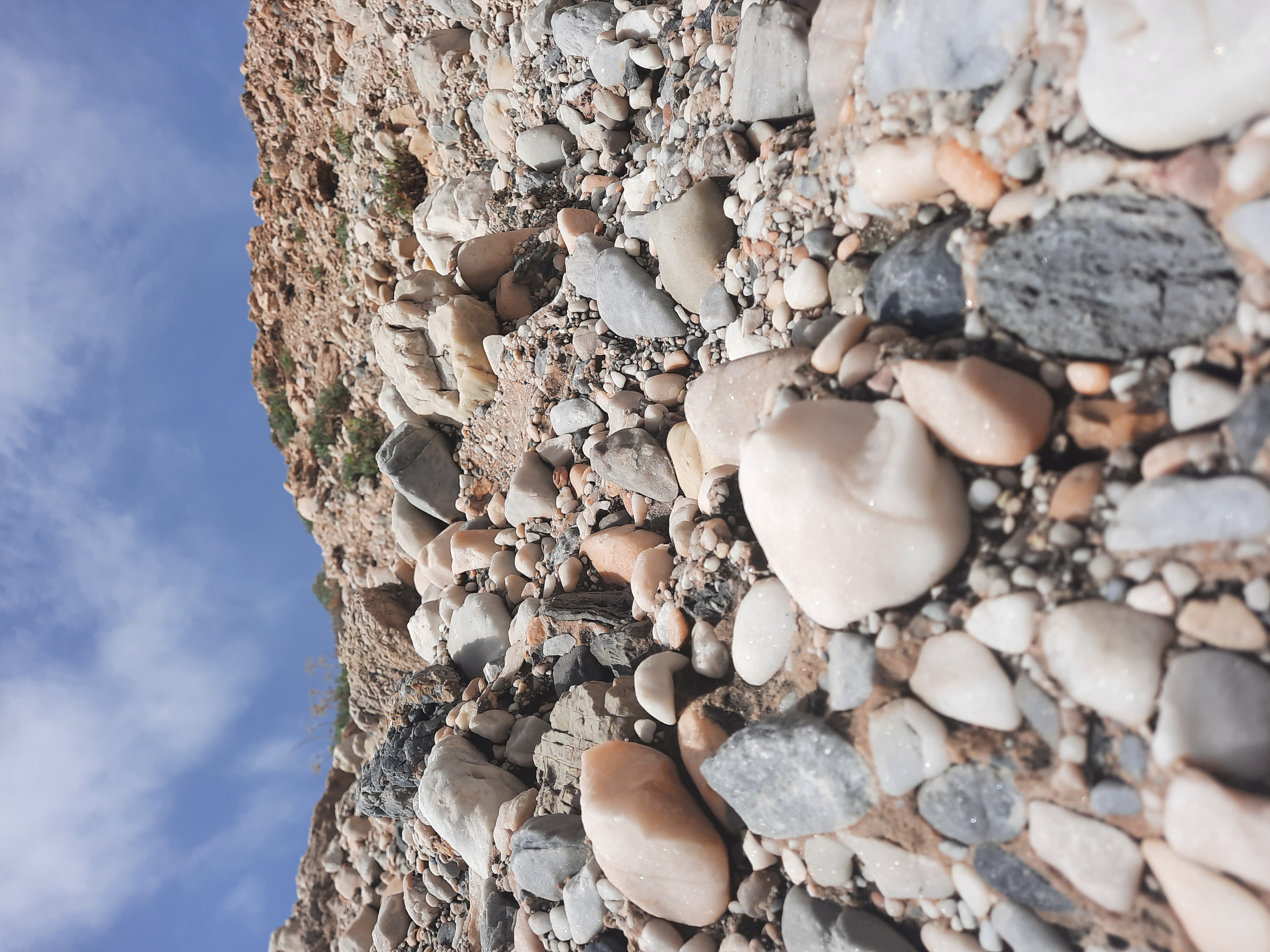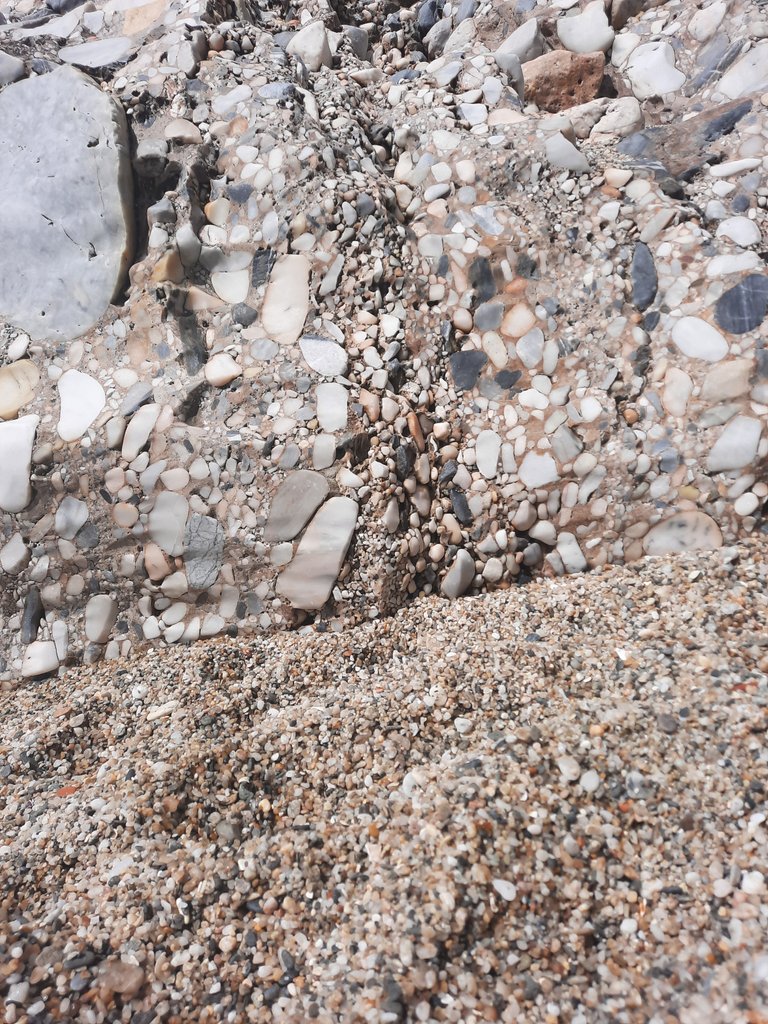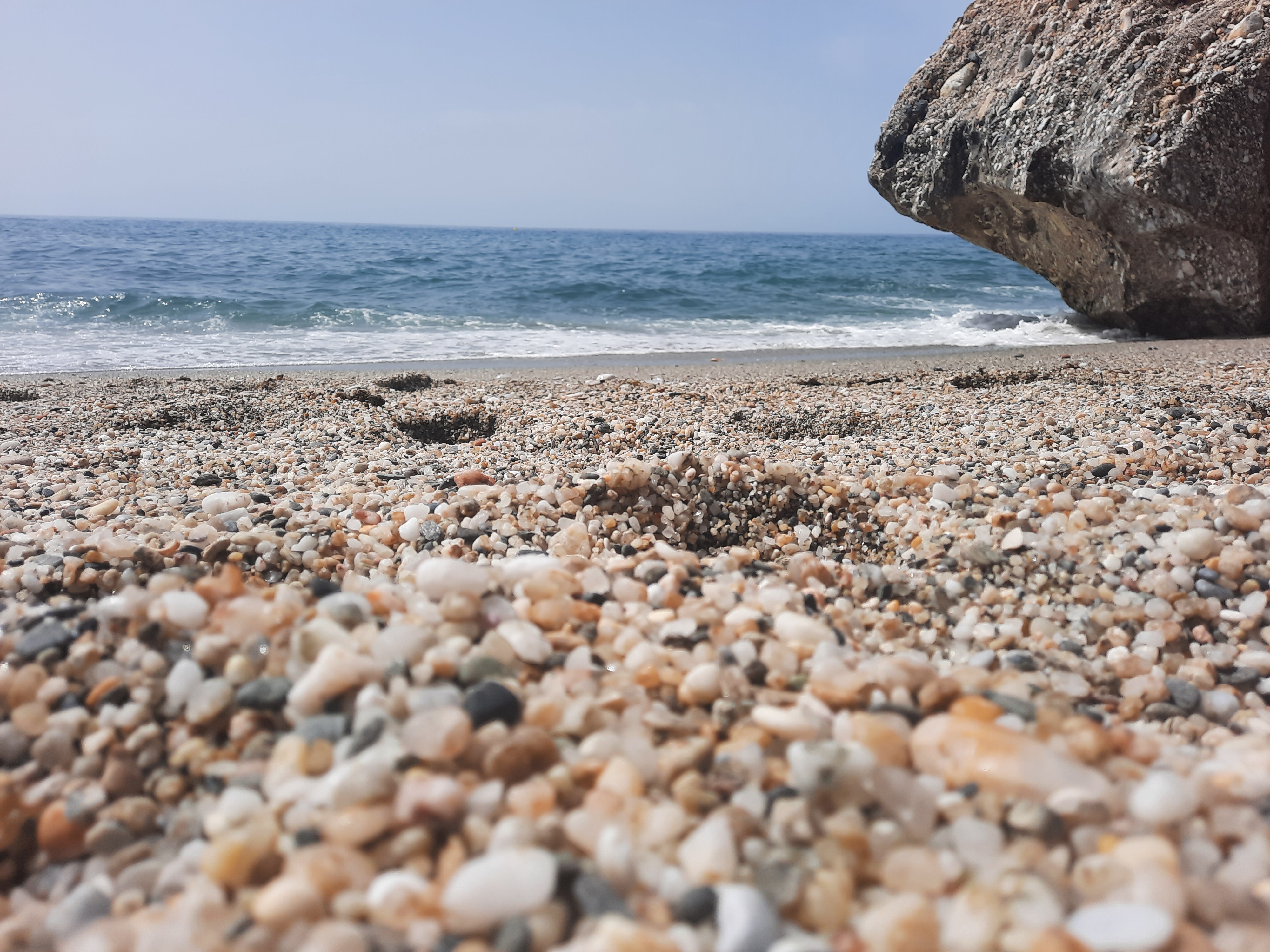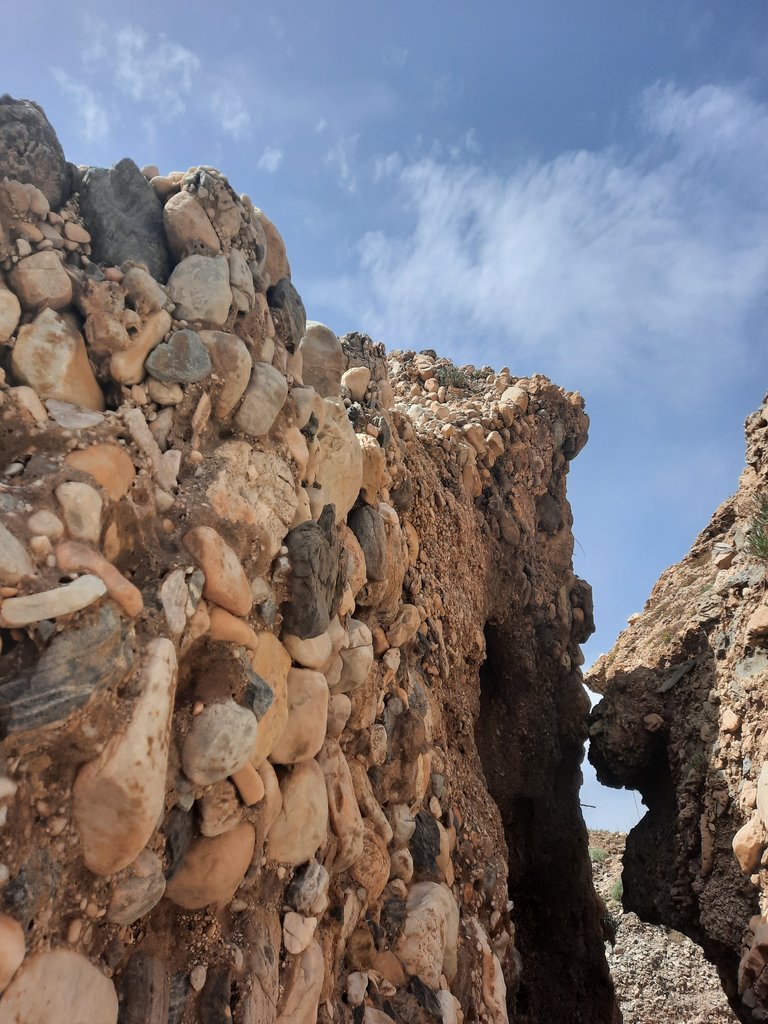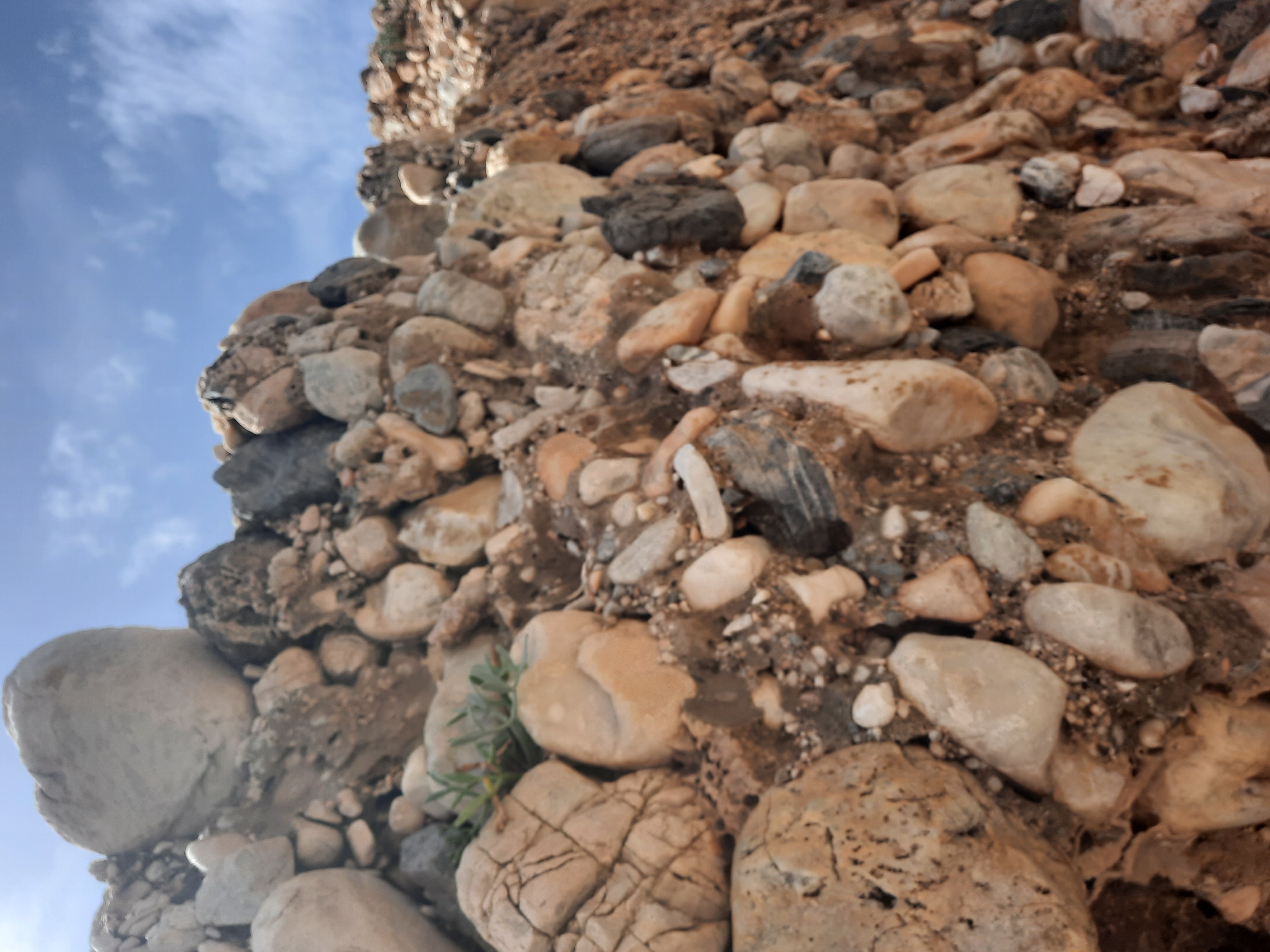 Swim O'Clock 🏊‍♂️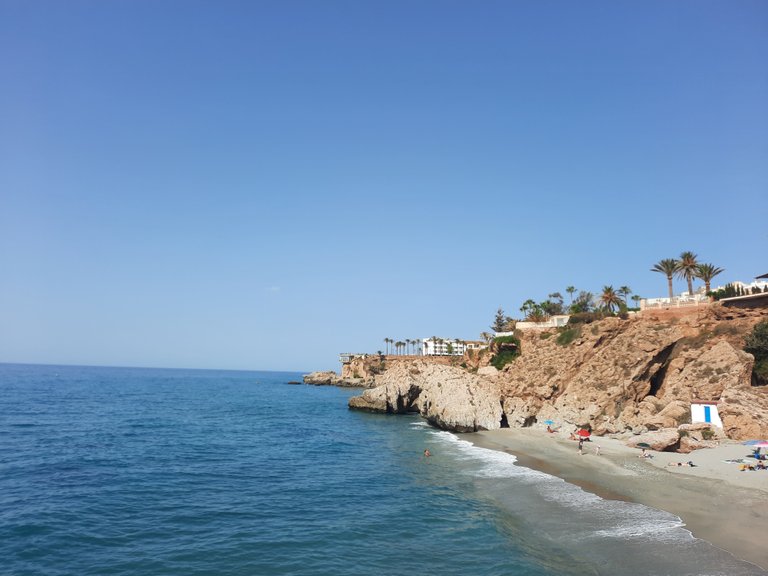 No matter the country, the season or the weather, I always like to get in for a dip. I don't care if it's ice cold or luke warm, so long as the water is clean, I'll be straight in for a dip. Now in fairness the season and temperature will dictate how long I stay in for, but I'll most certainly get in for a dip.
So, once the towels were down and wifey and kiddies were happy I was straight in. I swam over amd back across the front of the beach (around 400 or 500 metres) and then came back for my favourite part, just laying back like star fish looking up at the perfect blue sky. When I do that, I'm at my happiest and thank God I'm alive.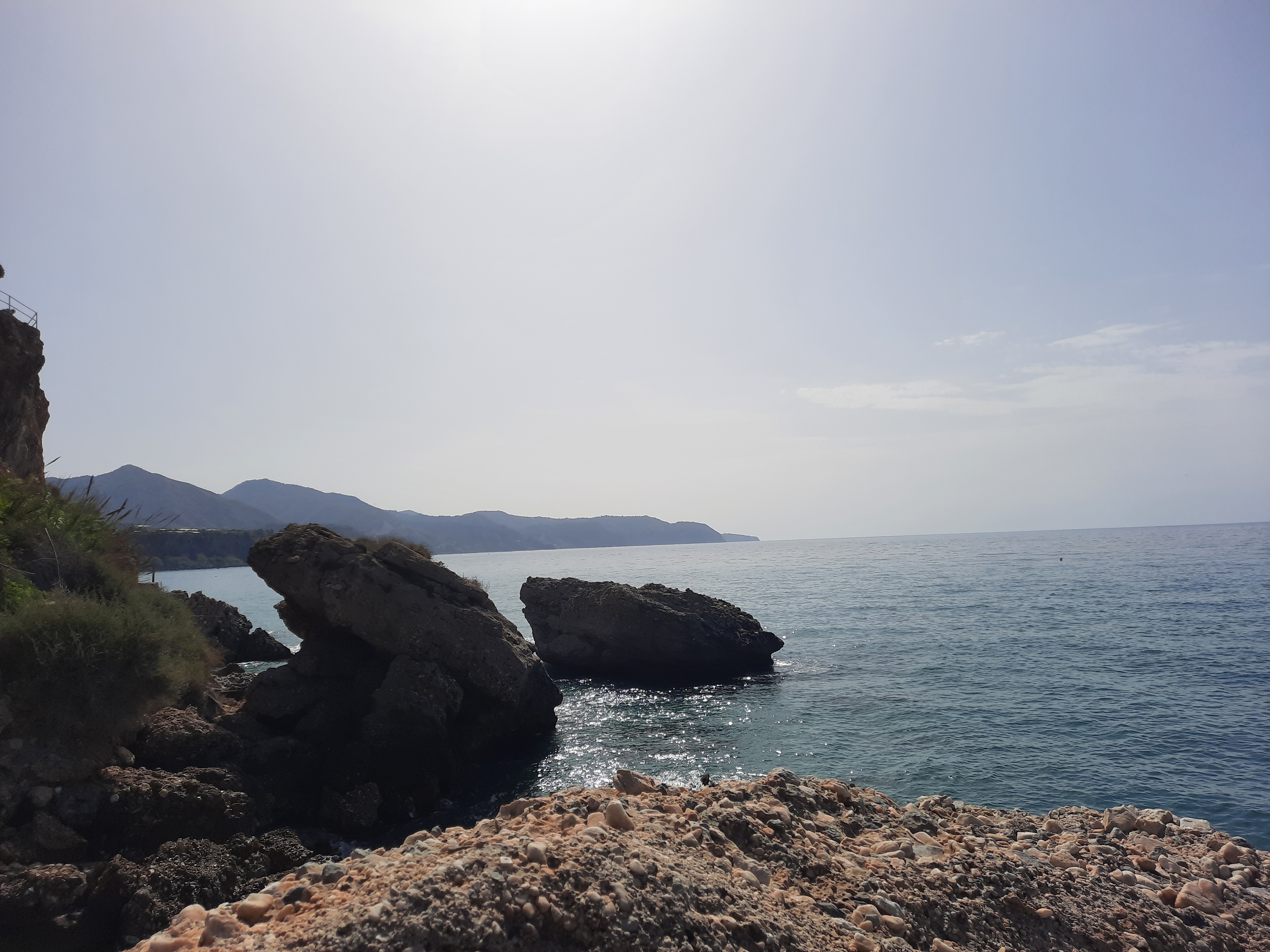 It was on this swim that I noticed an old path beyond the main beach and a tiny deserted beach. I eyed it up to figure out the easiest access route and marked it in my mind forna return trip minus my wife and kids. That time came the very next morning when I opted for an early morning swim, the best possible way to start your day.
Playa Ablaze
I got up bright and early the next day grabbed my shades, towel and one euro for a can of coke for after my swim. I did around 400 metres again and asked some lovely dutch tourists to keep an eye on my phone and other belongings.
I swam around the corner again to see if the beach was still visible, I was not sure about the tide, It was.
I made my way around by hopping a wall carefully and could see that this gorgeous little beach was once accessible via steps but due to erosion it seems, this access route was blocked off, I'm guessing 15 or 20 years ago.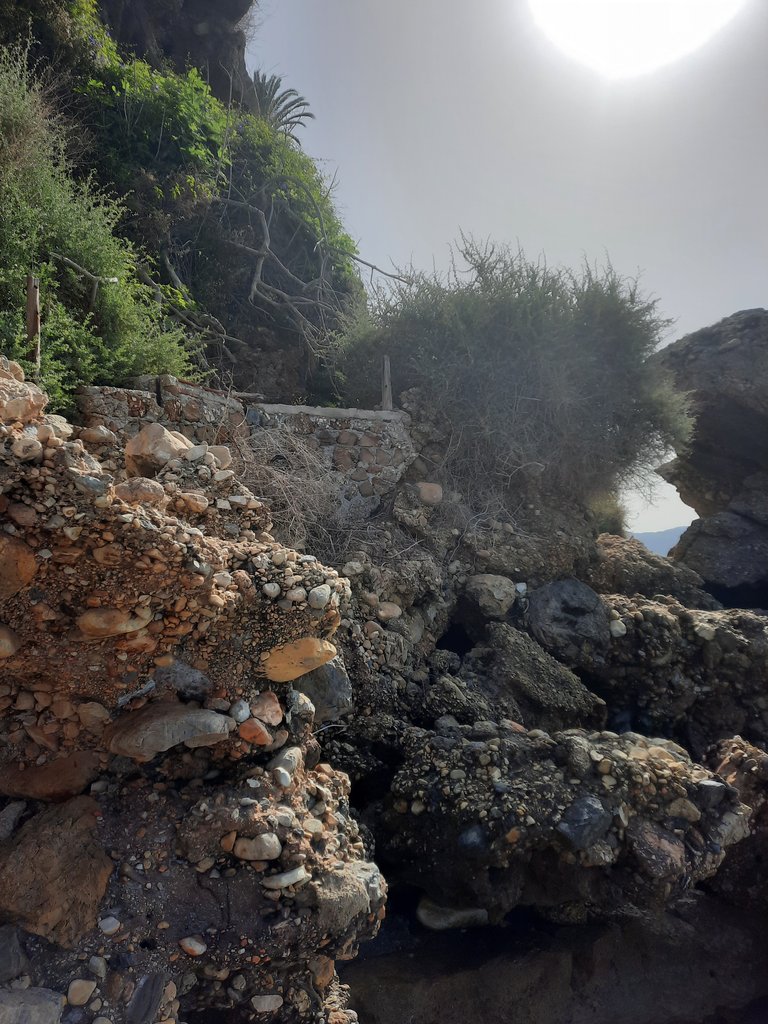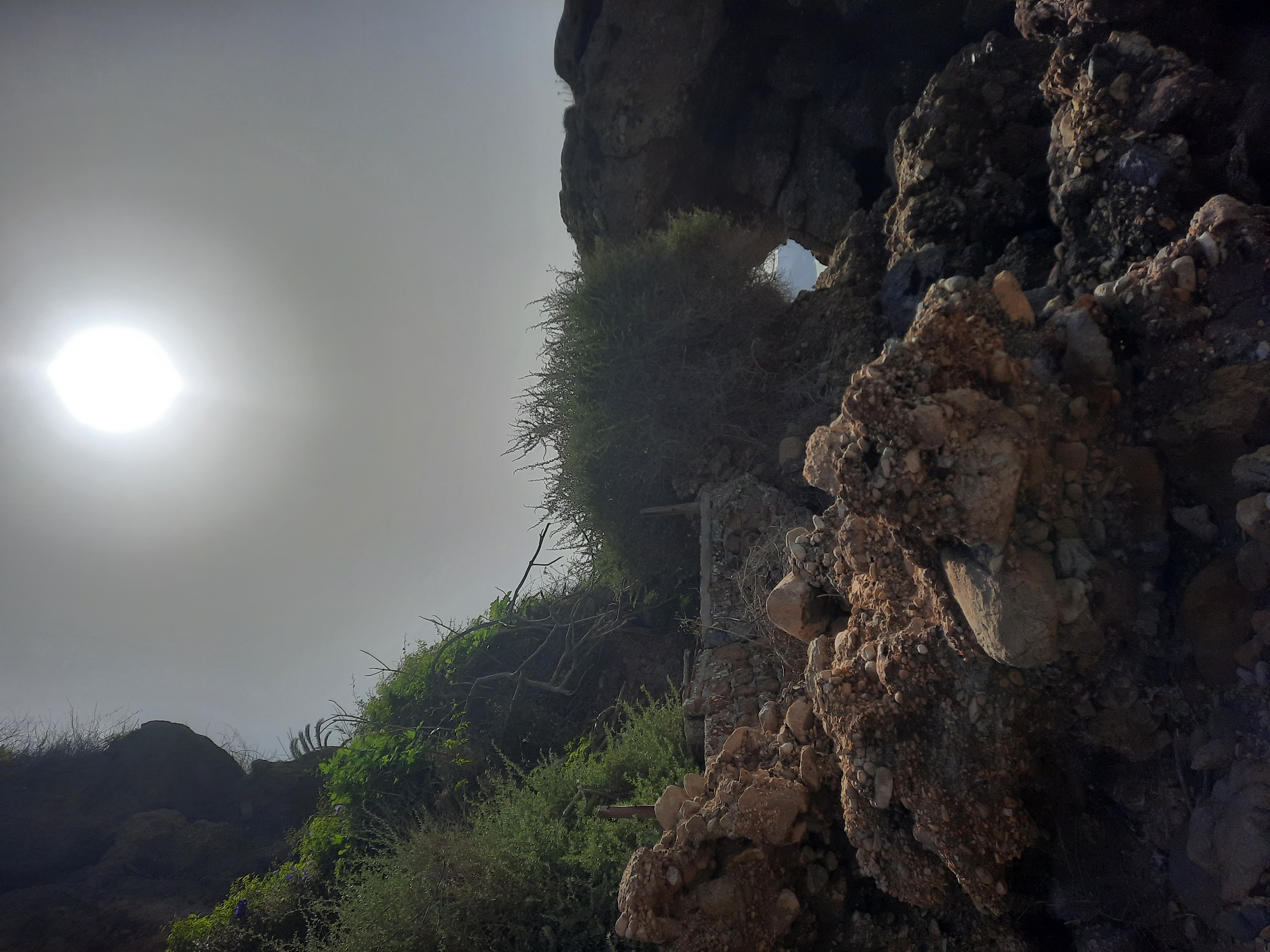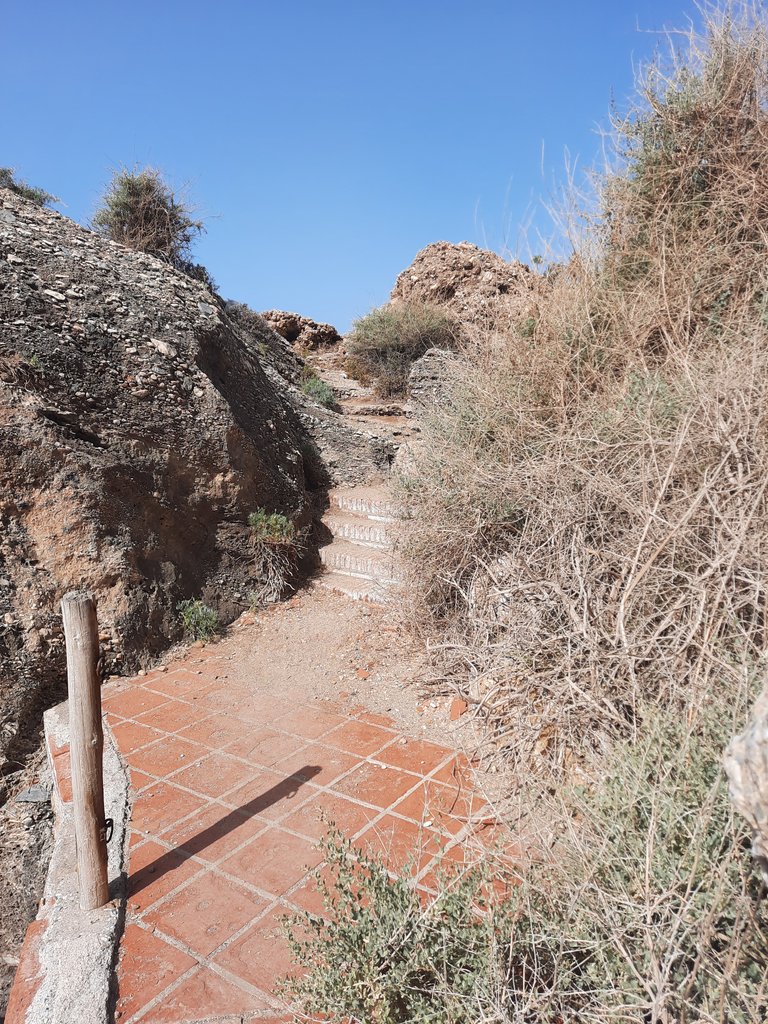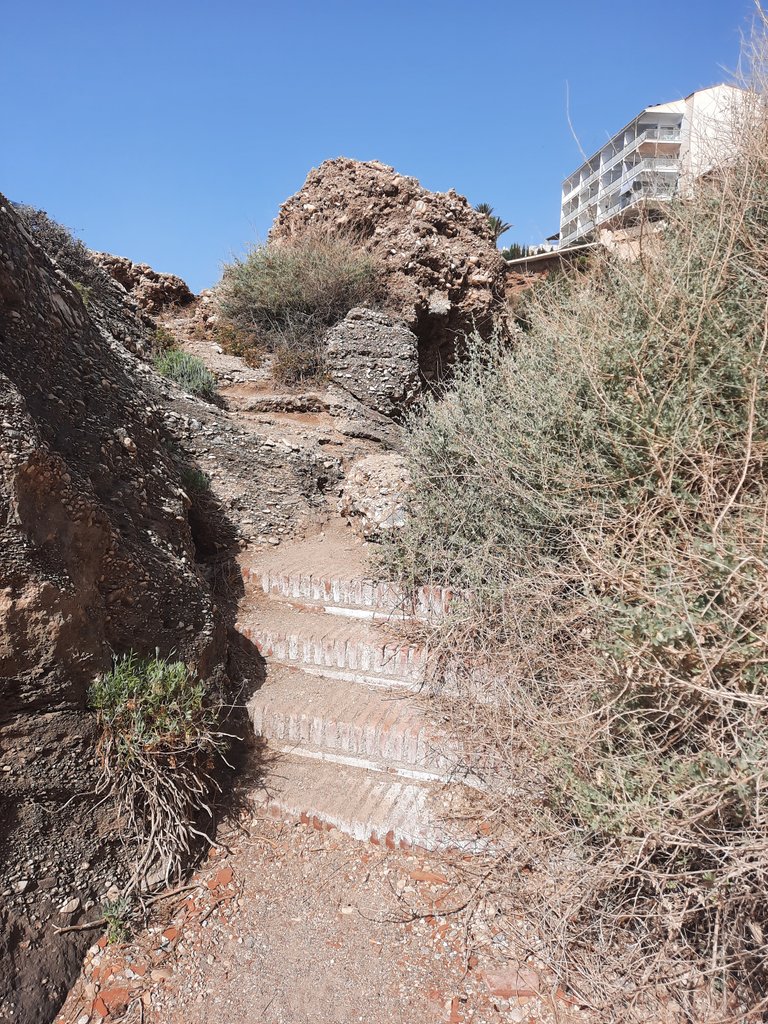 There was some overgrown grass and a little walkway leading to some old half fallen steps and there it was, my own private beach waiting for me. Unspoilt and uninhabited.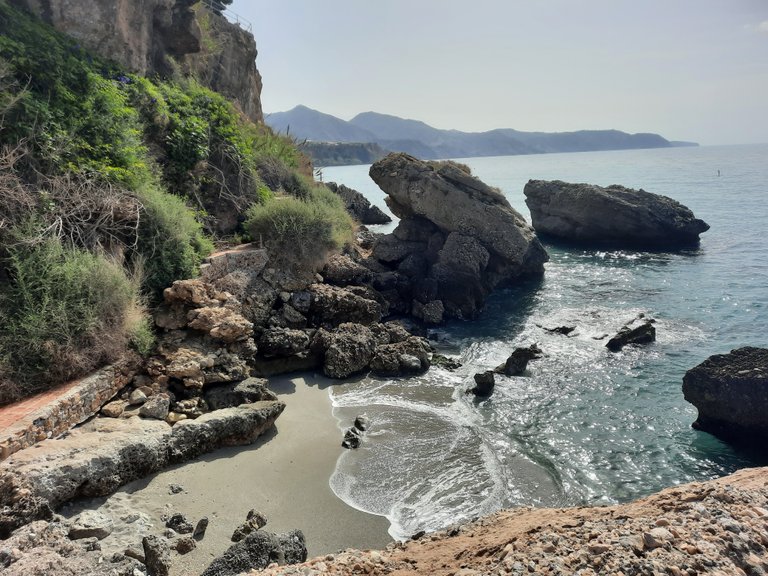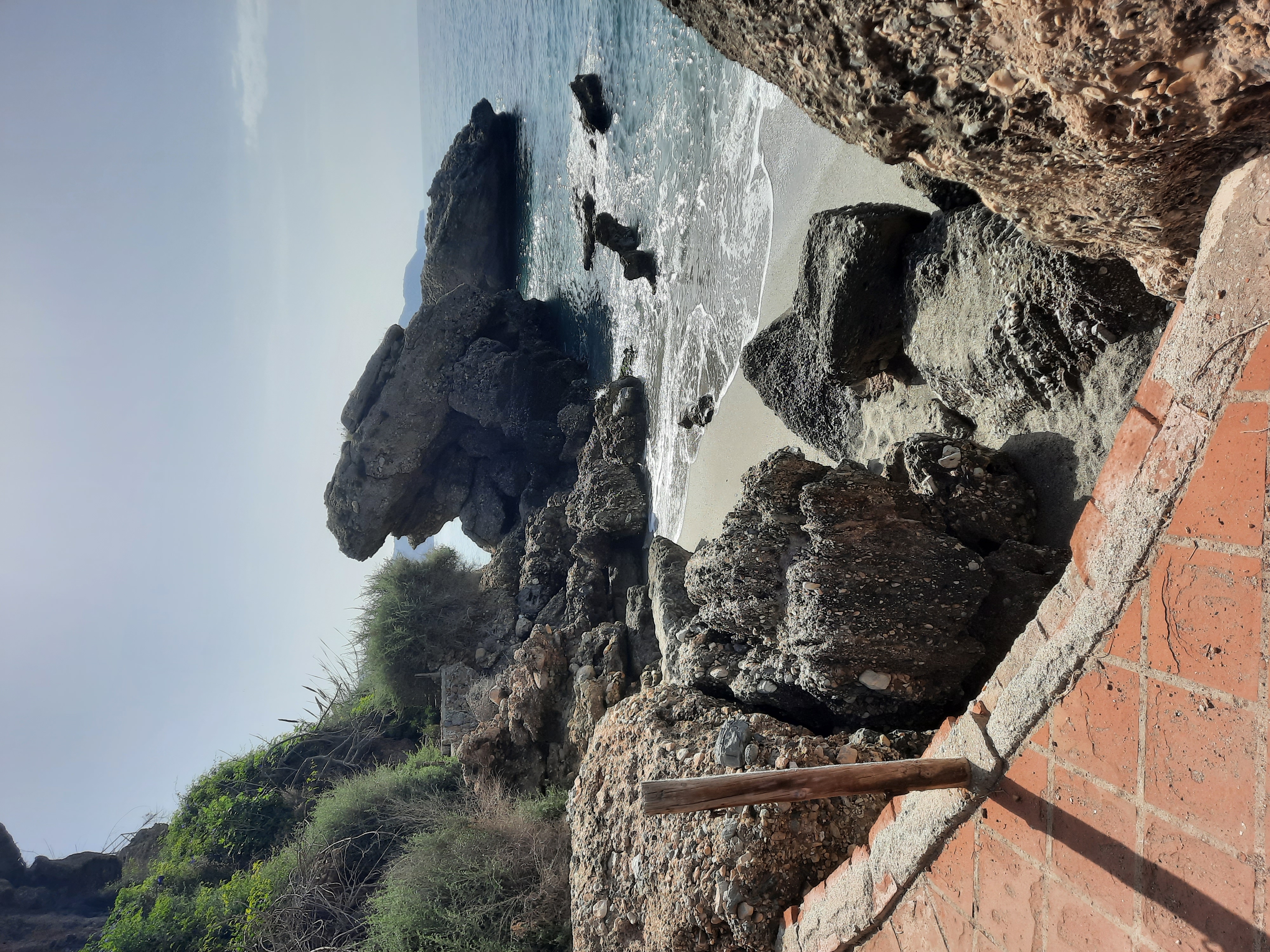 Time to head down for a closer look.....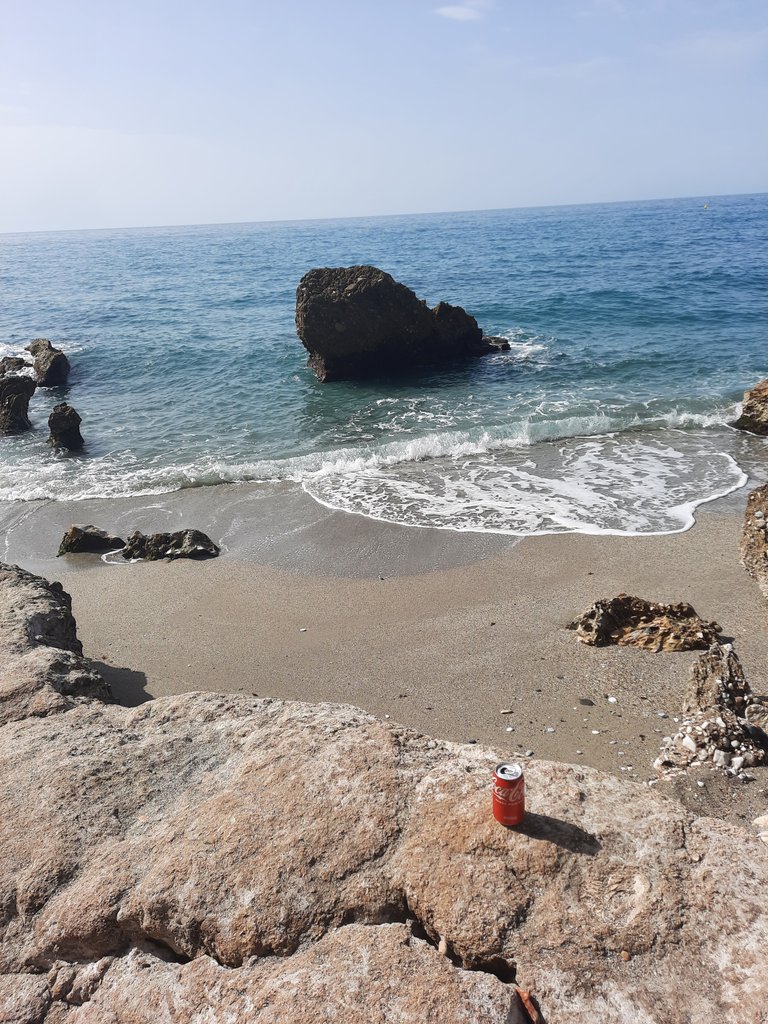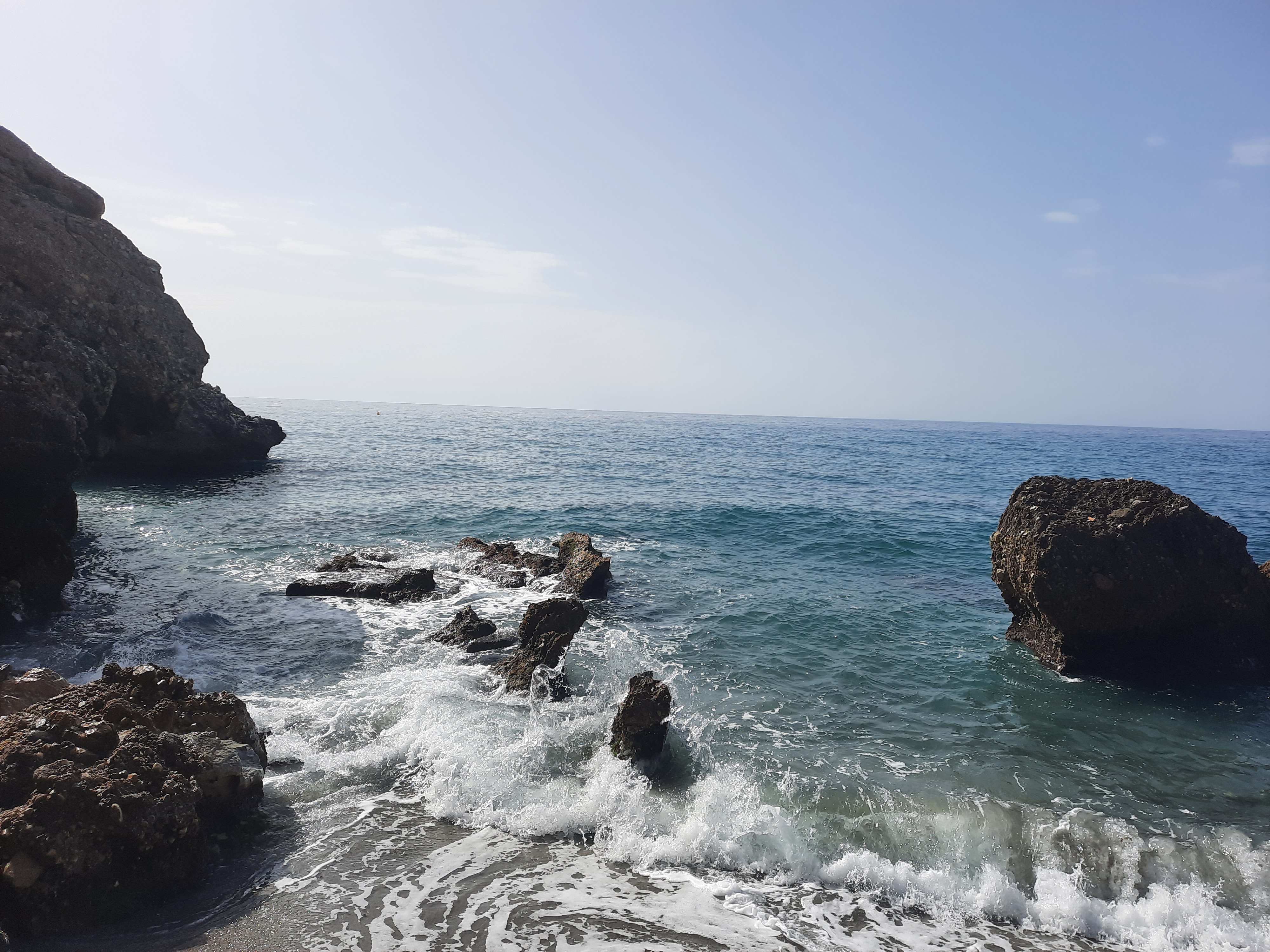 Then kick back with a nice cold can of Coke and enjoy my private beach and the unreal views...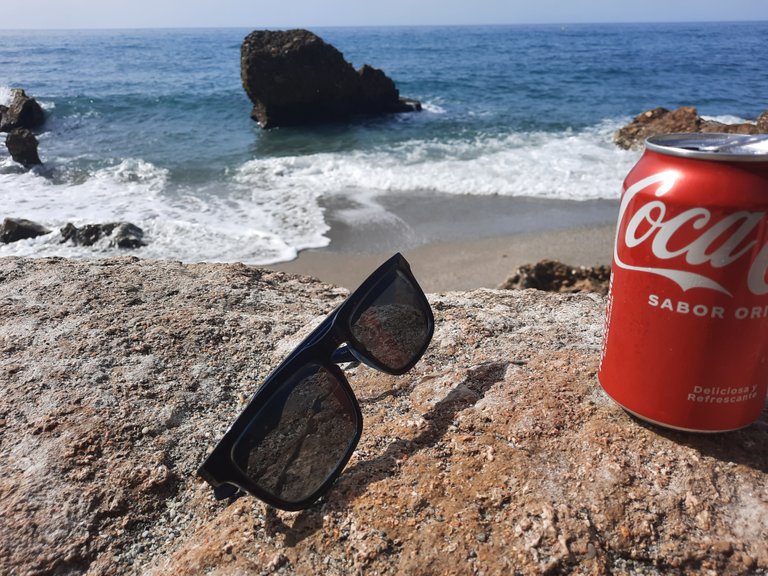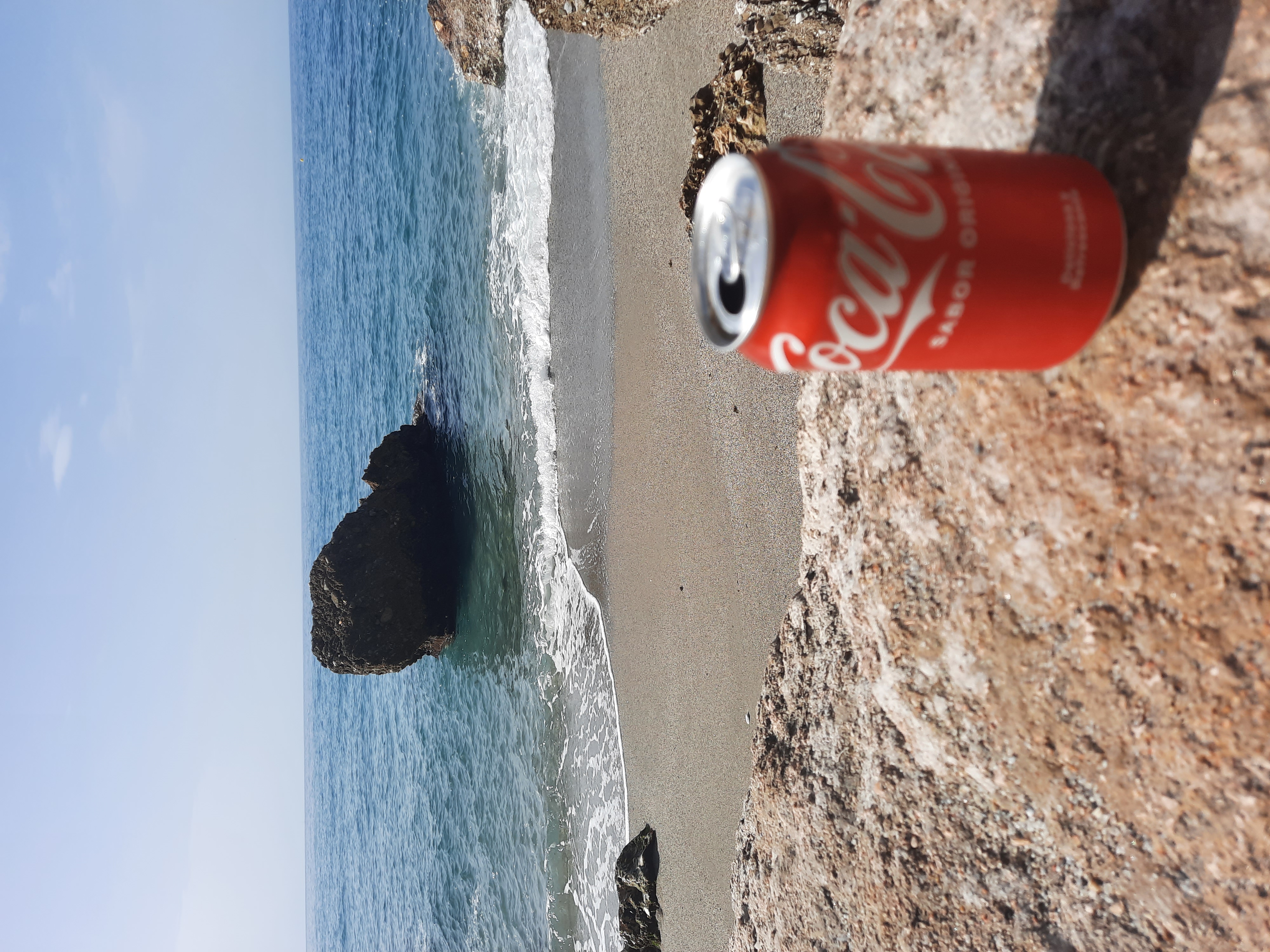 A fine perch
I then found a great perch on top of a protruding rock to get some nice photos of the main beach and the Balcon De Europa in the distance.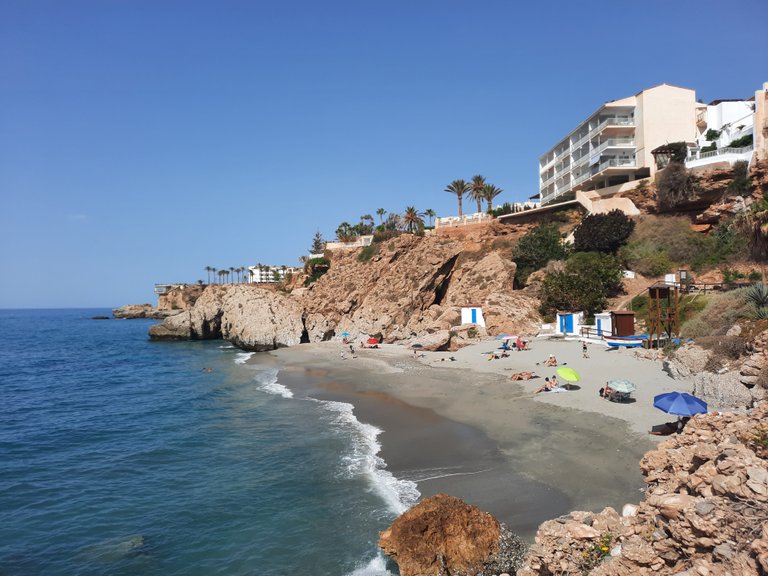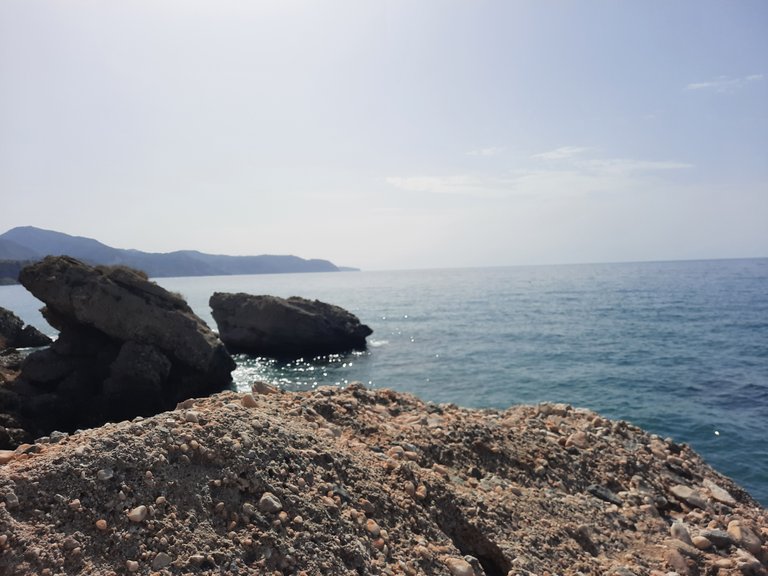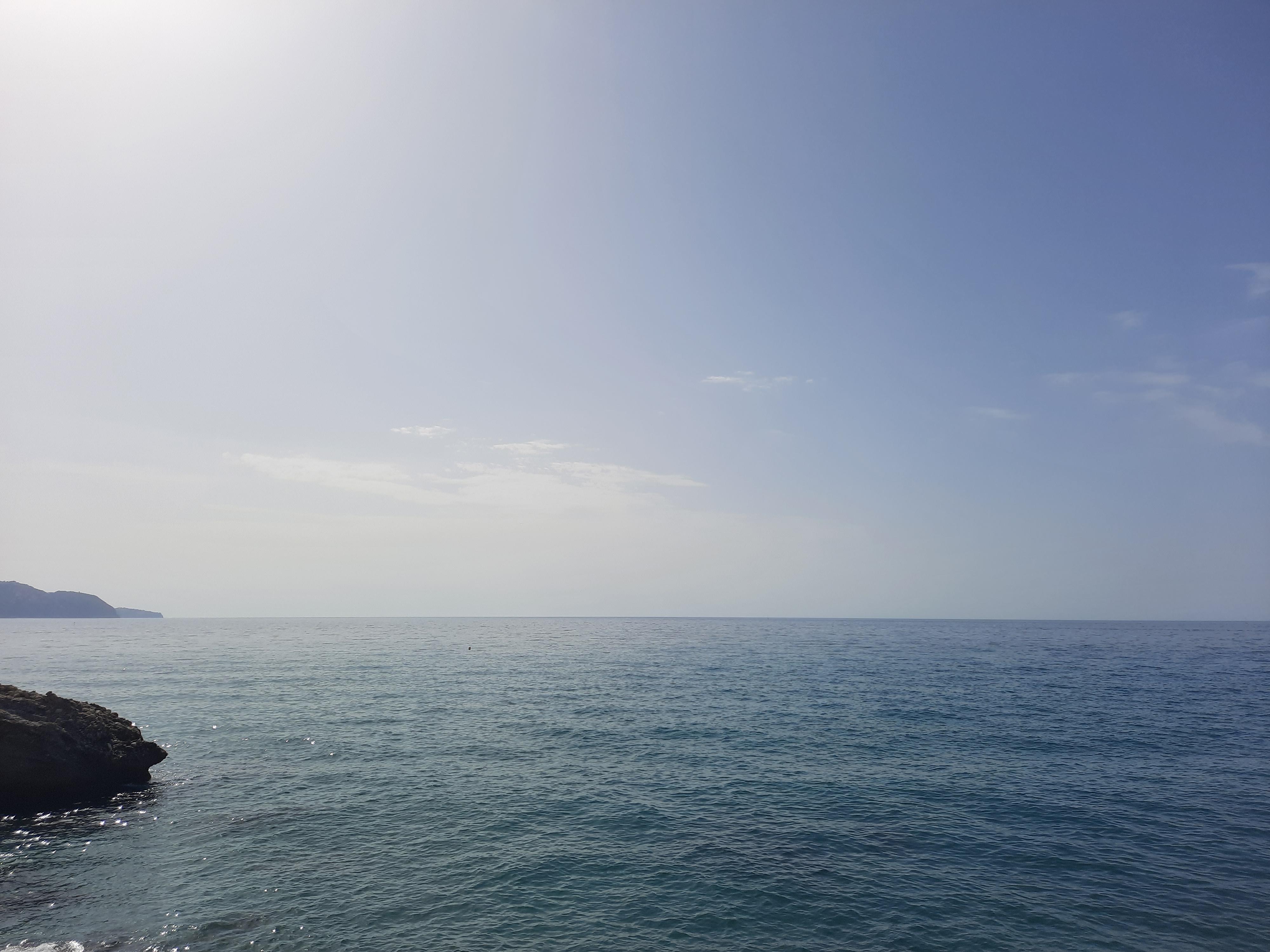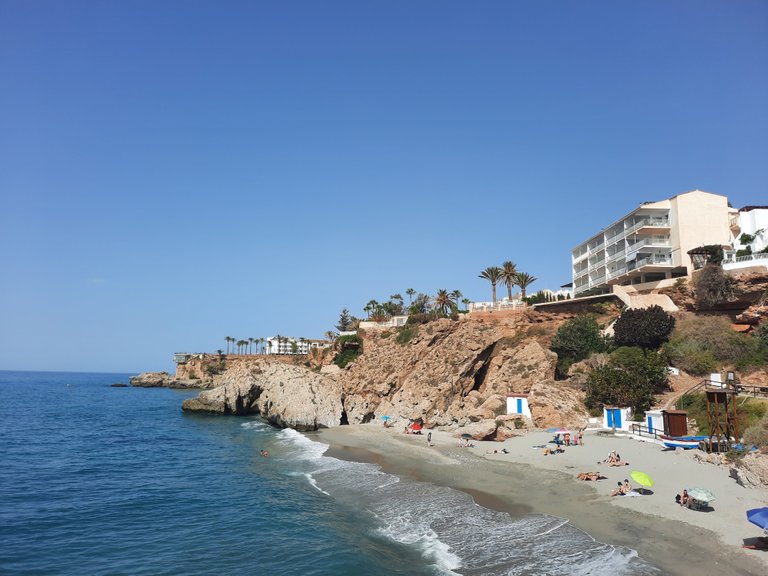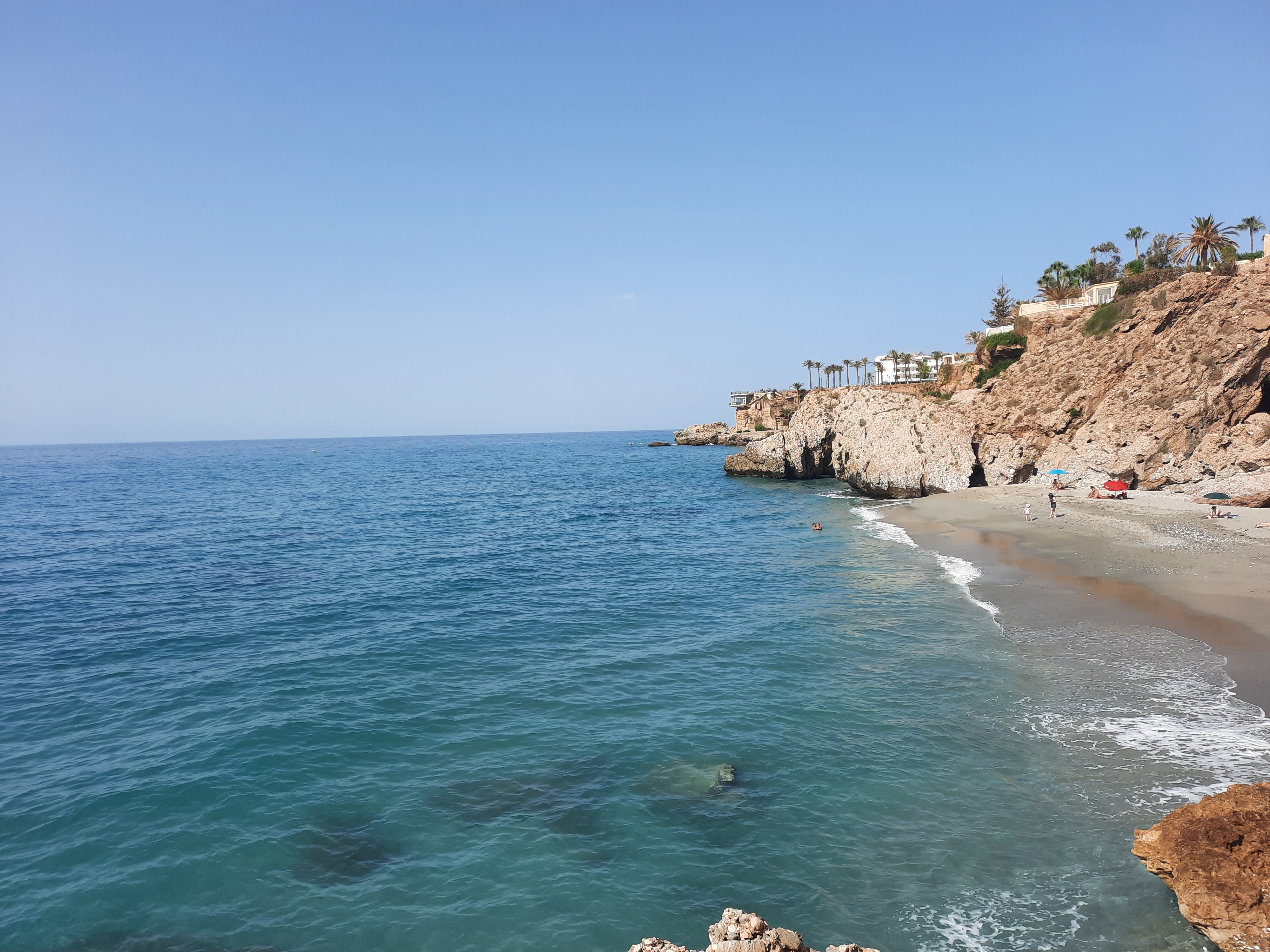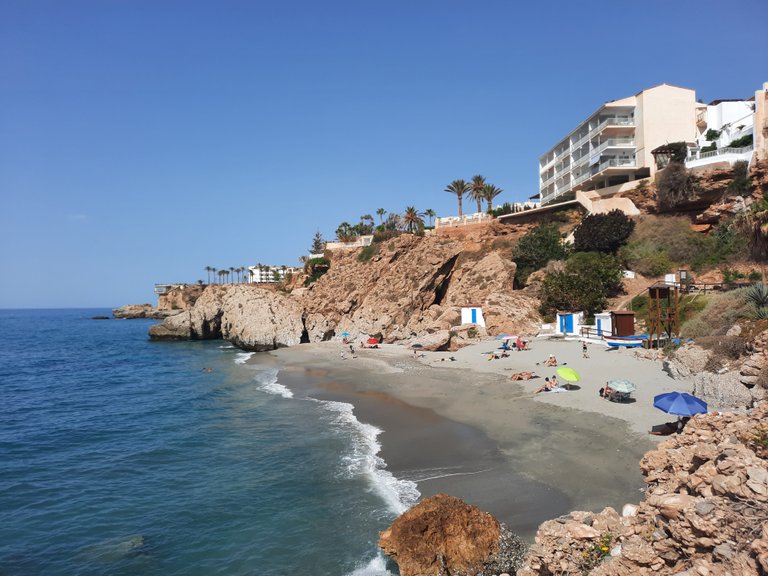 There ends my Wednesday walk. Thanks a million to those who joined me, I look forward to reading about your Wednesday walks.
These photos are all my own captured on my Samsung Smartphone
Thanks as always for stopping by everyone.
Peace Out