Hello friends
I am currently testing to see how much is the maximum and minimum I can get 12 pack's of Risingstar in Fans.
So far:
highest has been for 12 pack = 2355 Fans
the lowest for 12 packs = 970 Fans
All 12 packs have been good but sometimes it touches more luck and skill than fans 🤣.
I don't like random things at all but even though 970 fans I can get on the market for less than 100,000 Starbits it is worth noting that the other cards make up for those remaining fans due to the fact that in every pack without fail there is a rare card and you can do 2 things:
sell them on the market
make an exchange with another person.
The best option is to enter groups where they talk about rising star and find people interested in your NFTs, you can also leave it on the market but of course it sells fast or slow depending on the price and availability of people remember that the buyer is human and at most will see the market once a day looking for deals, if you are greedy I am very sure that you sell it but you delay, at least in my case I am in the discord group of rising star and freedom academy I have seen how people coordinate and talk about prices before selling their NFTs. This is a very practical strategy which you can implement to get good prices and the best thing is that it helps your NFTs to have more visibility if you implement this strategy you will see that you can increase your sales by 10%.
But I have also seen something even more interesting which is known as "collaborative economy" where you don't sell but exchange the cards this method is not completely safe because person 1 has to send a card to person 2 and then person 2 has to send the agreed card to person 1 and because it is not safe because person 1 has to rely on the promise that person 2 will send the card, that is why it is advisable not to make these exchanges with NFTs of high value so that if you lose, you do not lose much😁 and do not send a lot of cards at the same time first, the exchange should be done one card for one card at a time all to reduce the risk of loss. And if the exchange is successful you will have achieved your goal with this advice and you can be part of exchanges and participate in the collaborative economy that is being generated in rising star.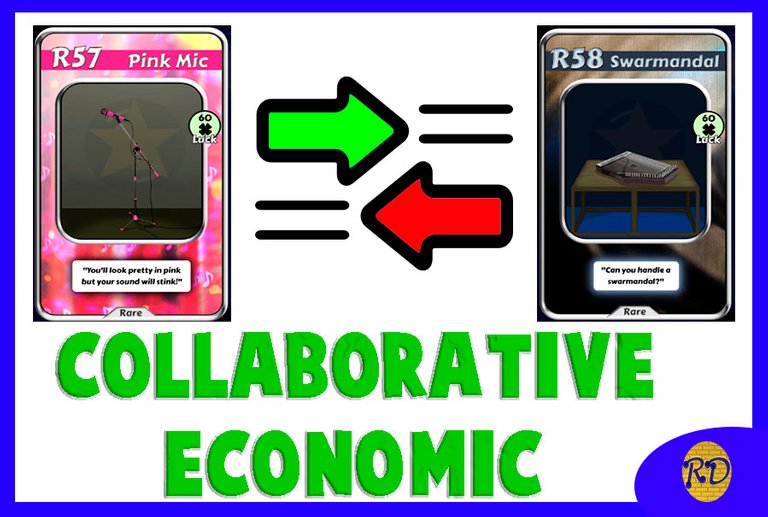 And if you achieve your goal each time it will seem to you that in the packages you have more earnings 😁 because even if you did not get the NFTs you wanted you can change it 😎.
Now I tell you again I am moving up in the ranking I keep buying NFTs in Rising star while the price is low to get more Starbits, I am getting ready for the next move 😏, it is not the first time that Rising star is below and is that their forte is not the Starbits currency, are the NFTs that's why I am concentrating on buying them 😃, if you have read my previous post you will understand what I mean.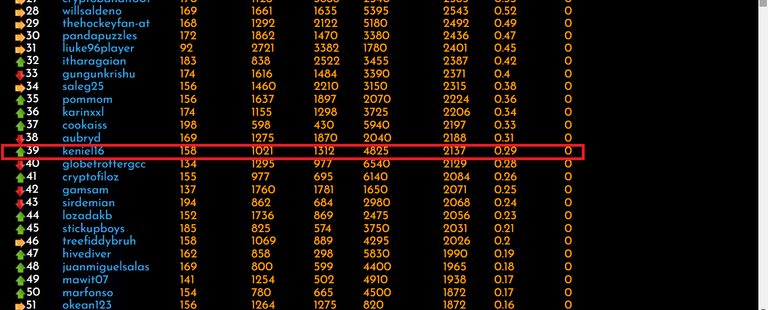 There are good opportunities in the markets if you are lucky, yesterday I saw a R52 Hippy Wagon at 5000 starbits. But unfortunately someone bought it before me.
Current price of R52 Hippy Wagon plus 30.000 Starbits.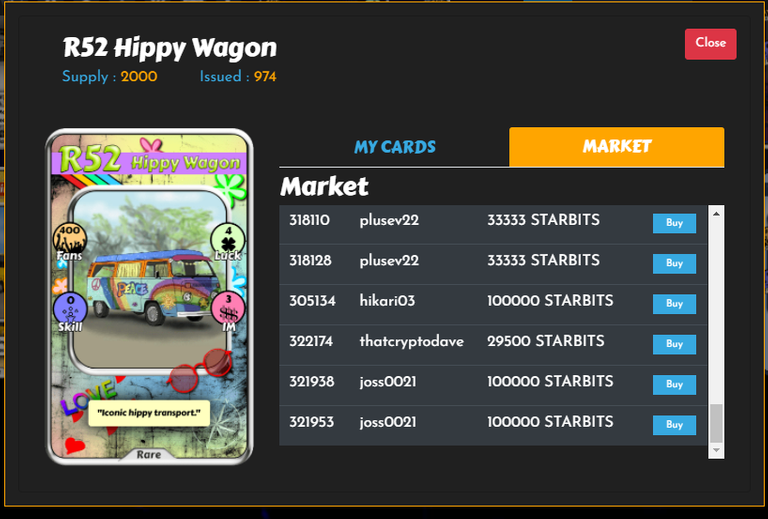 R47 Griff at 5000 starbits also but still it was already bought by someone else 😭.
Current price of R47 Griff 8000 Starbits.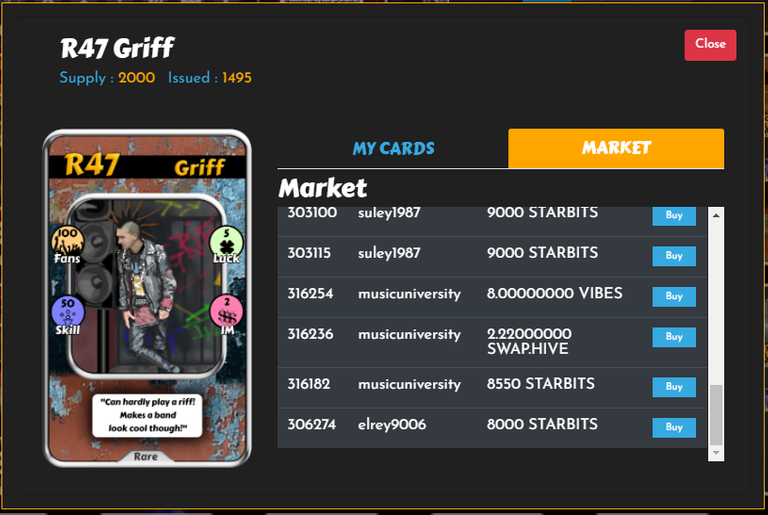 Note: I try to make quality content, so if you want to add something I read you, if you like this content ✨follow me and just share this information.


Link: MUSIC4LIFE


Link: RISING STAR

Hola amigos
Estoy actualmente haciendo pruebas para ver cuanto es lo máximo y lo mínimo que me puede dar 12 pack's de Risingstar en Fans.
Hasta el momento:
lo mayor ha sido por 12 pack = 2355 Fans
lo mas bajo por 12 pack = 970 Fans
Todos los 12 paquetes han sido buenos pero a veces toca mas suerte y skill que fans 🤣.
No me gusta para nada las cosas aleatorias pero a pesar de que 970 fans lo puedo conseguir en el mercado por menos de 100.000 Starbits cabe destacar que las demás cartas compensan esos fans restantes debido a que en cada paquete sin falta existe una carta rara y puedes hacer 2 cosas:
venderlas en el mercado
hacer un intercambio con otra persona.
La mejor opción es entrar en grupos donde hablen de rising star y encontrar personas interesadas en tus NFTs, también lo puedes dejar en el mercado pero claro se vende rápido o lento dependiendo del precio y de la disponibilidad de las personas recuerden que el comprador es humano y a lo mucho vera el mercado una vez al día en busca de ofertas, si eres avaro estoy muy seguro que la vendes pero te demoras, por lo menos en mi caso estoy en el grupo de discord de rising star y de academia libertad he visto como las personas coordinan y hablan de precios antes de vender sus NFTs. Esta es una estrategia muy practica la cual puedes implementar para obtener precios buenos y lo mejor ayudas a que tus NFTs tengan mas visibilidad si implementas esta estrategia veras que puedes aumentar tus ventas en un 10%.
Pero también he visto algo mas interesante aun que se le conoce como "economía colaborativa" donde no se vende sino que se intercambian las cartas este método no es del todo seguro porque la persona 1 le tiene que enviar una carta a la persona 2 y luego la persona 2 le tiene que enviar la carta acordada a la persona 1 y porque no es seguro porque la persona 1 tiene que confiar en la promesa de que la persona 2 le enviara la carta, luego de recibir la suya, por eso es recomendable no hacer estos intercambios con NFTs de mucho valor para que si en dado caso pierdes, no pierdas mucho😁 y tampoco envíes un montón de cartas a la vez de primero, el intercambio debe hacerse una carta por una carta a la vez todo para disminuir el riesgo de perdida. Y si se realiza el intercambio con éxito habrás conseguido tu objetivo con este consejo ya podrás ser parte de intercambios y participar en la economía colaborativa que se esta generando en rising star.👍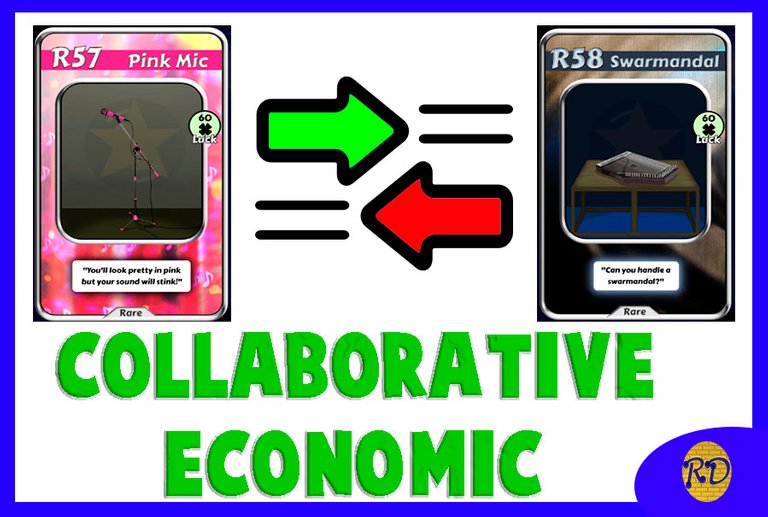 Y si consigues tu objetivo cada vez te parecerá que en los paquetes tienes mas ganancias 😁 porque aunque no te salió el NFTs que querías lo puedes cambiar 😎.
Ahora les cuento de nuevo estoy subiendo posiciones en el ranking sigo comprando NFTs en Rising star mientras el precio esta bajo para obtener mas Starbits, me estoy preparando para la siguiente movida 😏, no es la primera vez que Rising star esta por debajo y es que su fuerte no es la moneda Starbits, son los NFTs por eso me estoy concentrando en comprarlos 😃, si haz leido mi publicación anterior entenderás a lo que me refiero.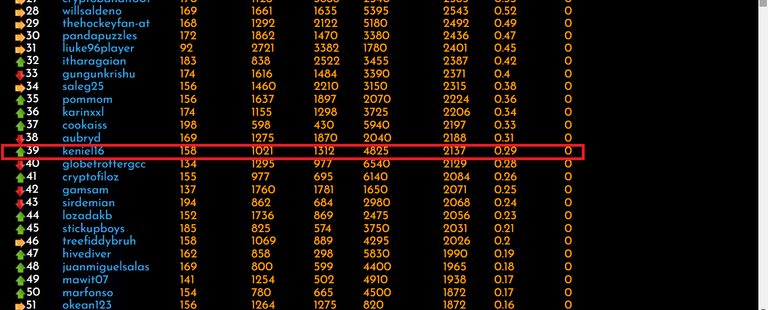 Hay buenas oportunidades en los mercados si tienes suerte, ayer vi un R52 Hippy Wagon en 5000 starbits. Pero desafortunadamente alguien lo compro antes que yo.
Precio actual de R52 Hippy Wagon mas 30.000 Starbits.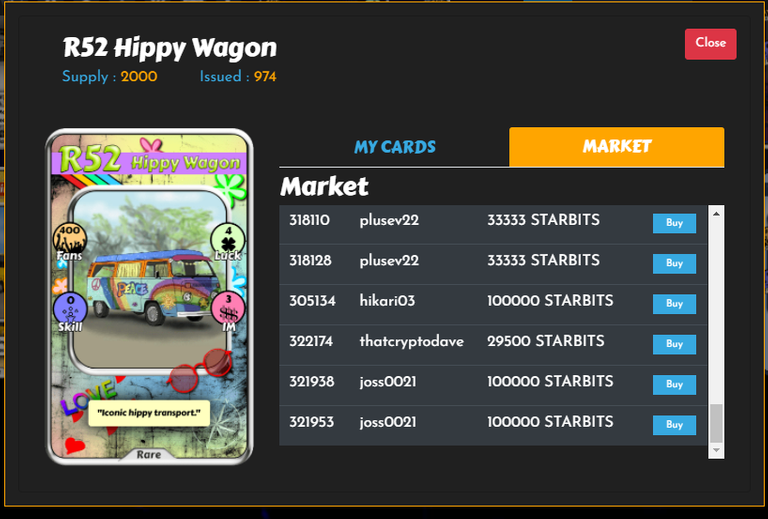 R47 Griff en 5000 starbits también pero igual ya lo habian comprado 😭
Precio actual de R47 Griff 8000 Starbits.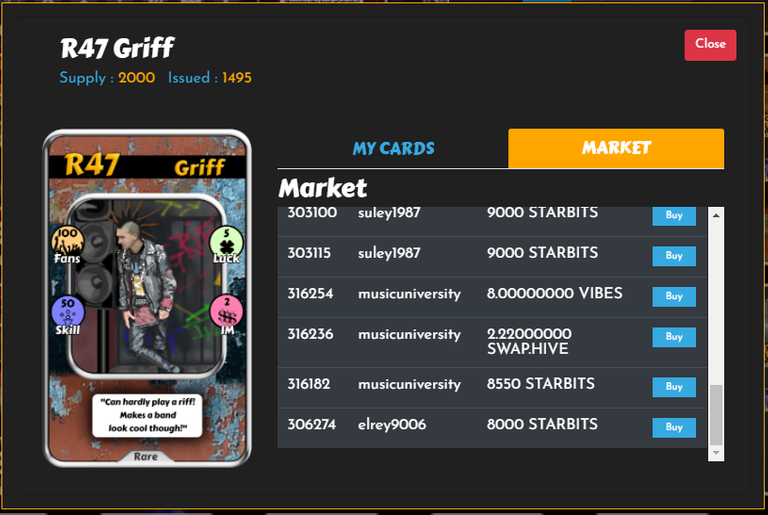 Nota: Intento hacer contenido de calidad, así que si quieres añadir algo te leo, si te gusta este contenido ✨sígueme y simplemente comparte esta información.


Link: MUSIC4LIFE


Link: RISING STAR