Hello friends
Today was an epic day, I tell you, first I got the S20 card in a few last packs that is opening this morning already hopeless, and suddenly I saw it I jumped with excitement 😎.

But that's not all, I started to use it immediately, thanks to the fact that I have several pizzas stored, I could do about 7 missions I know that the last pizza that I had stored, I got the card S21 wow I jumped again with excitement if I have a very special card, although I ran out of pizzas was worth it🤣🤣.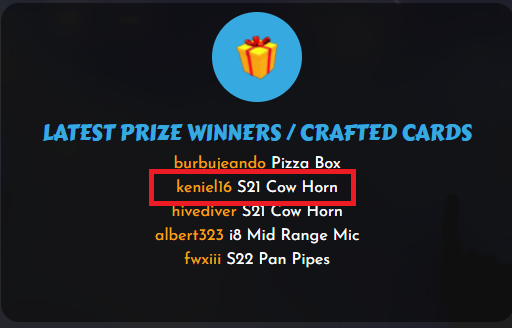 I love those 2 images above I feel lucky and proud, but even the good news is not over, I thought more or less how much was the value of the NFTs for its scarcity and that its supply will be that of an epic or maybe that of a legendary still do not know, but if I know that it is difficult to get it, because only 10% of the time you can get it, I evaluated it in 20 swap. hive, besides if I use the time to look for that card it takes time away from other missions and the most important thing was the only one in the market, but another user placed a smaller order I was a little disappointed, my alternatives was to leave it there or place it cheaper, to not get into a price war I decided to sell it, in another currency "vibes", the question now was what would be its price, could be 20 vibes? it depends on the calculation 20 vibes = 5 swap.hive, it is a very low price for the people who make calculations but most people will not look at that I just thought that 20 vibes is more than 18 swap.hive but madly the card is going to be sold at a very low price. hive but crazy the card sold almost immediately puffs was gone i thought a lot of things but when i see the balance in my vibes account and see my card was gone i knew i sold it i am curious now 🤣🤣, seriously i know i sold it very cheap, but i didn't think they would buy it so fast if i get another card, i will put it back at 20 vibes or maybe higher i don't know, but i know its minimum price is 20 vibes, it was like selling hot bread, i know the vibes market is not very liquid maybe it could also be that they prefer to sell more in vibes than swap. hive are many things to think about.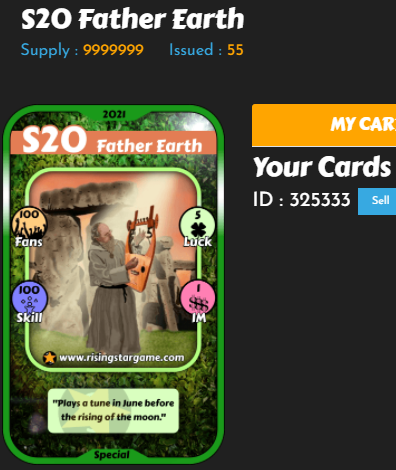 Now the question for you guys how much would be the most you would buy the S21 or S22 🤣🤣, that will be the price I post next time, if ever I get it again which I highly doubt😅.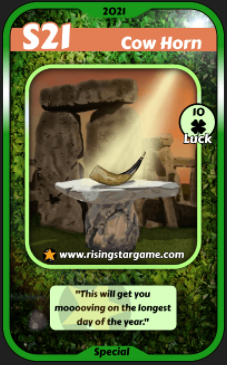 Rising star is a game of luck but also of strategy, it surprises me every day how this market moves, I know that in the future it will have a great interest.
Now as usual I will show you some of the cards I acquired while I was looking for the super beloved S20 that has been both my torture and my salvation.



Note: I try to make quality content, so if you want to add something I read you, if you like this content ✨ follow me and just share this information.
Translated with www.DeepL.com/Translator (free version)


Link: MUSIC4LIFE


Link: RISING STAR


Link: SPLINTERLANDS

Hola amigos
Hoy fue un día épico, les cuento, primero me salió la carta S20 en unos últimos paquetes que esta abriendo esta mañana ya sin esperanza, y de repente la vi salte de emoción 😎

Pero eso no es todo, le empecé a dar uso inmediatamente, gracias a que tengo varias pizzas almacenadas, pude hacer como 7 misiones se que se que la ultima pizza que me quedaba almacenada, me salio la tarjeta S21 wow volvi a saltar de la emoción si tengo una carta muy especia, aunque se me acabaron las pizzas valio la pena🤣🤣.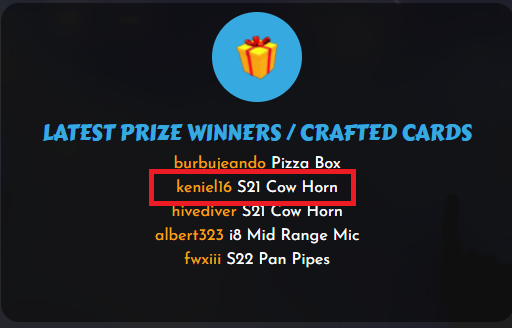 Me encanta esas 2 imágenes de arriba me siento afortunado y orgulloso, pero aun las buenas noticias no se acaban, pensé mas o menos cuanto era el valor del NFTs por su escasez y que su supply va ser el de una épica o tal vez el de una legendaria aun no se sabe, pero si se que es difícil de conseguirla, porque solo un 10% de la veces te puede salir, la evalué en 20 swap.hive, además si uso el tiempo para buscar esa tarjeta le quita tiempo a otras misiones y lo mas importante era la única en el mercado, pero otro usuario coloco una orden mas pequeña me desilusione un poco, mis alternativas era dejarla allí o colocarla mas barata, para no entrar en una guerra de precios decidí optar por venderla, en otra moneda "vibes", la cuestión ahora era cual seria su precio, podría ser 20 vibes??? depende del calculo 20 vibes = 5 swap.hive , es un precio muy bajo para la personas que hace calculos pero la mayoria de la gente no se fijara en eso pense solo que 20 vibes es mas que 18 swap.hive pero locamente la tarjeta se vendio casi inmediato puffs ya no estaba pense muchas cosas pero al ver el saldo en mi cuenta de vibes y al ver que no estaba mi tarjeta supe que la vendi tengo curiosidad ahora 🤣🤣, en serio se que la vendí muy barato, pero no pensé que la comprarían tan rápido si consigo otra carta, la volveré a poner en 20 vibes o tal vez mas alto no lo se, pero se que su precio mínimo es 20 vibes, fue como vender pan caliente, se que el mercado de vibes no tiene mucha liquidez tal vez pueda ser también que se prefiera vender mas en vibes que swap.hive son muchas cosas a pensar.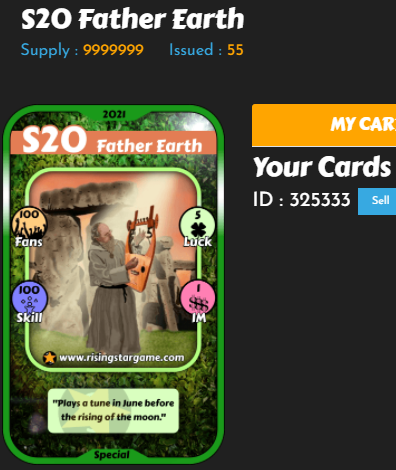 Ahora la pregunta para ustedes en cuanto seria lo máximo que comprarían la S21 o S22 🤣🤣, ese será el precio que coloque la próxima vez, si acaso la vuelvo a conseguir que lo dudo mucho😅.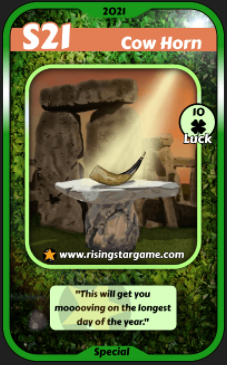 Rising star es un juego de suerte pero también de estrategia me sorprende todos los días el como se mueve este mercado se que en el futuro tendrá un gran interés.
Ahora como es de costumbre les mostrare alguna de las cartas que adquirí mientras buscaba la super amada S20 que ha sido tanto mi tortura como mi salvación.



Nota: Intento hacer contenido de calidad, así que si quieres añadir algo te leo, si te gusta este contenido ✨sígueme y simplemente comparte esta información.


Link: MUSIC4LIFE


Link: RISING STAR


Link: SPLINTERLANDS