---
---
Hello Dear Friends
How are you all? i am here with another challenge post, this week splinterlands battle week challenge Theme is Barking spider.
THIS WEEK BATTLE THEME IS BARKING SPIDER
Iits Edition is REWARD
Quality card Rarity COMMON
This soldier card belong from EARTH
Current price of Trade Value Alpha is $0.01
Dear if you have no yet this card in your card list then , it is very much cheap card , go to splinterlands markets corner to buy this card and take participate in this week battle challenge.
---
if you are new and have no information about this weekly battle challenge then i will drop here link of official announcement post link that will provide you more detail information about this challenge contest SHARE YOUR BATTLE Weekly Challenge! BARKING SPIDER


---
My lineup in this Battle
---

---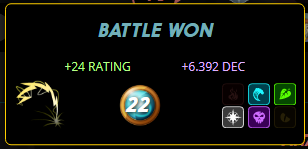 It was total 22 mana game, and 22 mana is really very difficult battle when you are entering with one star card that is theme this week contest. so i did not play very much with barking spider monster in past, i used this card in many battle, i have some information, about this monster so i am happy that in battle my opponent plan was strong but my strategy worked , i got victory with great credit. so you can watch in video that hope was my card placement in this battle below i will try to describe my plan that was in this battle.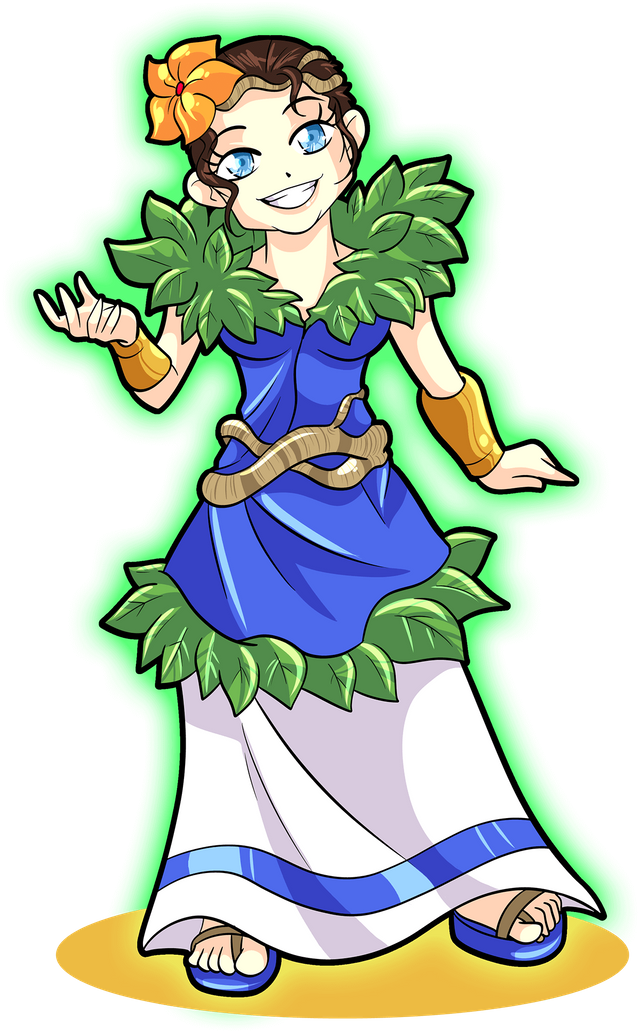 YANNA NATURA
My summoner selection was YANNA NATURA in this battle, and honestly i will say abou this summoner that it is one of my favourite summoner , and i have great dream wish to increase its level but bad luck, two month ago my steemit account was hacked and my all earning had been stolen, so i am saving my money to increase level of YANNA NATURA so pray that i got soon its level up version. so dear friends YANNA NATURA is RARE Earth Summoner and this week theme monster also belong to Earth family.
After the Magi of the Forest, Lyanna is the greatest summoner from Anumün. She has many powers in addition to summoning, including her ability to communicate clearly with animals. She is married to Aggrodius Lightbringer, and they live together in Draykh-Nahka with their two daughters, Kiara and Talia. Lyanna lives a busy and high-profile life, very different from her simple past on the Lyverian countryside. LORE YANNA NATURA
---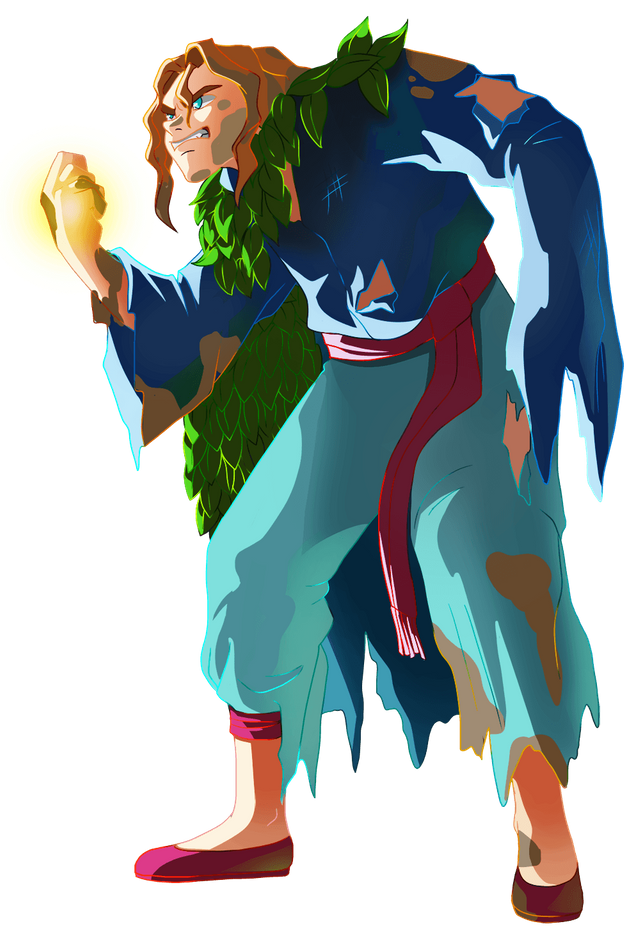 FAILED SUMMONER
In this battle at the time of placing card, i made one mistake that was that i placed FAILED SUMMONER at first place, but its all happen by mistake, i tried to select another cards but when i saw game is started , so this card was at first place, but its ok, this card also is good choice if the rule of battle support its. becasue game is short mana cap, so total mana of this battle was 22, so i think this card has best choice to place at 3rd place if i use it in armour supporting rule, so its ok, here i am mention it that is happen by mistake, so never use this card at first place in this rule, so my aim is to guide you in good way to right way , it is
COMMON Earth Monster. but if we look deeply at this time , here this gave me great support , worked as Sacrified its life for the protection of its army .
The exclusive academy in the Western Wood known as Summoner's Green cuts ninety percent of its students each year, so there are lots of failed Summoners. Since many of them have nowhere to go, they choose to stay in the Forest, forming into crude groups and families. Many of them are savage and violent.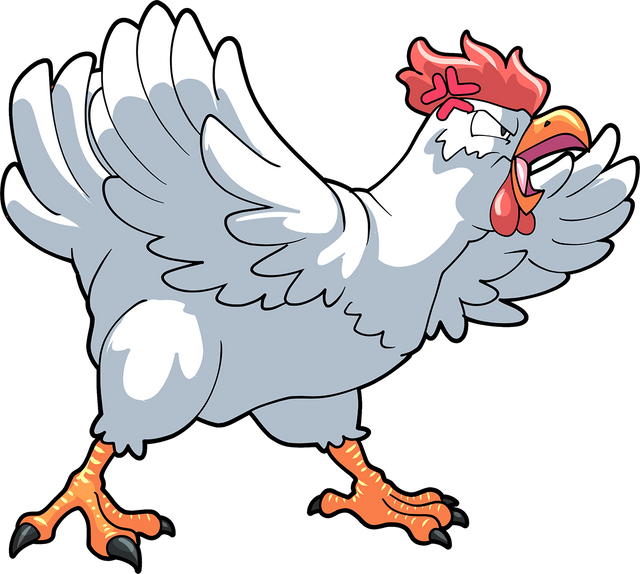 FURIOUS CHICKEN
It is first time, you are seeing that i placed Furious chicken at 2nd place in this place, so i have level 3 this card and it is my first and last choice in short mana battle game, only purpose of using this card is to Sacrifice its life to protect my main card from the first attack of the enemy, as you all know in every weekly i used this card in low man battle game, so here i will request to all my new splinterlands player if you are reading my this article then add this card in your card list and use it in low mana cap battle at first place, never think , what level of battle you are playing, in every battle this card will help you, to support, to protect your army , this card is work as shield in first round for you main card . It is RARE Neutral Monster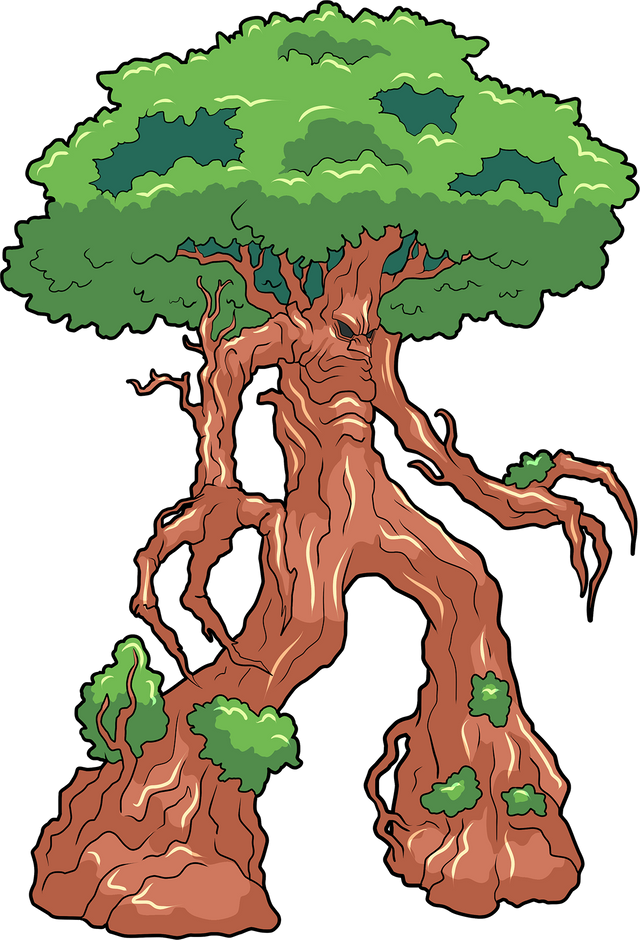 EARTH ELEMENTAL
It is EARTH ELEMENTAL monster. i will say here that this eart elemntal is sign of life for all humanbeing, love trees, plant new plant tree to make this earth more beautiful , so in this battle i placed this at 3rd place, reason of placing this card was that in first two round my first two line up will face the attack of enemy ,during this monster will try to destroy the first line up opponent side and this card has good health with low mana cost so in this way, if my first two monster died in first 3 round, then this card has great chance to destroy opponent line up , and this card will great help to win the battle. it is also RARE Earth Monster
The Earth Elemental, when properly summoned, takes the form of the terrain upon which it is summoned. It can be a tree, a pile of living mud, a sandstorm, the possibilities are endless. No matter the form, the Elemental has mystical healing powers that it draws from the planet itself.LORE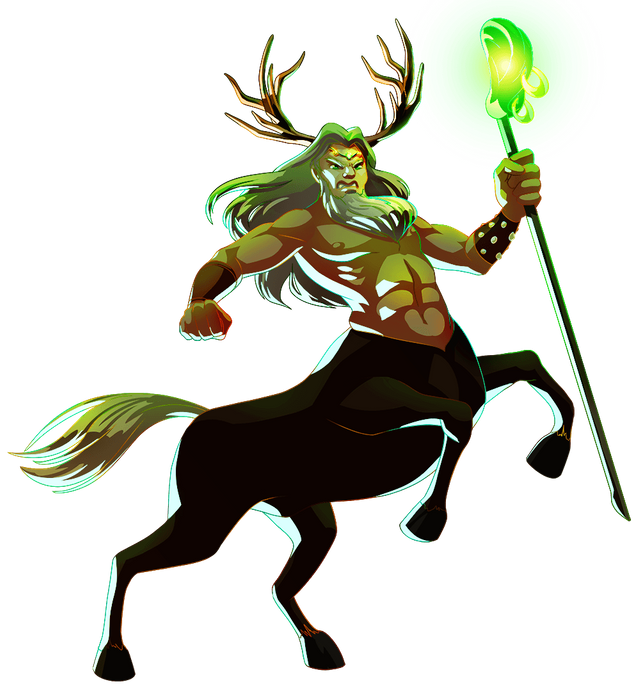 KRON THE UNDYING
Wow Really it is one of my best investment in splinterlands so i am very much happy after buying this card, i placed this Fighter card at 4th place, it was my main card of the battle,so 1 to 3 all cards were working as shield for this cards so i have no words how describe abilities of this card, so i will say only one line in praise of it that it is the card of victory that can help you develop your position to high level
it has many abilities so because of these abilities it is card of victory, so i always placed this card at last position, but in this battle i placed it at 2nd last position, reason of placing it in this battle at 2nd position only that my theme card of this contest has no ability to fight at first place, so i thought to keep it at 2nd last position . in this battle my this card fought very well, so you can see its fight live, it is LEGENDARY Earth Monster.
Kron the Undying is the undisputed leader of the Centauri people of Anumün. Hundreds of years ago, he discovered a great secret which allowed him to defy death as generations passed before him. He occasionally keeps the company of the Spirit of the Forest herself, and he has picked up some impressive skills of magic through his long life. Kron is aware of the truth of Dark Energy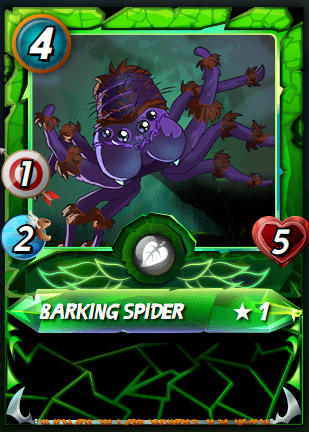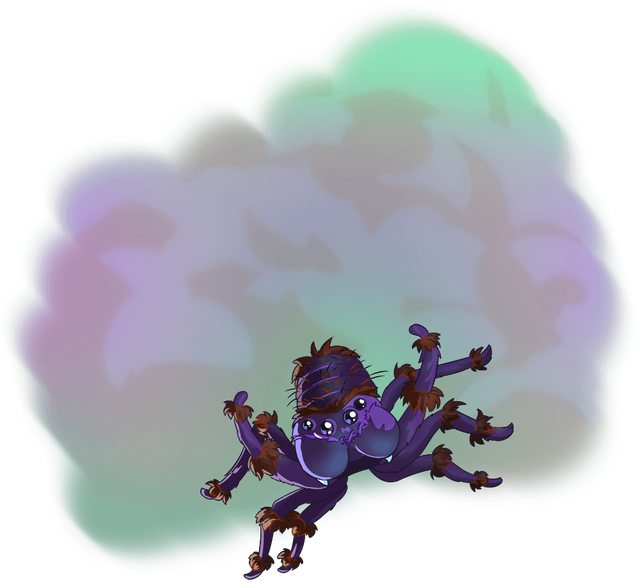 ---
BARKING SPIDER
It is star monster of this week challenge, i placed it at last position, reason of placing it at last place only one is that i want to see this card first to end round in fight position, so this card has great ability of fight , so you can see , this monster fought very well first to end round. so dear friends, if you are playing low mana battle and want to use this card then keep in mind that place it at last place, in this way this card will get more chance to fight, because i think this card has no ability to fight at first place, one more point keep in mind about this monster, that this monster attack is very much weak to flying monster, so if your opponent place flying ability monster then this barking spider will get great difficult to attack those monster. my experience say that when ever this barking spider attack on flying ability monster his attack went to vain. so i left this point to my senior, what do they say about my this point. but dear friend it was my experience about this card that i shared with you. you can check abilities of this card , use this card at different position in different rule of battle then hope you will get best experience and knowledge about this .
it is also COMMON Earth Monster. and theme of this week.
---
STATE OF BARKING SPIDER
---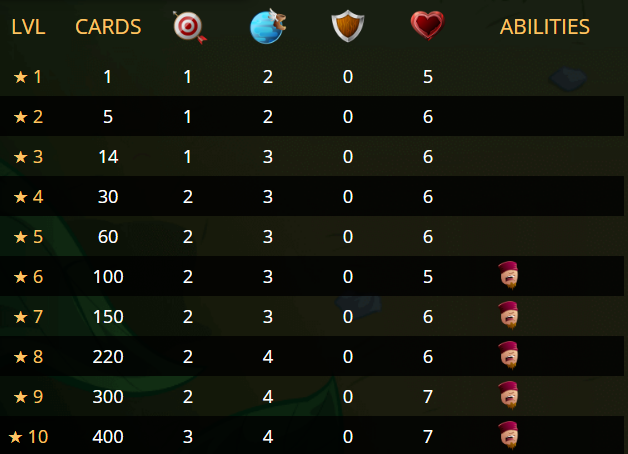 These terrifying Spiders are typically found in the darker parts of the Splintral forests. Not only do they sometimes grow to the size of a whole chicken, but they emit a horrible barking sound all night long, as well as an unpleasant odor.

Battle Detail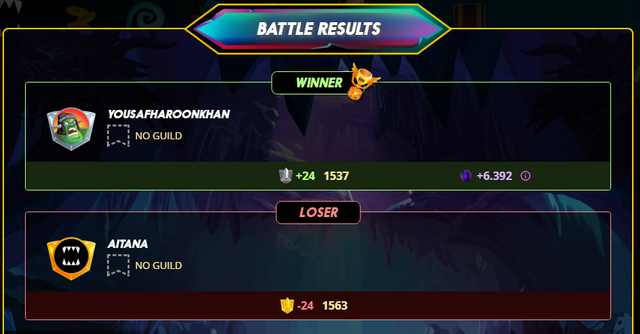 ---
If you want to watch my this battle live on splinterlands site then below is the direct link to this battle
DIRECT LINK TO BATTLE : BARKING SPIDER || Splinterlands Weekly Battle Challenge

Did your strategy work? What will you try differently next time?
Ans:
Yes my dear friends, my strategy worked very well. i described my team line up very briefly and reason also and i satisfied and happy that my all plan strategy worked according to my view. yes i am going to try different next time, i will try to place Barking spider in more position i will check that in which rule this card play role more strong way.
Do you use the BARKING SPIDER often? Why or why not?
Ans:
Honestly i do not use this card very much,but when ever i used it i tried to take it in low mana battle with one main card, i do not use this card reason of it that i need to place one main card and also supporting card to keep this card alive at last round. so i think this make more difficult to use this card, but this card has great ability of fight if we try to understand in which rule and place this card fight well.
---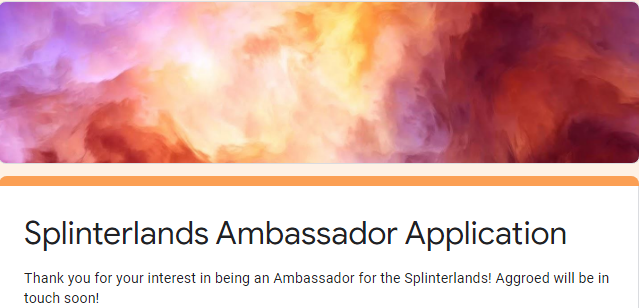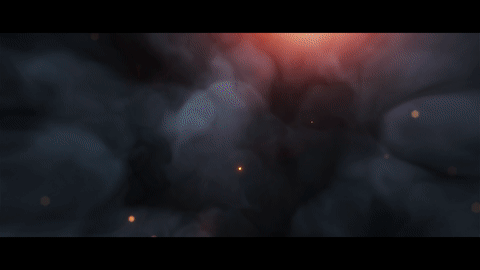 source of above gif/image
Subcribe my other social profile
My Hive profile
My Dtube channel
My Youtube channel
My Twitter profile
---

---