What's up friends! Shei here...
This time, I'm going to be a bit geeky and show you my otaku side once more... I'm feeling really excited because my favorite otome game is going to have an anime adaptation! YAAAAAY~!


First, let me tell you something about the game itself. What is an otome game?

Well, when we say otome, it means "maiden"... so basically the targets for this type of games are young women. This is like a simulation dating game wherein the player is the main character of the story. She will then meet a number of guys with different styles and personality. Based on her interaction with them, she will get some points and eventually end up with the compatible character.

Well, in other otome games though, you will have to choose a certain character first... then try to play it to see whether you can reach a good ending, a normal one or a bad one based on your interaction.

The pictures I'm going to use from now on are screenshots I took from the game.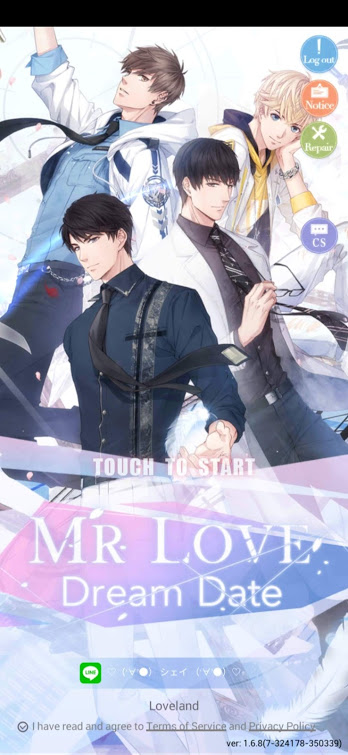 This is my favorite Otome game. What I like about it is that, the story doesn't focus on love as most otome games are. It's a fantasy/mystery story which involves some supernatural powers they call EVOL.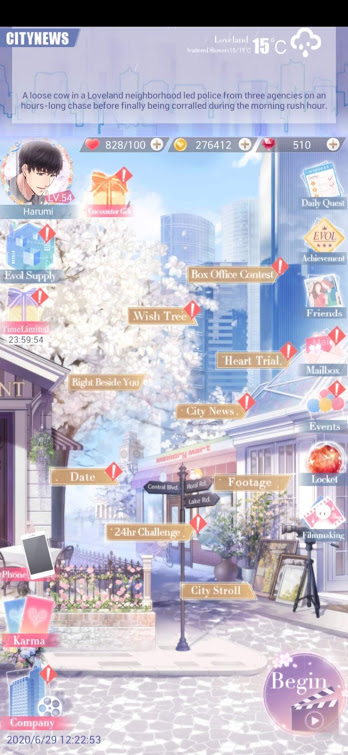 Once you open the game, you will be directed to this page. In other otome games, once you have chosen the specific story, you will only have to focus on the story and perhaps play some mini-games.
However, for this game, there are a lot of activities to do. You can actually unlock more activities aside from the main story once your level goes up.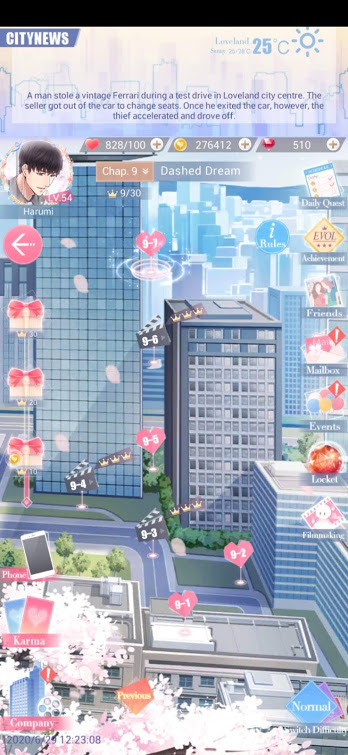 There are two main challenges in the game. The NORMAL story and the ELITE ones. The picture above shows the NORMAL one. Those with the hearts are storylines. In every chapter, you'll get to interact not only with the four guys, but also with other characters involved in it. The ones with the films, are challenges.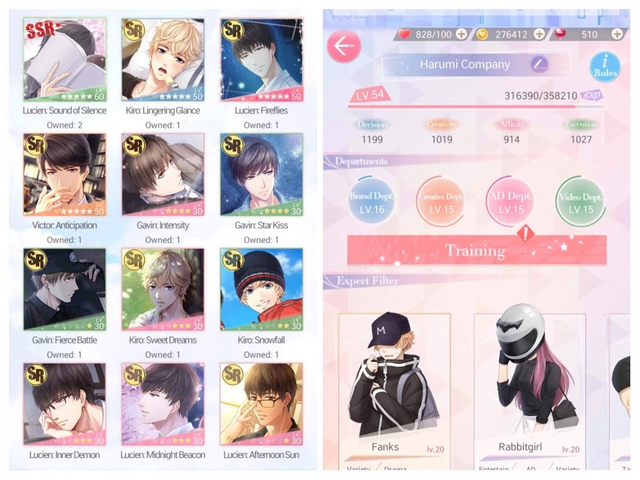 In order to pass or do well with the challenges, you will need to acquire these cards and evolve them into a higher level. In order to do that, you have to take part in the activities on the home page. Also, the main character is a producer, so she will be hiring people and train them in order to upgrade her company. Through this, it will be easier to pass the challenges in the NORMAL story game.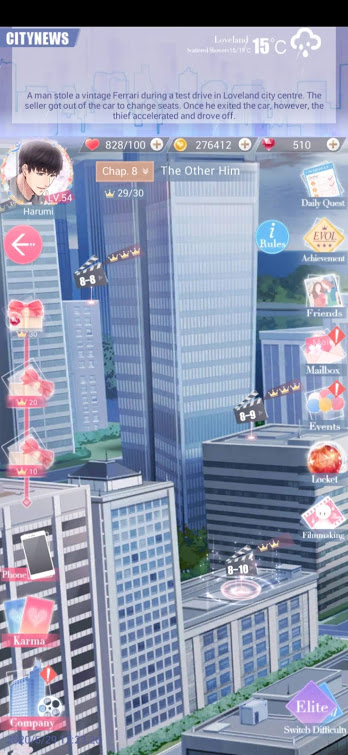 Once you reach a certain level, the ELITE story game will be unlocked. As you can see, these are all films, meaning, they're all challenges. So unlocking them is kind of difficult unless you have acquired and leveled up numerous cards.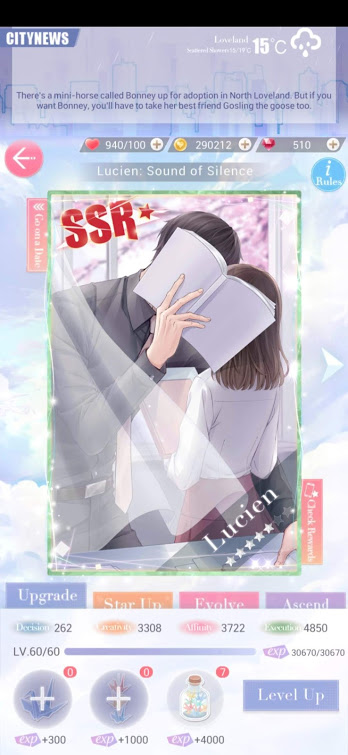 You can upgrade, star up, evolve and ascend each card as well by using some items. You can get these items through mini-games, the activities in the homepage or by doing the normal and elite stories. Once you complete some challenges, you will be dropped with items necessary to upgrade, star up, evolve or ascend your cards. Well, you can also purchase some items using coins or gems which you can either acquire in-game or purchase in the store.
Now, on to the main reason why I'm too excited...
drum roll, please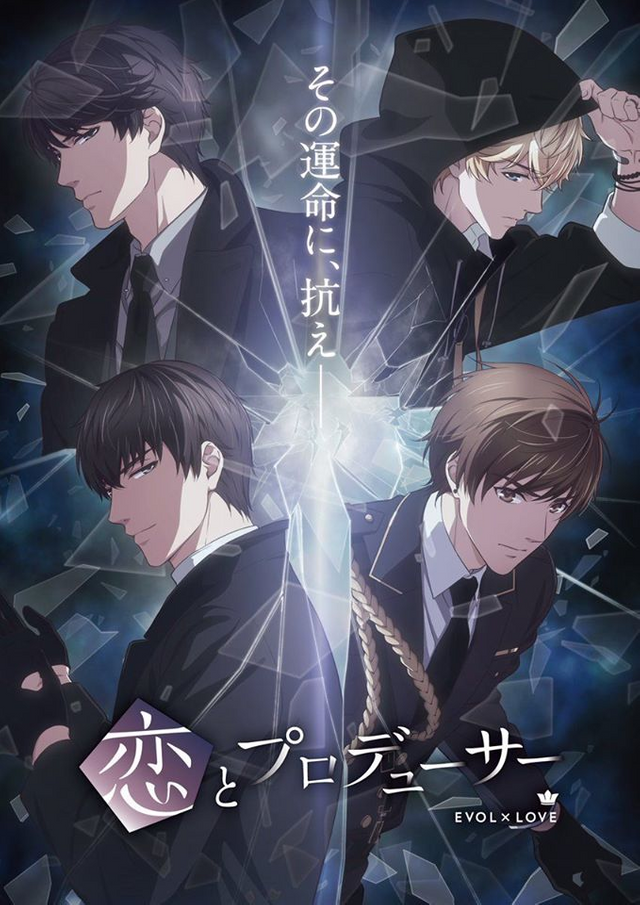 IMAGE SOURCE
ANIME ADAPTATION, y'all!!!! <3


It's going to be released on July 15th, and I can't wait to watch them in the series. There are four handsome guys in this series. lol Let me introduce them based on the picture above. I'm playing the English version of the game, so I'm going to use their English names.


TOP - LEFT: VICTOR; He is a CEO of a big company. He's like a tsundere because he often bullies the female lead, but actually cares for her. I won't spoil, but he has a certain unexpected talent in the game. :)
TOP - RIGHT: KIRO; He's an idol. And he really resembles Tegoshi. lol He has this bright and bubbly personality, but actually... he also has a secret identity which I really like. I actually look forward to watching that scene in the series. haha
BOTTOM - RIGHT: GAVIN; He's a bad-boy-turned-into-a-detective kind of guy. His supernatural power is mentioned in the first few chapters of the game, so it would be cool to actually see it in the series.
BOTTOM - LEFT: LUCIEN; My favorite guy! He's a professor and a psychologist. He's really smart and has a solution to almost everything. Despite his warm personality, his real identity remains a mystery. I am yet to find out in the latter part of the game.


All in all, it's something to look forward to. I am truly excited to watch the anime series, and while doing so, I have to get on with the game as well.

I'll end my post here. Thank you so much for reading and may you all have a great day! Take care always!