What's up friends? I'm still feeling hyped with all these "Koi to Producer" announcements. Earlier today, I watched the third promotional video of the anime and it made me even more giddy to watch the series. Let me share to you the video from the animation studio's official YouTube account.



VIDEO SOURCE
And upon watching the video, I had the urge to write a poem for my favorite character. His name in the English version of the game is Lucien, but in the anime and the Japanese version, he's called Simon
(shi-mo-n)
. And so, the title of this poem is his name, Lucien | Simon. I hope you like it.
---
Lucien | Simon
It was like gazing on a starry sky
The moment I saw your dazzling eyes
Enveloped with a multitude of emotions
More than enough to set my life in motion
The first time I heard your voice
It silenced all the other noise
It was quite deep and impressive
The thing it did to my heart was massive
You were there when I was at a lost
Without a word, all the signals crossed
You understand me more than I do
Isn't it a given to be swayed by you?
The time I grieved some something I was about to lose
You held out your hand and prohibited me to refuse
Through your guidance, I got back on my feet
Putting a smile on my face, aren't you sweet?
Despite all these, your presence remains a mystery
I know nothing, even a bit of your history
You just came into my life ever so silently
Yet made my heart beat rather intensely
@tegoshei




There are still a lot of mysteries to unlock when it comes to Lucien or Simon. I couldn't find much time to play the game these days, but when I do... I'll try to get to know his character even more.

Of course, I'm looking forward to getting to know the other characters as well. However, Lucien already has imprinted himself in my heart. haha I even made a Lucien fanart last time... Let me share the finished one below.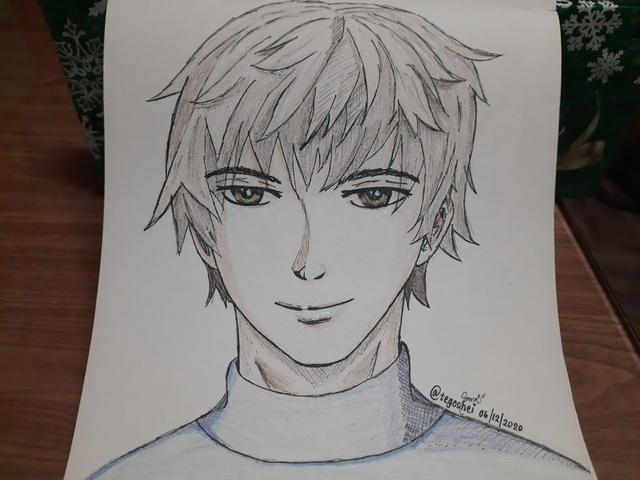 I'll end this post here for now. Thanks a bunch for checking out my poem and for putting up with my fangirl-slash-otaku side. Until next time my dearest friends! Have a fantastic day and night... wherever you may be! Remember to keep safe and stay healthy! Ciao!