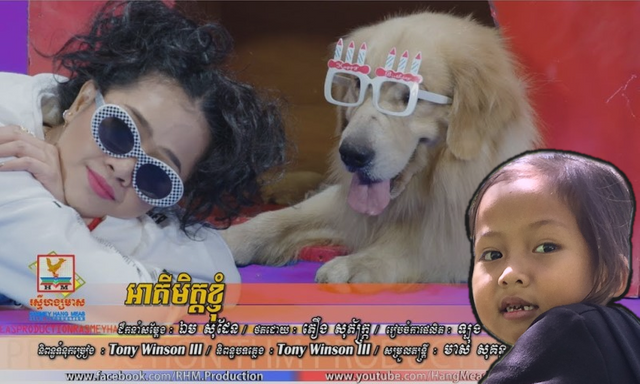 Hello everyone, Monkey-B here. I want to share with you my favorite Khmer music video and tell you why I like it and what it is about.
Actually, Dad (@JustinParke) here assisting Monkey-B, who still only knows how to spell around 25 English words. However, she can talk up a storm, and is jealous of her big sister SreyYuu making all the posts.
She saw SreyYuu's music video review, and wanted to do one about her favorite song.
---
អាគីមិត្តខ្ញុំ 🐶 - ឱក សុគន្ធកញ្
Akii Ch'Kae Knyom (Akii My Dog) - Aok Sokunkanha
---
THE INTER(RE)VIEW
Q & A With Monkey-B
What do you want say about this song?
     That girl she sing about she dogs and do you know why do I love that song?
No I don't, why do you love this song?
     Because it was nice to me and it very loving puppy. I very love that song because the puppy is so cute, and the wag the tail like a bus.....swish, bus, and that's why I love the song.
Can you translate some of the song to English?
     Um...no.
I thought the name of the song was "My Dog Akii, is that right"?
     No, I want to say that song is name "អាគីមិត្តខ្ញុំ."
"អាគីមិត្តខ្ញុំ" means "My Dog Akii," right"?
     Yes.
Agree to disagree then. What do you think about Akii?"
     He is um...is...great. So very cute. That's all done. That what my post about.
Okay, so you are finishing this interview?"
     Yes it is, and I want to say something first when I stop doing the post. Do you like this song everybody? But sometimes I was a little bit shy to say by my own, but I'm 6 years old. I'm not Sakada I'm Sakana, did you know who I am?
---
"My Dog Akii" by Aok Sokunkanha - Official Music Video
---
🙏 THANKS FOR READING 🙏
If you enjoyed this post, please upvote and reblog.
---
WE PROUDLY SUPPORT