Hello friends
Today I come to show you another form of passive earnings that is growing slowly in Risingstar and if you are interested you can participate, for now many ignore it but in my opinion in the future will have a great appeal, and a great impact.
First of all, review the staking remember that in a previous publication I showed you that you can earn just buying starbits staking in many NFTs, wait for them to sell and earn more Starbits with that I have decided to take out of the staking to make tests in risingstar and show them in the publications, when I finish I will put them again.

You can see that by giving away cards every day and not buying I started to fall down the ranking, I was above the top 40, but I decided to go back up if you look every day I am getting 0.2 hive think it is very little but really is daily without doing anything is totally passive you earn as you go playing I have already more than 5 months in the game calculate the minimum 5 months = 150 days
Let's calculate 0,20 * 150 = 30 hive 😁 As this is the world of music I guess these are royalties.

The most interesting thing is that the higher you are in the ranking the more you win, and as if that were not enough the reward pool increases from time to time and because it increases the calculation is done by rising star every weekend but I understand that the more people enter the game the more the reward pool will increase.😎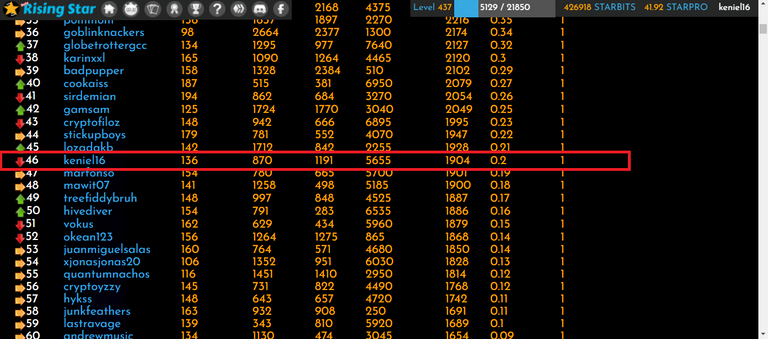 For ranking leveling up I could go up very easily by buying cards in the market at a low price but I prefer this time to buy packs, it is a emotion to buy packs and that you can get a legendary card is incredible 😁.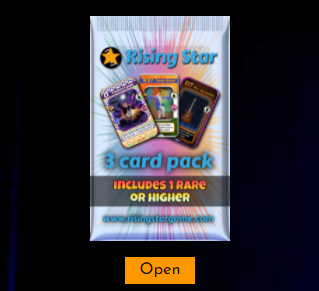 I like the smell of new packs along with freshly created cards from the NFTs machine 🤣.

Wow an incredible epic, rising star is prompting me to buy
another 12 packs 🤣🤣🤣

My congratulations to the designer of the cards, he did a great job with the design of R65 Blue Guitar, it makes me want to have it in real life.

Nathan welcome to my collection probably would have been cheaper to buy it on the market but hey maybe its value lies in the fact that it is the first in my collection.

Wow more goodies in this R60 touring coach package this is celebrated, the most I look for is Fans and 550 Fans is a lot for me.

Melissa has a twin now 🤣🤣.

Rising star knows that I really liked the R65 Blue Guitar and they give me another one what a thoughtful algorithm 🤣🤣




And to close with a silver clasp another R60 what a generosity my god 😁and to close with a silver clasp another R60 what a generosity my god 😁.

And now if with a golden brooch we close R63 and R52 that excellent was to buy these cards for tomorrow I will buy more and we will see that it is better to buy pack's in the market or in packs 😎.

Fans accumulated: 2355
Next time I will open the packages in video so as not to extend the publication so much.
Note: I try to make quality content, so if you want to add something I read you, if you like this content ✨follow me and just share this information.


Link: MUSIC4LIFE


Link: RISING STAR

Hola amigos
Hoy vengo a mostrarte otra forma de Ganancias pasiva que esta creciendo de a poco en Risingstar y que si te interesa puedes participar, por ahora muchos la ignoran pero a mi parecer en un futuro tendrá un gran atractivo, y un gran impacto.
Primero que nada, repasar el staking recuerden que en una publicación anterior te mostré que puedes ganar solo comprando starbits haciendo staking en muchos NFTs esperar a que se vendan y ganar mas Starbits con eso he decido ir sacando del staking para hacer pruebas en risingstar y mostrarlas en las publicaciones, cuando termine volvere a colocarlas.

Pueden observar que por regalar cartas todos los dias y no comprar empecé a bajar del ranking, yo estaba arriba de los 40 primeros, pero he decido volver a subir si se fijan cada día me están dando 0,2 hive pensaras que es muy poco pero realmente es diario sin hacer nada es totalmente pasivo vas ganando mientras vas jugando tengo ya mas de 5 meses en el juego calculemos a lo mínimo 5 meses = 150 días
Calculemos 0,20 * 150 = 30 hive 😁 Como este es el mundo de la música me imagino que estas son regalías.

Lo mas interesante es que entre mas arriba este en el ranking mas ganas, y como si fuera poco el pool de recompensas cada cierto tiempo aumenta y porque aumenta el calculo lo realiza rising star todas los fines de semana pero tengo entendido que entre mas personas entre en el juego mas subirá el pool de recompensas.😎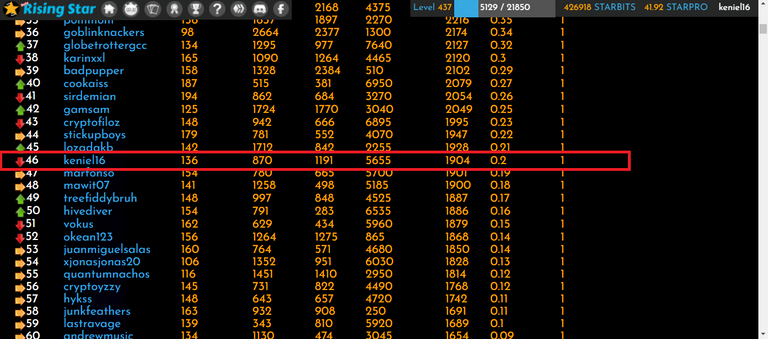 Para subir de nivel de ranking podría subir muy fácil comprando cartas en el mercado a un precio bajo pero prefiero en esta ocasión comprar paquetes, es una emoción la compra de paquetes y que te pueda salir una carta legendaria es increíble 😁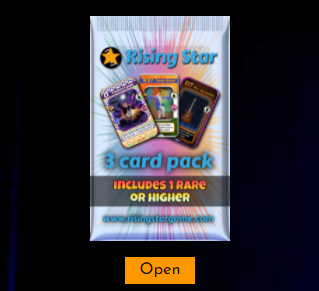 Me gusta el olor a paquetes nuevos junto con cartas recién creadas por la maquina de NFTs 🤣

Wow un increíble épico, rising star me esta incitando a comprar
otros 12 paquetes 🤣🤣

Mis felicitaciones al diseñador de las cartas se lucio con el diseño de R65 Blue Guitar me provoca tenerla en la vida real.

Nathan bienvenido a mi colección probablemente me hubiera salido mas barato comprarlo en el mercado pero oye igual su valor reside en que es la primera en mi colección.

Wow mas regalos en este paquete R60 touring coach esto se celebra
lo mas que busco son Fans y 550 Fans son muchos para mi.

Melissa tiene una gemela ahora 🤣🤣 por lo demás sin comentarios.

Rising star sabe que me gusto mucho la R65 Blue Guitar y me regalan otra, que algoritmos tan atento 🤣🤣.




Y para cerrar con broche de plata otro R60 que generosidad dios mío 😁

Y ahora si con broche de oro cerramos R63 y R52 que excelente estuvo comprar estas cartas para mañana comprare mas y veremos que es mejor comprar pack's en el mercado o en paquetes 😎

Fans acumulados: 2355
Para la próxima abro los paquetes en video para no extender tanto la publicación.
Nota: Intento hacer contenido de calidad, así que si quieres añadir algo te leo, si te gusta este contenido ✨sígueme y simplemente comparte esta información.


Link: MUSIC4LIFE


Link: RISING STAR