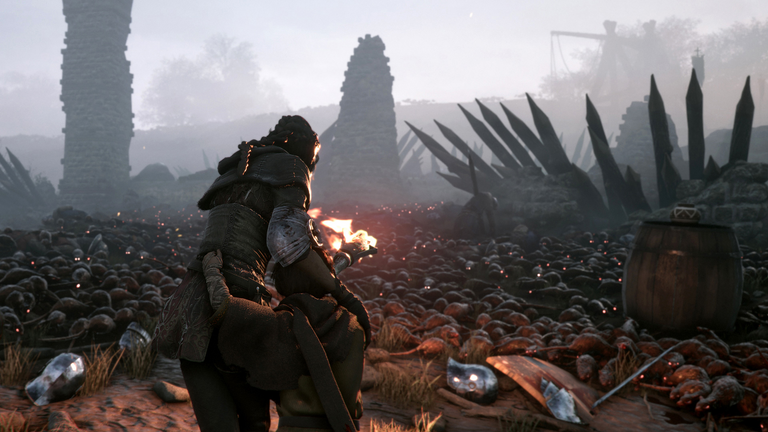 Should you play? Plague Tale: Innocence
Whenever there's a game with a long-ass story, I usually cringe at the idea of playing it. I am bored by the idea of being stuck playing a long-ass non-competitive story that doesn't push the limits of my dexterity. But every once in a while, there is a game pulling me in. An impressive name, logo or gameplay trailer capable of getting my attention.
Plague Tale: Innocence lured me thanks to both its setting and its logo. A very beautiful medieval scenario set in the age of alchemists? I'm nearly sold. Top it off with a well designed cover to make sure I know there's effort put into details... Here, take my money! Well, I'm actually playing it off my Microsoft Game Pass, so it's a lot more affordable than it would normally be.

While playing it, I discovered it hits all the right cinematic spots: emotionally dangerous story, really incredible details everywhere and smooth gameplay. While you do go through a somewhat sweet heartwarming experience eventually, it is mostly very bitter, full of distress and even a bit morbid. In preparation of what's to come, our main character, Amicia, loses her dog to the plague right off the bat.
At least, there was no time to get too attached to it, so we allow ourselves to move on. Believe it or not, this first emotional loss happens during the tutorial! Later on, there's a mix of civil unrest, piles of bodies left over from a water against England, and of course, the plague victims themselves. By the way, although other people are after the player and her friends, the number one enemy really seems to be rats, or at least that's the case for as far as I've played.
So far, Plague Tale: Innocence's brilliant execution allows me to greatly recommend it to anyone who enjoys a good, old fashioned linear story told through artistic and fluid gameplay. Here are a few more screenshots of the point where I'm at in the game, but do note I play on the lowest video setting. Get it on Steam.