I hate to BARK up the wrong tree, but I really struggled with ideas about how to use Barking Spider, prior to a couple of test battles.
A first glance, Barking Spider might seem a bit underwhelming, but I have concluded there are some unique opportunities where Mr. Barker can shine.
And let's face it! Any card you can earn by just playing Splinterlands is a pretty awesome card.
In this post, I will be presenting two battles:
A Victory - Despite not reading the ruleset
A Loss - In part, by overplaying ranged when I should have focused on melee.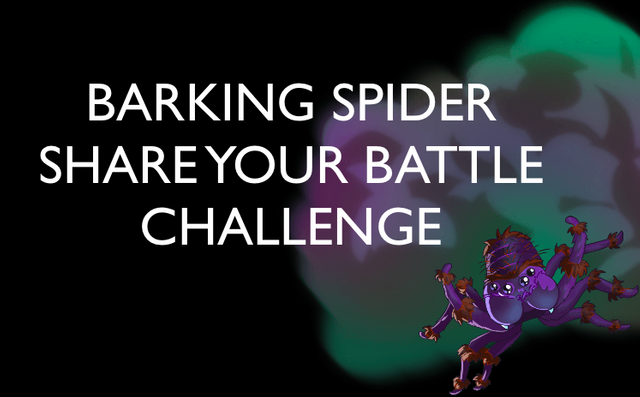 Battle #1 - The Victory
The Rules
Target Practice: All ranged and magic attack monsters have the snipe ability
Little League: Only monsters and summoners that cost 4 manna or less may be used in battle.
My Line Up
| #1 Biceratops | #2 Furious Chicken | #3 Earth Elemental | #4 Barking Spider |
| --- | --- | --- | --- |
| | | | |
| The Tank - the best (only) 4 and under tank in my deck | The Sacrifice - will take the first snipe attack from my | The Defender - Healing defuses snipe attack! | The Cleanup - Strong attack and speed at 4 manna |
Key Mismatches
The Snipe ruleset leaned in my favor. With healing, my Earth Elemental was going to be able to withstand my opponent's sniping attacks.
My opponent placed a non-attacking monster in the first position.
I believe my Furious Chicken (non-attack) was better played as a sacrifice than my opponent's Furious Chicken was played as an attack.
The Replay
https://steemmonsters.com?p=battle&id=c46c52ada80e12677976b0678839b04f8f927681&ref=sumatranate
Battle #2 - The Loss
The Rules
Reverse Speed: Monsters with the lowest speed attack first and have the highest chance of evading attacks.
Melee Mayhem: Melee attack monsters can attack from any position.
My Line Up
| #1 Stone Golem | #2 Furious Chicken | #3 Earth Elemental | #4 Barking Spider | #5 Cyclops |
| --- | --- | --- | --- | --- |
| | | | | |
| The Tank with Shield | The (POTENTIAL) Sacrifice | The Defender Still Healing! | The Star of the Show! | The Cleanup |
Key Mismatches
My opponents First Monster Shield + armor + Healing + More armor Combo was insane.
The only way I could have challenged this set up was with Magic. I had not Magic monsters in play. My opponent's Magic attack easily beat my first monster with shield ability.
The Replay
https://steemmonsters.com?p=battle&id=ea4a3d46310489220a2e9b271a512a3d5bf5d3b6&ref=sumatranate
Where Barking Spider Shines
Barking Spider shines in low manna battles and with rule sets that highlight ranged attacked such as
Target Practice
and
True Aim.
However, if given a choice, I would pick Earth Elemental all day long due to its Healing ability.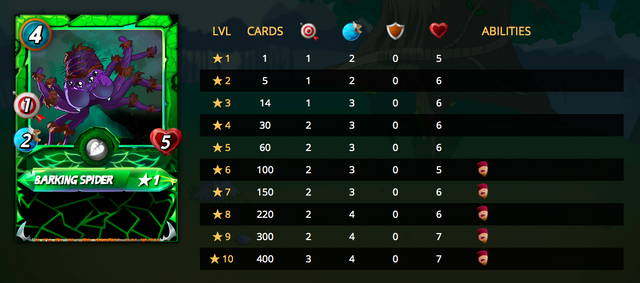 Final Thoughts
Barking Spider is a great value card and increasingly frustrating for your opponent when Mr. Barker inflicts
Blind
at level 5 . The Barking Spider gives a lot in relation to its manna cost. Since
Earth
is my favorite splinter, I am pretty sure you will keep seeing Barking Spider pop up on my monster teams.
Thanks for stopping by! See you in the arena!
@SumatraNate