Time to cram as many references to Alabama Football as possible as we talk about Tide Biter.
Some are making excuses for Tide Biter as an underwhelming Rare Card, they are stating that this card is two injured Wide Receivers short of being great. You were warned in the lede, this was going down this road. While it is a bit of a Reach to say that this an antidote of sorts against Yodin Zaku because of shield reflect, it is a possible upgrade over Electric Eels. Anyway, hang up and listen or better yet read.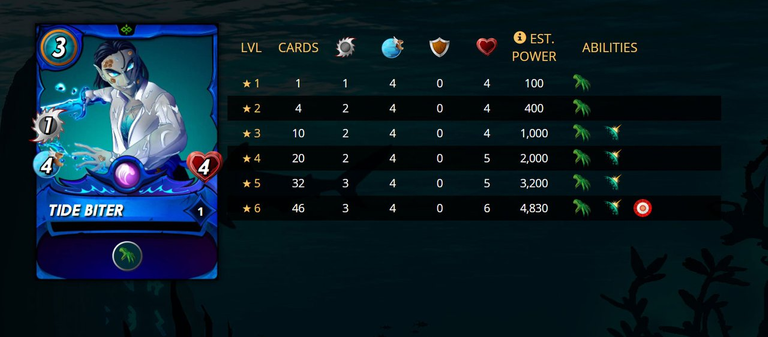 The Unusual Origin Story of Tide Biter
It all started with Harvey Updyke, the man who poisoned two oak trees at Toomer's Corner on the campus of Auburn University after the 2010 Iron Bowl, which was known as "The Camback."
Harvey Updyke was enraged with his hate for Auburn after this loss and poisoned the trees, committing an ecoterrorist attack that could have resulted in the drinking water being poisoned as well. Thankfully, a few things happened, Updyke called into the Paul Finebaum show as "Al from Dadeville" and bragged about his "accomplishment" and then Auburn University workers got to work getting the dead trees and poison out of the area before anything worse could have possibly happened for the community at-large.
Harvey Updyke was arrested, convicted, imprisoned, and forced to pay restitution. Updyke died in 2020 and from his angry spirit, Tide Biter emanated. Tide Biter inhabits the Alabama Gulf Coast with the intention of reaching out to grab a War Eagle flying in the air. ROW TAHD PAWWWWLLL.
Breaking down Tide Biter's Abilities
One BCX Perspective
Tide Biter is an EPIC card with reach, which makes it suitable in the second slot. However, out of the gate it really offers very little. It has pretty good speed, but only one melee attack. It has 4 health, which means that if the tank goes down, we have a problem.
It's not a game changer in any way. In fact, compared to the other reach monsters on the same basis, it is quite disappointing. In medium or higher mana match, Tide Biter is not going to be a good choice. Tide Biter compared to the past Rewards Card, Wave Runner (a common card). The only benefit to Tide Biter compared to Wave Runner is the mana cost (5 for Wave Runner, 3 for Tide Biter). Among Little League Reach options, Tide Biter is not necessarily the best option, Electric Eels has one more point of health at the sacrifice of one more point of speed.
Tide Biter is designed to work well with Kelya Frendul and even Daria Dragonscale at this stage.
Bronze Play
At Level 2, Tide Biter gets more punch. This is good and this puts Tide Biter ahead of Electric Eels as far as usability is concerned. Wave Runner is still a better card than Tide Biter, but Tide Biter is better for lower mana matches and Little League.
Flying Squid is the best Reach card of the Water splinter in Bronze Play for matches of medium or high mana caps.
Tide Biter is still best paired with Kelya Frendul and Daria Dragonscale.
Silver Play
This is where things change greatly. Tide Biter is able to reach Level 3 status and that is when the Shield Reflect comes into play. No longer is the best summoner for Tide Biter, Kelya Frendul or Daria Dragonscale. This is Lir Deepswimmer's best companion in the second slot.
With Tide Biter having Shield Reflect, the benefits of Lir Deepswimmer's +2 Shield, and Return Fire make it even more powerful against Yodin Zaku. Return Fire usually comes with some form of inflicted damage to the recipient on blast, but this is not going to happen with Tide Biter. No need to put a Xenith Monk, Sea Monster or grit teeth with a Giant Squid in this position.
Gold+ Play
Nothing much changes for Tide Biter, except for the inability to miss when maxed out. Lir Deepswimmer is still the best companion for it. It may not have the amount of health or speed that a Flying Squid has, but it holds its own.
It is a situational card that is going to be preferred in blast matches and against tanks with thorns.
It works best with Lir Deepswimmer, but it works well with Kelya Frendul and Daria Dragonscale to give a cost-effective reach attack with no consequences.
The big problem is when this card is in the tank position.
Final Thoughts
Get Tide Biter leveled up as soon as possible, this is a card with more use cases. A Level 1 Tide Biter brings little to the table. At Level 2, that is when this card will be used more and then at Level 3+, it will see more use than many will think.
More advanced Tide Biters will help players get to sing this little ditty...