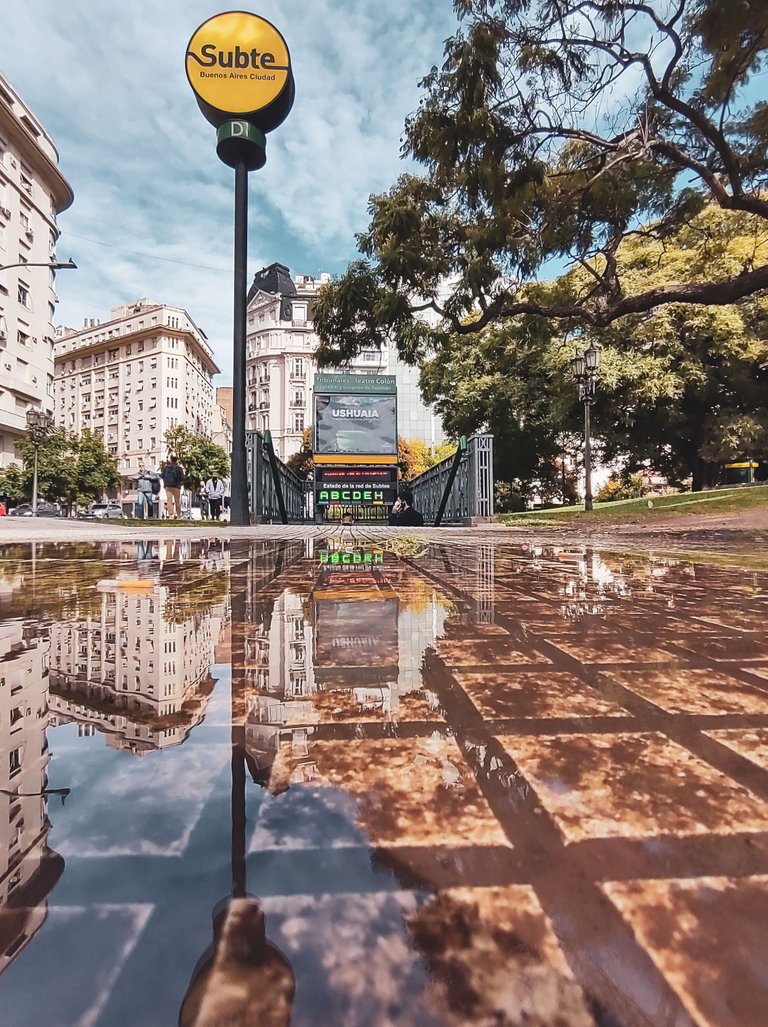 It is a pleasure to greet you friends, I hope you are very well! Today I bring you a series of photographs that include at least three different locations in the city of Buenos Aires where I take advantage of the scenarios that occur on different occasions and daily temporality, taking into account the weather, day, night, reflections left by the rain and thus I can offer you these results.
Starting by presenting one of the entrances of the subway station "Tribunales", station that is part of the D line and is located in Lavalle square, once again a characteristic reflection in front of the station led me to take this picture for its composition, the station, the bushes and that striking sky about to clear after a cloudy day.
Es un gusto saludarles amigos, espero estén muy bien! Hoy traigo una serie de fotografías que comprenden al menos tres localidades diferentes de la ciudad de Buenos Aires en dónde aprovecho los escenarios que se presentan en diferentes ocasiones y temporalidad diaria, tomando en cuenta el clima, día, noche, reflejos que nos dejó la lluvia y de esta forma puedo ofrecerles estos resultados.
Empezando por presentarles una de las entradas de la estación del subterráneo "Tribunales", estación que forma parte de la línea D y que se encuentra ubicada en la plaza Lavalle, una vez más un característico reflejo frente a la estación me llevó a tomar esta foto por su composición, la estación, los arbustos y ese cielo llamativo a punto de despejarse después de un día nublado.
Ministro Carranza Station (Palermo)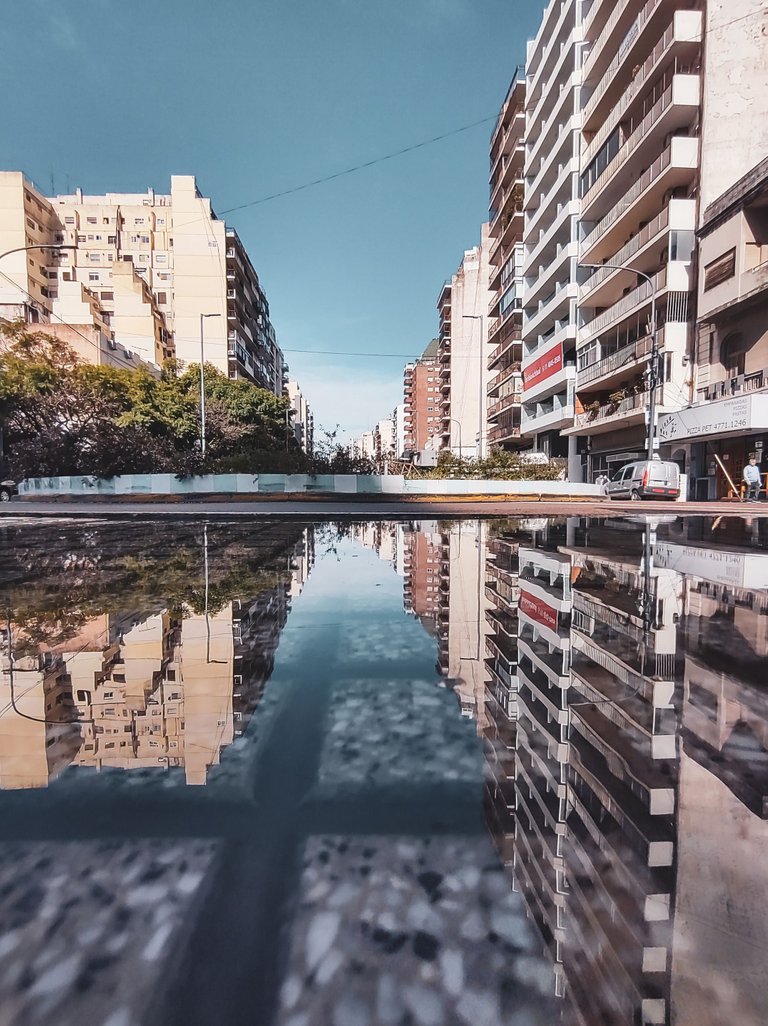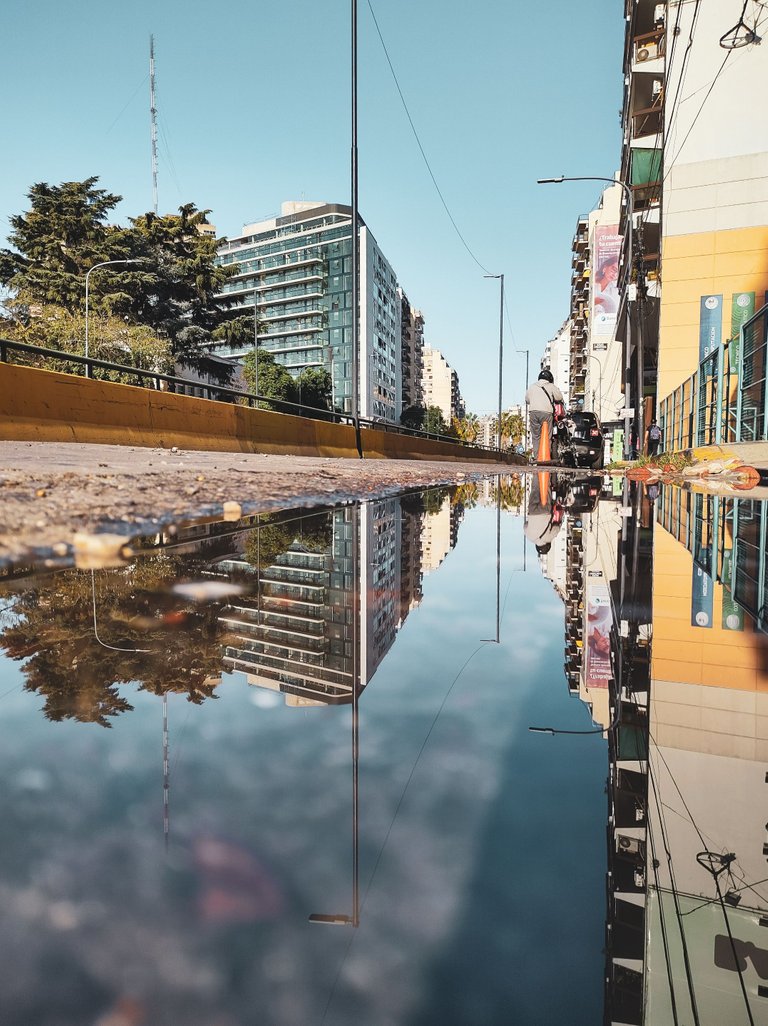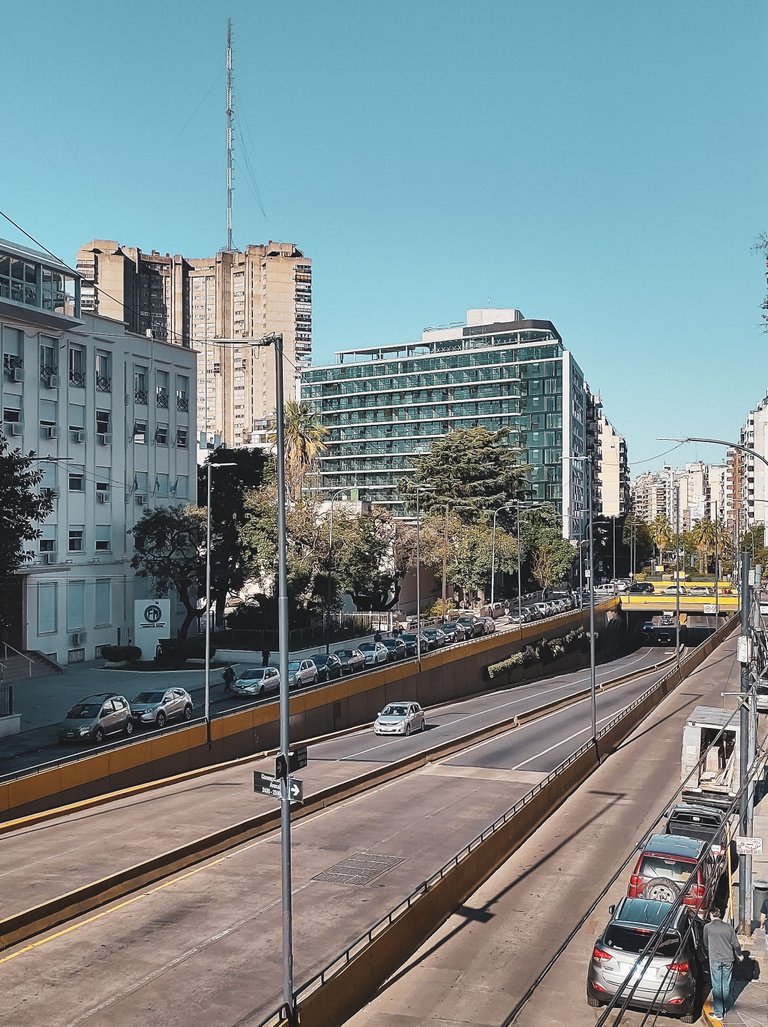 For this section we have the exit of the Ministro Carranza subway station between the limits of Palermo neighborhood and Colegiales neighborhood, the photos were taken from the square that surrounds the station also taking advantage of some reflections where we can appreciate the buildings in the background and on each side of this moderately busy area.
In addition I also show you the surroundings or one of the streets of this area and a view of the main avenue called Cabildo where you can also see the Ministro Carranza viaduct, this photo was taken from a building on the second floor. The building that can be seen on the left side is an engineering school for the army while the glass building in the center is a business building. A very quiet area with many accesses at hand.
Para ésta sección tenemos la salida de la estación del subterráneo Ministro Carranza entre los límites del barrio de Palermo y el barrio de Colegiales, las fotos fueron tomadas desde la plaza que rodea la estación también aprovechando algunos reflejos dónde podemos apreciar los edificios al fondo y de cada lado de esta zona medianamente concurrida.
Además también les muestro los alrededores o una de las calles de esta zona y una vista de la avenida principal llamada Cabildo dónde además se encuentra el viaducto Ministro Carranza, esa foto fue tomada desde un edificio en el segundo piso. El edificio que se puede ver de lado izquierdo se trata de una facultad de ingeniería para el ejército mientras que el edificio de vidrios más al centro son edificios empresariales. Una zona muy tranquila con muchos accesos a la mano.
San Nicolás Neighborhood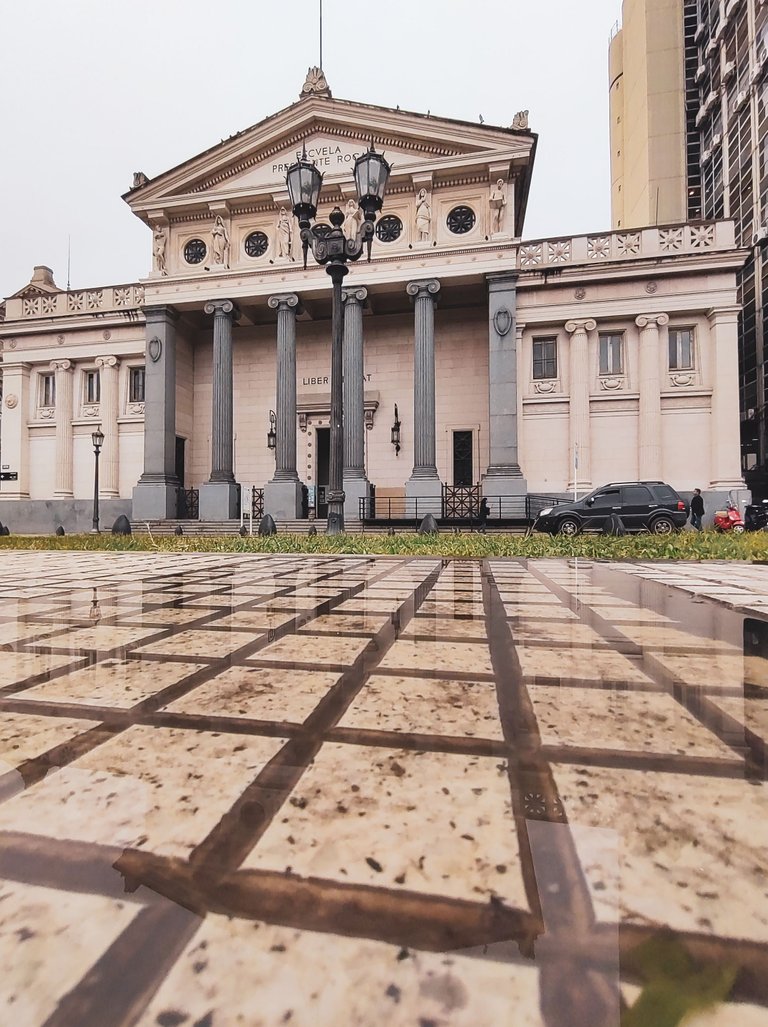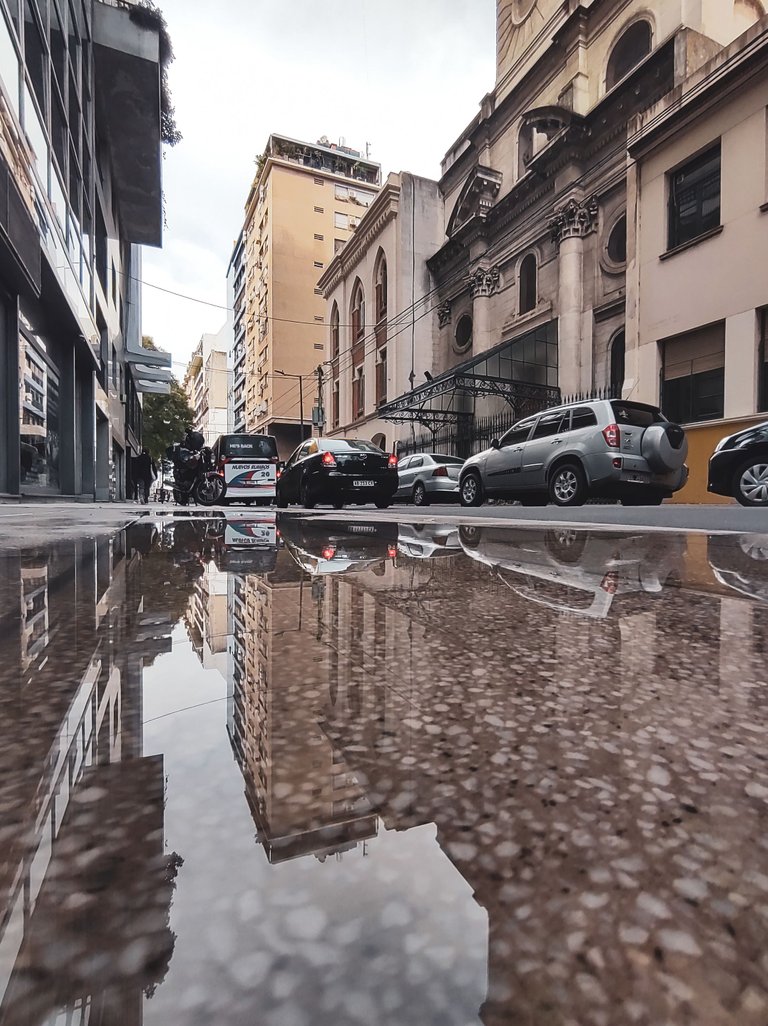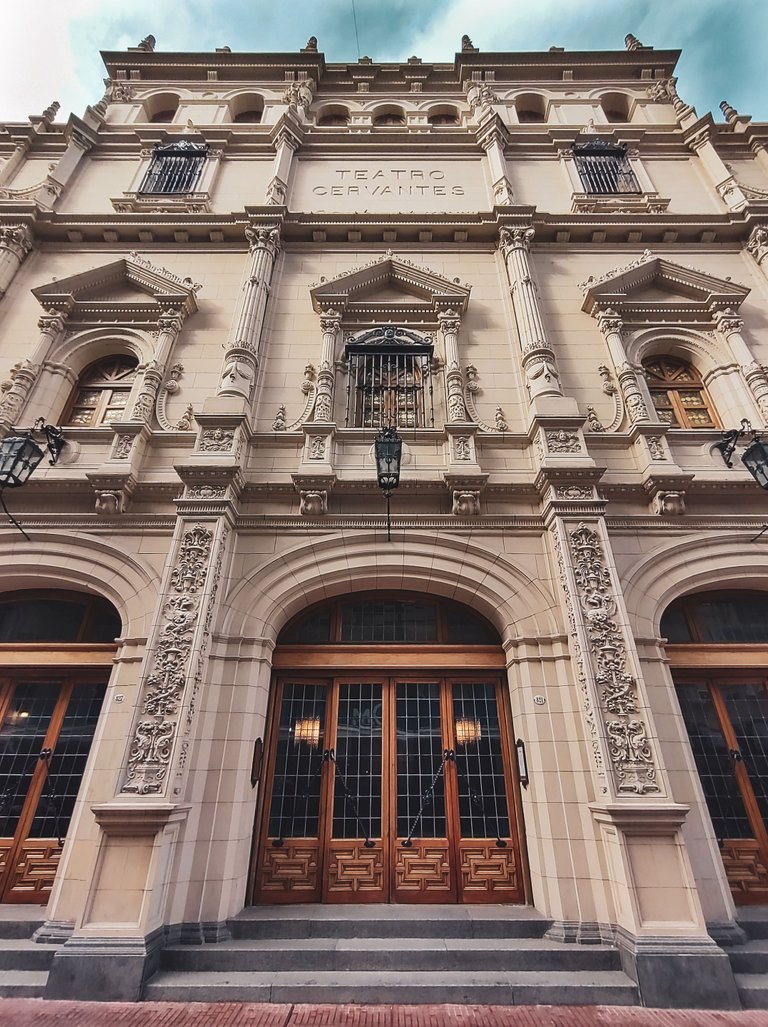 In the neighborhood of San Nicolas there are many attractions and is surrounded by many emblematic buildings that make this area impressive, in this case we can see the Roca school with a neoclassical style which leads us to think that it may belong to a government headquarters but really an elementary school and its history dates back more than a century.
In the vicinity of this school there are also other attractions, in the following pictures I could capture some of the urbanism represented in another reflection in one of the streets and while I was walking I found the Cervantes theater, I took a picture of its main facade and here I show you the aesthetics of this building, also close to the Colon theater.
En el barrio de San Nicolás se encuentran muchos atractivos y está rodeado de múltiples edificios emblemáticos que hacen imponente esta zona, en este caso podemos obvervar la escuela Roca con un estilo neoclasico el cual nos lleva a pensar que puede pertenecer a una sede gubernamental pero realmente una escuela primaria y su historia data de hace más de un siglo.
En las adyacencias a esta escuela también se encuentran otros atractivos, en las lersentes fotografías pude capturar algo del urbanismo representado en otro reflejo en una de las calles y mientras iba caminando me encontré con el teatro Cervantes, tomé foto de su fachada principal y acá les muestro la estética de este edificio, cercano además al teatro colón.
Night Photography Bonus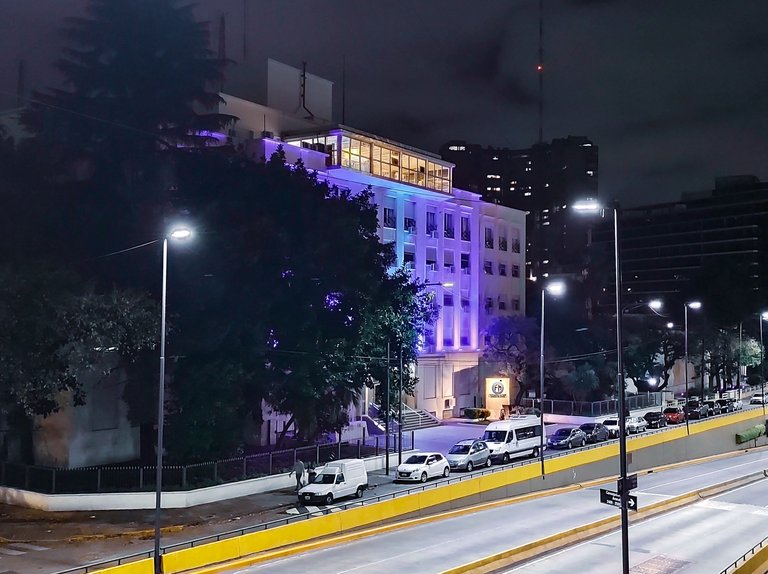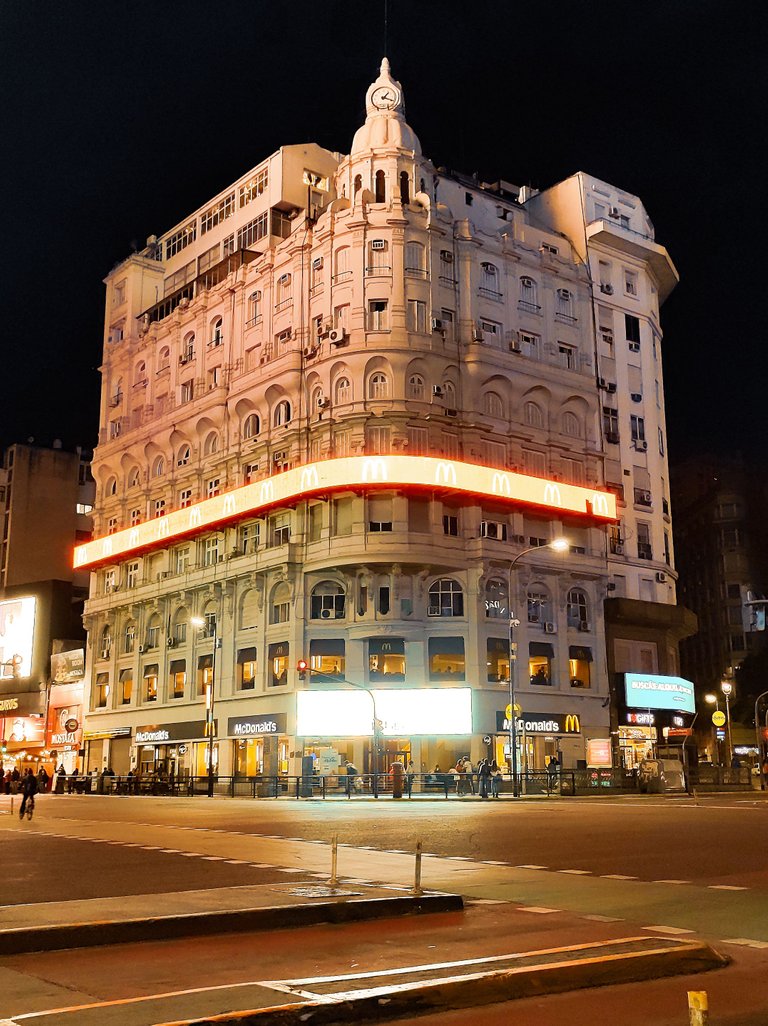 Here I leave a couple of night pictures as an added bonus, this is the same picture I showed before but this time at night when the buildings and streets are illuminated and leave this appearance. The building of the engineering faculty of the army. I also show you one of the most beautiful buildings of the San Nicolas neighborhood.
This building was originally a jewelry, watches and optics that was built in the 1920s with an amazing and very striking eclectic style but nowadays it is in use as offices and stores, located on Avenida Corrientes in one of the corners where also in that area is located the great obelisk of Buenos Aires.
Acá les dejo un par de fotografías nocturna como un bono adicional, se trata de la misma foto que mostré anteriormente pero esta vez en horas de la noche cuando los edificios y calles se iluminan y dejan esta apariencia. El edificio de la facultad de ingeniería del ejército. Además les muestro uno de los más bellos edificios del barrio de San Nicolás.
Este edificio fue en un principio una joyería, relojería y óptica que se construyó para los años 1920 con un estilo eclectico asombroso y muy llamativo pero que en la actualidad se encuentran en uso de oficinas y comercios, ubicado en la avenida corrientes en una de las esquinas dónde también en esa zona está ubicado el gran obelisco de Buenos Aires.

All the photos and texts in this post are my authorship.
(Todas las fotos y textos presentes en éste post son de mi autoría.)


VISUAL SHOTS
It is a community created by users
@wilfredocav
and
@dimascastillo90
,with the intention of appreciating the beautiful art of photography in all its styles. To be able to share all information regarding the history of photography, photographic reviews, technical aspects of photography and contests.
In this way we seek to incorporate photographers from different parts of the world in order that they can share quality content for the community of
#Hive
both professional and amateur users, because there are no limits in this sense regardless if you are professional or not, as well as if you use a professional camera or even a smartphone.
We emphasize not only to share our best photographic works, but to learn among all that informative data about photography, such as its history and evolution, reviews and techniques of renowned photographers, technical aspects in the language of photographic composition and other items.
Es una comunidad creada por los usuarios

@wilfredocav

y

@dimascastillo90

, con la intención de apreciar el hermoso arte de la fotografía en todos sus estilos. Poder compartir toda información referente a la historia de la fotografía, reseñas fotográficas, aspectos técnicos de la fotografía y concursos.
De ésta manera buscamos incorporar fotógrafos de distintas partes del mundo con la finalidad de que puedan compartir contenido de calidad para la comunidad de

#Hive

tanto de usuarios profesionales y aficionados, porque no existe limitantes en éste sentido independientemente sí eres profesional o no, como también si utilizas una cámara fotográfica profesional o incluso un smartphone.
Hacemos hincapié en no solo compartir nuestros mejores trabajos fotográficos, sino de aprender entre todo de esa data informativa sobre la fotografía, como su historia y evolución, reseñas y técnicas de reconocidos fotógrafos, aspectos técnicos en el lenguaje de la composición fotográfica y entre otros ítems.

If you would like to support the Visual Shots community you could subscribe and share your best photos. We also appreciate any amount of HivePower delegations to @visualshots to help the community grow.

(Si deseas apoyar a la comunidad de Visual Shots podrías suscribirte y compartir tus mejores fotos. También apreciamos cualquier cantidad de delegaciones de HivePower a @visualshots para ayudar a que la comunidad crezca.)