Blessed
I'll set the scene, shall I? It was a slow day at work and I was on my lunchbreak, I had eaten my lunch quickly and glanced at my watch. I had just enough time to do a quick D.I.Y job that needes to be done.
So off I went and grabbed my drill and my toolbox. I'd have just enough time to get it done before my 2pm call. Three floating shelves to be hung up, no problem. No problem at all. That's what you'd think anyway. Well.... No. NO. It nearly killed me. literally!!
Ah stop....
Nearly killed you @ablaze, ah come on now, surely you are exaggerating a bit here? Nope. There I was drilling the last hole for the shelves, when BAM, BANG, 💥
Yes, you guessed it I drilled straight through an electrical cable and knocked of the power to every socket in the house. What a disaster. There would be no 2 O'Clock call. That was only one of many problems I was now faced with. We had a fridge and freezer full of food. If the power was out for too long that food would have to be binned or eaten immediately. No Tv. No broadband. No Oven. No way for me to work from home. Pure and utter disaster.
Would I take it on myself? Would I have to try? The first thing I did after calling myself every F, C, B and P word you can shake a stick at was ring my friend who is an electrician and he advised what needed doing. I put my shoes on and was about to go to our local hardware store to get what I needed, when my wife talked me out of trying to fix it myself. She asked me to call an electrician. So I did and I was in luck, the first guy I called randomly was available and could he here in 30 minutes. Result.
Rookie mistake
Right so the photo below shows you what I did wrong. Yep, in my wisdom I drilled into my wall directly above an electrical socket, which is an absolute no no.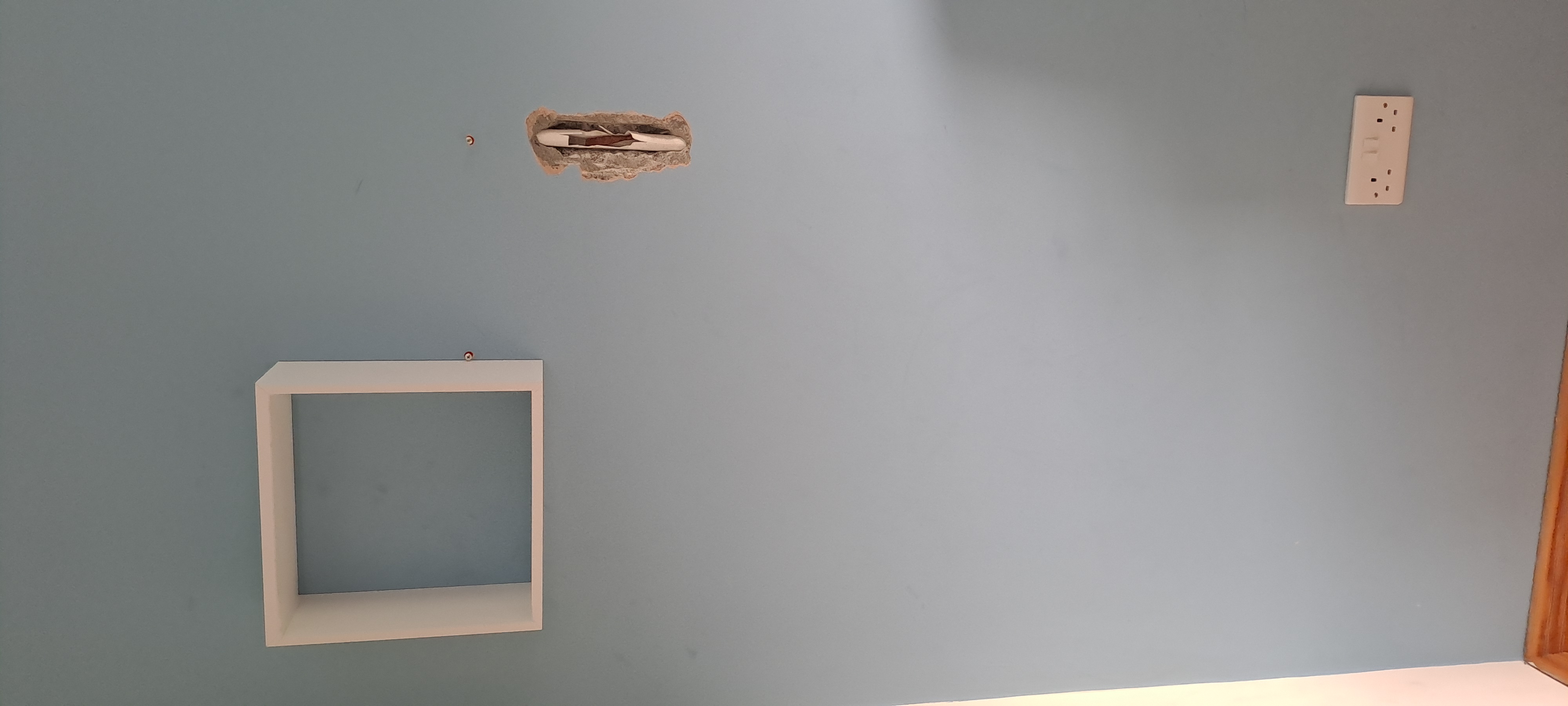 Looking back now, I was actually really lucky and this could have been much much much worse. It turned out that I only brushed off the live wire and didnt drill straight into it, and the circuit breaker kicked straight in and knocked everything off. All I saw was massive sparks and a bit of a bang, but I didn't feel anything. Actually that's not entirely true. I did feel something. I felt like a complete fucking Eegit! Anyway, what's done is done and in the end I was really lucky, firstly to be uninjured and secondly to get an electrician to site in 30 mins and have the power back on and issue fixed within one hour. That is almost miraculous.
Clean Up
Finally I just had to clean up the wall, so I drove to a hardware store and bought some Polly filler.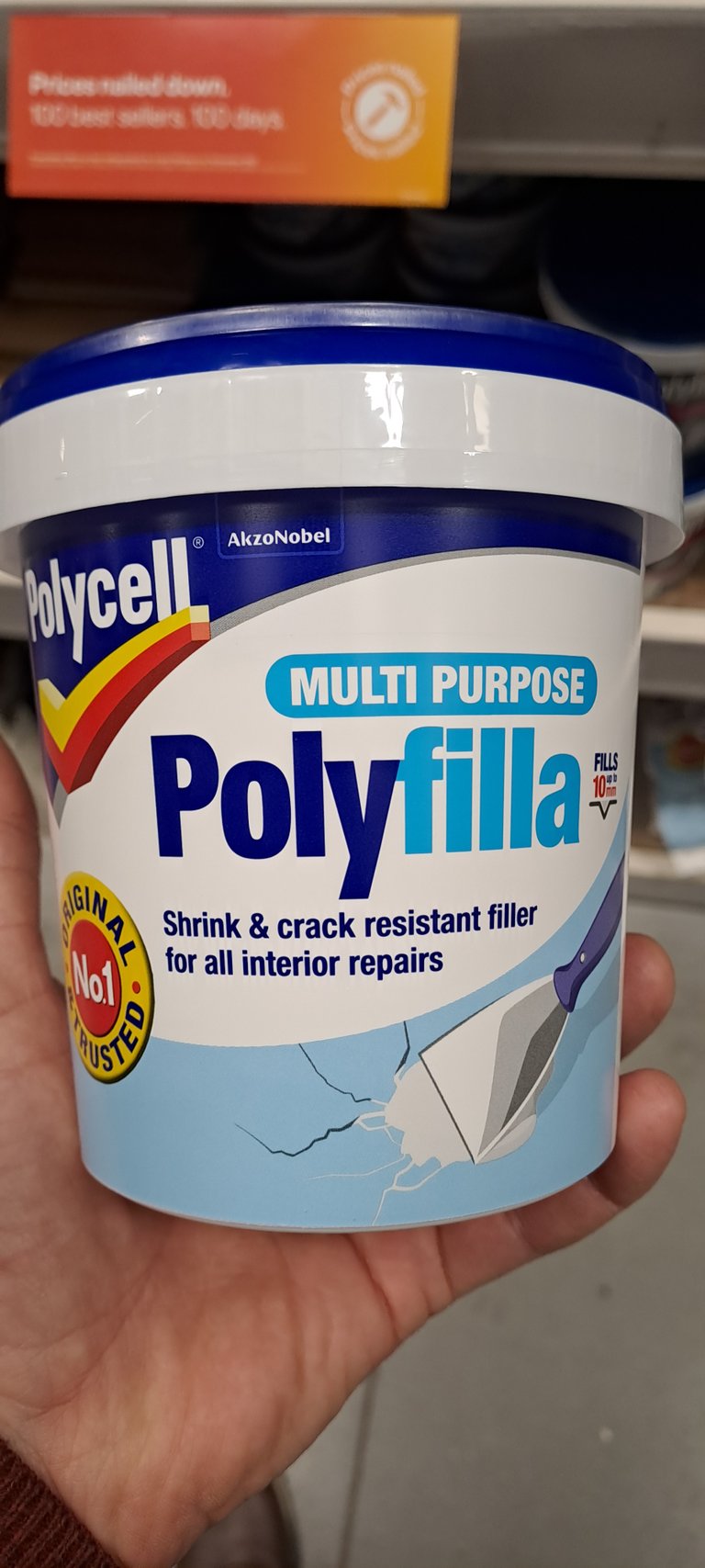 The hole in the wall is fairly deep and this stuff says it works to 10mm, so I'm going to do it in two installments. One semi fill now and leave it over night and finish tomorrow.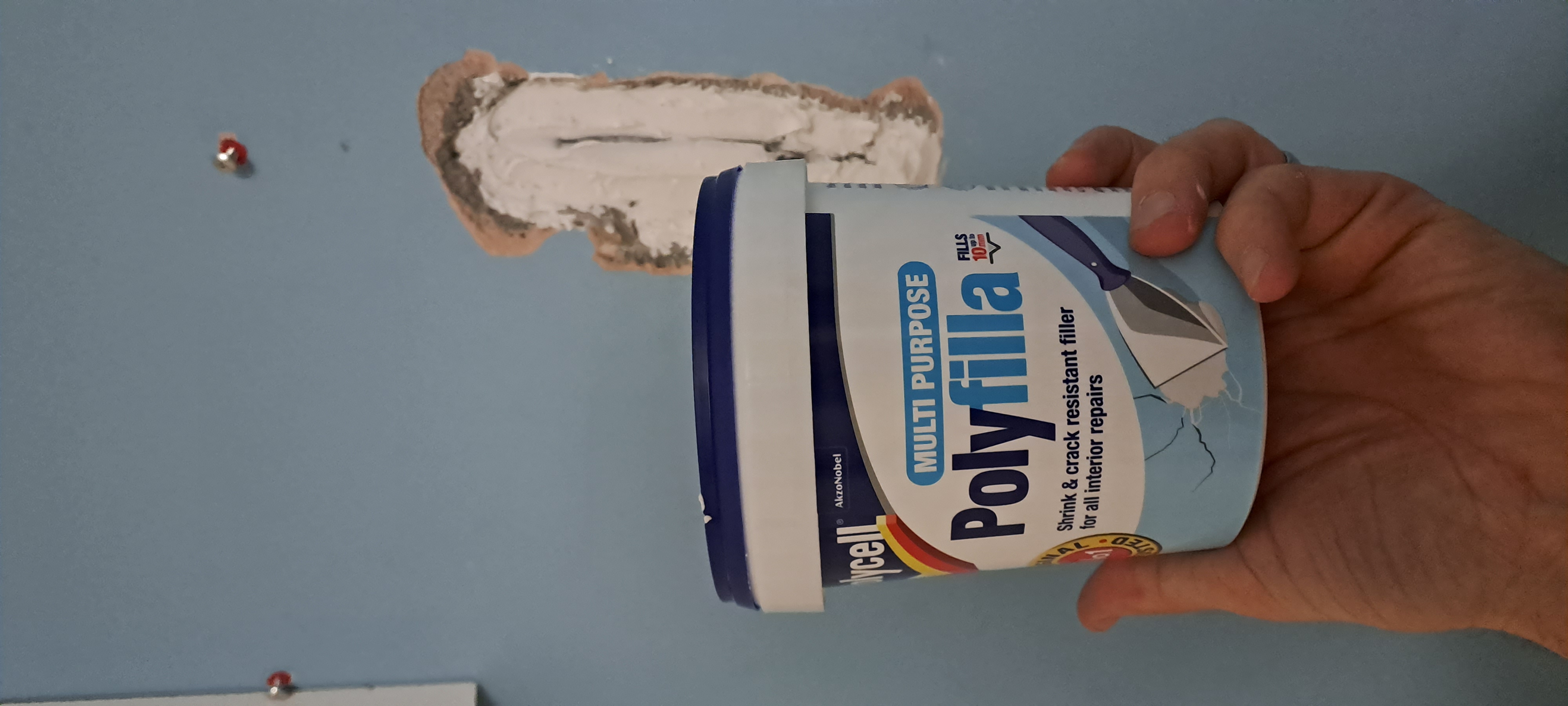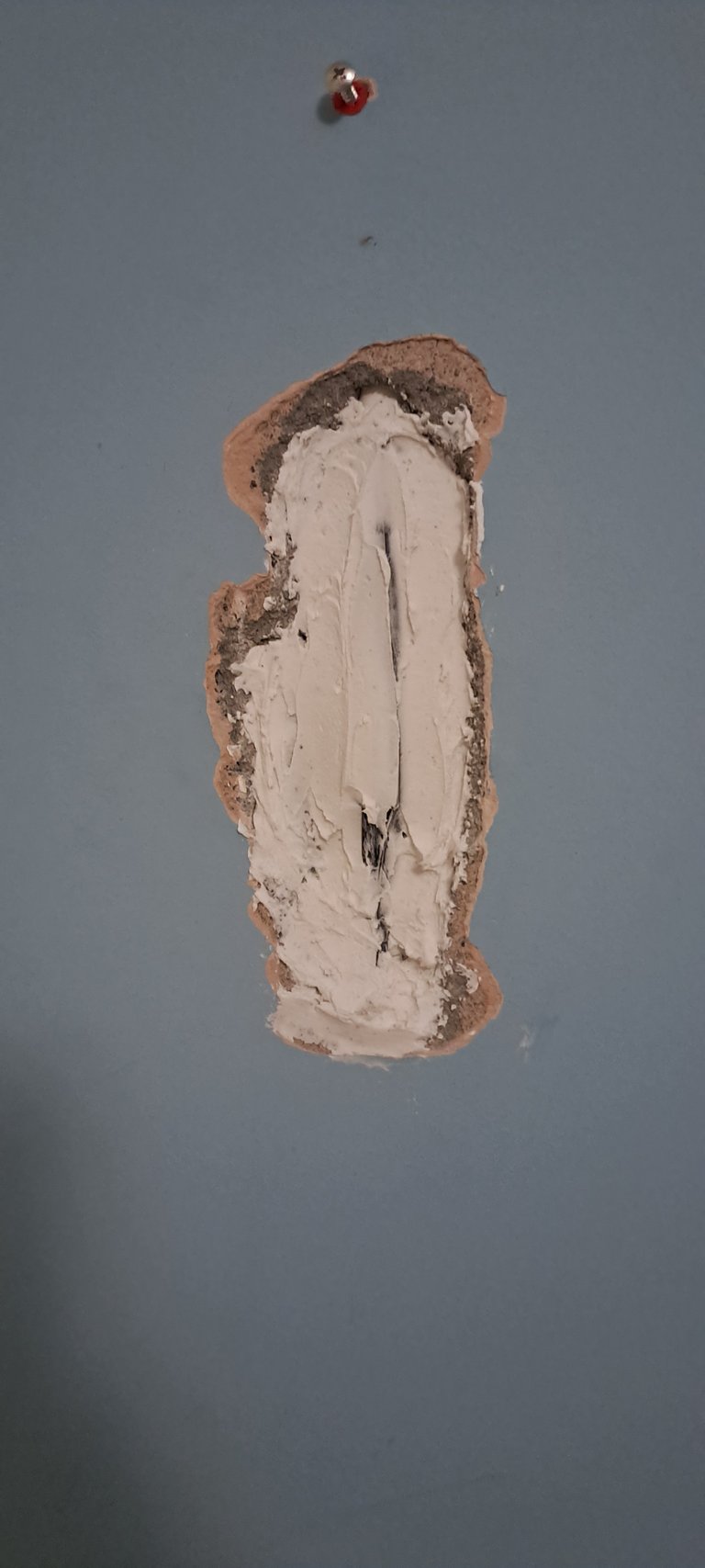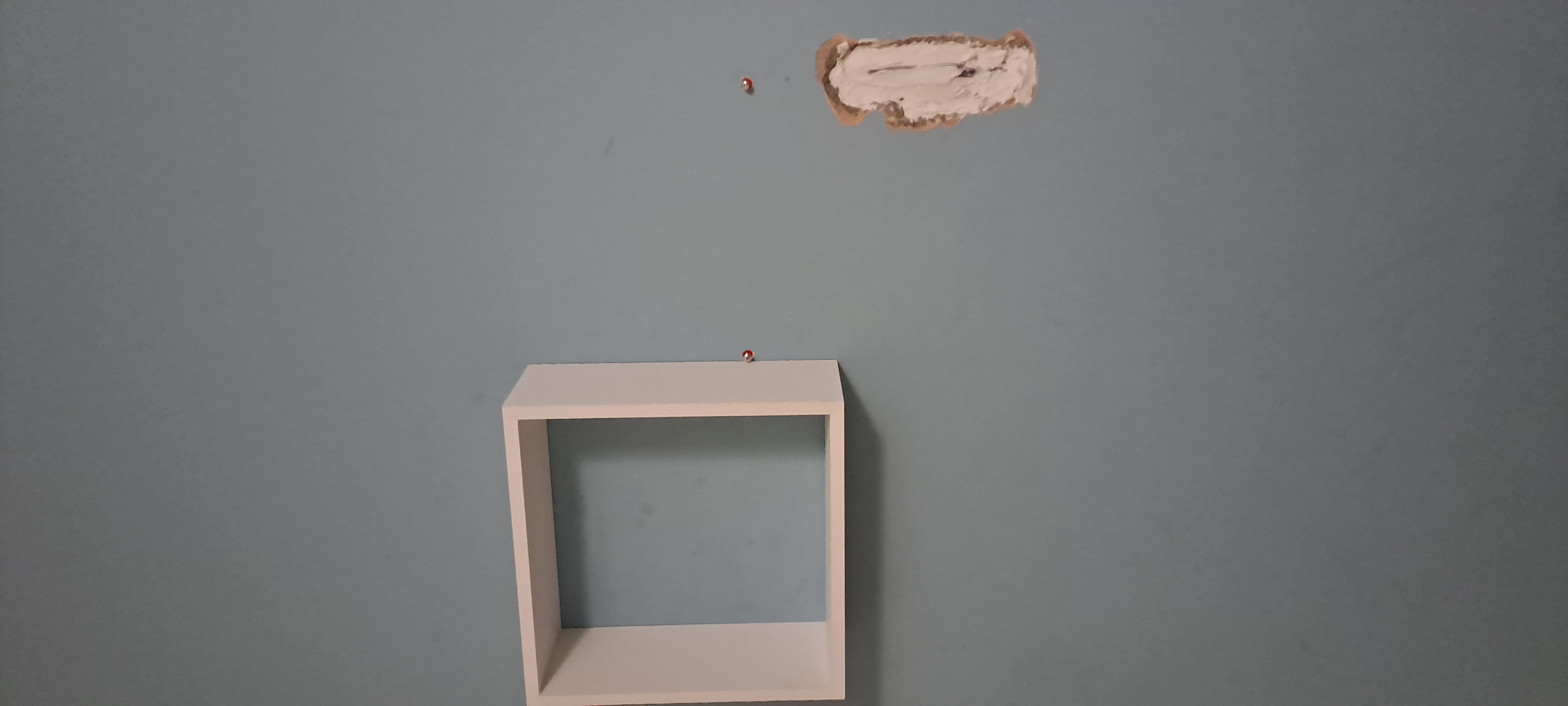 On reflection, the moral of the story is, don't try and squeeze in D.I.Y projects on your lunch break. Try to enjoy a little bit of downtime instead. It might just save your life in the short term and the long term.
Thanks as always for stopping by everyone.
Peace Out