The day before I told you that I'll at least deposit 5 DAI to participate in no loss lottery at PoolTogether. But I'm still waiting for my DAI withdrawal from Publish0x platform.
So I thought why not try some other no loss lottery platform.
I found this POA Mania which is the first official Dapp on POA Network and was inspired by PoolTogether. So they improved many things over PoolTogether.
POA Mania picks up 3 winners daily instead of only 1 winner by PoolTogether. It's total prize pool is also greater than PoolTogether though it's not a stable currency like DAI. POA Mania rewards in its own currency POA. The reward pool is replenished by the POA block rewards. In fact, to launch POA Mania, POA block rewards to node validators & POA emission were halved to make way for 1 POA per block going to POA MAnia.
Thus I thought why not put $5 in POA to try my luck in this no-loss lottery too. And what better day for fun than a lazy Sunday!
But hey, it wasn't as easy as I thought!
So I bought 500 POA at Binace. But during withdrawal I found ERC20 Network coins has been disabled and only native POA coins can be withdrawn.
I had already connected my Metamask wallet to POA Mania on Ethereum network. So I wanted to figure out how to connect to POA Core network. And here I got stuck.
After much effort, I found the details for their RPC URL. I had also contacted them on Telegram. But the details provided in this URL solved my purpose. HHowever, after I had deposited my POA in the pool, I got their message on Telegram which pointed me to a simple tutorial for setting up POA Network in Metamask.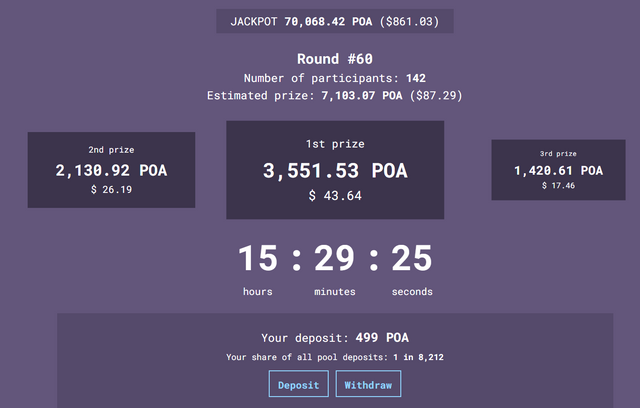 However, I notied that odds of my winning with a $5 deposit are 1 in 8,212. So there is hardly any chance. Looks like I need to increase my deposit. But that was not the plan. I just wanted some skin in this game. :)
Anyway, now I'm all set to win big in POA lotteries every day. I'll also do the same for PoolTogether. Who knows where I can get lucky! At least, these will fuel my dream to win a jackpot someday 🤑
What about you?
Do you ever take chances in gambling?