I woke up this morning and went for a two hours road jog to keep fit and also maintain a healthy life. Then two local dish came to my mind to prepare knowing fully well that it's being long I prepared them and I decided to prepare one of the local dishes but still haven't decide the one I want to prepare for the weekend.
The two local dishes I selected to prepare this weekend
pounded yam and Egusi soup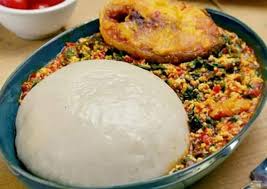 source
This is my favourite local dish pounded yam and Egusi soup, I have always enjoyed eating this particular meal ever since when I was young and it was my dad favourite too, so I grew up loving it.
Presently I feel like preparing it but there's a little problem because the pounded yam will need "mortar" and presently am at the northern part of Nigeria and I don't have the mortar closeby to pound the yam, so if I still want to prepare the dish I would rather change the pounded yam to "Eba" which is derived from garri when mixing it with hot water to get your Eba. The garri is also known as cassava flakes because it is gotten from cassava.
This particular dish is main eaten by the Igbo's in the Eastern part of Nigeria and the dish is really lovely if you step it down with palm wine.
Amala and Ewedu soup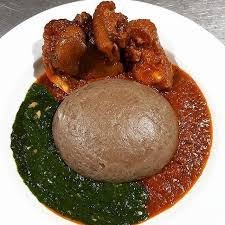 source
This is another dish that came to my mind to prepare as well. The particular dish is been prepared by the Yoruba's in Western part of Nigeria and I grew up loving it as well because I was born and brought up in the Western part of Nigeria.
The Amala is made out of yam peels, and then sliced, dried and then blended into a flour, which is called èlùbọ́. Yams are white in colour but eventually turns brown when dried up.
Ewedu leaf (jute mallow)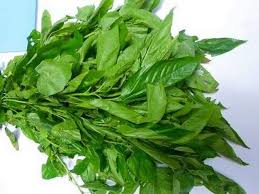 source
Ewedu soup is a green slippery soup obtained from cooking the ewedu leaves(jute mallow). This soup is usually cooked by Yoruba people in Nigeria which is their favourite with enough meat in it.
However, the ewedu soup is mainly eaten with amala and can be combined with another soup which is the local bean soup locally known as gbegiri.
Gbegiri (local bean soup)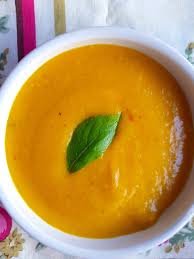 source
Most people prefer combining the ewedu and the Gbegiri when they want to eat the soup. Despite the ewedu being one of the most important vegetables to the Yoruba people, there are so many health benefits attached to eating this soup which is medicinal to the human body.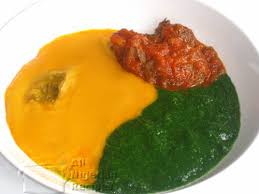 source
I think I would prefer preparing this and then invite two or three of my friends to join me enjoy the meal with some chilled drinks to step down.