Hive Trading Volume is 2X Marketcap!! Price Up More Than Any Top 100 Crypto - What Did You Do?
---
It's fun to see finally some action & attention on Hive. It was so pretty to look at! Devs have been building both layer 1 & layer 2. We are cheaper, faster and more decentralized than most crypto in market. Coolest part is amount of trading volume we've seen!

Vertical Gains
Even in crypto we don't always see price go vertical. Not sure what caused the pump. What I'm sure is we deserver waaay more than little bits of pump we got in bear market :)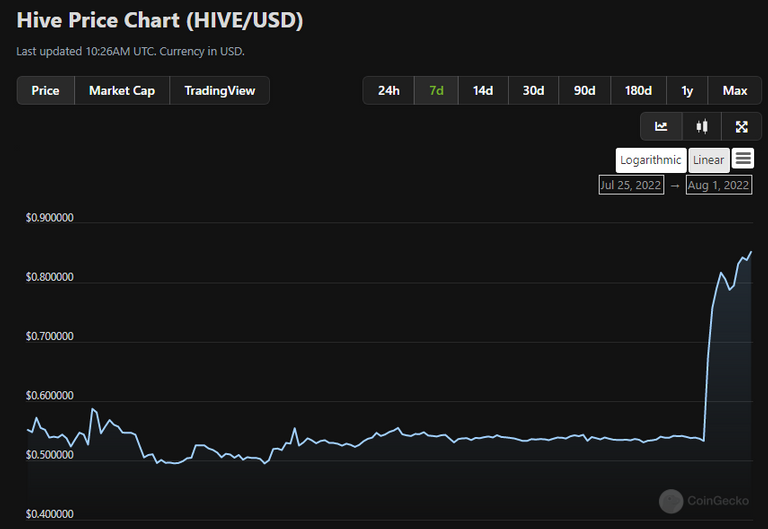 If you wanna see a more descriptive look on time frames here's a all green outlook for you:

Compare With Top 100
Hive is still only at #131 We used to be way below this. Bull market attention went to too many tokens/crypto with hype but weak fundamentals. Even LUNA got huuuge attention with a flawed design ahead of HBD.
Below are Top 100 crypto gains for 24H & 7D performance.


My Hive Is Powered Up!
There's barely any liquid. I can't get much out these pumps. I didn't sell any. We've got more upside left even in the bear. What I hope for is more media coverage! If few channels with 100K+ subs on YouTube cover Hive Dapps we'll have easier time with onboarding more users. I don't believe much in hype. It's so transitory. Real users that stick around is best. They can create genuine word of mouth marketing. They won't leave easily either.
---
---
---
HODL all the way! Diamond Hands :)
---
I own little I Hive It won't matter if I sell
---
Most of my Hive is staked
---
Most of my Hive is liquid
---
Answer the question at dpoll.xyz.