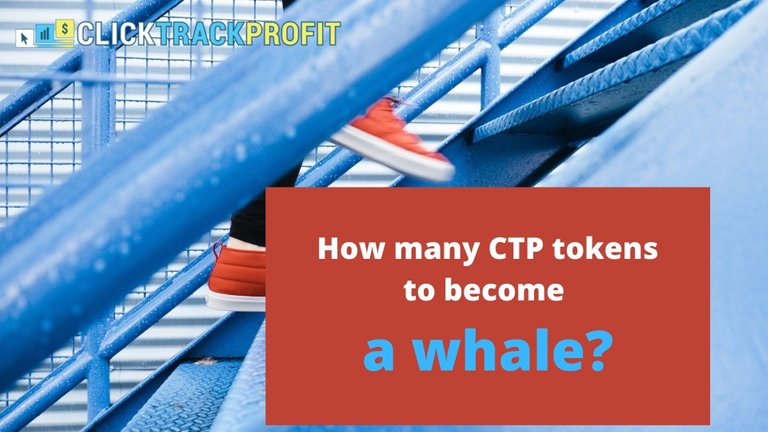 If you are not totally new to this blockchain, you probably have heard about the ranking system here on Hive. According to the amount of Hive Power or rather the amount of Vesting Shares that you own, you are either a Plankton, a Minnow, a Dolphin, an Orca or a Whale.
This is how this ranking looks like
| Rank | Hive Power | Vesting Shares |
| --- | --- | --- |
| Minnow | 525 | 1'000'000 |
| Dolphin | 5'250 | 10'000'000 |
| Orca | 52'500 | 100'000'000 |
| Whale | 525'000 | 1'000'000'000 |
My friend @jongolson asked me if there was such a ranking for Hive-Engine tribes and mainly for the CTP token. I'm not aware that there is such a rule set in existence and I believe that it would be a nice addition to have this ranking for these tribes as well.
What is the best way to calculate such a ranking?
I started by comparing the Hive Power of each of these ranks with the total supply of the token. The results I got where not really promising. If I apply this calculation on the tribe tokens it would be too easy to become a whale. Well there would almost only be whales :-).
My second approach was to compare the voting power of these accounts expressed in the token that they generate. In other words, I wanted to look how much each vote of these ranks attribute from the reward pool. Since these tribes were build on the basis of Hive, I believe this would be an appropriate approach.
My idea was to say that a whale account upvotes a post it will generate X Hive tokens from the reward pool. So a whale account from a tribe token should also generate X tokens from it's reward pool.
I first used the tool by @penguinpablo to calculate the reward generated by a full upvote from a whale, an orca, a dolphin and a minnow account (reference price for Hive $0.12).
| Rank | Upvote value in $ | Upvote value in Hive |
| --- | --- | --- |
| Minnow | 0.0023 | 0.019 |
| Dolphin | 0.0230 | 0.19 |
| Orca | 0.2697 | 2.247 |
| Whale | 3.852 | 32.1 |
This means that the upvote of a whale is worth 32.1 tokens. Starting from there I checked out how much staked Hive-Engine tokens it would require to get an upvote worth 32.1 tokens.
I couldn't find a vote calculator for tribes. The @ctpsb account that I'm managing has enough power to give very big upvotes in the CTP token and I simply tried to adapt the voting power accordingly so that the upvote of the @ctpsb account would give 32.1 tokens. It's probably not the most scientific approach but I couldn't find any better.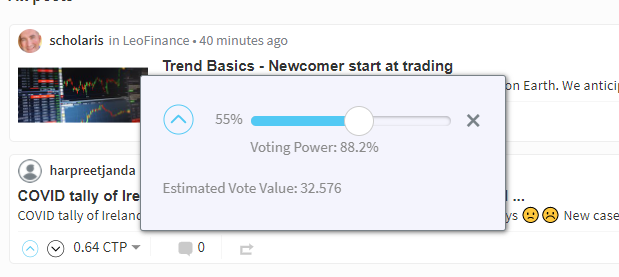 This account votes with a total of 288'418 CTP Power. I need a 55% upvote at 88.2% voting power to generate 32.5 tokens. To find out how much CTP Power is needed for that, I calculate as follows:
288'418 x 0.55 x 0.882 = ~ 140'000 CTP Power
Now I did the same with the other ranks using other accounts.
These are the approximated results that I got:
| Rank | CTP Power |
| --- | --- |
| Whale | 140'000 |
| Orca | 10'000 |
| Dolphin | 800 |
| Minnow | 90 |
In my opinion this is the most appropriate way to calculate the Ranks for the tribes. I believe it makes sense to attribute these ranks according to the impact an account has in the distribution of the reward pool.
If you have a better way to calculate these rankings, I would be very glad to hear it :-)
To answer the question of this post, you need 140'000 CTP Power to be a CTP Whale !
If you look at the richlist of the CTP token, there are only 4 Whale accounts in this tribe.

source: https://leodex.io/richlist/CTP
---
Let's conect on Hive, Lbry or on Publish0x
My free e-mail course: The 100'000 satoshis a week strategy