A little out of practise are we ladies and gents? I can't believe you missed a 0-3 away win for the league leaders that cemented their place at the head of the table.
We also had an own goal for the first goal which of course we don't count, but that left the first goal scorer as Scarpa and I don't see his name mentioned either.
No worries, today is a new day and we have a new game for you to try your luck with and it's our first visit to the Serbian Superliga!

Errr. OK, let's start with a look at their current league table shall we?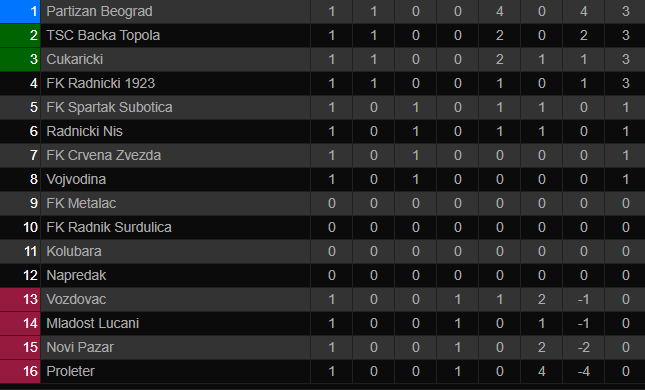 This isn't helping. It's their first game of the season! What I can tell you though is that last season, Napredek finished in 11th and Kolubara are newly promoted but have been extremely impressive in their pre-season friendlies, scoring bags of goals.
Prediction: Napredak 1 : 3 Kolubara - First Goalsocrer: Duranovic
Simply write the name of the FIRST GOALSCORER and the CORRECT SCORE as a comment. The competition closes 5 minutes before kick-off which is 20.00 BST. (19.00 UTC)
The Small Print
In the first goal scorer competition, own goals do not count. In the correct score competition, it's the score after 90mins. Extra time and penalties do not count and the pot for each competition will roll over if there is no winner. If more than one person chooses the same first goal scorer or correct score, the prize is shared, and everyone gets a little upvote! It seems I also need to add, one entry per person. Don't forget the new rule that only people with a rep of 45 or above are eligible to enter unless they have been approved. The bonus will be added to any winnings ONLY if Leeds United win and/or Man U lose and all pay-outs will never exceed 50% of post pay-out. Other bonuses are paid out at my discretion.
Well, no winners to declare today but no worries. The pot has risen to a very healthy 22000 tokens in total so get your predictions in whilst it's still big!
Thanks as always for playing along and good luck. Stay safe and healthy guys and I'll catch you all back here again tomorrow.
Marching On Together