Achtung!! Eine wichtige Nachricht für die KURATOREN:
                      
 Attention!! An important message for the CURATORS:

Seit einiger Zeit wird diese Beitragsreihe durch einen Saboteur heimgesucht!!
Ich vermute, dass hier ein vernachlässigtes KIND etwas Aufmerksamkeit haben will!
Da ich nicht möchte, dass durch diese Downvotes, Kuratoren und Unterstützer in Mitleidenschaft gezogen werden, bitte ich euch vorerst von Upvotes abzusehen!
Insbesondere dürften die Halter verschiedener TOKEN betroffen sein, da hier natürlich die Kurationsbelohnungen weniger werden!
Für die Teilnehmer bleibt alles beim Alten, ich hoffe, dass ihr von diesen Attacken gar nichts mitbekommt.
ENGLISH
For some time now, this series of posts has been beset by a saboteur!!!
I suspect that a neglected CHILD wants to get some attention!
As I don't want curators and supporters to be affected by these downvotes, I ask they to refrain from upvoting for the time being!
Especially the holders of different TOKEN should be affected, because the curation rewards will be less here!
For the participants, everything remains the same, I hope that you will not notice anything of these attacks.
---
Wer sich hier eine Belohnung von 1, 2 oder 5 HSBI-Shares "verdienen" möchte ist wohl auf höhere Eingebungen - woher auch immer sie kommen mögen - angewiesen!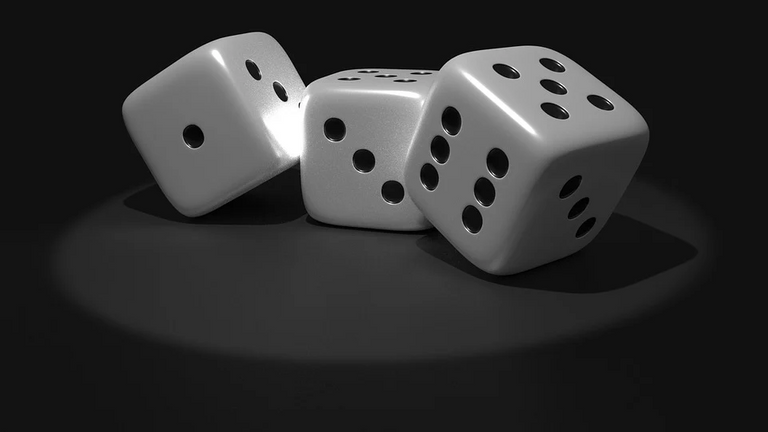 Fotoquelle: Pixabay
Die Aufgabe die hier zu lösen ist besteht darin, die richtige Abfolge einer Zahlenreihe, die wiederum durch Würfel bestimmt wird, vorherzusagen!
Zur Bestimmung der aktuell gültigen Zahlenfolge wird ein virtueller Würfelbecher mit 10 Würfeln gefüllt, die in einem Wurf ermittelte Zahlenreihe, gilt es - in Teilen - im voraus zu benennen!
Es muss also nicht die gesamte Zahlenreihe vorhergesehen werden, schon ab 3 richtigen Zahlen, die HINTEREINANDER - an beliebiger Stelle - übereinstimmen, wird eine Belohnung vergeben!
<>
3 Richtige in Reihe 1 HSBI-Share
4 Richtige in Reihe 2 HSBI-Share
5 Richtige in Reihe 5 HSBI-Share
<>
So sieht ein Beispielergebnis aus:

Wer (vor allen anderen) 3, 4 oder gar 5 Zahlen - in einer ununterbrochenen Reîhenfolge von LINKS nach RECHTS - vorhergesagt hat, erhält die darauf ausgesetzte Belohnung!
<>
Mit der Abgabe deines Tipps auf 3, 4 oder 5 Zahlen bestimmst Du DEIN Spiel, nennst Du 3 Zahlen reichen dir 3 Zahlen in Reihe.
Nennst Du 4 - BRAUCHST Du 4!
Genau wie Du bei 5 Vorhersagen auch 5 Zahlen in Reihe benötigst um womöglich eine Belohnung zu erhalten!!
Die Chance 3 Richtige zu erlangen ist natürlich wesentlich höher, als eine 5er Reihenfolge zu erraten, dafür wäre dann natürlich die eventuelle Belohnung auch dementsprechend höher.
Deine Entscheidung!
Die Ausspielungen erfolgen immer einen Tag nach der jeweiligen Postauszahlung!
<>
Es kann nur EINEN geben
Sollten mehrere richtige Vorhersagen abgegeben werden, so
erhält nur derjenige, der seinen Tipp als ERSTER abgegeben hat, die ihm zustehende Belohnung!
Schnelligkeit bringt also Vorteile!
>>>>>>>>>>>>>>>>>>>>>>>>>>>>>>>>>>>>>>>>>>
<>
Ergebnis der 41. Würfelrunde
<>

<>
<>
https://peakd.com/deutsch/@kirstin/wurfel-in-reih-und-glied-41
Mindestreputation 45
Es wird keinerlei Gegenleistung erwartet!