Morning my fellow CTP Talkers and Steemians,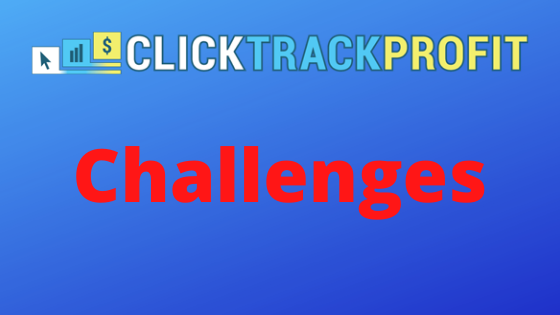 This morning I am going to talk about challenges. No not the challenges of being online, the challenges of doing affiliate marketing or the challenges of life.
As @justclickindiva posted yesterday and challenged me to write a blog post. On a side note @pixiepost I know I still have an outstanding challenge from you :)
So let me read the post and get at it. It was by @nikoline and it was 10 Silly question - Just for fun
*If you could choose a new name for yourself, what would you choose?
Not such a silly question, it gets my mind racing. I would not want to. I love/used to my name! lol. It becomes part of who you are, well especially at my age. But saying that, if it came right down to it and I had to, I would take my later fathers first and middle names, and when I married my wife I also offered to take here maiden name. She did take mine. But ya, that would give me a whole new name :)
*What was the last thing you bought?
The last thing I bought was Salt Meat and Garlic Bread. And pea soup for supper last night and needed salt meat to go in it. Having company today so the wife wanted garlic bread to go with Sunday supper.
*If you could have dinner with 3 people from Steemit, who would you pick?
Damn, I am picking four of the top of my head! @jongolson, @flaxz, @pixiepost and @ph1102. Why? You people rock. And from what I learned of you four so far and myself being online, although we are all striving for the same things online, I got a feeling offline we are all so different and could have a real great sit down learning from each other dinner.
*The last book you've read is...?
LOL. That is easy. Instruction manual for a piece of furniture I put together. It has been so long since I had time to sit down and read a book. I miss it dearly. I love Dragon Lance and Forgotten Realms novels.
*If you could choose any place for your next vacation, where would you go?
I want to go to Mars. Hear me Elon Musk. I have always been a person that looked to the stars. Look outside our planet. I have always been fascinated by space. Even just a trip around the Earth or the Moon. Take me to the stars Mr. Musk. :)
*Snuffle your current playlist. What 3 songs come up first?
Another easy one for me! I don't listen to music. Something happened to me a few years ago. Something mentally, maybe it is age, maybe it is challenges in life. But I do not like music any more. In my car it is talk radio. Turns off the radio when music comes on. Strange eh?
*What is your Zodiac sign?
Gemini
*What language would you love to be able to speak fluently?
It would have to be french. Canadian French. We are a bi-lingual country and I only know English (and that is not always the best. lol) So ya, french. It would have opened up so many more doors for me growing up. Better jobs, etc. And ya know, to go to France knowing the language.
*Last person you talked to (in person).
That would be my wife. It is always my wife. The last thing I say every night before I roll over to go to bed "I love you". So ya, seeing I always write my blog post in the morning. Always my wife :)
Seeing I am behind in my challenges I am not going to come out right and invite anyone but if the four people I said I would sit down with for dinner would like to take part. Feel free ;)
Need to get a little bit about CTP in here :)
CTP Token: Last: 0.00121 STEEM / $0.00026 24h Vol: 7 STEEM / $1.62 Bid: 0.00121 STEEM Ask: 0.0295 STEEM
Steem: $0.216272 USD (2.04%) 0.00002196 BTC (-0.08%)
Tron: $0.020778 USD (3.88%) 0.00000211 BTC (1.72%)
Bitcoin: $9,849.16 USD (2.12%)
---
Don't forget you can follow me on twitter: Join me on Twitter
Get FREE crypto at CoinBase: Free Crypto



Have a great day all.
Bradley