DEU - DEU - DEU
Hallo Hiveians.
Heute stelle ich euch mal vor.
Mein erstes Album war:
DIE ÄRZTE - AB 18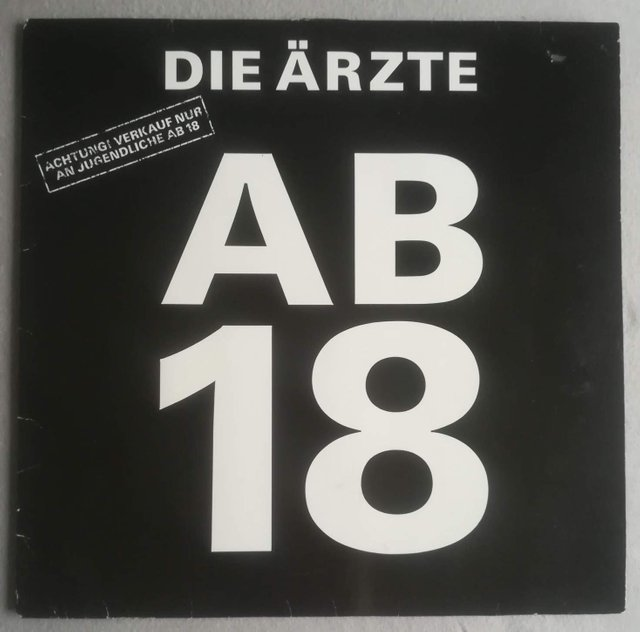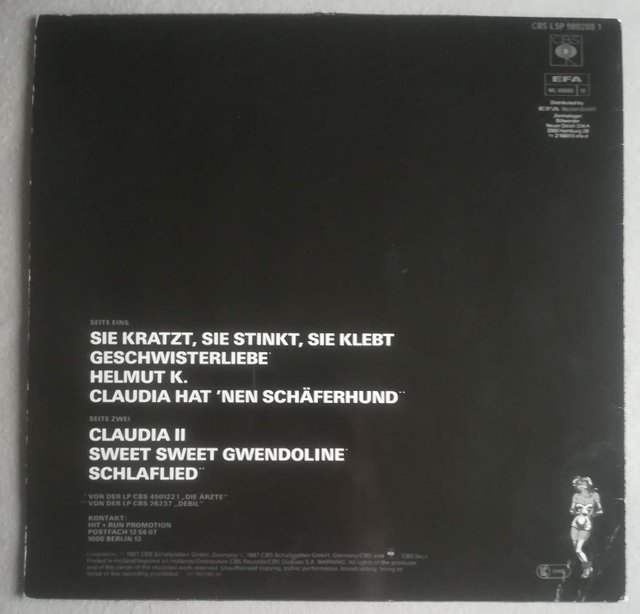 Die Platte habe ich mir im zarten Alter von 14 Jahren in Merzig im Plattenladen "Bosa's Plattenbörse" gekauft.
Ich kann mich noch sehr gut erinnern. Ich bin da rein und wollte die Platte haben.
Die Frau hinter der Theke meinte das ich ja noch keine 18 Jahre alt wäre und die Platte nicht bekomme.
Total verärgert stand ich vor dem Laden und überlegte.
Ein älterer Mann ging vorbei und ich fragte ihn ob er mir doch die Platte kaufen könne.
Ich gab ihm die ca. 8-10 DM und ein paar Minuten später kam er mit meiner Ärzte Platte.
Ich stellte mich natürlich mit hoch erhobener Platte vor den Laden und rief : "ÄTSCH ÄTSCH". 😂
An meinem eingescannten Platten Cover meiner ersten Platte erkennt man deutlich die gebrauchsspurgen.
Das Cover dieses Vinyl erfüllt quasi alle Bedingungen der schönsten, außergewöhnlichsten, aufwendigsten, ekligsten, sexistischsten, provokantesten, ... Album Cover aller Zeiten 🤔 😂
Und zusätzlich hat sie das königliche Format des 10" Vinyls!
Die 10" ist das dritte mini Album der Band DIE ÄRZTE.
Es wurde aufgrund der Songs "Geschwisterliebe", "Claudia hat 'nen Schäferhund" und dem "Schlaflied" indiziert.
Der Song "Geschwisterliebe" steht bis heute auf dem Index.
Trotz Indizierung erreichte das Album Platz 33 der deutschen Album-Charts.
Mukke bekommt ihr dann auch zu hören.
DIE ÄRZTE - Geschwisterliebe
DIE ÄRZTE - Claudia hat nen Schäferhund
DIE ÄRZTE - Sweet Sweet Gwendoline
Ich hoffe mein Post und auch die Ärzte gefallen euch.
Schönen Sonntag Abend wünsche ich euch.
Gruß vom @bitandi
---
---
---
ENG - ENG - ENG - ENG - ENG - ENG - ENG
Hello Hiveians.
Today I would like to introduce you.
My first album was:
DIE ÄRZTE - AB 18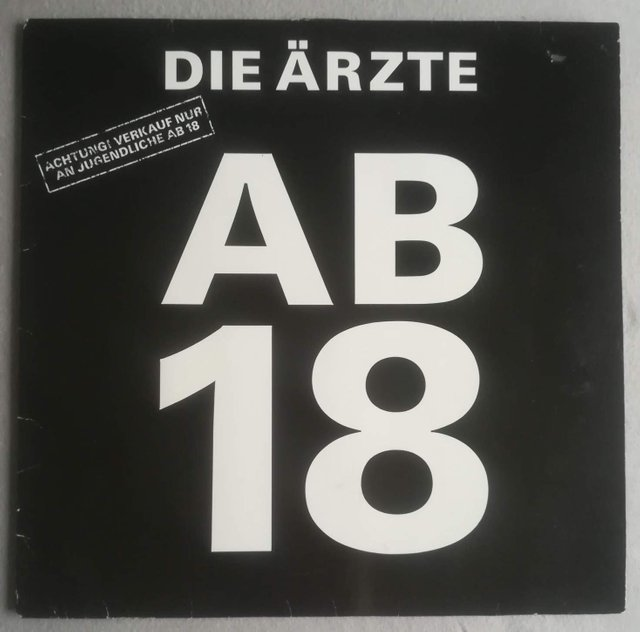 I bought the record at the tender age of 14 years in Merzig in the record store "Bosa's Plattenbörse".
I can still remember it very well. I went in there and wanted to have the record.
The woman behind the counter said that I was not yet 18 years old and would not get the record.
Totally annoyed I stood in front of the store and thought.
An older man walked by and I asked him if he could buy me the record.
I gave him the approx. 8-10 DM and a few minutes later he came with my doctors record.
Of course I stood in front of the store with the plate raised high and called: "ÄTSCH ÄTSCH". 😂
On my scanned record cover of my first record you can clearly see the traces of use.
The cover of this vinyl fulfills almost all conditions of the most beautiful, extraordinary, elaborate, disgusting, sexist, provocative, ... Album Cover of all times 🤔 😂
And in addition it has the royal format of the 10" vinyl!
The 10" is the third mini album of the band DIE ÄRZTE.
It was indexed on the basis of the songs "Geschwisterliebe", "Claudia hat 'nen Schäferhund" and the "Schlaflied".
The song "Geschwisterliebe" is still on the index today.
Despite indexing the album reached number 33 in the German album charts.
You can also listen to Mukke.
DIE ÄRZTE - Geschwisterliebe
I hope you like my mail and also the doctors.
I wish you a nice Sunday evening.
Greeting from @bitandi