Náš malý výlet začíná na železniční zastávce Plzeň – Bolevec. Nedaleko ní se rozkládá rybník Třemošenský neboli Židovák. Tento rybník byl založen po roce 1734.
Byl původně vyčleněný pro obyvatele Třemošné ke koupání dobytka. Snad právě proto ho za války nacisté přidělili židům jako jediné povolené koupaliště…
Po hrázi rybníka vede hlavní silnice č. 27 směr Žatec. V nedávné době město Plzeň upravilo na jeho severním břehu cestu pro vozíčkáře a cyklisty. Nalezneme tu i staré opuštěné lomy na pískovec, kde byl ve středověku lámán kámen na výstavbu města.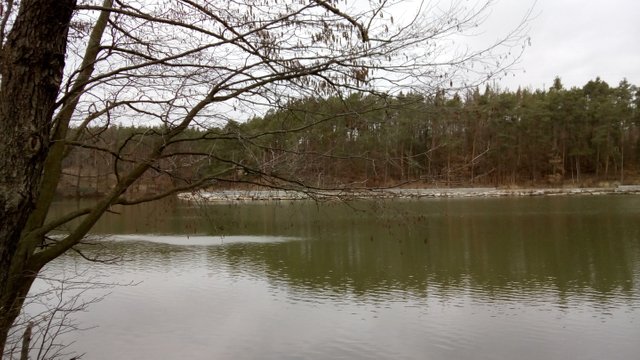 Od rybníka pokračujeme chatovou oblastí směrem k arboretu Sofronka. Toto arboretum, lesní školku, založil roku 1956 ing. Karel Kaňák, CSc. za účelem šlechtění borovic. Postupem času zde vybudoval unikátní sbírku světového sortimentu druhů rodu borovice (Pinus)
Navázal tak na práci svého předchůdce, lesníka Josefa Sigmonda, který hledal vhodný strom pro půdní podmínky okolí Plzně.
Dnes je areál vzhledem k silnému větru předchozích dní uzavřen. Nevadí, můžeme ho navštívit někdy později.
Kromě unikátních exemplářů borovic zde najdeme dvě naučné stezky, lesní učebnu, výběh s daňky a zařízení lesní školky.
Na fotografii je vchod, či spíše vjezd do areálu arboreta.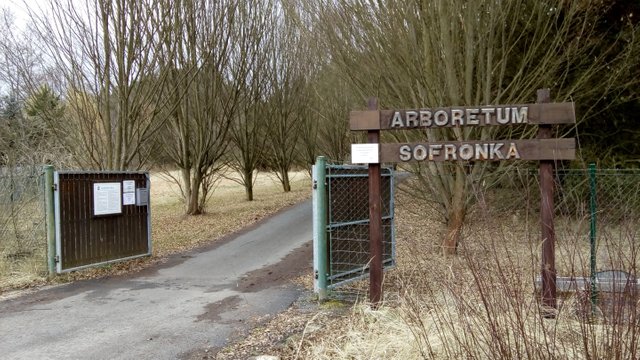 Okolo arboreta přejdeme po povalovém chodníčku potoční nivou k rybníku Seneckému neboli Senečáku. Jeho západní část zarůstá rákosem a mění se v mokřiny. Nedostatek vody v celé Bolevecké rybniční soustavě tento proces urychluje. Rekreační funkce rybníka je tak omezována, na druhé straně však mokřiny poskytují útočiště mnoha druhům vodních živočichů a ptáků.
O kousek dále už se nám v rákosí otevírá pohled na volnou rybniční hladinu.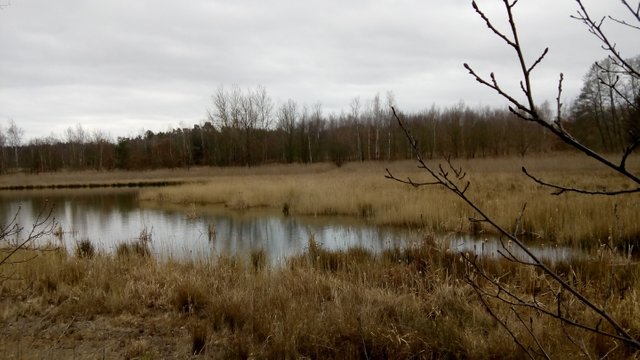 A poté už kráčíme po žulovými kameny zpevněném břehu. Pískovcové podloží tu vždy způsobovalo problémy díky erozi.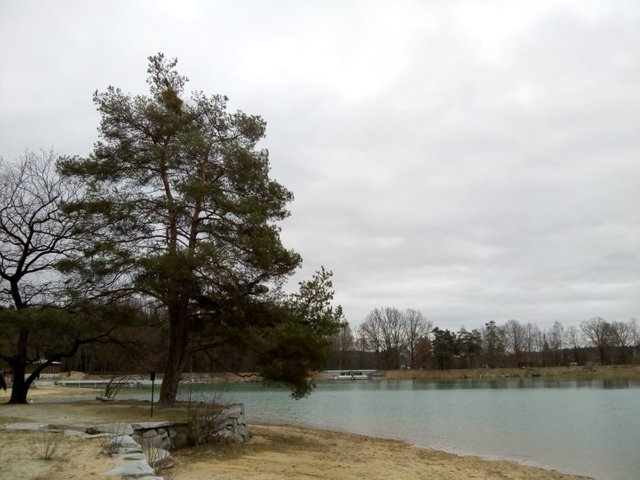 Po hladině rybníka plují labutě. Míří k nám. Asi by si daly něco dobrého. Vhodným krmením pro tyto krásné ptáky však dnes nedisponuji.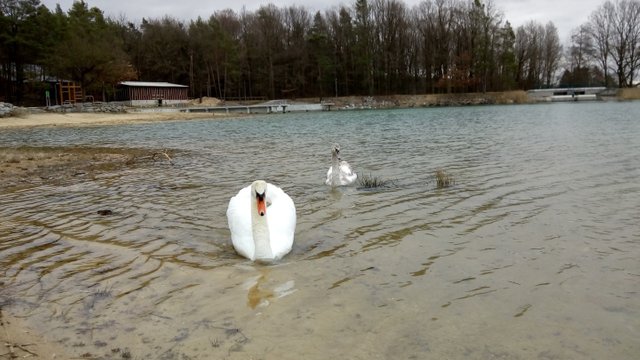 Jsou blíž a blíž… Ještě snímeček. A ještě. SSSsss! Ozývá se nahněvané zasyčení. Je čas k ústupu. Mládě je pod silnou ochranou jednoho ze svých rodičů :)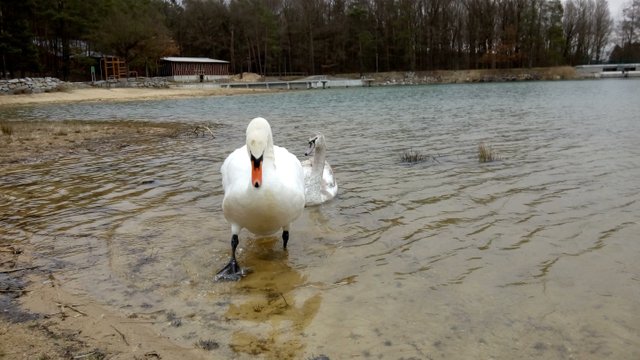 Pohled na hladinu rybníka směrem k sídlišti Bolevec, jehož paneláky na nás vykukují vzadu.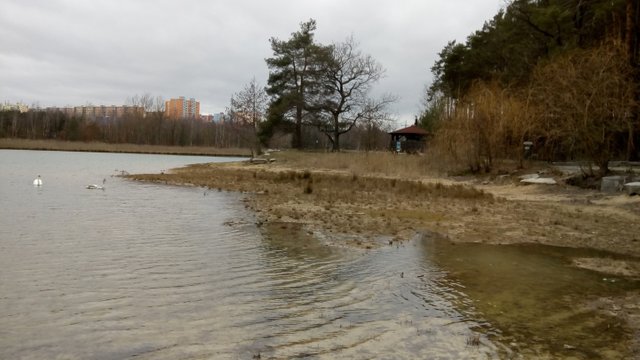 Projdeme se až k hrázi. Zde najdeme kromě mohutných naddimenzovaných přepadů i molo na vodní pólo. Jen ta voda nám tu chybí…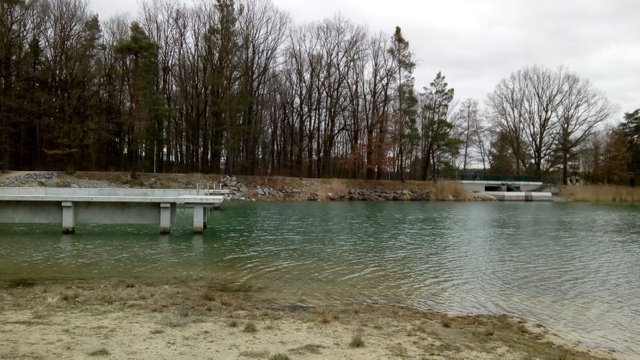 Na fotce je budova lesní školky přestavěná z bývalé restaurace. Najdeme v ní i skautskou klubovnu a hned vedle je dřevostavba oddílu vodního póla.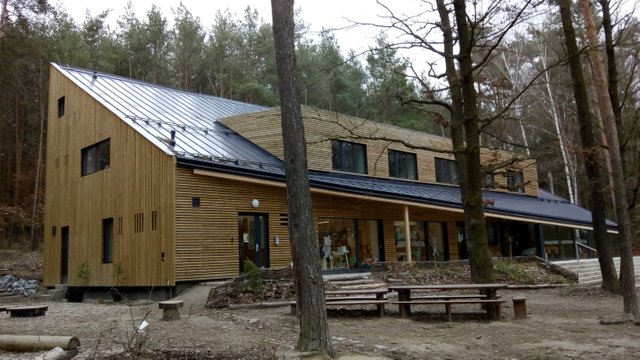 Naše pohodlná cesta nás po mírném stoupání zavede do smíšeného lesa.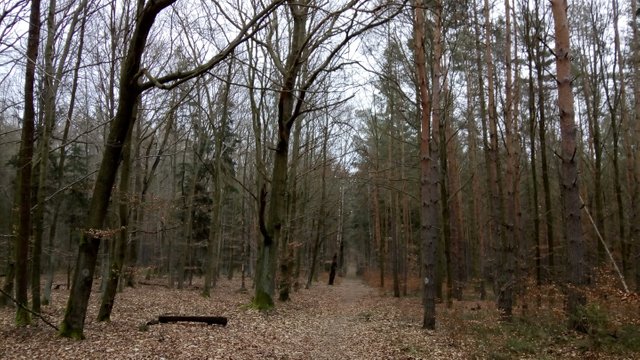 Po pár set metrech jsme konečně na místě.
Tak to je on. Menhir. Nevíme nic o jeho stáří, účelu či původu. Nevíme, kdy a kým sem byl umístěn. Každopádně je fascinující.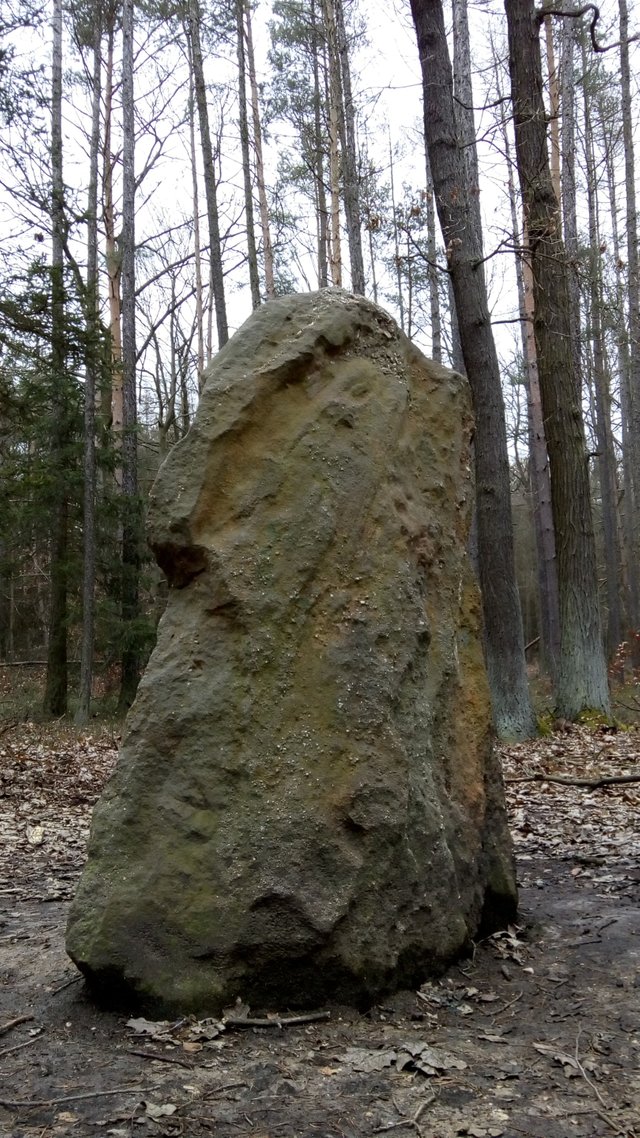 V jeho okolí můžeme nalézt i další drobné kameny a novodobé pyramidy od návštěvníků lesa.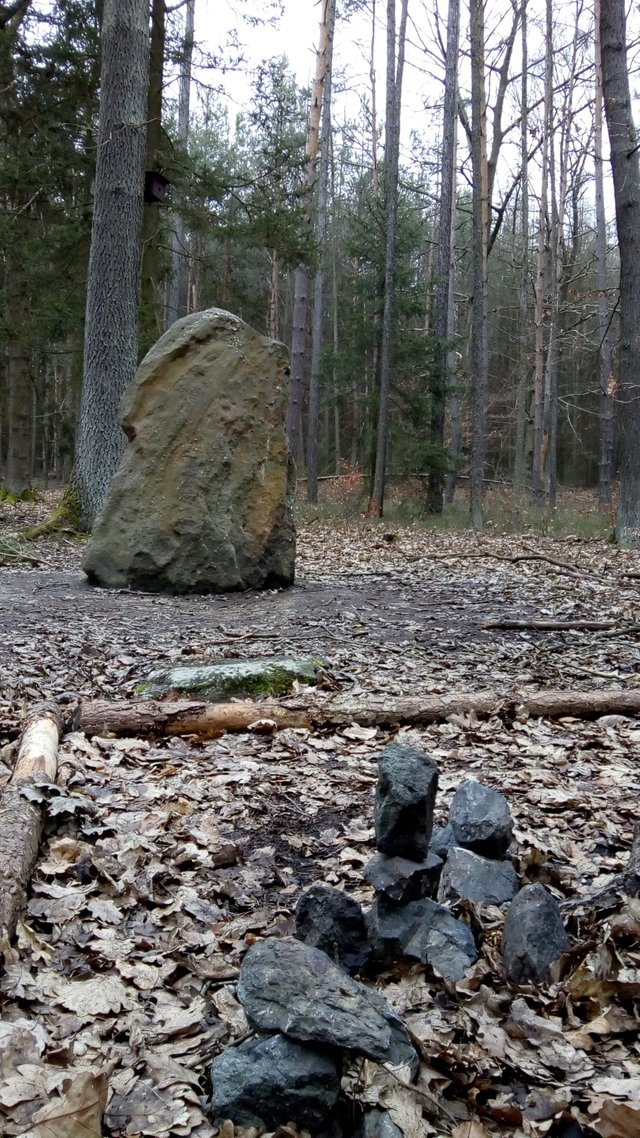 Tak mi pověz, Menhire, co jsi zač… Položím na něj ruku a na pár sekund zavřu oči. Představa, či vize, kterou ve mně vyvolá, je zajímavá.
Kolem mě je kruh. Necítím strach, vnímám spíše překvapení. Kruh mužů v černých pláštích, v černých kloboucích. Mají na obličeji železné masky se špičatými nosy. Či jsou to kovová hledí přileb? Nebo jsou to ochranné masky proti moru?
Muži postupují kupředu a kruh se uzavírá. Otevírám oči. Menhir neprozradil své tajemství…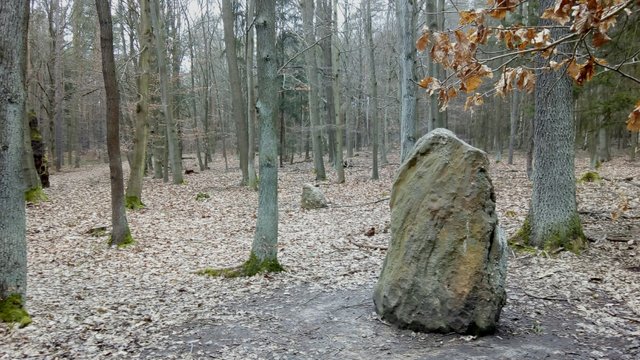 Opouštíme Menhir návratem na hráz Seneckého rybníka. Rozrůstají se tu mladé akáty. Jakoby jejich trny navazovaly na mou představu…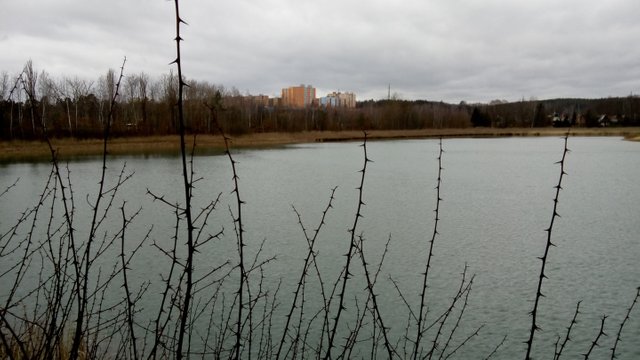 Od Seneckého rybníka to není daleko k tzv. Černému kříži. Najdeme ho hned za Boleveckým hřbitovem. Najdeme ho již na mapách z poloviny 18. století. Kříž na počátku 20. století zanikl a zůstala zde jen kamenná patka.
Kříž byl obnoven roku 2018 na můj podnět spolkem Boleveckých rodáků.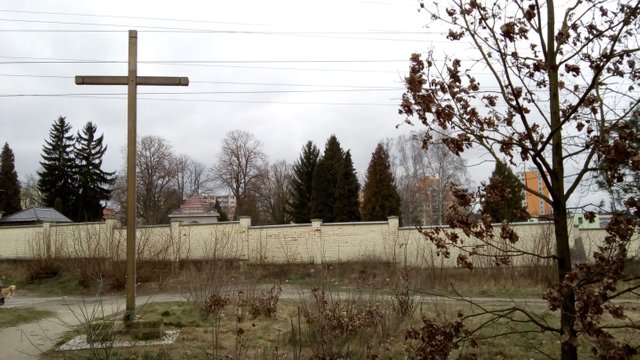 Můžeme si u něho prohlédnout i naučnou tabuli a přečíst si na ní pár informací o historii tohoto místa.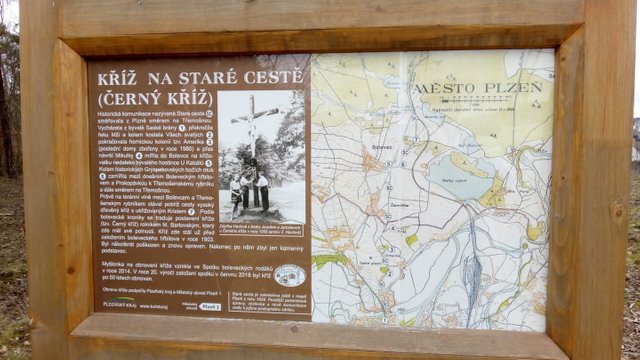 Když už jsme tady, projdeme se i skrze Bolevecký hřbitov. Jeho dominantu tvoří kaple sv. Vojtěcha z let 1917-20 postavená v kubisujícím stylu. Tato kaple byla vybudovaná v těsné blízkosti hromadného hrobu obětí výbuchu Bolevecké muniční továrny z roku 1917.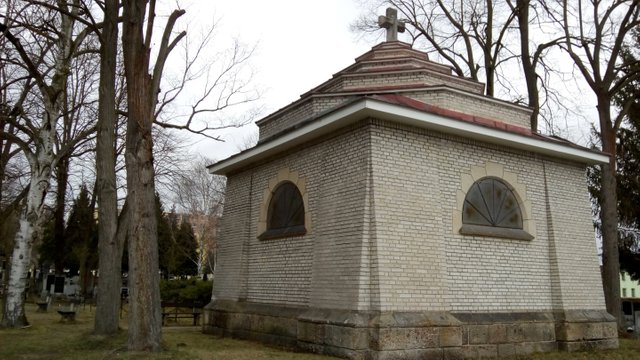 Pokoj vám. Hromadný hrob a kaple pro dvě stě obětí výbuchu muničky jsou varujícími mementy pro podobné katastrofy v budoucnu…
V nějakém z mých příštích článků bychom se mohli vydat do okolí místa katastrofy a povědět si více o celé události.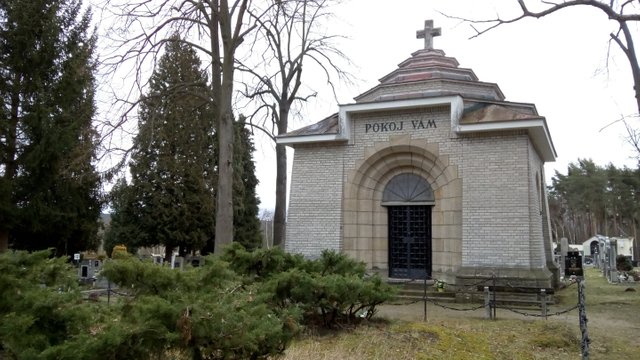 Nedaleko kaple můžeme narazit na tento zajímavý náhrobek z trvanlivého kamene, z proslulé plzeňské kamenické dílny J. Cingroše.
Karel Křička, střelmistr C.a K. námořnictva ve výslužbě a toho času střelmistr Škodových závodů akc. spol.
Zemřel roku 1913. Už se nedožil použití děl, která zkoušel, v děsivé praxi první světové války…
Na jeho náhrobku nás zaujme plastika dělostřeleckého granátu. Bohužel o osobě tohoto jistě zajímavého pána se mi nepodařily zjistit žádné bližší informace.
Můžeme si jen představovat, jak se před sto lety plavil na palubě nějakého toho C. A K. křižníku po světových mořích a testoval nejnovější kanóny, výrobky ze Škodovky, t. č. největší zbrojovky monarchie…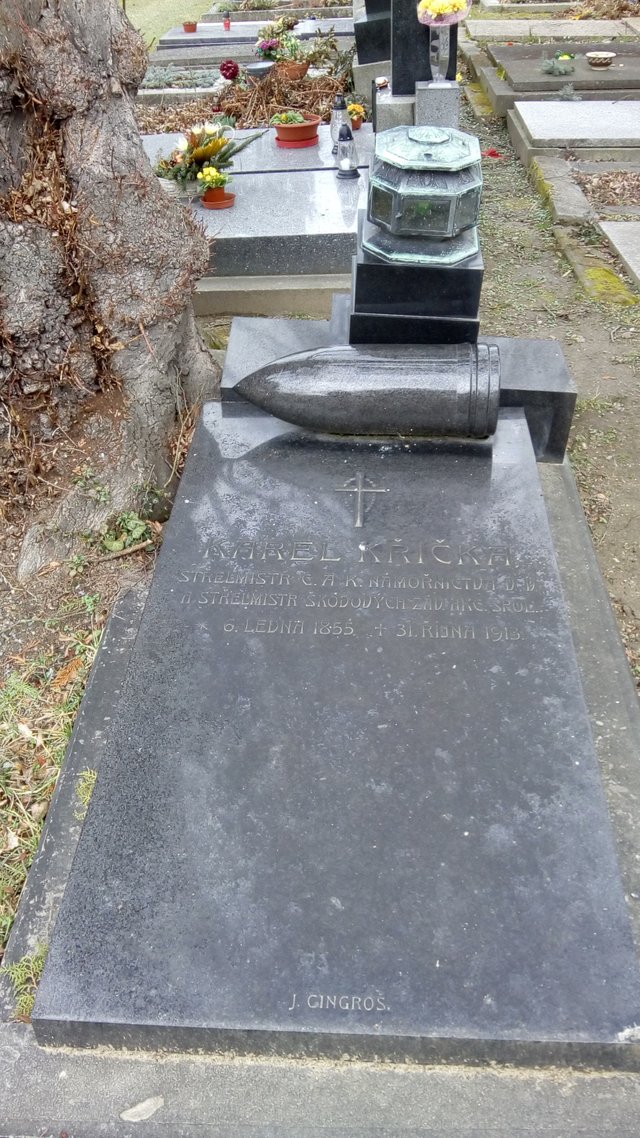 Za hřbitovem naše krátká procházka končí. Pojal jsem jí trošku temněji, každopádně věřím, že vás zaujala a shledáme se brzy u nějakého toho dalšího výletu.