We live in a world where without the aspect of helping or raising others up, life will be hard and difficult for such people to live. In our world today nobody was destined to stand alone without them been rendered help from a third party or someone willing to help to solve such person's situation.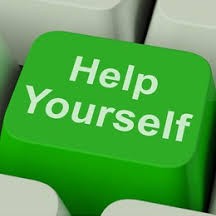 source
The question is where are the helping hands?
The lifestyle in our world today have develop act of greediness in most people to make it difficult for them to stand alone and those willing to help or render helping hands now forfeit there responsibility to do so.
The world or the life we live in today is destined to be categorized in two, it is whether you are either rich or poor and it is what is happening in our world today as the rich are getting richer and the poor are also getting poorer in most part of the world.
This always come to my mind why such do happen, with the aspect of life being tough for some people in everyday of their life and in the other way round others are living large and luxurious life.
I grew up in a poor background where we had nothing and having a better life has now become hard and difficult due to the aspect of solving so many things financially, life have being so tough for me but am grateful because if I should look at my back I will see people am better of that are in more financial crisis than i do.
Ever since I joined hive by then when we're still in the steemit platform I have not regretted been here but though I have been away from hive do to financial problems and family issues to as well. My absence affected me here because i don't have the privileged of getting internet to post and comments on this platform like others but am grateful to be back on it again.
I believe by helping others will be great and it will be a better place to live in because those at the top didn't just got to the top where they are today to be honest,they were helped in one way or the other to get there and it will be nice if they should show that helping hands to others as well for them to grow.
Hive a better place to be
To be sincere, Hive is a better place or platform to be and I always blessed the day I joined because I have never for one day regret being here and I say thanks to all hiveans for making here a better platform to be and better improvement in the future for those joining in new.
Hive shows the aspect of rising by lifting others up

source
Hive is a great and wonderful platform to be because they always help others by rising and also help in other ways by promoting hiveans in different aspect why been here and why I believe the platform is growing daily with more people trooping in to join.
Though we learn everyday to perfect our skills which can also be done here to showcase such talent to post and can also get reward from it as well. Since the aspect of showcasing such talent and skills are invaluable in some community especially where I come from.
It has come to my understanding for you to be on top you have to fight for it and in one way of the other you can encounter your helper since nobody cares you have to fight for your right to achieve your goals.
However, for such helping hands to occur, you need to promote or enhance your skills in the aspect of showcasing it and also not to be shy from it because you may derive the idea whether they will turn you down or not. The down fall of a man is not the end of his life instead is a way to success.
Though it won't be easy but is a way forward so as to rise and progress by then you can achieve your aim with determination, consistency and focus. Achieving aim is by taking or making steps just to build a foundation to promote your ability to achieve success. With such helping hands to occur help yourself first to encounter helper too as well which I know hive is doing that too to promote genuine and quality works.